Birthday Party Hit!
By
Cyndi P.

(Haughton , LA) - October 1, 2009 (
See all reviews by this customer
)
Aiden really stood out as the Birthday boy at his party in this shirt. Other mothers kept asking me where I got it. I loved the quality and the price is great :)

Color change
By
Joyce P.

(Palm City, FL) - March 15, 2014 (
See all reviews by this customer
)
Liked the one year old shirt so much, I purchased the two year old shirt for this year. Only issue is that I ordered the blue shirt and since the name is written in blue, it really does not show up as well as in the preview photo. I bought white fabric paint to outline the name as a solution.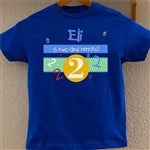 Cute shirt to commorate a special b-day
By
Shopper

(Algonquin, IL) - April 17, 2012
This is a cute shirt. I wish there would've been more design choices for each gender. Hopefully they will like it, I am giving to my best friend's daughter for her b-day.

Everyone got these this year!
By
Denise O.

(Winlock, WA) - March 20, 2012 (
See all reviews by this customer
)
I ordered this for a 2, 3, 4, & 6 year old already. I'm getting ready to order one for a 1-year old. Good quality t-shirt. Kids love to see their name on it. I was even able to fit 1st & last name on some with short names. The only reason I gave it a 4 instead of a 5 is that the colors seem a bit muted from what was shown online.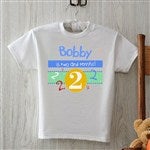 Good quality.
By
Shopper

(Colbert, OK) - January 22, 2012
I ordered the T-Shirt for my grand daughter's 3rd Birthday Party.It was very cute and good quality. She still has clothing that is 24 months and since my next size choice was 2-4 I felt that size would be much too large. The sizes must run small because the 24 months is almost to small. We love the shirt and next time I order I will get the 2-4 size. We love Personalization Mall!

Second Birthday
By
Megan H.

(Bath, MI) - August 8, 2011 (
See all reviews by this customer
)
I bought this shirt for my daughter for her second birthday. It was very cute and turned out rather well. I just wished they had a better sizing chart for us to use. The shirt was very big on her. But it was still a hit and I plan on attempting to order another one for my nephew on his first birthday.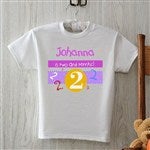 Gift for nephew
By
Shopper

(Brentwood, NY) - July 30, 2011
Romper is cute but I expected the material to be a little thicker, better quality. Personalization is perfect.

What's Your Number Infant T-shirt
By
Shopper

(Wilmington, DE) - March 28, 2011
The T-shirt was cute, however, I do not think that it is true to size. It seemed small for 18 months.

Pretty good for the price
By
TIJUANA D.

(BIRMINGHAM, AL) - August 26, 2010 (
See all reviews by this customer
)
I really liked the shirt and the way the design was laid out. My only problem was that the shirt was a little too big for my two year old.

Happy Birthday
By
Valerie S.

(Hilliard, OH) - July 16, 2010 (
See all reviews by this customer
)
A nice quality and vibrant colors, but seems small for the size. I would suggest ordering a size larger than normal.

So adorable!
By
Elyse W.

(Silver Spring, MD) - April 30, 2010 (
See all reviews by this customer
)
I love this shirt for my son! He will wear it to his (first) birthday party and probably the entire year he is one!! Only issue, I thought the coloring would be a bit brighter, but I still love it!

Order 1 size bigger
By
Briana T.

(Brookfield, MO) - March 18, 2010 (
See all reviews by this customer
)
My son is about to turn 1 year old so I ordered an 18 months size for t-shirt. Great choice. Definitly recomend the 18 month size for a one year old. The shirt is completly adorable and worth the money.

happy gramma!
By
Carmela K.

(Woodinville, WA) - March 13, 2010 (
See all reviews by this customer
)
these are great birthday gifts, and the 3rd that i have purchased for my grandchildren. i will definately be buying the other 5 kids their own "number" shirts, then time for a group photo shoot!!!

Nephew loves it!
By
TaMika H.

(Mobile, AL) - November 30, 2009 (
See all reviews by this customer
)
I love the speed of delivery and the quality of the product.

Quality T-shirt for a child's special occasion
By
Angela W.

(Rochester, NY) - November 3, 2013 (
See all reviews by this customer
)
I wanted to give something personal & special to my grandson for his birthday. Very good quality shirt, however, his name blended in with the color & not as noticeable as I would have liked. When ordering this shirt, use a different color for the name so it stands out. He was very excited to receive this shirt, & plans to wear in to school on Mon. for all his friends to see.

runs small
By
Shopper

(sierra vista, AZ) - January 14, 2013
bought this for a birthday gift and ordered what i thought was big enough. The shirt barely goes on. Don't put it inthe dryer, hang dry. Orderthe next bigger size.

Runs REALLY small!
By
Shopper

(Winter Springs, FL) - November 26, 2012
I ordered a shirt for my nephew who is turning 1. He is in 12mth clothes right now, so to err on the side of it being too big rather than too small, I ordered an 18M size. The 18 month size is probably the size of a 12M shirt maybe even 9M and after 1 wash, it probably won't fit him. It's not the soft T-shirt material either and doesn't stretch easily so regardless of what size you get, it probably won't fit after a wash or 2.

Cute, but runs small
By
Carol A. L.

(Kennett Square, PA) - May 21, 2011 (
See all reviews by this customer
)
We purchased this shirt for our grandson's first birthday,three weeks prior to the event for photographs for his birthday invitation. Although he is a big baby, I thought an 18 month size would be perfect. It was very tight in the neck opening, and snug in the arms as well. I would recommend paying more for snaps at the neck to ease dressing. I'm afraid after its second laundering that it will be too small for his celebration next week. Go larger!

Size runs very small
By
RACI B.

(TIGARD, OR) - April 18, 2011 (
See all reviews by this customer
)
This is a very cute shirt. It does run very small for the size ordered.

Way too small
By
Shopper

(Palmetto Bay, FL) - January 25, 2011
Printing very sharp but way too small. Ordered a 24 mos and looks more like a 6 mos old size. Disappointed always have had great products with Personalization Mall but this missed the mark.

DISAPPOINTED
By
Shopper

(PELHAM, NY) - June 2, 2014
I HAVE BEEN BUYING THIS TYPE OF ITEM FROM PERSONALIZATION MALL FOR SOME TIME. I AM DISAPPOINTED IN THIS NEW BODYSUIT. IT IS STRETCHED OUT AND IT LOOKS VERY WIDE IN THE MIDDLE.

HOPE IT DOESN'T LOOK AS BAD ON AS IT DOES OFF!!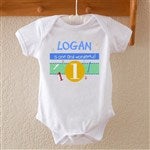 size a problem
By
Deborah G.

(Franklin, WI) - May 15, 2010 (
See all reviews by this customer
)

The shirt is adorable--but the sizing is way off.
I ordered 18 month size and it wasn't even as big as a standard 12 month size. Order up at least one size--maybe two.