Very happy with my shirt!
By
Ruthann C.

(Three Rivers, MI) - October 26, 2009 (
See all reviews by this customer
)
VERY FAST processing of my order, had it in my hands within three days of ordering! I have had difficulty finding cute and quality products that would be able to apply the 14 names of my grandchildren. I was thrilled to find this.Thanks for a great product!!!


One of the best gifts for mom
By
Lewis P.

(FPO , AE) - October 19, 2009 (
See all reviews by this customer
)
We ordered the shirt for our mother and when it arrived it brought tears to my wife's eyes. We know my mother will cry when she opens it. We had room for all the children -PLUS- the names of her two dogs. It will be one of the most loved gifts she will receive this holiday season.

Very Pleased
By
Mary W.

(Glen Burnie, MD) - October 10, 2009 (
See all reviews by this customer
)
Each Christmas I order for myself a Grandmother Sweatshirt, I have used your company for the past 3 years and cannot say enough about this product. Thank you

Loving T-Shirt
By
Alessandro P.

(Cliffside Park, NJ) - October 8, 2009 (
See all reviews by this customer
)
Great T-shirt, but I think this shirt is for memories, and a keepsake, rather than wearing it out. It is the perfect shirt to frame. I purchased it for my girlfriend's mom, with her whole family, plus me, in the hearts, and she shed tears when she saw it. Great T-shirt, great material, great price, fast shipping, and excellent packaging!!

Pleased with purchase
By
Rachel H.

(Byron, GA) - October 7, 2009 (
See all reviews by this customer
)
Was shipped promptly and received good comments from the person it was sent to.

Pretty mug
By
Shopper

(Canada) - May 23, 2014
The artwork and writing on this mug is very nicely done. I think a little different shape, something a little more feminine would have been nice - my only disappointment is that the other side of this mug is plain white - it would have been nice to either put the same thing on both sides or put a flower or saying or something so it's not so stark white. Otherwise, the quality is very good.

Great Item - Good Quality
By
Kim H.

(Oak Forest, IL) - May 19, 2014 (
See all reviews by this customer
)
Great item, great quality. The only reason I gave it 4 stars is because the only color it came in was white. My MIL loved it!!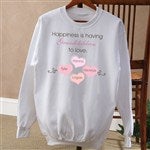 Nice shirt
By
Darlene W.

(Houston, TX) - April 14, 2014 (
See all reviews by this customer
)
I have enjoyed the Grandma's Happiness sweatshirt, so I ordered the t-shirt. I look forward to wearing it soon.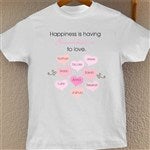 Very big!!!
By
Shopper

(Bentonville, AR) - February 18, 2014
Overall I like the sweatshirt. Printed well but it's huge!!!! I ordered for my mom in size XL and it looks like an XXL. I would definitely order down a couple sizes. Appears to be unisex - but mens sizing!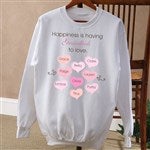 Proud Grandma
By
Shopper

(Vista, CA) - December 29, 2013
This is a great sweatshirt just large.
The size they give is for a man so keep that in mind when you order.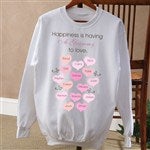 nice mug
By
Shopper

(littlefield, AZ) - December 19, 2013
I love this mug however I wish the colors would be a little brighter.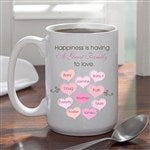 Gorgeous
By
Debra W.

(Tustin, CA) - February 18, 2013 (
See all reviews by this customer
)
The quality is good the colors are great... I feel the writing of the names should be larger... Too much space left over... But in all... Love the mug...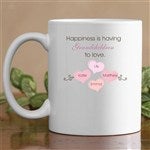 its a good bag
By
Shopper

(RACINE, WI) - December 8, 2012
one thing i dont like about this bag is that everything is set in the middle of the bag. i just wish that everything was more spreaded out to cover the whole front part. i got this bag cuz my nanny have a lot of grandkids in its hard to find somthing with nana on it and with enough space on it to list everyones names i hope it holds up a long time though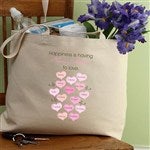 Purchased as a gift.
By
Shopper

(Moncks Corner, SC) - August 2, 2012
Quality of product is great. I wish I could have added more names.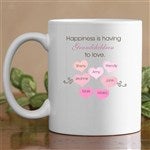 My Mom love it
By
Renisa C.

(Abilene, TX) - May 21, 2012 (
See all reviews by this customer
)
My Mom really did enjoyed her cup and Loved have the names of her grandkids on there. she simply LOVED it.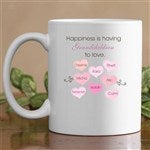 Wrong name spelling.
By
Susan W.

(West Valley City, UT) - May 21, 2012 (
See all reviews by this customer
)
It was great, EXCEPT one of the grandchildren's name was mispelled, my error,
and I felt soooo bad, but I gave it to the grandma anyway.

Thanks

Cute mugs
By
Shopper

(Valencia, CA) - May 18, 2012
Cute mugs. Hearts smaller than appear, but super cute. Ordered four mugs. One had a tiny chip - I didn't have time b4 mother's day to return. Great price! Would buy again!

Great material and classy look
By
Shopper

(Concord, NC) - December 30, 2011
Great item! Speedy delivery!

Grandma was pleased with her gift
By
Shopper

(Phoenix, AZ) - December 30, 2011
I was pleased with how this shirt turned out for my Mom with all her grandkids names on it. It was clearly printed and colorful. Loved that it came in plus sizes but would really love if the shirts were Vneck. :) It was a great gift and it got lots of smiles! Kids love pointing out their names.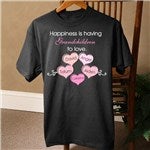 My mom will love this!
By
Shopper

(Perryton, TX) - December 22, 2011
Initially I was concerned about getting correct size, but I followed the size chart, and Im sure it will fit great(Christmas gift). My mom doesnt have anything like this yet and I know she will be proud to wear it! The names look good on this hoodie and it was delivered promptly! I showed it to my aunt and she loved it, so I ordered one for her too!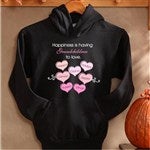 great gift for grandma
By
Sharon S.

(Pittsburgh, PA) - December 14, 2011 (
See all reviews by this customer
)
My kids can't wait to give this to Grandma on Christmas Day. They only wished their names were bigger. :-) Arrived faster than expected!!

turned out good
By
Courtney M.

(Barksdale AFB, LA) - December 7, 2011 (
See all reviews by this customer
)
the art on the mug was a little to little to me, but it was really pretty!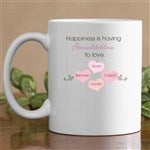 Cute idea but WAY too big
By
Misty B.

(Woodland, NC) - December 3, 2011 (
See all reviews by this customer
)
I bought this shirt as a christmas present for my husband's grandmother. I love the idea of the shirt and I think she will too. I wish I had read some of the reviews before I purchased it however because the shirt is going to be too big for her. I ordered a large and she is not a small woman but it is still going to be too big. It looks more like an XL or XXL. Also, the personalization looks fine but around the edges where the designs was pressed on is really crinkled. It is very noticeable. I am really hoping that it smooths out after it's washed.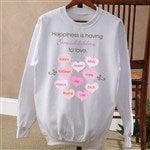 Great Gift
By
Shopper

(Rock Hill, SC) - November 5, 2011
This is a great quality gift to give to a proud grandmother. I wish the names were larger because there is enough room on the mug to enlarge the print.

Great Gift
By
Shopper

(Rock Hill, SC) - October 30, 2011
This is a beautifully designed cup. The hearts and names are on the small side when there is plenty of room to enlarge them.

Needs more than two hearts.
By
Karen B.

(Livingston, TX) - October 5, 2011 (
See all reviews by this customer
)
I bought this bag for a baby gift. My cousin is pregnant with her second child so I had both her son and her on the way daughters name put in the hearts is was very adorable but the bag was alot bigger than what I had thought so I think there was too much bag and not enough writing. The bag was made very well and was very roomy but I would recomend putting this on the bag only if you have more than two children other than that it was great quality.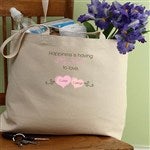 Do not order size up as suggested
By
Joanetta J.

(Atlanta, GA) - September 13, 2011 (
See all reviews by this customer
)
This was a gift for a friend. The neck opening should be larger or v-neck. I would purchase this item again in true size.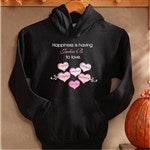 Very warm and cozy sweatshirt
By
Glenda L. P.

(Lilburn, GA) - August 13, 2011 (
See all reviews by this customer
)
I have ordered this sweatshirt for my Mom each time we have added on a new grandchild in the family. She now owns three of them and loves them. The sizes run larger than regular sizing.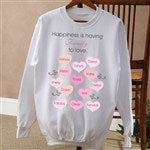 Pleased
By
Shopper

(Hauppauge, NY) - January 29, 2011
My Mom loved the sweatshirt! She said it was the best gift she got in a long time. I am not sure yet if it fits her well because she didn't try it on when I was with her, she said she would be wearing a shirt under it so it should be okay. I did take all customer advice on the shirt sizes being too big. I was originally going to order an x-lge but then decided to get the lge. I am glad I did because the shirt does run big. Especially in the arms. Overall the shirt was beautiful!

Beautiful sweatshirt - sizing is way off
By
Heidi H.

(Sun Prairie, WI) - December 23, 2010 (
See all reviews by this customer
)
This is a beautiful shirt and my mother-in-law loved it. I would have given it 5 stars but the sizing is way off. I ordered a Medium (which is what my 5'1" mother-in-law wears). When it arrived I knew it was way too big. A Medium is an adult size 38-40. Other than the sizing issue, it is really beautiful and well constructed.

beautiful customization
By
David S.

(Reno, NV) - December 16, 2010 (
See all reviews by this customer
)
the only reason i would give this item a 4 star instead of 5 is because it only comes in canvas which is not a very soft or long time durable fabric. the customization was beautiful, i got it for my mother in law for x mas with my childrens names on it. i just know she will love and the printing was pristine. however a softer more durable fabric would have gotten this a 5 star. I do infact reccomend it for traveling grandmothers or anyone who likes to use totes as handbags or for shopping.

Like the shirt
By
Tiffany N.

(Toledo, OH) - September 21, 2010 (
See all reviews by this customer
)
I really like this shirt and am sure that my mother will to. I am upset though that only part of my order shipped to me and I still have not recieved the rest of my order. I am going to have to investigate where my product is further.

Size does matter
By
Katherine H.

(Cincinnati, OH) - August 20, 2010 (
See all reviews by this customer
)
I like the overall product, but the shirt is huge! I ordered a large, but it looks more like an XLarge or even an XXLarge. Just be careful with the sizing.

good
By
JENNIFER R.

(NIAGARA FALLS , NY) - March 18, 2014 (
See all reviews by this customer
)
I thought the personalization would've been on both sides of the cup but it's only on 1 side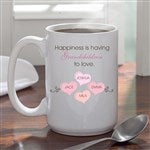 Watch the sizes
By
Shannon S.

(Norman, OK) - December 24, 2012 (
See all reviews by this customer
)
Item quality was good. Size of the XL was way too big. That's her normal size, but this XL was way bigger than normal. Wish there was a way to give more specifics on size.

Please know the 3 star rating has more to do with overall satisfaction (from size error) than quality of the item.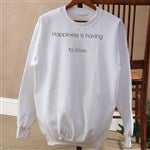 Cute mommy shirt
By
Brenda F.

(New Lenox, IL) - November 3, 2012 (
See all reviews by this customer
)
I love the design of this shirt and the cute hearts with my daughters' names in them. I just wish I would have known that this shirts runs small. So please order bigger when you order this shirt.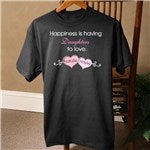 just ok
By
Raven C.

(Rockingham, NC) - August 20, 2012 (
See all reviews by this customer
)
The spelling is all correct but the quality is very poor. Looks like iron on.

Nice
By
Shopper

(Hampton, VA) - February 3, 2012
Hearts are too small. If you have several names it looks o.k. With only a few names the mug looks bare.

size matters!!!!!
By
Shopper

(Georgetown, KY) - December 22, 2011
Before ordering I read tons of reviews on the sweatshirts and was very concerned about how big everyone said they ran. I called customer service before placing my order b/c I was torn on what the size chart says and what other customers said. The rep I talked to said the sweatshirts run true to size so if the woman I was ordering for usually wears an xl to get xl ..... not true product turned out to be very big. Incredibly long, it falls below her butt, the sleeves are very bulky as well and it's just all around bigger than needed. Please go by reviews and not size chart =(

SIZE ISSUE
By
Frank D.

(Schaumburg, IL) - December 21, 2010 (
See all reviews by this customer
)
I purchased this for my wife but when it came in it is so big. I purchased what I thought was a woman's medium but it appears to be a men's medium and unfortunately may be something that goes into the back of the closet...but I realize it is not something I can do about it! My recommendation would be, unless I missed something, would be to differentiate between men and women sweatshirts---although with it saying "Grandmother", I assumed it would be a woman's size. otherwise, if the size were correct, I think it would have been a five star success....