Made the day special!
By
Jessica F.

(Monmouth, IL) - October 3, 2009 (
See all reviews by this customer
)
I absoutely loved the quality of this item. My brothers and I ordered this for my parents for their 25th wedding anniversary. I was worried about it arriving in time for their open house when I ordered. I had the item within a week and when I opened the package I could not have been happier. Such great quality, looks nice, and will be with our family for a long time!

This is amazing and looks really great!!!
By
Nicole M.

(NORTH PORT, FL) - October 1, 2009 (
See all reviews by this customer
)
I couldn't believe it when I got this. Its alot bigger than expected... about 9x9. Its very heavy and looks really expensive... my grandmother will LOVE it!

Product features I didn't like
By
Shopper

(Fulton, MO) - January 18, 2014
I bought this for a 40th anniversary gift. It is very nice except for the hearts. I was expecting them to be somewhat larger so the names would appear clear but they are extremely small so you can barely read what is written on each one. I wish they could have engraved the names in a different color, that may have helped.

Very pleased
By
Shopper

(Longview, TX) - July 12, 2013
I am very pleased with this product. When I received it there was a slight error but I had no problem having it fixed. The company sent me a brand new one. Everyone I dealt with was very friendly and helpful. The product is a very nice keepsake. The only reason I gave it a 4 stars is because it would be nice if the hearts were just a bit bigger.

Beautiful
By
Lynette W.

(Phila, PA) - December 7, 2012 (
See all reviews by this customer
)
I brought this for grandma for Christmas with all her kids, grandkids and great-grands names on it. It is a very lovely piece and I think she will love it. I just wished the hearts and names could have been a little bigger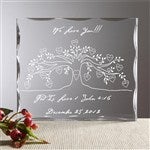 Pleased
By
Lora P.

(Janesville , WI) - August 17, 2012 (
See all reviews by this customer
)
I purchased "Our Family Tree" for my sister's 35th anniversary. She loved it!
A couple of things I would change- difficult to read, and see. All the hearts were not used therefore, it would be nice if the hearts could have been bigger.
I suggested to my sister that she possibly could put a small light or candle behind frame to illuminate the wording.

Satisfied
By
Cindy C.

(Lees Summit, MO) - January 27, 2012 (
See all reviews by this customer
)
I wish that for the one heart that didn't have a name, that the empty heart we wish didn't appear on final product, but it did. No big deal. The final product is heavier than expected - which is good. Overall, we're happy with the gift...it's for my husband's parents' 50th wedding anniversary.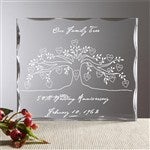 Family Tree Review
By
Danielle M.

(SAN JOSE, CA) - December 24, 2011 (
See all reviews by this customer
)
This keepsake is absolutely beautiful. Everything was done just as I ordered and it arrived in a very timely manner. Everyone that has seen it thinks it is a wonderful gift idea.

The only thing I would suggest for this item is to make the names larger so that they are more easily read; other than that, I am completely satisfied with my purchase.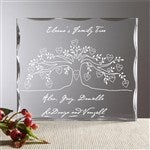 Type of gift I was looking for
By
Jacqueline T.

(Yorkville, IL) - December 24, 2011 (
See all reviews by this customer
)
I was impressed with the quality of acrylic, was a little worried it would seem too much like plastic, but had a nice heavy feel. It was a little smaller than I would have like and the print seemed kind of small but it turned out very cute! Only complaint was that some of the white print was smeared a little next to the names when it was delivered - wondering if they didn't let the paint dry enough before they boxed it up?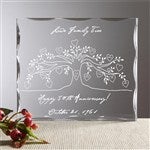 Family keepsake
By
Shopper

(DeSoto, MO) - December 8, 2011
This is a very nice keepsake but there are a couple of issues with it. First of all trying to get the names in the order you would like them placed is difficult and took a lot of monkeying around to know which spaces to leave blank and which name to put in each heart. Once that was figured out, the rest was a piece of cake. The other problem that I see is the name personalization is very small. Those were the only two things that I found a problem. It is heavey and will make a nice gift.

Mack Family Tree
By
Joan M.

(Pittsburgh, PA) - September 14, 2011 (
See all reviews by this customer
)
This item was loved by the recipient. However, one name was too long for a leaf and had to be mispelled, which was a little disconcerting. Overall, it was beautifully packaged and well done.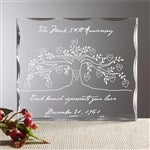 very nice
By
Shopper

(Las Vegas, NV) - July 11, 2011
We only wish the hearts were a bit larger so the names were more pronounced.
Overall, we are very pleased with the quality of the product.

beautiful
By
Shopper

(Maineville, OH) - July 1, 2011
i did receive this a few weeks ago, ordered it on a sunday, got it on thursday, w/regular shipping. the font is a little hard to read, esxpecailly white on clear so i went to a craft store and had black matting cut for it
it will be displayed on a black scroll frame display w/black matting behind it, stands out so much more than the white on clear, it is easier to read and looks very elegant. glad i purchased this, really happy i put the black matting behind it, i think it will be a hit!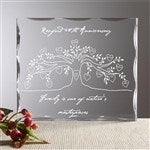 scatter names of hearts
By Shopper (Maineville, OH) - June 19, 2011
just a tip for future buyers - you can skip lines for the names so that the names are more scattered, balancing out the empty hearts, as far as i can see from the preview of mine, it looked really cute that way, the first time i entered the names, i went straight through the lines, 1-10, but after previewing, and seeing a string of empty hearts, i starting skipping lines and moving names around until i had the "design" i wanted although i haven't received this, i am certain it will be a great gift, the preview looks lovely, but i am concerned about the size and ability to read the names.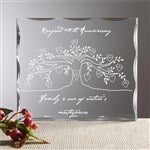 Well Engraved
By
Amr A.

(Los Angeles, CA) - December 20, 2010 (
See all reviews by this customer
)
Done with high quality

Family Heirloom
By
Hilarie W.

(Beaverton, OR) - September 4, 2010 (
See all reviews by this customer
)
This is the perfect gift for a milestone anniversary present. It looks quite classy. I plan on giving this gift in the future to commemorate special anniversaries. It will definitely become a family heirloom to be passed on. The etching could be a bit darker, but it is still legible. It would be nice if more hearts could be added to accomodate larger families.

Nice idea
By
Lynette M.

(Beeville , TX) - July 6, 2010 (
See all reviews by this customer
)
I liked the whole concept, I only wish it were a little larger!

Nice Gift
By
Exie B.

(New Castle, IN) - July 2, 2010 (
See all reviews by this customer
)
This gift is very nice and a thick, heavy high quality piece. I do have two suggestions for the company.....they should allow personalizers to delete or add hearts with names in them.......so as not to have empty hearts on the tree or to add more to larger families as necessary.

Besides, the personalization issues.....it is still a very nice gift which presents beautifully and is also memorable and affordable. With that combination, you cant really ask for much more.



Family Tree
By
Shopper

(Lexington, VA) - April 20, 2014
The item itself is beautiful. The actual hearts are small making the name of the family members hard to read. I guess I expected the hearts to be larger.

Small
By
Shopper

(Morrisville, NC) - March 8, 2011
Its much smaller than it appears. Need to put the picture with any reference point (dollar bill etc.). Otherwise, its a good product and carefully done. Would love to see some options for blank spots (eg: leave carving, lines, shade etc.)

Nice product, lopsided personalization
By
Sharon H.

(Flourtown, PA) - April 19, 2010 (
See all reviews by this customer
)
Very nice item, although I wish when they personalized it they would spread the names out. I didn't have enough names to cover all the hearts on the tree and they left 3 hearts blank on one side instead of spreading the blanks out throughout the tree. It looks lopsided and am a bit disappointed in the final product.

Our Family Tree© Personalized Keepsake
By
Linda K A.

(Naperville, IL) - October 8, 2009 (
See all reviews by this customer
)
I find the writing difficult to read and the names on the tree leaves are very small and even more difficult to read.

way too small
By
Jeff S.

(Wesley Chapel, FL) - June 4, 2013 (
See all reviews by this customer
)
It is a beautiful idea. However, writing is too small to see. Choose another product.