beautiful
By
Shopper

(clermont, FL) - December 14, 2012
This is so pretty. Got it for my Mom. Cant wait to give it to her.

Perfect gift for a grandmother
By
Shopper

(Sauk Rapids, MN) - November 18, 2012
The personalized family tree was the perfect gift for my mother's birthday! She loved it so much she cried when she received it. She keeps taking it with her to other family member's houses to show it off. This is a great gift for the person who has everything :)

Great Anniversary Gift
By
Sarah W.

(Romeoville, IL) - October 6, 2012 (
See all reviews by this customer
)
I bought this for my in-laws for their 30th Anniversary. It's a beautiful, heavy, piece. I love that you can personalize every written part of this piece. Really a nice keepsake.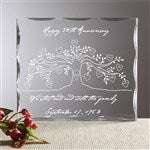 Family Tree--great gift
By
Nancy S.

(Pickerington, OH) - September 28, 2012 (
See all reviews by this customer
)
The gift was lovely and well made. The giver and the receiver loved it.

Really Beautiful
By
Shopper

(Buffalo, NY) - September 21, 2012
Purchased this as an anniversary gift for my parents. I didn't think it would turn out as nice as it did. There was room enough for everyone's name. This will really become a sweet reminder of a family's love when we're all gathered at Nana's house.

Very pleased with this purchase!!!
By
Mary T.

(Antioch, TN) - September 18, 2012 (
See all reviews by this customer
)
I ordered this at the last minute for a family reunion! I was very happy with the purchase and strongly recommend this item. The one drawback is the writing is a little small.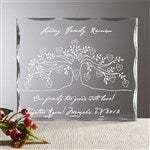 50th annivesary gifts
By
ginette G.

(orlando, FL) - July 20, 2012 (
See all reviews by this customer
)
you have excided our expectation.The couple were estatic over the quality of your product

Beautiful!
By
Shopper

(Saratoga Springs, NY) - July 13, 2012
The family tree was the perfect gift. The hearts on the tree are small, but you can still see the names. It was worth the price. I would highly recommend it.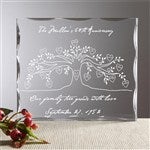 Was as I anticipated
By
Esther O.

(Bradenton, FL) - July 7, 2012 (
See all reviews by this customer
)
I needed more than more than 8 spaces for one name. I had to leave off a letter. I needed 9 spaces for one name, otherwise nice. Received in less time than I was told.
Thank you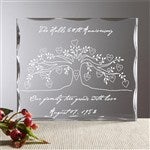 Absolutely Beautiful!!!!!
By
Natalie M.

(Ocala, FL) - June 25, 2012 (
See all reviews by this customer
)
My order was received very quickly and when I opened it, I was amazed at how beautiful it was! It really exceeded my expectations and I was so happy that I made this my parent's 40th anniversary gift. I couldn't imagine a more perfect gift for them!

The Massey 65th Anniversary
By
Carleen R.

(Winchester, TN) - June 23, 2012 (
See all reviews by this customer
)
I just loved it very much. The only negative thing is that I had to drop part of my grandson's name. Too many letters. He has a hyphenated name so I had to drop the second part of it. Other then that the quality & workmanship is great.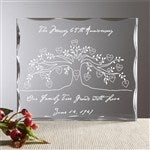 Exceeded Expectations
By
Shopper

(Rock Tavern, NY) - June 17, 2012
My mother loved the gift for her birthday!!! A gift to be treasured for years to come.

Our parents loved it!
By
Shopper

(Indian Harbour Beach, FL) - June 16, 2012
They said it was beautifully etched, crystal clear. Very special.

My wife thinks it makes a great paperweight :-)
By
Shawn H.

(Fort Belvoir, VA) - May 20, 2012 (
See all reviews by this customer
)
This is much larger that what is looks like in the photo. Very nice keepsake that will last for years. It is very solid. The etching is a little hard to read, but the overall effect is wonderful. I reccommend it.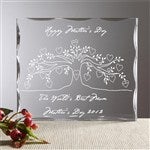 Amazingly beautiful product
By
Anne P.

(Roanoke, VA) - May 6, 2012 (
See all reviews by this customer
)
I could not have asked for a better, most beautiful Mother's Day present to send my mom. It's a high quality product, even more beautiful than the picture, heavy, nicely wrapped. The website was easy to use and delivery was very fast. I would definately buy from them again!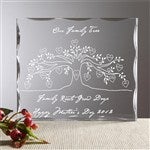 producr feature that I liked
By
Shopper

(SMITHTOWN, NY) - February 28, 2012
Purchased "Our Family Tree" for my son and daughter in law's 20th anniversary. It is absolutely beautiful. They will love it. Very pleased and I always buy from Personalization because they have unique gifts and personlizing the gifts makes it warm and personal. Thank you.


50 years & counting
By
Shopper

(Hazel Park, MI) - February 3, 2012
Extrememly pleased. I'm sure my mom & dad are going to love this for their 50th wedding anniversary.

More than a keepsake
By
Shopper

(Culver, IN) - January 20, 2012
This prduct was priceless everything went off with out any worries! I ordered delivered on the day they said it would be everything was great the hardest part was waiting till christams to give it too them! My N Laws loved it! I tell everyone I know about this website! I have alot of occasions coming up this year and everyone i know it's getting a gift from here!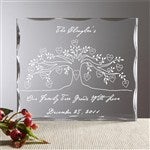 Grandma's Christmas gift
By
Summer A.

(St Augustine, FL) - December 21, 2011 (
See all reviews by this customer
)
This gift exceeded my expectations! I was surprised by how heavy it was. I was concerned over the size of the names. They are a little small, and I was worried a 72 year-old wouldn't be able to read them. She did just fine. A great product.

50th wedding anniversary
By
Amy B.

(Lake Worth, FL) - September 26, 2011 (
See all reviews by this customer
)
This item was PERFECT for our parents. Absolutely beautiful!!!! We fit each child (5 of us) on the top hearts along with their dog in the middle top. Then from there each grandchild fit under each child to make 15 hearts. PERFECT!!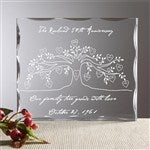 Beautiful, unique piece!
By
Dustin B.

(Cuyahoga Falls, OH) - August 8, 2011 (
See all reviews by this customer
)
I was thrilled with the family tree keepsake created for my parents 40th wedding anniversary. It seemed a little smaller than expected even though dimensions reported are accurate. Fast order processing - impressive that I had final piece in less than 4 days after order submission! Small issue when creating tree - no template provided of which name number corresponds with tree heart. With some effort, I was able to figure that out and put names exactly where I wanted on tree.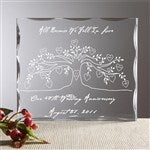 Great Gift
By
Shopper

(Shreve, OH) - August 7, 2011
Very pleased with the quick delivery and quality of this item. I would definitely order from personalization mall again.

Looks great - a sweet & sentimental gift
By
Shopper

(Acworth, GA) - July 26, 2011
It was so easy to order and was delivered really fast. I am very pleased with it - it's beautiful & memorable. I am looking forward to more opportunities to give it as a gift.

Unique Gift
By
Gary M.

(Indian Land, SC) - July 25, 2011 (
See all reviews by this customer
)
We had never seen this type of product before. It was perfect for a cousin's birthday gift. The plaque is sturdy and attractive. I would suggest making it a bit larger so the lettering would be easier to read. Thank you for solving the problem of what to find that would be special.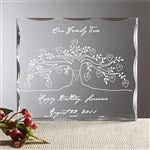 Wonderful!
By
Shopper

(WEST FRANKFORT, IL) - June 24, 2011
I purchased this item for my in-laws for their anniversary, and they loved it. It arrived within a week. The quality of the product was wonderful. Very nice, it surpassed my expectations. I just ordered another one for my parents. We are very pleased. You do have to play with the names to get them in the right spot but that's why they have the edit button for you to double check. Thank you!

70 th Anniversary
By
Shopper

(Burlington, NC) - June 23, 2011
I ordered the Family Tree for my parents 70th anniversary. What a hit!!! They just absolutely adored it. Quality is wonderful. My only wish is that the size of it, was a little larger. But otherwise, no regrets. Would suggest this item for any special occasion such as this.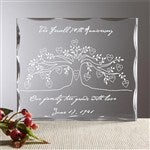 AMAZING, CLASSY and BEAUTIFUL
By
Caitlin F.

(Watertown, WI) - June 14, 2011 (
See all reviews by this customer
)
I purchased this gift for my friends who were celebrating their 50th Wedding Anniversary...
when it arrived I was SHOCKED at the quality... it was thick and heavy and well made. The only suggestion I would have is that you're allowed to add or subtract the number of hearts you need.

Lovely gift
By
Shopper

(Old Hickory, TN) - April 17, 2011
This is a unique and lovely gift. I was pleased with the quality and the super fast delivery. It is quite heavy and feels substantial. If the opportunity came up for another occasion I wouldn't hesitate to order one again.

Great gift for mom
By
nicole G.

(ossipee, NH) - April 1, 2011 (
See all reviews by this customer
)
Was looking for a gift for my mom's 40th anniversary and could not find anything then found this site and fell in love with this family tree. She has not got it yet but I know she will love it with all her kids and grandchildren's name on it. Thanks for helping me find the best gift for my mom and dad.

Good anniversary present
By
Suzanne M.

(Benton, AR) - January 21, 2011 (
See all reviews by this customer
)
I got this for my Mom and Dad for their anniversary. I haven't given it to them yet, but I'm sure they'll love it. It's a very neat idea.

Gorgeous
By
Loni S.

(Elkton, MD) - January 4, 2011 (
See all reviews by this customer
)
This was a present for my boss and she absolutely loved it! she set it up on her entertainment center with a fake tealight candle behind it and she said it was the talk of Christmas at her house!

Everyone loved this gift
By
Cyndel R.

(Glendale, NY) - October 30, 2010 (
See all reviews by this customer
)
I got this gift for my grandparents 50th anniversary and they and the rest of my family loved it. It is such an amazingly personal gift. If you are looking for the best gift to give to a loved one this is it. It came
Within three days which was very convenient. I highly recommend this i love it...

Classic Beauty
By
Tonjia R. C.

(Pine Bluff, AR) - August 15, 2010 (
See all reviews by this customer
)
Our Family Tree Keepsake was used a family reunion award. It's beautiful and will serve as a priceless family display for years to come.

More than expected!!!!!!
By
Christina B.

(Shreveport, LA) - August 10, 2010 (
See all reviews by this customer
)
A beautiful gift. I recommend this to anyone, its worth the money and ships fast! It was even nicer than it looked on here, the pic doesn't do ti justice! A++++++++++++

~Chrissie

I will buy this item again!
By
stephanie B.

(wichita falls, TX) - August 10, 2010 (
See all reviews by this customer
)
I was surprised to see that this item was EXACTLY as it is shown in the personalization screen. The names are small, but clearly engraved and easy to read. The piece is very substantial and does not look like "cheap" plastic; it is a smooth acrylic block about 1.5" thick and quite heavy. I had originally planned to use the piece as a cake topper, but because of its weight, have decided to display it beside the cake instead. This will be a great keepsake for my in-laws. I also liked that it could be completely personalized on each of the 3 lines and that there were plenty of character spaces on each of the lines. The fifteen hearts worked out for us, although some names did have to be shortened to fit. Great product.

beautiful keepsake
By
Sandra S.

(Pearl, MS) - July 6, 2010 (
See all reviews by this customer
)
I ordered the family tree keepsake for my parents' 50th wedding anniversary. It arrived quickly and in perfect condition. They LOVED it. Thanks.

Exceded my expectations
By
Janene R.

(Willard, OH) - June 23, 2010 (
See all reviews by this customer
)
I had been searching, for awhile, for something for my in-laws 50th anniversary. When I came upon this I was thrilled that I found a piece I could personalize.
The shipping was extremely quick!
This plaque exceded my expectations in the quality and workmanship.
I will definately be a return customer!


Lovely,simply lovely
By
susan V.

(slidell, LA) - May 29, 2010 (
See all reviews by this customer
)
Just what we needed for an anniversary gift. Arrived quickly, boxed and wrapped securely, and best of all the look of it is simply lovely! Thanks PM!

My Mom loved it
By
Brittney B.

(Ward, AR) - April 29, 2010 (
See all reviews by this customer
)
It was a wonderful addition to her desk at work. She loved it. Shipped quick and I have no complaints.

Great anniversary gift!
By
Leah F.

(Tucson, AZ) - April 2, 2010 (
See all reviews by this customer
)
I ordered one each for parents & in-laws. Beautiful etching and a unique, precious keepsake for the family. Great gift! Thanks