Garment Bag as Promised
By
Laura K.

(Huron, OH) - August 31, 2014 (
See all reviews by this customer
)
Love the garment bags. Ordered three for grooms gifts. They are rich quality and the shipping was QUICK! Would highly recommend!

Very Nice Travel Hangbag
By
Shopper

(Lake Chares, LA) - July 9, 2014
Got this bag for my husband and he really loved it. The embroidery just tops it off. Excellent choice!

Great value
By
Shopper

(Lewisville, NC) - June 16, 2014
This bag is high quality and the embroidery well done.

Grandfather's day gift
By
Shopper

(Deatsville, AL) - June 13, 2014
I love this bag...This gift is for my father. He is more of a casual vs dressed up guy. He's more laid back and travels to do sport effects regularly. I thought this would work better rather than the traditional suitcase

durable, good workmanship, exactally as presented
By
Shopper

(Chattanooga, TN) - May 25, 2014
Very functional and durable. made well and it's exactally as presented on the web site. I think I'll get years of wear outa this item.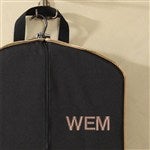 High quality for the traveler!
By
Lillian A.

(Gretna, LA) - December 10, 2013 (
See all reviews by this customer
)
Incedible gift! Beautiful personalization!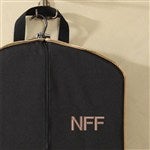 travel hanging bag
By
David C.

(Winston Salem, NC) - November 25, 2013 (
See all reviews by this customer
)
Great hanging bag. We use it for all car trips. Very sturdy and holds more than most hanging bags. It is very simple and does not have pockets or other stuff that we dislike in other hanging bags. It is just a well constructed bag that zips up.

Great for the price.We just bought them for our daughter and son-in-law because we liked ours so much.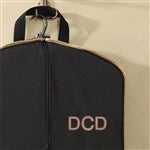 Pleased Performer!
By
Shopper

(Aiken, SC) - October 14, 2013
My grandson loves his birthday present - the personalized garment bag. He is part of a young men's singing group and the previous manufacturer's garment bag was not up to all the usage. This one was there for a performance the day it arrived and he loves the initials on it to make it easy to spot! Thanks for a great item shipped in a timely manner.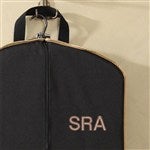 Garment Bag
By
Shopper

(Friendswood, TX) - July 7, 2013
This was a great buy and look really chic. I purchased this for my significant other and he loved it.. The monogramming made it extra special for him. Nice bag to put his suits in for overnight trips..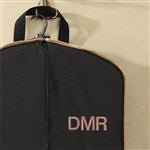 Big Hit!
By
Rose Mary L.

(Lockhart, TX) - June 30, 2013 (
See all reviews by this customer
)
I bought this garment bag along with the duffel bag for my son's 28th birthday. He LOVED it! He lives out of state so I didn't get to see these items, but he said the quality was very good. I have been a customer for many years and I order many gifts from Personalizationmall.com. I can always expect my gifts to be well received and I have been very pleased with everything I have ordered. The customer service is also the best!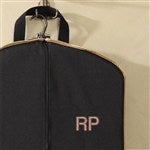 Great Gift idea!
By
Ashley E.

(Hollywood, FL) - June 17, 2013 (
See all reviews by this customer
)
Great quality and initials stitched on make this a great customized elegant gift.

Garmet bag
By
Susan D.

(Pittsburgh, PA) - April 20, 2013 (
See all reviews by this customer
)
Great quality, very durable. Came in days!

Elegant and Practical
By
Dennis B.

(Roswell, GA) - January 27, 2013 (
See all reviews by this customer
)
I will be taking my garment bag on its first trip next week. I finally have a way to carry all my formal wear without packing in a crowded suit case from taxi to plane to ship. Thanks.

great product
By
Shopper

(Redmond, WA) - January 18, 2013
I was really pleased with it.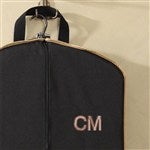 Nice looking, good quality
By
Shopper

(League City, TX) - January 1, 2013
Gave 2 for Christmas presents to frequent travelers. Both impressed with looks and quality.

Perfect!
By
Linnea W.

(Carol Stream, IL) - December 15, 2012 (
See all reviews by this customer
)
I ordered one for my husband and one for myself. The quality is top-notch and the personalization makes it extra special. I still cannot get over how quickly they arrived!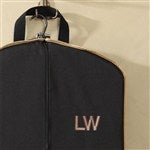 Garment Bag
By
Patricia W.

(Highland Park, IL) - November 13, 2012 (
See all reviews by this customer
)
Excellent quality and exactly how it was demonstrated online. Craftsmanship is excellent and very sturdy. Perfect for what I needed it for. Love it!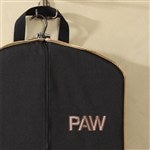 Another winner
By
Shopper

(Ada, MI) - November 10, 2012
Bought a travel bag for my husband last year. He has used it many times and always comments on the quality and space the bag has. It securely snaps all the hanger tops together so there are no slip outs. There is always room for my hang ups too. Bought another one for my son and will get more as gifts when needed. A great value!

Great Gift
By
Amy M.

(Medford, MA) - October 27, 2012 (
See all reviews by this customer
)
We order these as groomsmen gifts for our wedding and were very impressed with the quality and can't wait to give them to everyone

Fancy Elite Travel heavy duty garment bag
By
Shopper

(MARTINEZ, GA) - September 24, 2012
Looks great. I haven't used it yet but I'm sure it will work great. The monogram is of great quality

How I use the garment bag
By
Shopper

(Adrian, MI) - August 27, 2012
The garment bag was so perfect, that I ordered one for my wife. It is heavy duty, but does not weigh much, and beats the plastic ones I have used. I would highly recommend this purchase for any salesman or person that travels a lot.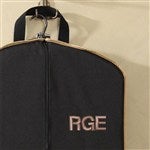 Travel Bag
By
Shopper

(Burleson, TX) - August 25, 2012
These are well made travel bags. We now own four of these. Perfect for the way we travel with all carry on luggage.

Awesome Product
By
Shopper

(UPPER MARLBORO, MD) - August 4, 2012
Based on the comments from others, I bought two of these garment bags for a married couple that recently retired and had them shipped out-of-state directly to them. They were elated when they opened the box and called me describing how beautiful the quality of the bags are, and the professionally stitched monograms on each were the perfect touch. They also commented that they will be used in their travels--now that the have the time--and that they are ideal for each to take their items for hanging in the car or aboard a plane, along with a weekender bag for their quick getaways, as well as accompany each of their suitcases for their planned cruise. This really made my day and the no hassles on-line purchasing (which permitted me to review the monograms) and on-time delivery were a plus. I couldn't have found a more practical and stylish retirement gift at such a reasonable cost. No disappointments with this one--I highly recommend purchasing this product.

classy
By
Shopper

(St Charles, MO) - August 1, 2012
I got this for my boyfriend to travel. He loves it and it looks great.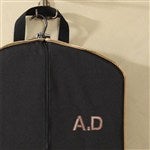 Pleased as usual
By
Jannah G.

(League City, TX) - May 14, 2012 (
See all reviews by this customer
)
Never disappoint. Great product, fast deliver, quality purchase!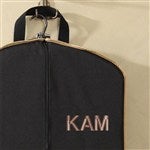 Wedding Present
By
Sharron C.

(Rockwall, TX) - April 14, 2012 (
See all reviews by this customer
)
Two of these were the perfect wedding present for my financial advisor & his bride, with emphasis on something for the groom & for a couple who already had established households.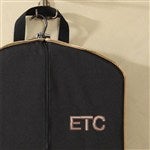 Very Nice
By
TIFFANY P.

(florence, SC) - February 16, 2012 (
See all reviews by this customer
)
My boyfriend travels a lot and I wanted to get him something that was nice to carry his work clothes in. Loved the personalization and great quality.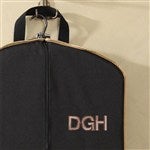 Great gift!
By
Shopper

(Mission Viejo, CA) - January 2, 2012
I was very happy with the quality of the gift! Looks just like the picture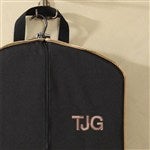 Love it!
By
Shopper

(Central Falls, RI) - December 30, 2011
I was very pleased with the quality of the product.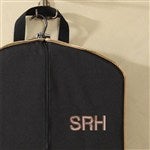 5 star value
By
Shopper

(Lake Mary, FL) - September 30, 2011
Looks professional & carries clothes conveniently. Hangs easily in car or closet. Monogramming is a nice personal touch. Material & zipper are strong & the color combo is quite appealing. An excellent product for a great value!

WOW!
By
Shopper

(Mobile, AL) - September 23, 2011
Let me start by saying I have expensive taste and high expectations when I spend hard earned money for something. I ordered this Garment Bag for my son's 40th birthday along with the Duffle. I paid extra for fast delivery but was concerned as the item had to be embroidered with his initials and I needed it for his party in just a few days. Well Personalization, you DELIVERED!
How excited we were with the quality of these items. Wonderful fabric, very classy, excellent stitching and rich color and texture. This first time customer will be back soon!
Thanks so much for having such quality products to offer today's busy consumer like me!

So pleased!
By
Shopper

(ocean, NJ) - July 23, 2011
Good quality and price; shipping was prompt as always. Great gift, and personalization gives it a personal touch!!


father's day gift
By
Marjorie B.

(Miami, FL) - June 26, 2011 (
See all reviews by this customer
)
I purchased this bag for father's day. My boyfriend loved it. I was very satisfied with the bag.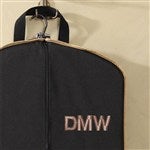 Well pleased
By
Linda B.

(Athens, AL) - June 23, 2011 (
See all reviews by this customer
)
I was well pleased with the garment bag, the material with which it is made, and the monogramming. It is a good size for suits. The personalization adds character to the bag, and I received this item in less than one week from when I placed my order. I will definitely order again from this company. The service is fast and the goods are of high quality.

Heavy Duty Garment Bag
By
Shopper

(Hoover, AL) - June 18, 2011
It is perfect and I got it ontime.
Thanks.

Very sturdy
By
Shopper

(Jefferson City, MO) - June 15, 2011
Loved this, very personal with the initials and holds alot of clothes!

love personalizationmall.com!!!
By
Christi G.

(Battle Ground, IN) - June 14, 2011 (
See all reviews by this customer
)
Ordered this garment bag along with the duffel bag for my dad for Father's Day. He absolutely loved it for his weekend trips. He received it promptly and the quality of the garment bag is great.

Great quality
By
Shopper

(lawrence, NY) - April 23, 2011
This was a last minute gift idea and the service and quality was far superior to what I expected.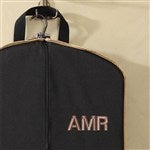 Great quality travel bag!
By
Martha K.

(Atlanta, GA) - March 15, 2011 (
See all reviews by this customer
)
I am quite pleased with the quality of this bag! It is sturdy and classic. My only disappointment is that I prefer color options. Thank you for the great service.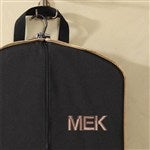 Fast service. Heavy duty item.
By
Shopper

(Oak Hill, VA) - February 20, 2011
Nice quality. Wish it came in more colors.