Garment Bag
By
Patricia W.

(Highland Park, IL) - November 13, 2012 (
See all reviews by this customer
)
Excellent quality and exactly how it was demonstrated online. Craftsmanship is excellent and very sturdy. Perfect for what I needed it for. Love it!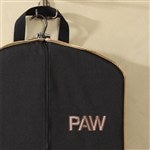 How I use the garment bag
By
Shopper

(Adrian, MI) - August 27, 2012
The garment bag was so perfect, that I ordered one for my wife. It is heavy duty, but does not weigh much, and beats the plastic ones I have used. I would highly recommend this purchase for any salesman or person that travels a lot.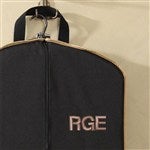 hanging bags
By
Shopper

(Burleson, TX) - August 10, 2012
These are well made and the perfect size.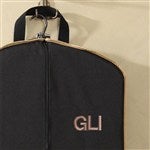 classy
By
Shopper

(St Charles, MO) - August 1, 2012
I got this for my boyfriend to travel. He loves it and it looks great.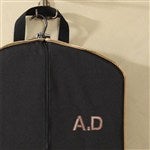 Pleased as usual
By
Jannah G.

(League City, TX) - May 14, 2012 (
See all reviews by this customer
)
Never disappoint. Great product, fast deliver, quality purchase!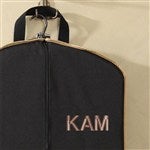 Wedding Present
By
Sharron C.

(Rockwall, TX) - April 14, 2012 (
See all reviews by this customer
)
Two of these were the perfect wedding present for my financial advisor & his bride, with emphasis on something for the groom & for a couple who already had established households.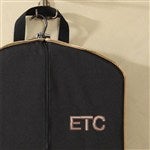 Great material...tends to lose its shape
By
Pedro V.

(Central Islip, NY) - March 2, 2012 (
See all reviews by this customer
)
Item was received as promised. The quality of the personalization was excellent as well as the quality of the bag's material. However, putting 1 suit and about 3 changes of clothes (pants & shirts) caused the bottom of the bag to flop over when folded. I may try some lightweight cardboard cut and fitted to the shape of the bag to help in that regard. I have seen one garment carrier (unable to locate it again) that had a flap on the bottom of the bag that came over the top of the hangers like a sleeve, preventing the bottom from flopping and sagging. The hanger locking system is effective and accommodates thin metal as well as thick plastic hangers although, if you stick with the thin hangers you will get better results when securing the lock. Overall I would recommend this product.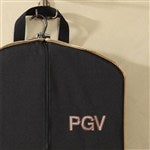 Very Nice
By
TIFFANY P.

(florence, SC) - February 16, 2012 (
See all reviews by this customer
)
My boyfriend travels a lot and I wanted to get him something that was nice to carry his work clothes in. Loved the personalization and great quality.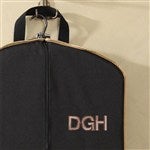 Great gift!
By
Shopper

(Mission Viejo, CA) - January 2, 2012
I was very happy with the quality of the gift! Looks just like the picture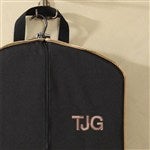 Excellent quality and all MINE
By
David M.

(Reedsville, WV) - October 3, 2009 (
See all reviews by this customer
)
I was looking for a high quality garment bag that I could use during my business travel. I accidentally stumbled across this one and quickly recognized that having a personalized bag behooves me as I often need to store my belongings with the front desk or concierge post-check but pre-departure. It is high quality and very attractive. I am quite pleased with the product and highly recommend it.

great gift
By
A W.

(Canada) - October 7, 2009 (
See all reviews by this customer
)
high quality impressive garment bag

Travel Garment Bag
By
Shopper

(Hoover, AL) - December 20, 2012
I got two of them for my husband and his friend's birthday gift. I think one part is missing the part that supposed to hang up on the wall as I see in the picture. And my husband is not satisfy with it. He says it is hard to take the hanger through it. Eventhough the material is perfect, personalization is very good and it looks very nice. But he is not using it at all.

Unhappy with Purchase
By
Cynthia T.

(Fayetteville, NC) - December 28, 2010 (
See all reviews by this customer
)
This garment bag is small, small, small! Its ueless! The picture is deceiving. And you cannot return it because its personalized.

GREAT TRAVEL BAG BUT
By
max G.

(west bloomfield, MI) - March 22, 2013 (
See all reviews by this customer
)
VERY WELL MADE AND IMPRESSIVE LOOKING. I WISH IT HAD ITS OWN HOOK TO HANG UP IN PLANES. THAT IS WHAT I USE IT FOR.

EXCELLENT
By
Phyllis W.

(Arlington, TX) - December 28, 2009 (
See all reviews by this customer
)
I am really happy. This is my husband's Christmas gift and he adores it. His face lit up when he saw that it was something he always wanted. Thank you so much. The item is of superior quality and the service was outstanding, especially for this time of the year. Congratulations and best wishes to you at Personalization Mall for continued success always. Will soon be purchasing again.



Good
By
ROBERT Q.

(ARLINGTON, VA) - January 22, 2010 (
See all reviews by this customer
)
This was a gift and the person that recieved the gift liked it very much.,You did a good job. Keep up the good work.

great quality
By
Charles P.

(Kernersville, NC) - January 25, 2010 (
See all reviews by this customer
)
The bag is heavy duty and the colors are OK for male or female. Embroidery looks great. Very pleased with quality.

Makes a great gift for a guy
By
Evelyn B.

(oklahoma city, OK) - October 14, 2009 (
See all reviews by this customer
)
good size and weight, not too heavy or bulky, not too thin or flimsy; it's a great gift to give a guy who travels light

A really nice gift
By
Fern E.

(Staten Island, NY) - October 15, 2009 (
See all reviews by this customer
)
I got this for my husband and he hasn't used it yet, but it was an impressie looking gift. The initials looked great and it looks very sturdy.

Mom of Doctor Son
By
Sheryl H.

(Rockham, SD) - December 10, 2009 (
See all reviews by this customer
)
I think this will make a very nice gift for my Dr. son. I thought it was very good quality and classy looking. I am looking forward to giving it to him for Christmas.

Good Product - Rec'd quickly
By
Mary Lou C.

(Tulare, CA) - October 1, 2009 (
See all reviews by this customer
)
Good Product and it arrived on time as promised.

Heavy Duty Odor
By
Shopper

(Aurora, CO) - March 23, 2011
The Heavy Duty Garment Bag could be longer to accommodate longer
apparal. The garment bag has a very unpleasant odor.
odor.

Garment Bags
By
Robert C.

(Grand Terrace, CA) - December 20, 2009 (
See all reviews by this customer
)
Product was ordered and shipped quickly and easily. Met expectations.


My Husband Loved this!
By
Tamiko O.

(Brentwood, CA) - June 20, 2010 (
See all reviews by this customer
)
My husband was excited to receive this as his father day gift. I was excited because at 9 months pregnant, I didn't feel like going out looking for a father day's gift. My husband is also hard to shop for, therefore this gift was prefect, because we he travel he now has his personalized garment bag. I only wish they sold this in different lengths for extra-tall men.

My husband loved it!!!
By
Felicia B.

(West Hills, CA) - December 30, 2009 (
See all reviews by this customer
)
Good quality! haven't used it yet, though! Very classic and sharp looking! Very pleased with personalizationmall.com!!!
I will now be a customer for life and will be referring lots of friend and family!!!

Nice Bag
By
Shopper

(El Centro, CA) - December 27, 2011
I bought this bag for my brother-in-law who is a clothes horse. The bag seemed substantial enough, and he appeared pleased. I would have liked more options for the font for the initials. One note - don't order the box, it's a rip-off. It cost $3.75 and was a really ordinary Macy's quality box, with a black elastic band and some folded white tissue. Furthermore, it was slightly too small, so I had to cram the bag in it making the sides pooch out.

Did not like the logo
By
Shopper

(Mercer Island, WA) - January 29, 2011
The logo looked bulky. The photos look much better than the product in real life.
would not recommend or buy this again.

dissapointed
By
irina M.

(angola, IN) - December 29, 2010 (
See all reviews by this customer
)
very dissapointed with this bag. My husband travels alot and uses these bags, but with this one there is no seperate compartment to put shoes or toiletries. Also the qaulity is certainly not worth the money.
Will think twice about ordering off this website.

small
By
Adam S.

(West Chester , PA) - November 12, 2013 (
See all reviews by this customer
)
I was a little upset at the size of the bag. Yes, the quality is fantastic, but it will be VERY hard to fit a normal size suit in this without jamming it in or risking lots of wrinkles. I am a size 38R chest and 28" waist and if I have a hard time finding room, most people will.

Not Quite What I Had Hoped For
By
Kelly R.

(Corpus Christi, TX) - June 16, 2010 (
See all reviews by this customer
)
I was looking for a fathers day gift for my husband who is a salesman and travels by car several days a week from our hometown, Corpus Christi to down into McCallan and Brownsville area and primarily deals with attorney and law practices. And I was looking for something to carry his suites and expensive tailor made shirts in without worry and other minor things. I am not impressed with this bag at all. But I guess you get what you pay for. The bag does not hold that much and is quite awkward to close for traveling and storing with clothing.

Good for the price
By
kelly D.

(lexington, KY) - May 19, 2010 (
See all reviews by this customer
)
Decent garment bag for the price, but I was hoping for something a little more upscale.

Fancy Elite Travel heavy duty garment bag
By
Shopper

(MARTINEZ, GA) - September 24, 2012
Looks great. I haven't used it yet but I'm sure it will work great. The monogram is of great quality

Great Gift
By
Amy M.

(Medford, MA) - October 27, 2012 (
See all reviews by this customer
)
We order these as groomsmen gifts for our wedding and were very impressed with the quality and can't wait to give them to everyone

Another winner
By
Shopper

(Ada, MI) - November 10, 2012
Bought a travel bag for my husband last year. He has used it many times and always comments on the quality and space the bag has. It securely snaps all the hanger tops together so there are no slip outs. There is always room for my hang ups too. Bought another one for my son and will get more as gifts when needed. A great value!

Travel Bag
By
Shopper

(Burleson, TX) - August 25, 2012
These are well made travel bags. We now own four of these. Perfect for the way we travel with all carry on luggage.

So pleased!
By
Shopper

(ocean, NJ) - July 23, 2011
Good quality and price; shipping was prompt as always. Great gift, and personalization gives it a personal touch!!


WOW!
By
Shopper

(Mobile, AL) - September 23, 2011
Let me start by saying I have expensive taste and high expectations when I spend hard earned money for something. I ordered this Garment Bag for my son's 40th birthday along with the Duffle. I paid extra for fast delivery but was concerned as the item had to be embroidered with his initials and I needed it for his party in just a few days. Well Personalization, you DELIVERED!
How excited we were with the quality of these items. Wonderful fabric, very classy, excellent stitching and rich color and texture. This first time customer will be back soon!
Thanks so much for having such quality products to offer today's busy consumer like me!

Awesome Product
By
Shopper

(UPPER MARLBORO, MD) - August 4, 2012
Based on the comments from others, I bought two of these garment bags for a married couple that recently retired and had them shipped out-of-state directly to them. They were elated when they opened the box and called me describing how beautiful the quality of the bags are, and the professionally stitched monograms on each were the perfect touch. They also commented that they will be used in their travels--now that the have the time--and that they are ideal for each to take their items for hanging in the car or aboard a plane, along with a weekender bag for their quick getaways, as well as accompany each of their suitcases for their planned cruise. This really made my day and the no hassles on-line purchasing (which permitted me to review the monograms) and on-time delivery were a plus. I couldn't have found a more practical and stylish retirement gift at such a reasonable cost. No disappointments with this one--I highly recommend purchasing this product.

Nice looking, good quality
By
Shopper

(League City, TX) - January 1, 2013
Gave 2 for Christmas presents to frequent travelers. Both impressed with looks and quality.

Great value
By
Shopper

(Lewisville, NC) - June 16, 2014
This bag is high quality and the embroidery well done.