amazing
By
Shopper

(Temple, PA) - December 29, 2011
this mug is not only a gift for some one i love but it brought a smile to my best friend's face so it was also a gift for me. this is definetly a great site to look for year around gifts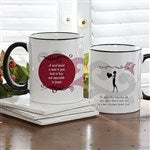 I will be a repeat customer!
By
Shopper

(Croswell, MI) - December 23, 2011
This was just the most perfect gift ..I wish I had found this site earlier. It was easy to use, I got to express exactly what I wanted to say to make it a special gift for my friend. AND even though I ordered it Christmas week, it came before Christmas Eve. Such a nice product! I will definitely be a repeat customer for my next 'special gift' need.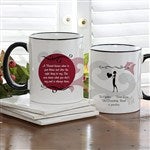 very nice gift idea
By
Amanda T.

(Virgin Islands (U.S.)) - November 1, 2011 (
See all reviews by this customer
)
i bought this for my mom... i loved that i could write my own words on the mug.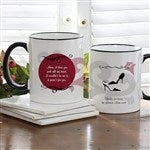 Wonderful Gift for My Hostess
By
Shopper

(Ft. Washington, MD) - July 12, 2011
These cups were everything I could ask for. And the fact that the personalization was free was an access. I ordered on Wednesday and the package was at my door on friday. Excellent gift for my wedding hostess. I was very much impressed.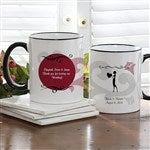 Great Idea
By
Shopper

(Holland, TX) - July 9, 2011
I gave this to my sister as a graduation present. She absolutely loved it! The Logo wears off on the bottom after a few hand-washes. You might want to look into that so that your Logo stays on no matter what. That's how business gets spread.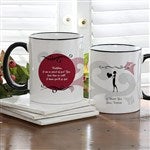 FAST SERVICE
By
Helen B.

(Brinson, GA) - April 2, 2011 (
See all reviews by this customer
)
Ordered these for a group of college friends. Very pleased with the fast service; just what I wanted. Friends will be very surprised to see these at our gathering on April 28.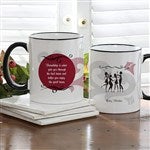 Great Best Friend Gift
By
Shopper

(Smyrna, GA) - June 29, 2014
I'm really happy I took the time to order this mug. It looks so nice and I will probably give it to her with some really good teas and honey and she is going to be thrilled. The mug commemorates our private club that we made up.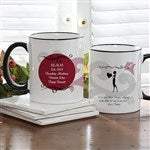 Personalized coffee mug
By
Shopper

(Rimrock , AZ) - May 24, 2014
They did just what I wanted. I got to see the results before I ordered it. I really like personalized gifts. I also ordered a blanket and card from you and I am sure I will love it. It is for a friend having a 50th Anniversary. I used your 20% off so that helped the cost. Thank you.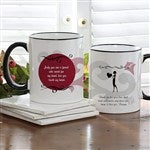 Best personalized gift!
By
Irene F.

(Sanger, CA) - May 7, 2014 (
See all reviews by this customer
)
So pleased with my purchase! She absolutely loved it and will never forget our friendship after her retirement! Such a small gift, but carried so much meaning. Will definitely use this website only for future gifts!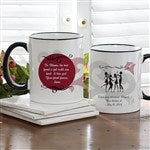 Gift for Bridesmaids
By
Traci W.

(Trafford, PA) - March 4, 2014 (
See all reviews by this customer
)
I bought 4 of these mugs for my Bridesmaids. The mugs were delivered in 3 days from purchase. ALL the girls have names that you can not find at any store. It always nice to give a gift that comes from the heart.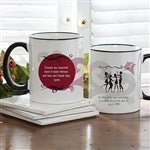 Great Christmas gift
By
Kimberly C.

(Addison, NY) - November 15, 2013 (
See all reviews by this customer
)
One of several personalized mugs I purchased. This is very feminine and a great gift for my mother, from her grandchildren.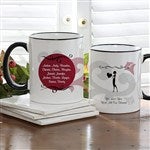 Great Experience!
By
Shopper

(Lithonia, GA) - October 3, 2013
I had a 40th birthday party that I was helping to plan and I ordered 12 custom coffee mugs on a Thursday afternoon and got the items on Saturday morning! The quality is superb and the ordering, design and check-out process were super easy. I love this site! I'll definitely be using it again in the future - great experience!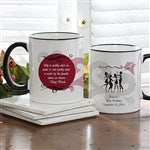 another wonderful product
By
Shopper

(New Port Richey, FL) - August 16, 2013
Once again Personalization Mall has done a wonderful product. Everyone knows where my gifts come from & they look forward to them. This is a fun gift to share with good friends.

Love your products.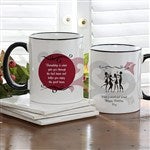 girlfriend gifts
By
Shopper

(boerne, TX) - December 11, 2012
The print was a little smaller than I expected, but the mug is so cute and all my friends loved it!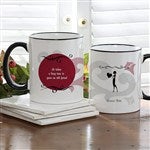 Great price and quality!
By
Lenore M.

(Livonia, MI) - September 10, 2012 (
See all reviews by this customer
)
I bought this mug as part of the gift I'm putting together for my maid of honor. She is a coffee addict, so this was appropriate for her. I chose to write my own words to her on both sides of the mug, and they came out perfectly! NOTE: spaces DO count as characters when you're writing your own verses. I did an online chat to verify that. I like that there are different sample verses if you want to use those, and there were four different pictures to choose from too. She will love this! I also ordered it on Thursday and got it just a couple days later...so fast!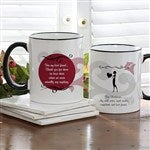 A birthday hug from afar
By
Kathy J. W.

(Clarion, PA) - September 8, 2012 (
See all reviews by this customer
)
I bought this mug as a birthday gift for my best friend who lives across the country. Since I can't be with her on her birthday, I am sending this mug as a long-distance hug to remind her of how special she is to me.

I love that Personalization Mall lets me customize exactly what I want to say. Thank You!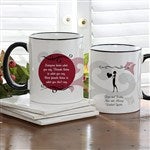 Good Gift Idea
By
Penny M.

(Broomfield, CO) - September 2, 2012 (
See all reviews by this customer
)
This cup looks very good. The only reason I'm not giving it 5 stars is that the personalized message (on the opposite side of the cup) is very small and a little difficult to read. I love ordering from Personalization Mall - their items have a high quality look and ship very quickly.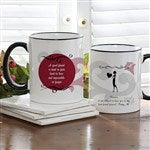 Mothers gifts
By
Shopper

(Kokomo, IN) - May 21, 2012
These mugs turned out really nice and I am looking forward to using them for gifts!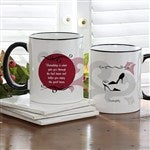 Great meaningful mug
By
Shopper

(McGraw, NY) - May 15, 2012
It was just as I hope that it would look like. A great mug to let someone special know what you feel for them even when your not around.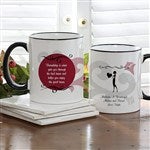 LOVE LOVE LOVE this mug!
By
TINA H.

(Hanna City, IL) - May 14, 2012 (
See all reviews by this customer
)
I would definitely recommend this beautiful mug I sent to lift a friends spririts! It is so nice being able to personalize it to fit any occasion!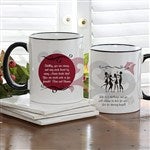 The Right Gift
By
michele M.

(green Island, NY) - April 8, 2012 (
See all reviews by this customer
)
I had it sent to a friend and she loved it, I was trying to think of the right gift and this was perfect because you get to personalize it with your own thoughts and message, you get to choose from 4 different designs and the colors are remarkable, I plan to order one for myself, I even got to have it gift wrapped, If you are looking for the right gift, you will definately find it here and you won't have to run around shopping for the right gift, you won't have to wrap it and ship it yourself and it is a perfect way to surprise and/or make someone happy.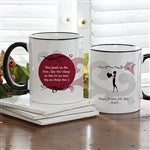 Perfect Gift
By
Linda D.

(Phoenix, AZ) - March 20, 2012 (
See all reviews by this customer
)
This turned out just way I wanted it. The friend I got it for helps me everyday by taking message for me when I have to leave my podium where I'm usually located each morning. So I say to her "Madam Secretary, will you take a message while I'm gone". She always smiles and say okay I can do that for you! She just had surgery so I know when she returns she will be tickles to see what I got for her as a appreciation gift for all she does for me! This is a wonderful gift that you can personalized for any occassion. I'm sure you will love it just as much as I do!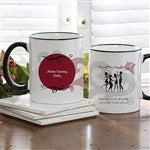 Wonderful
By
Serena A.

(San Diego, CA) - May 3, 2010 (
See all reviews by this customer
)
This mug is so classy yet fun if not more than what it appears on the computer screen. I would highly recommend this to anyone look for a good yet not too expensive gift.

Perfect mug
By
Jodi Z.

(Pittsburgh, PA) - May 24, 2010 (
See all reviews by this customer
)
This turned out awesome! Not only did you do a beautiful job, but the quick shipping was a huge plus. I will use this company again for sure in the future. Great product.

Great personalized mug
By
Marie H.

(milaca, MN) - June 1, 2010 (
See all reviews by this customer
)
The mugs I ordered looked great, very professional, and were at my house within 3 days of ordering.

Would Order again
By
Brenda F.

(Central point , OR) - January 11, 2010 (
See all reviews by this customer
)
This Cup far out did what I was expecting! I thought it was just wonderful and would and will order again from them! Outstanding job!!!

Disappointing Personalization
By
Antoinette G.

(Brooklyn, NY) - November 24, 2010 (
See all reviews by this customer
)
The Personalization Mall, has become my go to place over the years, when it comes to gift giving. Their merchandise and attention to detail for each inscription; has always exceeded my expectations. They also have excellent customer service. Unfortunately, this purchase was disappointing the lettering has no symmetry - so it appears to be an after thought thrown on the mug with no attention to detail regarding font size. Thankfully, this purchase was personal so the only disappointed recipient is me!

Very Cute!
By
Amanda E.

(Winter Springs, FL) - January 18, 2010 (
See all reviews by this customer
)
I ordered these mugs for some of my bridesmaids and they came out just as they look in the picture. I received them within a week and they were in perfect condition. I know my bridesmaids are going to love these!

What Friends are For
By
Joan W.

(Cressona, PA) - July 6, 2010 (
See all reviews by this customer
)
I purchased this mug for a friend who helped me through a difficult time with my daughter leaving for the Air Force. She and her mother (who then passed away a few months after) were my support system and I hers in her time of need. The words fit our situtation and I hope when she receives this she will realize just how much I really appreciate. I received the mug and it was printed correctly and I can not wait to see her open and read. It will be an emotional time!

Quality is everything
By
Kelley R.

(LaGrange, GA) - October 6, 2010 (
See all reviews by this customer
)
Received my Personalized mug in just a few days and Love it. The Quality of the product is excellent and the time it took to receive was even better. It's a keeper and I will continue to shop this web site during the upcoming Holidays. Thank you for a great gift

Perfect gift
By
Bonnie P.

(Lakewood, CA) - October 14, 2010 (
See all reviews by this customer
)
I ordered this a personalized mug for my best friend of over 40 years. It was shipped the next day and I received it within a week. It will be the perfect "Best Friends Forever" gift for her birthday and I just know she will love it. It looks great and I am very happy my purchase.

Boss Cup
By
Joy B.

(Los Angeles, CA) - November 10, 2010 (
See all reviews by this customer
)
I got this cup as a birthday gift for my Boss and she loves it. She likes that it has a personal message just for her.

Great Gift For Dear Friends
By
Kelli B.

(Santa Maria, CA) - September 6, 2010 (
See all reviews by this customer
)
Just purchased a cup with a personalized message for a dear friend for her birthday. She was so touched and it made her cry. Great gift to touch a friends heart on a special occasion.

Excellent gift for bridesmaids!
By
Jennifer C.

(Sacramento, CA) - September 24, 2010 (
See all reviews by this customer
)
A great alternative to the personalized flask for your bridesmaids. I loved the variety of different options for the poem, the image and the ability to also create your own message. I received these yesterday in the mail and every single one of them turned out perfect. They are standard quality coffee mugs and look great. Quick shipping as well. With time to personalize 6 mugs and shipping, I still received them in approximately 1 week. I kinda wish I would have bought one for myself!

Great Product-Highly Recommend
By
Karen B.

(Sugar Grove, PA) - October 2, 2010 (
See all reviews by this customer
)
Quality product, great design choices and super fast delivery (2 days after order). Easily changed out "friend" for "sister" and am thrilled with the resulting mug. This is my third order from PM and each have exceeded expectation.

Awesome gift
By
Nicole B.

(Cary, NC) - December 26, 2009 (
See all reviews by this customer
)
I purchased these for all 8 of my bridesmaids and it was great because I could make them very personalble. They arrived within a week of ordering them and they were even nicer than I expected!!

Cute product
By
Shopper

(North Las Vegas, NV) - February 18, 2013
Mug was just a little smaller than expected, but cute all the same. Will definitely purchase again.

gift for our Granddaughter on her 21st birthday
By
Shopper

(St Petersburg, FL) - September 21, 2012
she was very pleased with the cup. she doesnt want to use it. afraid it might
get broken, so she has it in a display cabinet. thank you it turned out to be
a great gift for her.

Great product
By
Danielle S.

(Harleysville, PA) - November 25, 2009 (
See all reviews by this customer
)
I loved the mug and my friend was so surprised that her name was on it that she started crying.

LOVE THE PRODUCT
By
Pamela B.

(Duluth, MN) - October 8, 2009 (
See all reviews by this customer
)
EXCELLANT QUALITY, FAST SHIPPING, WOULD ORDER THIS ITEM AGAIN