old english personalized medallion stein
By
Shopper

(Fallston, MD) - December 12, 2011
very well crafted. solid. I was very impressed. Will make an awesome Christmas gift.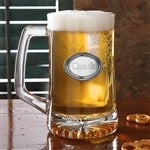 Great gift for my husband's best man!
By
Michelle C.

(Revere, MA) - November 13, 2011 (
See all reviews by this customer
)
Very nicely crafted and classy. It was well received!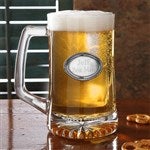 Great buy!
By
Shopper

(Rensselaer, NY) - October 17, 2011
It was such an easy process purchasing, personalizing and receiving this stein...the actual product is high quality- it's a heavy glass, with a thick bottom which was awesome, because I was giving it as a gift for a 21 year old and didn't want to give a cheesy, plastic-looking gift. I wanted to recognize the significance of that particular birthday, but in a classy way, and I felt like this was a nice way to do that...especially with the personalized medallion on the front- the personalized message came out clear, and the medallion is really nice. I was extremely pleased with my purchase- I ordered it Tuesday, it shipped the next day (Weds) and I got it Friday!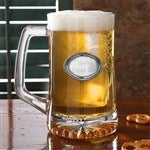 Wonderful Product
By
Michelle D.

(Woodward, IA) - July 19, 2011 (
See all reviews by this customer
)
I ordered these mugs for our groomsmen in our upcoming wedding on August 20. I got them and they turned out to be more than I expected. So far everyone I have shown them to loves them. They are very heavy and the engraving looks great. I'm sure the guys will love them!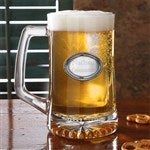 Loved it!
By
Patricia G.

(Clifton, AZ) - June 27, 2011 (
See all reviews by this customer
)
This stein was purchased as a going away gift for a coworker. It arrived very quickly and I was pleased with the personalization. The stein was heavier than I thought it would be, which was a plus. The receipient LOVED it!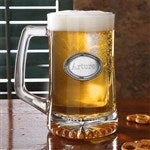 Lovin' it!
By
Glendalee L.

(East Hartford, CT) - June 5, 2011 (
See all reviews by this customer
)
I bought this stein as a 10th wedding anniversary gift for my husband, it has our initials and our wedding date engraved.. The order was shipped out the next day. It's good quality and a handsome gift. He loved it. I would totally buy from here again.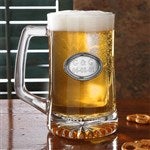 Medallion Stein
By
Shopper

(Fairfield, PA) - April 10, 2011
At first when taking the beer stein out of the box I didn't think it had been personalized yet. The lettering is very light and if it isn't seen at the correct angle the plate looks blank. Also, the stein is bigger than I had expected...but I hope that my dad likes it as he has a beer stein collection.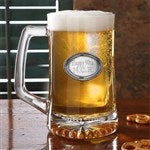 Great price great product!
By
Haley L.

(New Lexington, OH) - February 18, 2013 (
See all reviews by this customer
)
We bought these for the groomsmen in our wedding. Heavy glass and they look expensive! Loved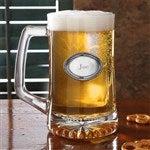 Luv it!
By
chandanika L.

(san jose , CA) - August 2, 2012 (
See all reviews by this customer
)
Awesome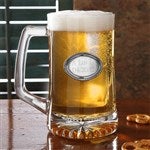 awesome
By
justin M.

(Canada) - August 1, 2012 (
See all reviews by this customer
)
very nice heavy mugs, cant wait to give these to the guys!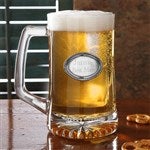 Best Man Gift
By
Shopper

(Arlington, TX) - May 16, 2012
Bought this for a Best Man gift. He is a beer brewer so was very fitting. The quality was very good compared to others I had seen on line and in stores. Will return for other unique shopping needs.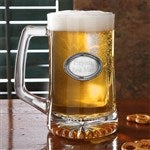 Old English© Personalized Medallion Stein
By
Jose F.

(Hyattsville, MD) - April 16, 2012 (
See all reviews by this customer
)
Bought this stein for my best friend. he loves his beer and he loves this stein! And being able to add the extra touch of his name on the stein made it that much more special!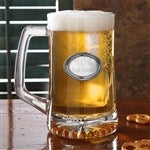 Pretty Cool
By
Tara D.

(Mountain View, CA) - March 13, 2012 (
See all reviews by this customer
)
I bought this item as a gift and it went over very well. A pretty sturdy product-unfortunately there was an accident which proved the sturdiness to be questionable.
I'm having to re-order another in hopes that we'll have this one much longer, than the first.
As a ritual this mug is left in the freezer for later usage. Ran what we thought to be cold water into it and found out the faucet must not have generated cold water yet. It broke.......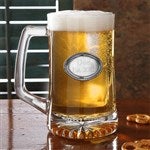 Looks Awesome
By
Shopper

(Orlando, FL) - March 18, 2011
I purchased these mugs for my groomsmen so to have for the wedding. I is certainly a large mug and looks really nice. I haven't had the wedding yet so they haven't been used. My only concern is whether the Medallion will fall off after a few washes. It is held on the mug a foam under the medal that most likely has an adhesive. We'll see how it holds up...If it lasts then I WOULD STRONGLY recommend this product.

pretty neat
By
Robert S.

(Thornton, CO) - June 9, 2010 (
See all reviews by this customer
)
From the front, the mug looks great and is good quality. However, the emblem looks cheesy from the back as you can see it's attached with glue.

Quality Item but engraving was less than desired
By
KELLI R.

(AKRON, OH) - December 28, 2010 (
See all reviews by this customer
)
Engraving was small, but high quality mug!

Great for the price!!
By
Bobby W.

(Gladstone, MO) - August 25, 2011 (
See all reviews by this customer
)
Mugs are HUGE, and I love how we got to put our own names and titles on the mug for our wedding. The medallion looks a little cheap and it is just put on with double sided sticky foam. Other than that, the inscribing looks awesome, and overall a very good deal for the price.

Cheap quality
By
Rachel C.

(Lexington, KY) - February 26, 2010 (
See all reviews by this customer
)
I was excited to receive the mugs I ordered for all the groomsmen in my wedding. I ordered 3; each with different personalization. When I received the items, I was very disappointed with the quality of the name plate that was to display the personalization. It appears to be just a cheap name plate stuck to the side of the mug. I'm debating on whether or not I even want to give them as gifts because it looks so cheap. I'm afraid that the first time you wash the mug, the plate will come right off! I guess I expected better quality for the price I paid. No return/exchange options, eventhough you could probably peel the plate right off! Would NOT recommend!!

Beer time!
By
Shopper

(Redwood City, CA) - December 3, 2012
This was a great gift item. I was hopping it would be a little bigger, but overall its perfect. It's also a lot cheaper than other places.

Love it.
By
Danny D.

(Glen Burnie, MD) - October 26, 2009 (
See all reviews by this customer
)
I order one of these for my best man and I just ordered another one for my groomsmen. I love it and they will too. Highly recommend, also shipping was very quick. Good company, thank you.

Great Mug!
By
Shopper

(Henderson, NV) - December 9, 2011
I purchased this mug as a gift for my father-in-law. Upon receipt, they spelled his first name "John" as "Jonh".

However, once I called - they immediately shipped another one out free of charge. No hassle and they profusely apologized for their mistake.

It happens! Great customer service! The new mug arrived and it was perfect!

Good Stein, Better Customer Service!
By
Deanna D.

(Playa del Rey, CA) - March 30, 2010 (
See all reviews by this customer
)
I got this stein for my boyfriend and when he opened it, the medallion was slightly not adhered to the stein (which is why I gave it 4 stars - I would have liked a more permanent adhesive). I was afraid this open bubble would let water in, so I called to see if I could exchange it and customer service was more than helpful and are 100% taking care of the situation. I ordered with PersonalizationMall because of all the positive feedback and I'm glad to see it is all true. It's good quality stuff and GREAT quality customer care. I'd highly recommend them!

Fairly Happy
By
Ashley S.

(Torrington, CT) - February 5, 2011 (
See all reviews by this customer
)
I was happy with the item I recieved. The glass was gorgeous. The only thing I wasn't expecting was the size of the engraved words. In the picture the entire silver medallion and the words are able to be read. The real thing needs to be looked at a little closer. Overall I'm happy with the product and would order again.

Okay mug
By
Emily C.

(Lansing, MI) - April 30, 2010 (
See all reviews by this customer
)
The mug itself is good quality, but the silver plate with the engraving on it leaves something to be desired. It is hard to see the engraving on the silver plate unless it is in a less lit area. If there is light directly on the plate it is very difficult to see the engraving. Overall it is an okay mug for a gift.

Beer Mug
By
Wanda K.

(Johnston City, IL) - June 8, 2010 (
See all reviews by this customer
)
I bought this for my boyfreind for his bday and the mug is alot larger then it appears and i really wanted just a regular size mug and you cant even see his name on the mug wish it was high lighted in some way like with black etching on the siver but other then that Im ok with it

Quality unimpressive
By
Christina Z.

(La Habra Heights, CA) - August 11, 2010 (
See all reviews by this customer
)
Expected better quality for the price. The stein will look great in pictures, but then will have to become a mantle piece. The "is it metal or is it plastic?" personalization label is stuck on with tape with foam in the middle, making it impossible to wash. Would not buy again, nor recommend.

Great customer service
By
UVaClub of Chicago U.

(Charlottesville, VA) - October 7, 2009 (
See all reviews by this customer
)
I recieved my order very quickly. I ordered about 18 mugs the first time around. One of the mugs was broken and personalizationmall.com replaced it immediately at no extra cost. Additionally, every time I have contacted them via email they have gotten back to me within hours.

Very light
By
Michelle A.

(Manalapan, NJ) - November 12, 2009 (
See all reviews by this customer
)
All together done nicely. I only wish the engraving was a little deeper so it would be more noticeable.

The engrave was not as clear as the picture shown up
By
Joyce L.

(Canada) - November 11, 2009 (
See all reviews by this customer
)
I am in Canada. It took 5 business days to ship the product and 2 days to deliver the product to my home. There was an obvious flaw at the bottom of the mug and the engraved personal information is as good quality as shown above.
I felt that the product is over-priced and delivery fee is more than the product itself. Not recommend to people out side of US.

Old English Mug
By
James A.

(Arlington, VA) - June 11, 2012 (
See all reviews by this customer
)
The mug itself is high quality, and overall I am pleased with the product. I am a little disappointed in the medallion though. The one pictured when designing it seemed a little easier to read than the final product. I suppose the medallion and lettering were smaller than I expected.

Great product
By
Matthew O.

(Port Carbon, PA) - August 6, 2011 (
See all reviews by this customer
)
These are great looking, large mugs at a great price. They were shipped quickly with great looking personalizations

Surprise bestman
By
Shopper

(Richmond, VA) - August 12, 2011
We purchase this gift for my husband Best man, and he just love it! He just kept staring at it! He wouldnt put it down..

Great gift
By
Shopper

(West Jordan, UT) - February 7, 2011
This will be a great gift for my fiance on Valentine's day. The printing on the medallion was a little smaller than I thought and hard to read, but it really adds a nice to touch. I'm sure he will love it.

High quality stein, looks great
By
Diana B.

(Flower Mound, TX) - January 2, 2011 (
See all reviews by this customer
)
My husband wanted some nice beer steins, so I ordered four of these with only our last initial. The font size was adjusted (from the sample shown) and centered on the silver panel and they look awesome!

Wow
By
Susan S.

(Miami, FL) - February 5, 2011 (
See all reviews by this customer
)
We ordered these for our groomsmen and we were very impressed when we received them. We were afraid they wouldn't look as good as in the picture but they do. The engraved silver plaque really gives it an extra nice touch. Great product!!

Sturdy mug
By
Shopper

(Boise, ID) - September 28, 2012
We were pleased when we received the mug that it was heavy and sturdy. It was packed well in the box and looked exactly like the preview.

First time customer
By
Shopper

(Pahrump , NV) - December 14, 2012
My first time I purcahsed from your site - product quality was excellent and my package arrived promptly! I'll be back!

Nice!
By
Shopper

(Rockford, IL) - July 13, 2012
Exactly as the picture shows. Quality mug, with quality engraving. No flaws like it said there could be. Nicer than expected as usual from personalization mall.

Wonderful Gift!
By
Shopper

(Kearney, NE) - August 19, 2011
Very nice stein! The engraving was a bit hard to read and was not quite centered from top to bottom, but still looked very nice.

Very pleased
By
Miranda B.

(Valley, AL) - February 7, 2012 (
See all reviews by this customer
)
Got this for my husband as a gift for Valentine's Day. I was glad to see how sturdy the mug was. They got his name spelled correctly (which may sound like a given but I've had that experience with other companies).