Awesome
By
Shopper

(Brooklyn, NY) - December 7, 2012
Ordered for my fiancee as part of her Christmas gift. Put photos from our engagement shoot and it came out amazing!

Great Christmas Gift
By
Shopper

(Sullivan, IL) - November 10, 2012
I made my brother-in-laws get semi-dressed up and take pictures with their wives and girlfriends at the lake for my mother-in-law for Christmas. The pictures actually turned out very beautiful. I composed them into this item and bought it early. It arrived about 4 days after I ordered it and it was exquisite! I loved it so much that I took it over to her house that night. It was perfect.

The only complaint I had was that I thought the canvas photo wrap option I chose meant that the picture went around the sides of the canvas but it didn't. The sides are just white, had I have known this, I would have bought a frame. However, it's gorgeous and the white sides don't bother anyone but me!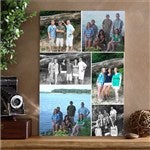 Awesome item to give as a gift.
By
Shopper

(Lindenhurst, NY) - September 24, 2012
I purchased this item for myself. Will be purchasing this item for my family as well.
I love the different sizes and the arrangement of the phones.

So Sentimental!
By
Emily Y.

(Fletcher, NC) - June 15, 2012 (
See all reviews by this customer
)
I ordered a canvas collage for my father for Father's Day with six pictures of my Dad and his children from my wedding. The end product was more than I could have imagined and I cannot wait to see him open his gift! I have used this company for multiple gifts and have always been impressed. If I ever did have an issue, the customer service is outstanding and the issue has been fixed! Will continue to shop here often!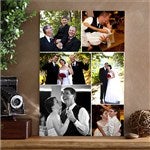 Very pleased
By
Frank P.

(Apex, NC) - May 18, 2012 (
See all reviews by this customer
)
I put a collage together for my wife for mother's day & she loved it! Very good quality & shipped promptly. Thanks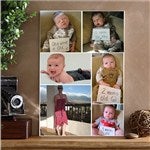 CUTE!
By
Annmarie N.

(Woodhaven, NY) - May 17, 2012 (
See all reviews by this customer
)
i ordered this picture for my mom for mothers day of my son and it came out rally nice for the price i thought it was going to look cheap but it was very high quality and i was super excited to giver her!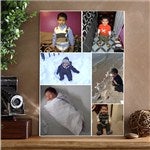 Beautiful photos
By
Emily P.

(Estero, FL) - May 5, 2012 (
See all reviews by this customer
)
The quality of the canvas and photos were perfect!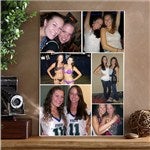 Amazing Quality
By
April D.

(Manchester, NH) - February 15, 2012 (
See all reviews by this customer
)
I bought in total 3 of these, and edited each photo to have it go month by month for my daughter. The photos came out amazing. Well done!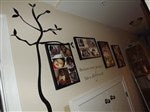 Absolutely Stunning!!
By
Cheryl A. S.

(Janesville, WI) - January 21, 2012 (
See all reviews by this customer
)
When I opened this collage of my beautiful puppy of 14 years it brought tears to my eyes. He passed away 1 year ago today 1-21-2011. I can't wait to give this to his doctor who helped him through his terrible illness over the past 5 years all the way up to his passing. I know he is going to be as amazed as I was when I first saw it. What a wonderful gift of beautiful memories!! I have ordered from your company many, many, times and it is such a joy knowing that I will always receive a beautiful product for my money! The work your employees do is impeccable! They should all be commended! I highly recommend your company to anyone who would like beautiful memories to share for years to come at prices that are very hard to beat!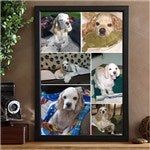 Thrilled by the quality and the finishing
By
Shopper

(Frazer, PA) - January 4, 2012
I have only one thing to say about this, my gift was posted as the best gift of the party.

Professionality at it's best
By
Vincent G. R.

(Staten Island, NY) - December 29, 2011 (
See all reviews by this customer
)
When my wife opened her Christmas gift and found the collage inside, the expression on her face was priceless. I haven't seen it until she opened it and I was in awe of how beautiful it looked and the price just couldn't be beat. I highly recommend Personalization Mall for ALL your needs.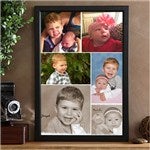 Great item!
By
Tina K.

(Naples, FL) - April 17, 2011 (
See all reviews by this customer
)
I ordered this for my grandmother who lives in a different state. I wanted to send her pictures of the grandkids. I liked how I was able to view the frame on how it would look before it shipped. I was also very pleased because I received a phone call from customer service that one of my photos were a little blurry and would I like to email a different one. They very easily could have just sent it as is. My grandmother loved it and said all the pictures were perfect. I will absolutely use this site for future purchases!

Lovely...
By
Cecelia M.

(West Long Branch, NJ) - January 9, 2011 (
See all reviews by this customer
)
We received a 6 Photo Collage from our daughter-in-law of our granddaughter for Christmas and we just loved it. When looking for a place to hang it decided we needed one of our grandson as well, so I created my own 6 Photo Collage of him from professional pictures we had taken two years ago and it came out beautifully. It's easy to do and arrived within a couple of days. I'm really looking forward to hanging them and will be making collages of the two new grandchildren when they get a bit older.

Photo Canvas Collage
By
Anne S.

(Neenah, WI) - December 23, 2010 (
See all reviews by this customer
)
this photo canvas collage was breathtakingly beautiful...It was amazing how wonderful the color and reproduction of details in the photos...awesome job, took canvas to work and all my fellow employees wrote the website down for future use...your work is flawless and beautiful and I highly recommend your company to anyone, in fact my daughter is getting married this summer and I definitely plan on using your site for presents

Picture lovers would love this
By
katie F.

(east brunswick, NJ) - July 7, 2010 (
See all reviews by this customer
)
I love taking pictures. I only used photos I have taken of my nephew for this collage. Some I kept in color and some I put in black and white. It was nice to see my pictures in a canvas. The quality of the pictures still looked great. The only complaints I have were the process of setting the canvas up. I would have liked to preview the collage after uploading the pictures. It was such a nice gift I ended up showing the eventual owners of the collage because I couldn't wait for my nephew's baptism in September!

Excellent
I have 2 of these at home. The quality is excellent and they receive many compliments. What a beautiful baby in this picture!

Awesome!
By
Elmira M.

(Round Lake, IL) - February 25, 2010 (
See all reviews by this customer
)
This came out great and it looks even better in person! It was a great price and came quickly, 3 days after I ordered it! I would definitely recommend!

awesome memories
LOVE the canvas collage print!!! Got as gift for grandson, and then granddaughter. AWESOME! Would buy again!!!

Neat Picture for Great Price
By
Shopper

(Raleigh, NC) - December 20, 2013
This was a perfect gift for my mother-in-law as a remembrance from our spring trip to Africa! She will love it. That being said, let me add that this does not have the painting on canvas look to it. It looks like pictures printed on canvas. Also, the images do not wrap around the edges, so I will probably get a frame . . . although my husband thinks it's fine as is. Even so, the colors are good and it's such a neat collage of memories! Thank you.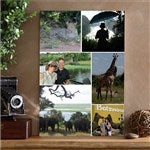 Great chrismtas gift!
By
Dylan B.

(Park Hills, MO) - December 28, 2012 (
See all reviews by this customer
)
I ordered this for my in-laws with pictures of our daughter. It was easy to personalize. The quality was very good. Only complaint is that it's smaller than it looks in the pictures, but overall, I was very happy with this product.

Loosely bound, but nice looking.
By
Shopper

(Glendale, AZ) - June 3, 2013
I like the canvas print. The photos are sharp. The colors are beautiful. The canvas itself, however, is loose on the frame it is stretched on.

Dint like it
By
Poornima N.

(Vernon Hills, IL) - March 12, 2013 (
See all reviews by this customer
)
Pictures came out dark and dull, quality was low than what I had uploaded. Din't like the material. Overall not worth the money!