Keeps Everything Neat
By
Stephanie S.

(Warwick, RI) - August 2, 2014 (
See all reviews by this customer
)
I bought this for my Dad, who was using a rubber band to hold his cards together. He loves it.

Love it
By
holly P.

(Voorheesville, NY) - June 23, 2014 (
See all reviews by this customer
)
This was bought for a man who used a rubber as his money clip - this is so much better!!! Looks professional amongst other businessmen and very sturdy for tossing it on the dresser.

Great item
By
MARY ANNE G.

(Suffern, NY) - December 30, 2013 (
See all reviews by this customer
)
Great item, my husband loved it. Nicely engraved!!!!!!!!!!!!!!!

4th Purchase
By
Shopper

(Commack, NY) - December 20, 2013
My husband loves this band! This is the second one I've gotten him, only b/c he had the first one for so long and the plate got a bit scratched up. We've also bought it for my father and brother. Love them!

Very functional and sleek
By
Laura F.

(Austin, TX) - January 7, 2013 (
See all reviews by this customer
)
Bought this as a Christmas gift for our son who is not allowed many items in his pocket while in his Corps of Cadets uniform. He has been using the band since its purchase and says it's a great product.

products and customer service
By
francie S.

(san diego, CA) - December 29, 2012 (
See all reviews by this customer
)
great gift idea and when i received them i thought the engraving was not quite centered. sent a picture to customer service and received the new one perfectly engraved before xmas. thanks personalization mall, love shopping with you!!!!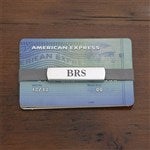 My husband loved it!!!!
By
Shopper

(Longwood, FL) - December 16, 2012
Thank u so much for your easy to maneuver website! Also your fast and friendly service. My hubby loves his engraved money holder. He loved it soo much he went on your site and purchased me my own engraved Christmas ornament. Thank u again we will be working with u again sometime soon I'm sure!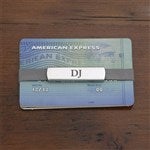 Money Band
By
Shopper

(Mandeville, LA) - November 6, 2012
Looks great and my husband loved it!!!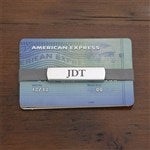 Happy hubby
By
Shopper

(Warwick, RI) - August 25, 2012
Bought this gift for my hubby for his birthday, he usually uses my hair ties (more than I do) I was getting tired of constantly buying them. I was going to get a money clip but this just seemed so much more perfect. He absolutely loves it and says its the greatest thing ever. Engraving detail is nice, and the band is very durable! Perfect if you don't like to carry a wallet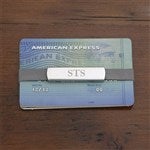 My Money Band was here before I realized it.
By
Shopper

(Jacksonville, FL) - May 14, 2012
Since I walk with a walker I need too hands to hold on with, both of my knee's are bad, So I need this money Band for my self, THEY ARE NOT JUST FOR MEN "ANYMORE". I carry all my MEDICAL CARD D.L. AND VISA CARD and a little cash, When I have to go off I feel so much safey, I ware long pants so I just put it in the front pocket I don't have to worry about some one taken off with my purse. I was using a big Rubber Band but this one looks so much better. I had it persnalized just for me. I will not SHOW MY PHOTO on this page, I don't think that is a good Idea, the wrong person could See it and know where my Money is. I'm well knowned here. thank you Evelyn

Love this Money Clip!
By
Shopper

(Millburn, NJ) - February 26, 2012
This is a five star review. I will order this again! My husband loves this and uses it every day. Very nice quality. Would recommend highly.

Great Gift
By
Judith H.

(Louisville, KY) - February 15, 2012 (
See all reviews by this customer
)
My boyfriend had been using a rubber band and when I saw this, I knew it would be perfect, he loves it.

great product
By
ellen L.

(roslyn hts, NY) - February 10, 2012 (
See all reviews by this customer
)
exactly how described and pictured
the packaging was extremely nice

Very unique
By
Shopper

(Aberdeen , MD) - January 11, 2012
My husband is not a wallet user, he prefers using money clips but they do not hold his money well. This product is great because it adjust. He really likes it and having his initials really adds a personal touch. I do recommend this product.

a man's best friend
By
Shopper

(Mount Juliet, TN) - December 27, 2011
My husband loves his so much I got one for his business cards.

Finally slim wallet
By
Shopper

(Tempe, AZ) - December 26, 2011
perfect, for what I was looking for. Fast delivery. Recoment this site to all of my friends.

Great product!!!
By
Shopper

(staten island, NY) - October 28, 2011
Great item my boyfriend loved it!!! Def a must have

Father-In-Law is back in business
By
Nancy O.

(Valdosta, GA) - June 27, 2011 (
See all reviews by this customer
)
My father-in-law is old school and uses rubber bands to keep credit cards and such together in his pocket as he has washed to many wallets over time. He loved that they had is name on them and he said they were very strong yet incredibly thin and fit well on all his money and cards. He says I always get the best gifts and you guys always make it happen. Thanks again for awesome ideas!

Great!
By
Sandra L.

(Memphis, TN) - November 16, 2010 (
See all reviews by this customer
)
My husband likes to keep his money in a rubber band. He usually uses the blue band around the vegetables at the grocer. This is a much better idea. He loves his new bands! We have now ordered bands for our sons.

Great bands
By
Leeann B.

(Enumclaw, WA) - May 5, 2010 (
See all reviews by this customer
)
Got these for a gift. They look great

Loved it.
By
Nadia D.

(New York, NY) - March 31, 2010 (
See all reviews by this customer
)
I bought the Money Band set for my boyfriend and I loved it! As soon as I got the package I ripped it open and was pleasantly surprised with the nice box it came in and the presentation. It comes with 3 bands all together , 2 black and 1 grey. It looks like a good quality piece because of the metal plate it comes with that you can get engraved. Simple yet classic. Perfect gift to give to someone "Just Because". I recommend.

Dad's Christmas present
By
Elizabeth R.

(Fort Worth, TX) - December 30, 2009 (
See all reviews by this customer
)
This was the perfect Christmas present for my dad, who carries all of his credit cards in a rubber band that always breaks. The colors are good for a man and there are 3 extra bands. Great purchase for the Dad that has everything!

Simply Simple...
By
Kathleen F.

(Hilmar, CA) - December 11, 2009 (
See all reviews by this customer
)
Going to be my husband's Xmas gift...personalization looks great...and the ease of putting his belongings together will be a plus for him...Thanks for your unique items!!!

gift
By
Sonjia T.

(pearland, TX) - October 9, 2009 (
See all reviews by this customer
)
I am very really pleased with the product! Your timely manner in the delivery was great too!

Money band
By
Shopper

(Dallas, TX) - December 26, 2013
I was so excited to see there was something like this out there! My husband uses a rubberband and this looks so much nicer. Hope he'll be as excited!!

My husband loves it
By
Bonnie M.

(North East , PA) - February 22, 2013 (
See all reviews by this customer
)
He's always been a man to use just a rubber band, but that is so tacky looking. These bands are classy &hockey well made.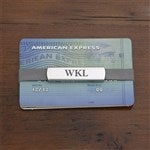 Money Band
By
Shopper

(Dallas, TX) - June 20, 2012
Purchased this money band for my brother. He is very pleased with it so far. Has only had it for a few days but so far so good.

just ok but pretty nice
By
Shopper

(Maspeth, NY) - March 12, 2012
It looks Ok for the price paid I was expecting a little more but maybe its just me. 3.1/2 stars.
I must say though your web site have pretty nice and plenty to choose fromproducts.
Anyway my fiancée was thrilled about this present given on his b'day and I had a nice relief...Thnak you!

Very Nice
By
Heather H.

(Cocoa, FL) - February 15, 2011 (
See all reviews by this customer
)
I bought this for my fiance & it is good quality. I purchased it about a year ago & he is on band 2, he carries 20-25 cards & it holds them great! The only problem that I see is that it only comes with 3 bands & he only has 1 left, I have not found a place to buy just the replacement bands.

Very classy!
By
Jennifer H.

(Worcester, MA) - February 14, 2011 (
See all reviews by this customer
)
Loved it and so did my husband. It was very modern and classy!

Gentleman's Collection Engraved Money Band Set
By
Deborah B.

(Hunt, TX) - January 17, 2011 (
See all reviews by this customer
)
The initial plate that came with the set was nicely engraved and the quality I have expected from PersonalizationMall.com. The bands on the other hand were not of the same quality as most of the products. Upon receiving the set my husband wanted to change out the band from gray to the black. The gray band came off the initial plate with no problem. The first black band he tried to put on broke immedaitely. I am just a little disappointed in the bands. At just under $50.00 when the shipping is included I would expect either more bands with the set or better quality.

Great Band Idea.
By
Jason T.

(Round Lake, IL) - June 1, 2010 (
See all reviews by this customer
)
This is a great idea if you don't want to carry a wallet, but it doesn't really hold your stuff in the picture of the 20's folded in half all that well. It works great holding the credit cards that way.

Groomsmen Gift
By
Todd K.

(Oak Park, IL) - April 28, 2010 (
See all reviews by this customer
)
I wanted to get something that all my groomsmen would use. When I saw the money band I thought it was the perfect gift. I have been looking for something like this for myself for a long time. I really like it and use it every day.

Great idea
By
Cynthia H.

(Brownsville, TX) - February 12, 2010 (
See all reviews by this customer
)
My husband hates wallets, but he always loses his credit cards. So I got him this band set and so far he has not complained. The band is actually a rubberband. It still looks nice.

Nice idea, a little pricey
By
Shopper

(Richmond, VA) - June 16, 2014
I bought this as a father's day gift for my husband. He doesn't like using a wallet because they are too bulky, but I thought this would help class-up the pile of cards and cash he carries. It's a great idea for what he needed, and it doesn't seem to bend the cards or anything. But essentially, it's a thick rubber band with a metal slide. The engraving is very faint, so it's a nice touch, but could have been executed better. All in all, it fit for what he needed, but for the price, I think a few small changes would have made it feel more worth it.

Band money holder
By
Shopper

(Hamlin, WV) - May 12, 2013
This money holder is an overpriced rubber band. I thought it would have a thin material or covering, but just a rubber band. The engravable plate slides around, but prob so it can be replaced with the extra bands given. I bought this for my husband who owns a money clip and uses a rubber band.... He loves it.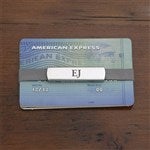 Engraving Off-Center
By
Shopper

(Wormleysburg, PA) - January 21, 2013
I bought these for my boyfriend for his birthday which was Jan. 20. I ordered and received these in time but the engraving came out about 1/8" off center. Personalization Mall put in a redo order at no charge, and though I specified that I needed them by the Friday before his birthday (it fell on Sunday), they were late (shipped Thursday, ground transit for Monday delivery). Since I didn't have the new set, I gave him the original set but wasn't happy that it was off center. I think these are way overpriced for what they are (three rubber bands with a metal plate) but I didn't find any comparable ones elsewhere. My boyfriend liked them, but I know if I told him how much they were he would have been VERY surprised.

Acceptable gift item
By
Shopper

(BASKING RIDGE, NJ) - June 11, 2012
Cute gift. Pretty much as you'd expect. Basically a rubber band with a silver (not sterling) plate. Bought two. One as a gift and one for myself to save on free shipping opposed to putting an additional $10 towards shipping. Definitely over priced but if you're ok knowing that, it's a satisfactory product.

Cool but pricey
By
Shopper

(Laurel, MD) - March 12, 2011
hubby really liked it.. however, it was pricey and kinda misleading cause really you only get one piece with the initials and then 2 extra bands.. I though all 3 had initials.. hubby said it would be cool to put a phone number on it just in case it got lost ... wouldn't buy it again at the same price

Not exactly what I thought
By
ANITA F.

(Boynton Beach, FL) - December 1, 2010 (
See all reviews by this customer
)
From the description, I thought each band would have an engraved plate with initials, not one plate with 2 extra bands. This was disappointing considering the cost of the item.