Degu memorial ornament
By
Shopper

(Mahomet, IL) - December 29, 2011
I love the ornament! Looked everywhere, but couldn't find one with all of these features: allowed enough letters to put my pet's name (most only allow 8 letters); could put only one year (we adopted him from the Humane Society and don't know when he was born, only the year he passed away). Could do all of those things on this one. I also appreciated that I could choose whatever heading I wanted for the top of ornament; he hasn't been gone long, and I just couldn't face seeing "In Memory," or any other typical memorial phrase, whenever I looked at the Christmas tree. Love that it's porcelain instead of metal or tacky plastic resin. Best of all was the speedy shipping; I dithered around for so long that I missed the Christmas deadline at most places, but this arrived in plenty of time to hang on the tree. I do wish there was a non-cat/dog option, for those of us who have rodents, ferrets, birds, or cavies, but the cat paw was similar enough to a rodent pawprint to work.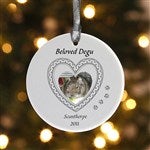 Great memorial ornament
By
Terri G.

(Lincoln, CA) - December 27, 2011 (
See all reviews by this customer
)
Our dogs were such a huge part of our lives & losing them both within a 1 year period was tough. I bought this ornament, with a picture of both dogs, for my husband. He really loves it. Thanks!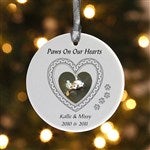 Happy
By
Leslie C.

(Fowler, CA) - December 27, 2011 (
See all reviews by this customer
)
I was so happy to see how nice this was made..It's my favorite ornament on my tree..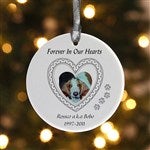 Simply "Purr"fect
By
Sharon E.

(Englewood, FL) - December 26, 2011 (
See all reviews by this customer
)
Needed the "purr"fect sympathy gift for my sister who lost her best friend of 16 year. Your company provided me a beautiful memorial ornament. Thank you so much!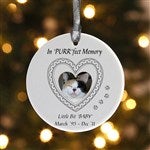 Pet memorial ornament
By
Shopper

(Cotopaxi, CO) - December 22, 2011
I purchased two of these ornaments for gifts!! The recipients adored them
Wonderful thank you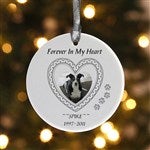 Beautiful memorial ornament!
By
Christina B.

(Sierra Vista, AZ) - December 21, 2011 (
See all reviews by this customer
)
I have always been very pleased with the quality of products I have ordered from this site! Personlizationmall.com has quite an extensive of unique gifts!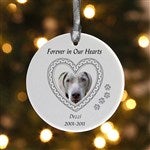 A Lasting Remembrance
By
Michael E.

(Frankfort, KY) - December 16, 2011 (
See all reviews by this customer
)
I purchased this ornament for a beloved dog who recently passed away. I'm very pleased with the appearance and quality of the product. I've referred this website to several friends who recently had dogs pass away.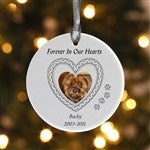 Wish it was a little bigger
By
Shopper

(Fullerton, CA) - December 15, 2011
I am very please with the quality, however, I wish the photo was larger and fit into the actual heart. The photo is a little grainy too.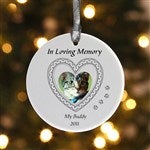 A touching tribute
By
Shopper

(Bowie, MD) - December 10, 2011
This ornament is very cute and a touching way to always remember a deceased pet, or an adorable way to capture the essence of your current pet. The quality of the pet photo as reproduced on the ornament is very good and we are quite pleased with our ornament.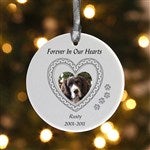 Memorials
By
Shopper

(Riverview, FL) - December 10, 2011
I've used this company several times for memorials for pets and also as
a memorial for my mother/Christmas gift to my sisters. The product is of
good quality and the shipping is expedient and reasonable. I will continue to use this company for my needs. I am glad they are there for me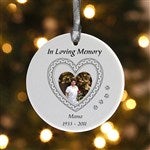 Awesome gift for those who have lost a pet
By
Shopper

(Green Bay, WI) - December 9, 2011
turned out great, looks exactly like the one on the website and got here super fast!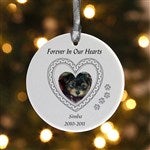 Beautiful tree ornament
By
Shopper

(North Port, FL) - December 7, 2011
Very pleased with item purchased in memory of my beloved cat. Memorial item now hanging on our tree.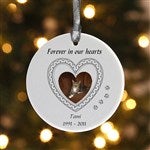 Great way to remember our Max
By
Ann S.

(Jackson, MO) - December 7, 2011 (
See all reviews by this customer
)
Love the way this turned out! Their preview feature is the greatest because it actually shows you how it will look like. A lot of other websites show you that it'll look nice only to disappoint. Way to go Personalization Mall!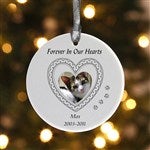 Wish photo was bigger
By
Shopper

(Narragansett, RI) - December 7, 2011
Hi
I love the ornament but I wish the photo could be bigger. I would order this again because it is beautiful.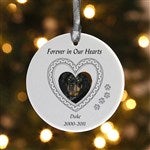 lovely
By
Shopper

(Cheshire, CT) - December 6, 2011
Lost my prescious pet this summer, it's my first Christmas without her in 13 yrs. This is making it special for me, the ornament is lovely. I actually put it with a ribbon on her stocking and hung it up as always on the fireplace, it's perfect.........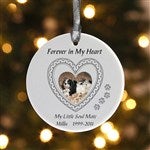 so nice
By
nicole G.

(Canada) - December 5, 2011 (
See all reviews by this customer
)
This is a gift for my dad,he lost his dod and it affected my dad very much. When i seen this for the first time i cried, it was very nicely made!! I'm sure my dad will love it as well. Thank you so much!!
Great pric eon pruduct but again it's ust shipping that was very pricy because im in Canada.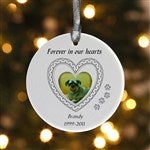 Beautiful
By
Tamara Y.

(Louisville, KY) - December 4, 2011 (
See all reviews by this customer
)
I bought this for my step-daughter as she lost her beloved 17 year-old cat this year. The Ornament is just beautiful and the picture came out so nice. I am very anxious to give it to her. I know she will cherish it for years to come.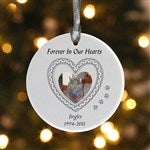 Lovely tribute to my beloved Alfey
By
Debra D.

(Alexandria, IN) - December 2, 2011 (
See all reviews by this customer
)
This little ornament is very nice quality and it arrived so fast! Im impressed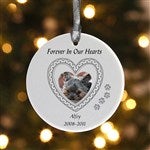 disappointed
By
Cindy C.

(Middletown, OH) - December 1, 2011 (
See all reviews by this customer
)
I was disappointed in this product because the picture made the ornament look silver. I thought the picture would be bigger than it appeared on the ornament once I got it. The quality of the picture wasn't that great on the actual ornament. I would not recommend ordering this particular ornament, I cannot speak for any other items since I have not ordered from this company before. From the picture below the ornament appears to be nice but the quality of this is not what I received.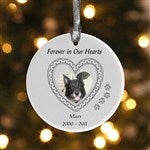 Awesome!!!
By
Jennifer L.

(clarksville, TN) - November 29, 2011 (
See all reviews by this customer
)
My sister's best friend passed and I wanted to get her something to remember her princess!! When I gave it to her she cried!! Thanks for helping keep princess' memory Personlization Mall!!!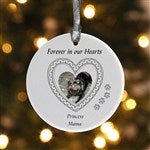 Holiday Pet Rememberance!
By
Leah P.

(Aiken, SC) - November 28, 2011 (
See all reviews by this customer
)
Wonderful way to remember our little four legged loved ones around the holidays! The photo is kind of small but it turned out great!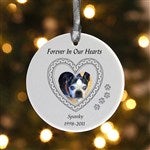 Pawfect
By
Jessica S.

(Coram, NY) - November 26, 2011 (
See all reviews by this customer
)
I ordered this for myself and my parents. I received them a few days ago and love them! They are just perfect in every way, just like our Buddy. We lost him in June and I wanted to find the prefect way to remember him. He loved Christmas and this is the perfect addition to his spot on the tree. My parents love them and I'm glad I got one for me so I can I have one on my tree when i get my own place.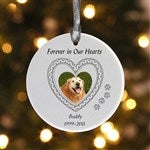 Wonderful ornament
By
Shopper

(Sylvester, GA) - November 26, 2011
This ornament turned out to be better than I expected. The picture is very clear. The quality of the print is excellant. The ornament is solid and very nice. I am very pleased with this product. I would order something like this again from this company.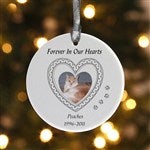 some what disappointed
By
Shopper

(Middletown, OH) - November 25, 2011
I recently purchased this product and received it today. I am a little disappointed in the color of the ornament. I thought this was a silver
ornament only to receive a white ornament. The picture looks as though
its silver so that is what I was expecting. The picture was some what
smaller than I expected as well. Not sure if I am going to keep because
this was suppose to be a special ornament.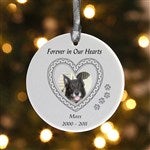 Christmas mermorial
By
Shopper

(Springfield, OH) - November 20, 2011
Wonderful memorial ornament for our pets!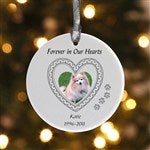 Lovely Memory
By
Shopper

(Altamonte Springs, FL) - November 19, 2011
I got this for myself, I hang little stockings at christmas for my pets, and I lost 2 this year, so I put this hanging up with their stockings and its a nice lovely memory, and would be great gift to others too.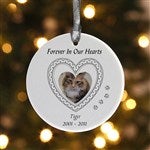 Beautiful!
By
Debra L.

(Pittsburgh, PA) - November 17, 2011 (
See all reviews by this customer
)
I just received my ornament and I love it! The quality of the picture and text is excellent and will make a nice addition to our tree this year. While it's always hard when you lose a loving pet, this ornament will be a tribute to them and the love you shared. Thanks so much!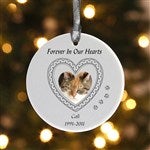 Perfect memorial
By
Christine H.

(Yorba Linda, CA) - November 14, 2011 (
See all reviews by this customer
)
After saying goodbye to Casey our miniture schnauzer, I looked for a way to remember her at Christmas time. Although I'm sure it will be bittersweet haning it on our tree for the first time, it is a perfect way to include her in our celebrations.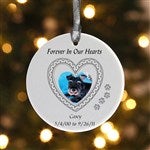 memory ornament
By
Tammy G.

(Brooklyn Park, MN) - November 12, 2011 (
See all reviews by this customer
)
I ordered these ornaments for my sons in memory of their
childhood dog that passed away this year They are beautiful
and a wonderful memory of the best friend they had for 16
years!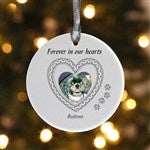 Wonderful Pet Memorial
By
Teresa L G.

(Terre Haute, IN) - November 8, 2011 (
See all reviews by this customer
)
A quality piece to always remember a beloved pet. Uploading a pictures is so easy and I really love the preview function that shows you exactly what the final item will look like. This site is the best site I've found for personalized items.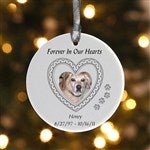 Cute little ornament
By
Shopper

(Maywood, NJ) - October 24, 2011
Ornament was much smaller and lighter than anticipated, but still a nice little tribute for the tree!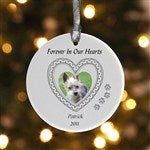 very pleased
By
Gloria L.

(Buellton, CA) - August 1, 2011 (
See all reviews by this customer
)
I sent this to my daughter's family when they lost their dog a couple weeks ago...They were surprised to receive it and thought it was very nice.. They will hang it up year round, instead of just at Christmas time. Great gift...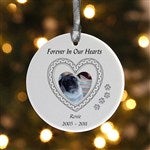 good quality
By
Arlene A.

(Easton, PA) - June 12, 2011 (
See all reviews by this customer
)
The only thing I would say is that I wish the picture was larger on the ornament. But as far as the quality goes, it is excellent.

Great Pet Memorial
By
Shopper

(East Longmeadow, MA) - June 6, 2011
We lost our dog a few weeks before Christmas. I wanted a nice memorial ornament to honor him. This is really beautiful. Every year now we will have a special memory of him hanging on the tree. Thank you!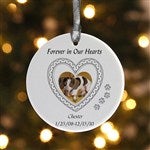 Beautiful and Perfect
By
Anne G.

(Bridgeport, OH) - February 19, 2014 (
See all reviews by this customer
)
When my cat died i started looking for a way to preserve his memory. This ornament was perfect and so beautiful. Thank you for helping me always remember my fur baby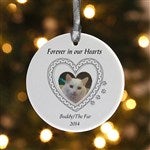 My Buddy
By
FrankieAnn S.

(Honesdale, PA) - February 2, 2014 (
See all reviews by this customer
)
EVERYTHING I get from Personalizationmall.com is wonderful! I never have to wonder when it gets here, if I'm going to like it or not. Always great quality and beautiful. This ornament will be with me forever to remember my sweet boy Buddy <3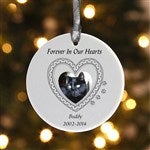 Awesome
By
Rosemarie S.

(Dover Plains, NY) - January 18, 2014 (
See all reviews by this customer
)
Great remembrance of my doggies that I lost in 2013!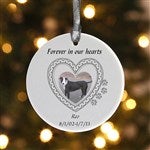 Beautiful memorial
By
Casey M.

(Salisbury, NC) - January 2, 2014 (
See all reviews by this customer
)
I love this ornament. My husband and I lost our dog in 2013 and my sister also lost her pet. I wanted to get both my husband and my sister something special. I did a lot of searching on many sites and this ornament was my favorite. I loved that I could put a picture to memorialize our "babies". It is a perfect gift for anyone that has lost a pet.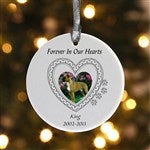 Great product and fast shipping!
By
Franklin J.

(Cordova, TN) - December 29, 2013 (
See all reviews by this customer
)
I had ordered this and was hoping that the actual product would look like the preview image. The ornament looks fantastic, it got to me in time for Christmas and I'll definitely order from them again.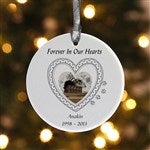 Memory ornament
By
Shopper

(Ortonville, MI) - December 24, 2013
After I finally got it I loved it. We hung it at the top of our tree by the angel