Great gift
By
Shopper

(Saint Louis, MO) - March 20, 2012
Cute ornament for someone who has recently lost a pet. Price was right, too!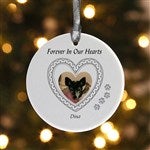 Beautiful
By
Lisa G.

(Pass Christian, MS) - March 2, 2012 (
See all reviews by this customer
)
I love the ornament. I know that it will bring back sweet memories of my dog each Christmas.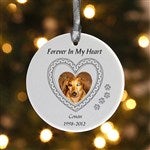 Sweet!
By
Linda D.

(Dudley, NC) - February 14, 2012 (
See all reviews by this customer
)
Our special baby puppy girl passed away this last Thanksgiving Day and is layed to rest in a beautiful wooden box. We wanted to make her a memorial by putting her special picture on her box. Very sweet, her latest picture in a heart with paw prints going us the side. When I thought of doing this, I thought of buying a small picture frame, with her name and the years she was with us, but this was just perfect and well worth the few dollars that I paid for it. Thank you Personalization!

perfect
By
Shopper

(Hollywood, FL) - January 20, 2012
My baby dog die and I wanted to have a memory that I could put in the tree and leave it by the mantel the rest of the year, the pet ornament was much more beautiful than I thought it would be, it is made of ceramic looks so delicate and perfect for my memories.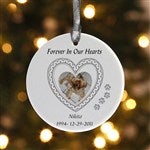 Personalized Photo Pete Ornament
By
Vicki W.

(Springboro, OH) - January 16, 2012 (
See all reviews by this customer
)
We unexpectedly lost our sweet Yorkie, Chloe Megan, at the young age of 8 just two days before Christmas. I ordered this thinking it would be a nice keepsake for our family on our Christmas tree every year (and it will be!), however, I've decided to keep it out ALL year and am hanging it on our wall so Chloe is with us every day. What a beautiful ornament and we are so grateful to have her photo, name and year included. Highly recommend!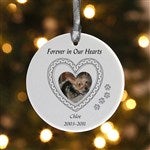 perfect gift to express my sympathy
By
JAMES T.

(waltham, MA) - January 16, 2012 (
See all reviews by this customer
)
MY FRIEND LOST HIS CAT TO OLD AGE I WAS VERY CLOSE TO THE FAMILY AND I FOUND THIS WEB SITE THAT HAD EXACTLY WHAT I WAS LOOKING FOR.QUICK SHIPMENT QUALITY PRODUCTS THAT ADD THAT SPECIAL TOUCH.
THANKS AGAIN JIM FLYNN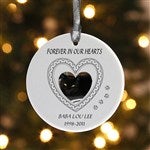 Loved by recepient
By
Adrienne P.

(Reading, PA) - January 9, 2012 (
See all reviews by this customer
)
I got this for my parents as they had to put their last dog down on 12/27. I warned them that something would be coming to them & they got it much sooner than expected. I got a call from my mom telling me that they loved it and now they want another one for their other dog that passed in early 2010. I think the fact that you are able to preview the item before you purchase is a great idea. Thank you so much for a perfect gift for such a sad occasion.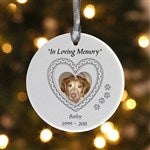 WONDERFUL
By
Shopper

(beachwood, NJ) - January 1, 2012
I purchased this as a xmas gift for my husband. We lost our golden retriever in july and she was one of the loves of our life. We have been looking for an ornament and I found this while searching the internet. So I purchased it and gave it to my husband for xmas. He was very moved by it. Its a wonderful piece.

Small picture
By
Angela D.

(Hollidaysburg, PA) - December 31, 2011 (
See all reviews by this customer
)
Disappointed. I wish the picture would have been larger. It should have at least filled up the entire heart. My beloved pet deserved to have something more ornate.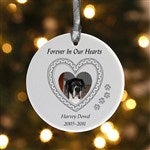 LOVE PERSONALIZATION MALL
By
Shopper

(Sarasota, FL) - December 19, 2013
Would've given this item 5 stars except for the limitations of the heart--our photo looks a bit crunched. Maybe the ornament could be a bit larger. Reasonable cost with a discount and prompt service as always!

Beautiful memorial of our beloved family cat
By
Alison Z.

(Lakewood, CO) - November 17, 2009 (
See all reviews by this customer
)
Very nice job! Very classy and high quality.

Beautiful Memory
By
Shopper

(Philadelphia, PA) - December 6, 2011
This ornament came out very beautifully. I had wished that the picture would be bigger. The ornament isn't too heavy either which is nice for smaller trees.

Wonderful keepsake for a treasured pet
By
Rebecca K.

(Highlands Ranch, CO) - December 14, 2009 (
See all reviews by this customer
)
I was looking for a memorial ornament for our family cat who passed a few weeks ago. Others I found only could be personalized with names/dates - but this one had a photo. The review software was excellent - it showed the product exactly as it would be when it arrived in my mailbox. Shipping was very quick - my mother will be happily surprised to find this in the cats stocking on Christmas.

Liked it but it has a small picture
By
Shopper

(Omaha, NE) - August 21, 2011
I really like the idea and deisgn of this ornament but it doesn't allow a big enough space for the picture.

Something I Will Always Treasure
By
Emily M.

(Bowling Green, OH) - December 13, 2009 (
See all reviews by this customer
)
I lost my beloved cat this past October and ordered one of these ornaments with his picture on it. One of the best things I've ever ordered from you. I'm very happy with the product... I can always depend on this website to deliver wonderful products! Thank you!

Nice Memory Piece
By
Stacey R.

(Sicklerville, NJ) - November 17, 2009 (
See all reviews by this customer
)
Ordered this ornament and it came just as described and it looked great. A nice memory piece for our tree.

very happy with ornament
By
Jeneen B.

(Poughkeepsie, NY) - November 12, 2009 (
See all reviews by this customer
)
Great quality ornament for the price. Had our cats name and nickname printed on the bottom instead of the dates. Really nice personalization. Picture came out great. Just wish the picture could have filled the entire heart. We love it.

Ornament for a very special cat
By
Lisa M.

(Evans, GA) - December 7, 2009 (
See all reviews by this customer
)
I ordered this ornament for my Christmas tree in remembrance of my cat. I had KitKat for almost 15 years and wanted a very special ornament to honor her memory. This ornament did not disappoint. I wish her picture was a little bigger on it, but it is very pretty and the printing and paw prints on it are very nicely done. I am very happy with my purchase and will definitely purchase from this company again.

Beautiful Ornament
By
Shopper

(Carbondale, IL) - January 1, 2014
The ornament was really nice and pretty and perfect for what I wanted. My only thing would be I wish the picture filled up more of the heart. Other than that it's a great product.

In Loving Memory Personalized Pet Ornament
By
Christine M.

(Elkhart, IN) - December 9, 2009 (
See all reviews by this customer
)
I absolutely LOVE it!!! It's beautiful! I do agree with others that the picture would be better if it filled the whole heart though.

Loved the pet ornament
By
Shopper

(Severn, MD) - December 11, 2012
I ordered 3 of the pet memorial ornaments for family members and was very pleased with how they look and feel. They arrived fairly quickly and came in a nice little velvet bag. I am ordering one more.

Thoughtful Gift for Pet Lover
By
Joyce S.

(Sturgis, MI) - December 31, 2011 (
See all reviews by this customer
)
This was a great gift idea to remember a special family "friend". My only complaint was that the high gloss finish made the writing and images not quite as sharp in person as they are pictured on the website photo. Otherwise, the ornament was much appreciated and greatfully, although tearfully, received.

Very pleased
By
Vanessa T.

(New York, NY) - October 15, 2009 (
See all reviews by this customer
)
Though light-colored images come out a bit fuzzier, I was very pleased with my ornaments. :)

Beautiful ornament to remember my baby
By
Tracy B.

(LA VERGNE, TN) - December 3, 2009 (
See all reviews by this customer
)
The picture is accurate, but it does not do the actual product any justice. I was very pleased with the quality of this ornament for the price. It is a great value considering it is almost completely customized! I got one of these with the kitty prints for my baby that passed just after last Christmas, and one of these with the doggy prints for my sister who lost her baby this past summer.

Extrememly pleased
By
sharon W.

(phoenix, AZ) - November 3, 2009 (
See all reviews by this customer
)
I was very happy to find the perfect gift ornamnent for a friend who recently lost her loving companion. The ornament is beautifully done and the price was just right. The shippping of this item was more than timely. Very satisfied with the entire process and purchase. Thank you.

A Beautiful Ornament that's helped bring peace
By
Shannon K.

(Rockford, IL) - December 12, 2009 (
See all reviews by this customer
)
This ornament by far exceeded my expectations. This creation was done so beautifully and the quality is superb. I didn't realize the entire ornament would be done in porcelain (I was so focused on the creating it that I missed that part in the description) that when I opened the lovely black velvet bag, I was amazed at the beauty of it. This is currently sitting on our Christmas tree and is such a beautiful reminder of the soul-mutt that was called home to Heaven. Thank you so much for offering something that is so unique and beautiful. We feel a sense of peace now that he is with us for Christmas and always.

cried when i saw it
By
nicole B.

(dallas, PA) - December 10, 2009 (
See all reviews by this customer
)
i had my dog shadow for 14 years he pasted away this year and i wanted to get something to help me heal and i saw this i was blown away by how beautiful it was the picture of it on the site doesnt do it justice its twice as nice in person this is a great ornament i love it 100% 5 stars

Good quality
By
Kendra G.

(Forney, TX) - November 2, 2009 (
See all reviews by this customer
)
Very nice quality - exactly as pictured. The black velvet storage bag that comes with it, is also very nice and a lovely touch. This item was bought for my sister, who lost her cat this year. She will love being able to hang this ornament on her Christmas tree; in remembrance of her beloved Patches.

Cute
By
Katie M.

(Gerrardstown, WV) - January 23, 2011 (
See all reviews by this customer
)
I was disappointed with the size of the photo. I got this ornament for my Mom, she loves it, and the photo is a close up of her cat. The picture though a close up, seemed like it was too small. It's a cute idea but the picture space is too small and the ornament is too white. Something didn't fit right for that reason.

Wonderful tribute to a loved pet
By
Cindy M.

(Lindenhurst, NY) - January 8, 2011 (
See all reviews by this customer
)
Bought this ornament for my parents who just lost their beloved dog. It actually brought tears to my mom's eyes. It is well made; includes the pets' name & anything else you'd like to include on the top. My only negative is I wish the picture was a bit larger...maybe if they took away the paw prints or the heart around the picture??

Very small writing and dark picture
By
Meghan B.

(Ellicott City, MD) - December 29, 2010 (
See all reviews by this customer
)
The ornament looks a lot cuter on the website then in person. I think b/c you expect the picture and writing to be a lot larger....

Great gift
By
Patricia K.

(West Seneca, NY) - November 27, 2011 (
See all reviews by this customer
)
I thought this would be great to give to my 2 grieving grandkids when they lost their dog. BUT its a great idea the picture area is TOO small. you can barely see their dog. Needs some tweeking to be a 5 star item.

Pretty much like the picture
By
Eva H.

(Louisville, KY) - October 1, 2009 (
See all reviews by this customer
)
It was hard to get the magnification right, but basically this is a simple little ornament - what you see is what you get.

Nice, but different than I thought
By
Shopper

(broadlands, VA) - January 1, 2013
I like the ornament; it stands out on the tree, but I was expecting it to look different. It's a white ornament, but I thought it was silver in the picture. The photo is also smaller than expected, but I like it overall. The price was good and it looks pretty good.

Loving ornament
By
Shopper

(Oxford, PA) - December 22, 2011
This ornament was very nice. The picture should be bigger. The paw prints that are suppost to go around the outside of the hearts was not lined up straight either. Other then that it was a good gift.

Not as good as expected
By
Nicole B.

(Lakewood Ranch, FL) - December 18, 2010 (
See all reviews by this customer
)
This ornament didn't turn out as well as I expected. The photo is very small and the footprints seem a little out of alignment. We had a rough year at our house, losing two pets in one year. I wanted different ornaments for each of them. For the other pet, I ordered the memorial ornament that is meant for people. That ornament was much nicer. The photo is larger making it easier to see the pet without being right next to the tree. I wish I'd ordered that ornament for both pets. I give it 3 stars because the photo was placed on the ornament correctly and the quality is good. It is a nice, sturdy ornament with a lovely silver ribbon.

Nothing great. . . not as expected
By
Laurel A.

(Layton, UT) - February 2, 2010 (
See all reviews by this customer
)
This is okay. The pets picture could be much larger and the ornament itself not soooo plain white. I also ordered the photo sentiments ornaments and they are much nicer. This needs to be more like that but allowing for a memorial message ands paw prints.

a little disapointed
By
Peter C.

(Milford, CT) - December 29, 2009 (
See all reviews by this customer
)
Ordered 2 ornaments (1 cat, 1 dog) uploading the pictures was easy but express shipping was charged for both items even though they would arrive in the same package. The cat ornament obviously did not go through a quality check as the picture was washed out. The dog ornament came in fine and I was happy with it. Hopefully they make good on the cat ornament with a replacement with the picture not washed out and at no charge to me of course.

Not a nice as i had hoped...
By
Katie N.

(Baytown, TX) - January 5, 2010 (
See all reviews by this customer
)
The words are nice and clear, but the pawprints and pictures are kind of blurry and smudged looking. The next time I purchase an ornament for a loving pet that has lost it's life, I will not be choosing another one of these.

Better Products out there
By
Erin M.

(Houston, TX) - December 21, 2010 (
See all reviews by this customer
)
When I first recieved this product I was greatly dissapointed because the heart photo looked like it was cut out by a 1 yr old & even then a 1 yr old could have done a better job so personalization mall imediately sent me a replacement. I must say although it was a vast improvement I am still not impressed. The picture is too small. It would be better if it took up the entire heart. Also the text & paw prints look like a zerox copy & is really small font. It doesn't fill out the ornament like shown in the picture. I wouldn't recommend buying this. The idea is nice & the porcelain is good quality & the packaging is nice but I will be replacing this ornament next year. This is the only item from personalization mall that I have ever had problems with. Everything else I purchased has been excellent quality & beautiful.