Great ornament
By
Carolyn L.

(Henderson, NC) - December 10, 2010 (
See all reviews by this customer
)
I have ordered several of these ornaments. They are very nice. The only problem I have had was I had to order one twice because the printing was not centered. Out of the 5 I have ordered only one was not right

Sweet
By
Maria S.

(United Kingdom) - December 7, 2010 (
See all reviews by this customer
)
I bought this after my kitten passed away. It has really helped with the grieving process as it is a little piece of him at Xmas - I put it on my Xmas tree yesterday. The service was great as well. The only suggestion I would make, is that the picture be made bigger.

Nice Memento, picture small
By
Jessica A.

(Bealeton, VA) - November 4, 2010 (
See all reviews by this customer
)
When I got the proof online, it looked like the photo was going to be bigger. It's still a very nice keepsake to have and I will enjoy it for a long time.

Beautiful
By
Carrie H.

(New Gloucester, ME) - November 4, 2010 (
See all reviews by this customer
)
A wonderful piece for our tree. The picture was perfect and clear.

Nice way to remember your furry family member
By
Amber W.

(Stoneville, NC) - November 2, 2010 (
See all reviews by this customer
)
The ornament is really nice. We lost our Golden in February and are still very heartbroken over it (although we did recently get a beautiful little yellow lab). Came across this ornament and couldn't resist. My only "complaint" is that the photo area in the heart is an odd shape so it's hard to make the photo look quite right. Still a great memorial to your lost furry family members though.

Larger photo are.
By
Jose L. H.

(Littleton, CO) - February 13, 2010 (
See all reviews by this customer
)
Photo is just a little too small. If it filled the entire heart it would be better.

Very Sweet
By
Caitlin D.

(West Middlesex, PA) - December 21, 2009 (
See all reviews by this customer
)
The ornament is of high quality, but the picture is a little cloudy. It looked fine on the computer, but on the actual ornament it is unclear. My family says that it is a beautiful ornament, though, and overall, I'm very pleased.

Very Nice
By
Joanne R G.

(Gibbstown,, NJ) - December 18, 2009 (
See all reviews by this customer
)
I purchased this lovely ornament in memory of my dear beloved 17 year old cat who passed away this summer. I think the quality is beautiful, I was disappointed that the photo didn't fill the entire heart as there is enough space to do so. It's a lovely keepsake, though.

Good Value
By
Misty G.

(Parker, CO) - December 16, 2009 (
See all reviews by this customer
)
These are heavy, thick porcelain. They hang nicely on the tree, and the pictures appear to be high quality and are placed in the best possible space in the middle of the heart. Overall a nice way to remember our lost friends during the holiday season.

Memories of a lost Pet
By
Barbara C.

(Metairie, LA) - December 7, 2009 (
See all reviews by this customer
)
My dog, Elvis died July 9, 2009. He was 14 yrs old. He is
so very missed by our entire family esp since this is the first Christmas without our special friend. He will forever be rememebered. The ornament is a great way to see him on our beautiful tree every day and know he is with us.
The only problem with this ornament is that it is smaller than it appears and it was hard to get the picture centered in such a small space, but I love it.

Pretty much like the picture
By
Eva H.

(Louisville, KY) - October 1, 2009 (
See all reviews by this customer
)
It was hard to get the magnification right, but basically this is a simple little ornament - what you see is what you get.

Not impressed
By
Carolyn B.

(MERRICK, NY) - November 4, 2013 (
See all reviews by this customer
)
I purchased this as a gift, but after receiving it I don't think I will be doing that. It does not look as nice as it did online.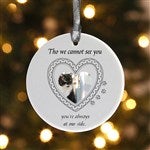 Nice, but different than I thought
By
Shopper

(broadlands, VA) - January 1, 2013
I like the ornament; it stands out on the tree, but I was expecting it to look different. It's a white ornament, but I thought it was silver in the picture. The photo is also smaller than expected, but I like it overall. The price was good and it looks pretty good.

Excellence for prompt delivery, however
By
Shopper

(Hendersonville, TN) - January 1, 2013
Although the delivery and presentation was excellent, I was a little saddened that the actual print was off center. The one side of the heart was 3 cm and the other side was 2.5. I know that is not a lot, but it is very noticeable.
And the little paw prints are not on the larger side, but the smaller side, which makes it look even more off center.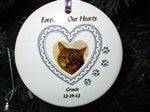 Picture too small
By
Shopper

(Lilburn, GA) - November 26, 2012
Picture needs to be expanded to fill entire heart area.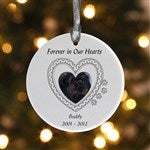 Loving ornament
By
Shopper

(Oxford, PA) - December 22, 2011
This ornament was very nice. The picture should be bigger. The paw prints that are suppost to go around the outside of the hearts was not lined up straight either. Other then that it was a good gift.

Great gift
By
Patricia K.

(West Seneca, NY) - November 27, 2011 (
See all reviews by this customer
)
I thought this would be great to give to my 2 grieving grandkids when they lost their dog. BUT its a great idea the picture area is TOO small. you can barely see their dog. Needs some tweeking to be a 5 star item.

some what disappointed
By
Shopper

(Middletown, OH) - November 25, 2011
I recently purchased this product and received it today. I am a little disappointed in the color of the ornament. I thought this was a silver
ornament only to receive a white ornament. The picture looks as though
its silver so that is what I was expecting. The picture was some what
smaller than I expected as well. Not sure if I am going to keep because
this was suppose to be a special ornament.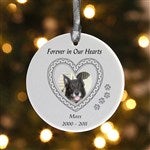 Cute
By
Katie M.

(Gerrardstown, WV) - January 23, 2011 (
See all reviews by this customer
)
I was disappointed with the size of the photo. I got this ornament for my Mom, she loves it, and the photo is a close up of her cat. The picture though a close up, seemed like it was too small. It's a cute idea but the picture space is too small and the ornament is too white. Something didn't fit right for that reason.

Wonderful tribute to a loved pet
By
Cindy M.

(Lindenhurst, NY) - January 8, 2011 (
See all reviews by this customer
)
Bought this ornament for my parents who just lost their beloved dog. It actually brought tears to my mom's eyes. It is well made; includes the pets' name & anything else you'd like to include on the top. My only negative is I wish the picture was a bit larger...maybe if they took away the paw prints or the heart around the picture??

Very small writing and dark picture
By
Meghan B.

(Ellicott City, MD) - December 29, 2010 (
See all reviews by this customer
)
The ornament looks a lot cuter on the website then in person. I think b/c you expect the picture and writing to be a lot larger....

Not as good as expected
By
Nicole B.

(Lakewood Ranch, FL) - December 18, 2010 (
See all reviews by this customer
)
This ornament didn't turn out as well as I expected. The photo is very small and the footprints seem a little out of alignment. We had a rough year at our house, losing two pets in one year. I wanted different ornaments for each of them. For the other pet, I ordered the memorial ornament that is meant for people. That ornament was much nicer. The photo is larger making it easier to see the pet without being right next to the tree. I wish I'd ordered that ornament for both pets. I give it 3 stars because the photo was placed on the ornament correctly and the quality is good. It is a nice, sturdy ornament with a lovely silver ribbon.

nice memorial as a gift
By
SUSAN J.

(NEWPORT NEWS, VA) - December 14, 2010 (
See all reviews by this customer
)
I was a little disappointed that the picture didn't come out a little larger on the ornament. I tried several times to enlarge it and it wouldn't take. When you look at the ornament, the picture looks too small. Otherwise, it's a nice idea.

watch your photo
By
Ginger P.

(Arlington, TX) - March 2, 2010 (
See all reviews by this customer
)
I ordered this after my 14 year old cat passed away. The photo I had of her included a light colored/white portion in the top left section of the picture. The preview of the item indicated the photo would be fine, but when it arrived, the light portion blended with the ornament so that it looks like 3/4 of a heart. It just looks weird and not fit for display, but I keep it close to me. I take the full blame, and urge others to make sure they have color in the background of the pictures. I still love this website and will order again, but this was the first product I was disappointed in as it didn't look the same as it did online. I may try to order this again using another picture some day.

Picture Centering
By
Shopper

(Portland, OR) - December 18, 2012
The ornaments that I received were not centered on the ornament. This was disappointing. They look like they are centered in the below photo but they were not even close.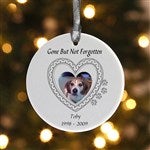 Small picture
By
Angela D.

(Hollidaysburg, PA) - December 31, 2011 (
See all reviews by this customer
)
Disappointed. I wish the picture would have been larger. It should have at least filled up the entire heart. My beloved pet deserved to have something more ornate.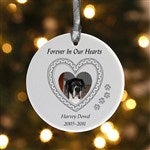 Wish it was a little bigger
By
Shopper

(Fullerton, CA) - December 15, 2011
I am very please with the quality, however, I wish the photo was larger and fit into the actual heart. The photo is a little grainy too.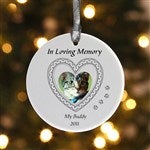 disappointed
By
Cindy C.

(Middletown, OH) - December 1, 2011 (
See all reviews by this customer
)
I was disappointed in this product because the picture made the ornament look silver. I thought the picture would be bigger than it appeared on the ornament once I got it. The quality of the picture wasn't that great on the actual ornament. I would not recommend ordering this particular ornament, I cannot speak for any other items since I have not ordered from this company before. From the picture below the ornament appears to be nice but the quality of this is not what I received.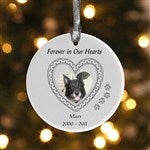 Nice, but the picture was small
By
Jennifer S.

(Toledo, OH) - November 18, 2011 (
See all reviews by this customer
)
I am disappointed in this ornament. The picture of my dog inside of the heart is way too small. It is hard to make out my dog, without being super close to the ornament. The whole point was that I wanted something to look at to remember my dog.

Better Products out there
By
Erin M.

(Houston, TX) - December 21, 2010 (
See all reviews by this customer
)
When I first recieved this product I was greatly dissapointed because the heart photo looked like it was cut out by a 1 yr old & even then a 1 yr old could have done a better job so personalization mall imediately sent me a replacement. I must say although it was a vast improvement I am still not impressed. The picture is too small. It would be better if it took up the entire heart. Also the text & paw prints look like a zerox copy & is really small font. It doesn't fill out the ornament like shown in the picture. I wouldn't recommend buying this. The idea is nice & the porcelain is good quality & the packaging is nice but I will be replacing this ornament next year. This is the only item from personalization mall that I have ever had problems with. Everything else I purchased has been excellent quality & beautiful.

Nothing great. . . not as expected
By
Laurel A.

(Layton, UT) - February 2, 2010 (
See all reviews by this customer
)
This is okay. The pets picture could be much larger and the ornament itself not soooo plain white. I also ordered the photo sentiments ornaments and they are much nicer. This needs to be more like that but allowing for a memorial message ands paw prints.

a little disapointed
By
Peter C.

(Milford, CT) - December 29, 2009 (
See all reviews by this customer
)
Ordered 2 ornaments (1 cat, 1 dog) uploading the pictures was easy but express shipping was charged for both items even though they would arrive in the same package. The cat ornament obviously did not go through a quality check as the picture was washed out. The dog ornament came in fine and I was happy with it. Hopefully they make good on the cat ornament with a replacement with the picture not washed out and at no charge to me of course.

Not a nice as i had hoped...
By
Katie N.

(Baytown, TX) - January 5, 2010 (
See all reviews by this customer
)
The words are nice and clear, but the pawprints and pictures are kind of blurry and smudged looking. The next time I purchase an ornament for a loving pet that has lost it's life, I will not be choosing another one of these.