watch your photo
By
Ginger P.

(Arlington, TX) - March 2, 2010 (
See all reviews by this customer
)
I ordered this after my 14 year old cat passed away. The photo I had of her included a light colored/white portion in the top left section of the picture. The preview of the item indicated the photo would be fine, but when it arrived, the light portion blended with the ornament so that it looks like 3/4 of a heart. It just looks weird and not fit for display, but I keep it close to me. I take the full blame, and urge others to make sure they have color in the background of the pictures. I still love this website and will order again, but this was the first product I was disappointed in as it didn't look the same as it did online. I may try to order this again using another picture some day.

Picture Centering
By
Shopper

(Portland, OR) - December 18, 2012
The ornaments that I received were not centered on the ornament. This was disappointing. They look like they are centered in the below photo but they were not even close.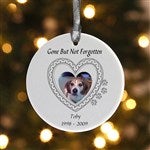 Small picture
By
Angela D.

(Hollidaysburg, PA) - December 31, 2011 (
See all reviews by this customer
)
Disappointed. I wish the picture would have been larger. It should have at least filled up the entire heart. My beloved pet deserved to have something more ornate.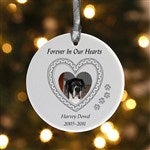 Wish it was a little bigger
By
Shopper

(Fullerton, CA) - December 15, 2011
I am very please with the quality, however, I wish the photo was larger and fit into the actual heart. The photo is a little grainy too.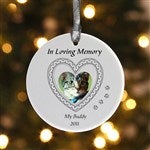 disappointed
By
Cindy C.

(Middletown, OH) - December 1, 2011 (
See all reviews by this customer
)
I was disappointed in this product because the picture made the ornament look silver. I thought the picture would be bigger than it appeared on the ornament once I got it. The quality of the picture wasn't that great on the actual ornament. I would not recommend ordering this particular ornament, I cannot speak for any other items since I have not ordered from this company before. From the picture below the ornament appears to be nice but the quality of this is not what I received.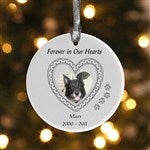 Nice, but the picture was small
By
Jennifer S.

(Toledo, OH) - November 18, 2011 (
See all reviews by this customer
)
I am disappointed in this ornament. The picture of my dog inside of the heart is way too small. It is hard to make out my dog, without being super close to the ornament. The whole point was that I wanted something to look at to remember my dog.

Better Products out there
By
Erin M.

(Houston, TX) - December 21, 2010 (
See all reviews by this customer
)
When I first recieved this product I was greatly dissapointed because the heart photo looked like it was cut out by a 1 yr old & even then a 1 yr old could have done a better job so personalization mall imediately sent me a replacement. I must say although it was a vast improvement I am still not impressed. The picture is too small. It would be better if it took up the entire heart. Also the text & paw prints look like a zerox copy & is really small font. It doesn't fill out the ornament like shown in the picture. I wouldn't recommend buying this. The idea is nice & the porcelain is good quality & the packaging is nice but I will be replacing this ornament next year. This is the only item from personalization mall that I have ever had problems with. Everything else I purchased has been excellent quality & beautiful.

Nothing great. . . not as expected
By
Laurel A.

(Layton, UT) - February 2, 2010 (
See all reviews by this customer
)
This is okay. The pets picture could be much larger and the ornament itself not soooo plain white. I also ordered the photo sentiments ornaments and they are much nicer. This needs to be more like that but allowing for a memorial message ands paw prints.

a little disapointed
By
Peter C.

(Milford, CT) - December 29, 2009 (
See all reviews by this customer
)
Ordered 2 ornaments (1 cat, 1 dog) uploading the pictures was easy but express shipping was charged for both items even though they would arrive in the same package. The cat ornament obviously did not go through a quality check as the picture was washed out. The dog ornament came in fine and I was happy with it. Hopefully they make good on the cat ornament with a replacement with the picture not washed out and at no charge to me of course.

Not a nice as i had hoped...
By
Katie N.

(Baytown, TX) - January 5, 2010 (
See all reviews by this customer
)
The words are nice and clear, but the pawprints and pictures are kind of blurry and smudged looking. The next time I purchase an ornament for a loving pet that has lost it's life, I will not be choosing another one of these.