Perfect
By
Shopper

(Woodbridge, CT) - December 9, 2012
These ordaments came out great. My picture wasn't blurry at all and the personalization came out good. I can't wait to give one to each of my family members to remember our family dog growing up.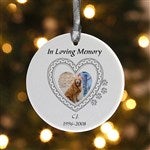 Very nice way to memorialize a pet
By
Shopper

(Sherman, IL) - December 7, 2012
I'm very happy with my purchase of the In Loving Memory Pet Ornament! The quality is nice, the personalization was very easy, and the price was just right. I highly recommend this item. After receiving it, I decided to make some more personalized ornaments to give as gifts, and one for us too.

Cherished piece forever
By
Diane V.

(Frankfort, IL) - November 11, 2012 (
See all reviews by this customer
)
I purchased this for my brother who recently lost his doggie. He will appreciate this beautiful porcelain ornament with a imprinted picture of his baby girl. I made the inscription more personal. It was really easy to upload the picture from my computer and so happy with the results!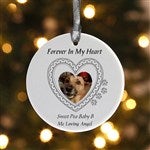 Beautiful Ornament
By
Laura C.

(Murfreesboro, TN) - November 9, 2012 (
See all reviews by this customer
)
I got this for my sister and she plans to keep it out all year. She loves it!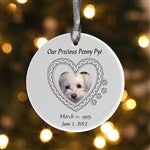 Purrfect Pet Memorial
By
Sara C.

(Quincy, IL) - October 28, 2012 (
See all reviews by this customer
)
I was worried about how the picture I submitted would look when put in the ornament, but when I received it, it was perfect. Very happy with this purchase.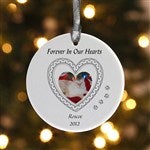 great quality
By
Stefanie C.

(Louisville, KY) - October 23, 2012 (
See all reviews by this customer
)
My ornament was exactly what I expected and shipping was fast. I look forward to using Personalization Mall for my holiday shopping.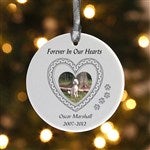 beautiful
By
Shopper

(Pembroke Pines, FL) - October 8, 2012
bought many of these as remembrances for special friends

Beautiful!
By
Shopper

(spring branch, TX) - October 1, 2012
I loved the quality and the wording.
It was beautiful!

Beautiful
By
Michele P.

(Charlotte, NC) - September 28, 2012 (
See all reviews by this customer
)
Beautiful. Thanks.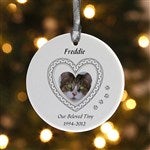 Very professional and quick turnaround on product
By
Janine D.

(North Caldwell, NJ) - September 9, 2012 (
See all reviews by this customer
)
I was very impressed how quickly they got the personalized dog tags and Ornamet to me. I highly recommend checking ther produts out you won't be disappointed.

Midnite and Tabitha
By
Natalie R.

(Bronx, NY) - September 7, 2012 (
See all reviews by this customer
)
Ornament is a bit smaller than I expected but the photos of my two babies look very nice and the quality of the inscriptions are better than expected.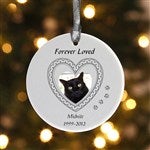 My memories
By
Shopper

(Orange, TX) - September 2, 2012
I use this beautiful ornament to hang in my car so I can look at my beautiful dog each day on my drive to and from work. It is perfect!

Love this memory Ornament
By
Shopper

(Overland Park, KS) - May 5, 2012
This was a beautiful way to remember my beautiful cat that just died.

Great gift
By
Shopper

(Saint Louis, MO) - March 20, 2012
Cute ornament for someone who has recently lost a pet. Price was right, too!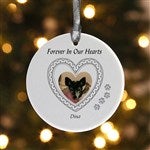 Beautiful
By
Lisa G.

(Pass Christian, MS) - March 2, 2012 (
See all reviews by this customer
)
I love the ornament. I know that it will bring back sweet memories of my dog each Christmas.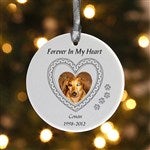 Sweet!
By
Linda D.

(Dudley, NC) - February 14, 2012 (
See all reviews by this customer
)
Our special baby puppy girl passed away this last Thanksgiving Day and is layed to rest in a beautiful wooden box. We wanted to make her a memorial by putting her special picture on her box. Very sweet, her latest picture in a heart with paw prints going us the side. When I thought of doing this, I thought of buying a small picture frame, with her name and the years she was with us, but this was just perfect and well worth the few dollars that I paid for it. Thank you Personalization!

In Memory of a Pet Ornament
By
Shopper

(Brick, NJ) - February 6, 2012
This ornament is the perfect way to remember your pet. Your pet will always be a part of your Christmas with this beautiful ornament.

perfect
By
Shopper

(Hollywood, FL) - January 20, 2012
My baby dog die and I wanted to have a memory that I could put in the tree and leave it by the mantel the rest of the year, the pet ornament was much more beautiful than I thought it would be, it is made of ceramic looks so delicate and perfect for my memories.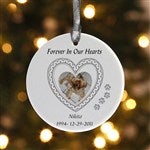 Personalized Photo Pete Ornament
By
Vicki W.

(Springboro, OH) - January 16, 2012 (
See all reviews by this customer
)
We unexpectedly lost our sweet Yorkie, Chloe Megan, at the young age of 8 just two days before Christmas. I ordered this thinking it would be a nice keepsake for our family on our Christmas tree every year (and it will be!), however, I've decided to keep it out ALL year and am hanging it on our wall so Chloe is with us every day. What a beautiful ornament and we are so grateful to have her photo, name and year included. Highly recommend!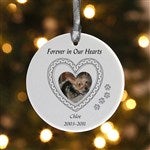 perfect gift to express my sympathy
By
JAMES T.

(waltham, MA) - January 16, 2012 (
See all reviews by this customer
)
MY FRIEND LOST HIS CAT TO OLD AGE I WAS VERY CLOSE TO THE FAMILY AND I FOUND THIS WEB SITE THAT HAD EXACTLY WHAT I WAS LOOKING FOR.QUICK SHIPMENT QUALITY PRODUCTS THAT ADD THAT SPECIAL TOUCH.
THANKS AGAIN JIM FLYNN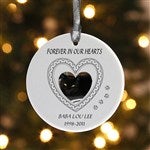 Loved by recepient
By
Adrienne P.

(Reading, PA) - January 9, 2012 (
See all reviews by this customer
)
I got this for my parents as they had to put their last dog down on 12/27. I warned them that something would be coming to them & they got it much sooner than expected. I got a call from my mom telling me that they loved it and now they want another one for their other dog that passed in early 2010. I think the fact that you are able to preview the item before you purchase is a great idea. Thank you so much for a perfect gift for such a sad occasion.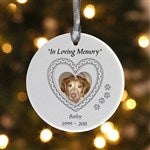 Beautiful ornaments
By
Melissa S.

(Moreno Valley, CA) - January 2, 2012 (
See all reviews by this customer
)
Just ordered two of these in memory of my precious angel Foxy who I lost about 3 weeks ago. These ornaments are beautiful but I wish they would put the photo in the large heart on the ornament instead of putting it in a smaller heart, then it would be bigger. They are very good quality though.

WONDERFUL
By
Shopper

(beachwood, NJ) - January 1, 2012
I purchased this as a xmas gift for my husband. We lost our golden retriever in july and she was one of the loves of our life. We have been looking for an ornament and I found this while searching the internet. So I purchased it and gave it to my husband for xmas. He was very moved by it. Its a wonderful piece.

Degu memorial ornament
By
Shopper

(Mahomet, IL) - December 29, 2011
I love the ornament! Looked everywhere, but couldn't find one with all of these features: allowed enough letters to put my pet's name (most only allow 8 letters); could put only one year (we adopted him from the Humane Society and don't know when he was born, only the year he passed away). Could do all of those things on this one. I also appreciated that I could choose whatever heading I wanted for the top of ornament; he hasn't been gone long, and I just couldn't face seeing "In Memory," or any other typical memorial phrase, whenever I looked at the Christmas tree. Love that it's porcelain instead of metal or tacky plastic resin. Best of all was the speedy shipping; I dithered around for so long that I missed the Christmas deadline at most places, but this arrived in plenty of time to hang on the tree. I do wish there was a non-cat/dog option, for those of us who have rodents, ferrets, birds, or cavies, but the cat paw was similar enough to a rodent pawprint to work.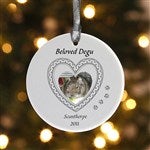 Great memorial ornament
By
Terri G.

(Lincoln, CA) - December 27, 2011 (
See all reviews by this customer
)
Our dogs were such a huge part of our lives & losing them both within a 1 year period was tough. I bought this ornament, with a picture of both dogs, for my husband. He really loves it. Thanks!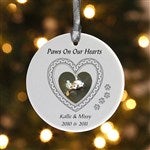 Happy
By
Leslie C.

(Fowler, CA) - December 27, 2011 (
See all reviews by this customer
)
I was so happy to see how nice this was made..It's my favorite ornament on my tree..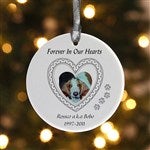 Simply "Purr"fect
By
Sharon E.

(Englewood, FL) - December 26, 2011 (
See all reviews by this customer
)
Needed the "purr"fect sympathy gift for my sister who lost her best friend of 16 year. Your company provided me a beautiful memorial ornament. Thank you so much!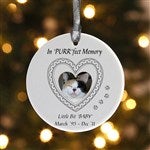 Pet memorial ornament
By
Shopper

(Cotopaxi, CO) - December 22, 2011
I purchased two of these ornaments for gifts!! The recipients adored them
Wonderful thank you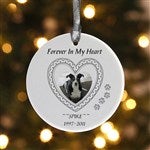 Pet Ornament
By
Shopper

(Summit, IL) - December 22, 2011
I was able to upload a picture. Crop the Picture and see the final product. I did redo the picture to adjust the final product the way I wanted it. I returned later to order 4 more as gifts.

Beautiful memorial ornament!
By
Christina B.

(Sierra Vista, AZ) - December 21, 2011 (
See all reviews by this customer
)
I have always been very pleased with the quality of products I have ordered from this site! Personlizationmall.com has quite an extensive of unique gifts!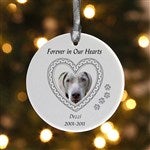 in loving memory pet ornament
By
Peggy W.

(Chicago, IL) - December 21, 2011 (
See all reviews by this customer
)
This was a gift to my sister & nephew. Both were very happy, people love their pets too.

A Lasting Remembrance
By
Michael E.

(Frankfort, KY) - December 16, 2011 (
See all reviews by this customer
)
I purchased this ornament for a beloved dog who recently passed away. I'm very pleased with the appearance and quality of the product. I've referred this website to several friends who recently had dogs pass away.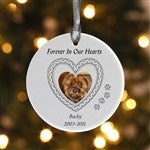 Memorial ornament and silver stand
By
Ethel S.

(Lykens, PA) - December 15, 2011 (
See all reviews by this customer
)
I ordered the Memorial Ornament and silver stand for my daughter, who recently lost her beloved Westie. The ornament and stand are beautiful, and the service was excellent. Being able to select and crop a picture of Casey, as well as choose my own three lines of wording for the free personalization, is definitely a nice feature. The quality of these items is well worth the price. I am pleased that I found this site, and will order more items in the future.

Lovely memorial
By
Tiffin S.

(Broken Arrow, OK) - December 10, 2011 (
See all reviews by this customer
)
I am very pleased with my memorial ornament in honor of my precious Buddy who passed away last year. It is a wonderful sentiment to keep for many years to come and also keeps Buddy close to us during the holidays. Thank you for creating this wonderful item!

Memorials
By
Shopper

(Riverview, FL) - December 10, 2011
I've used this company several times for memorials for pets and also as
a memorial for my mother/Christmas gift to my sisters. The product is of
good quality and the shipping is expedient and reasonable. I will continue to use this company for my needs. I am glad they are there for me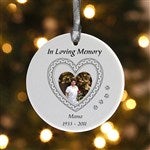 Awesome gift for those who have lost a pet
By
Shopper

(Green Bay, WI) - December 9, 2011
turned out great, looks exactly like the one on the website and got here super fast!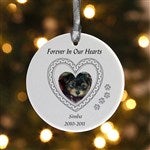 Beautiful tree ornament
By
Shopper

(North Port, FL) - December 7, 2011
Very pleased with item purchased in memory of my beloved cat. Memorial item now hanging on our tree.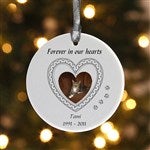 Great way to remember our Max
By
Ann S.

(Jackson, MO) - December 7, 2011 (
See all reviews by this customer
)
Love the way this turned out! Their preview feature is the greatest because it actually shows you how it will look like. A lot of other websites show you that it'll look nice only to disappoint. Way to go Personalization Mall!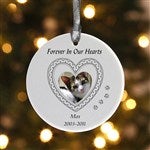 lovely
By
Shopper

(Cheshire, CT) - December 6, 2011
Lost my prescious pet this summer, it's my first Christmas without her in 13 yrs. This is making it special for me, the ornament is lovely. I actually put it with a ribbon on her stocking and hung it up as always on the fireplace, it's perfect.........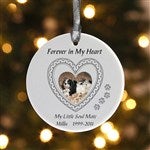 MENA
PRETTY