Great Item
By
Monica P.

(Marion, VA) - December 30, 2011 (
See all reviews by this customer
)
My Son loved it.....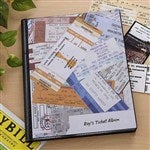 very disappointed
By
Rhonda G.

(Marrero, LA) - December 24, 2011 (
See all reviews by this customer
)
Looks very cheap.....this is the first item that I have purchased that I have been disappointed with. Smaller than what I anticipated. Embarrassed to give as a gift.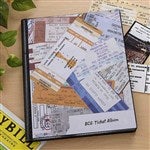 Great Product & fast delivery
By
Michael J.

(Memphis, TN) - December 20, 2011 (
See all reviews by this customer
)
I ordered this for my g/f for Christmas on Friday morning. Shipped from Illinois fedex ground and came by Tuesday morning. Comes exactly as pictured and well wrapped. My only drawback at first glance was I thought it looked small, but I think it is perfect size (6 3/4 in. wide and 8 3/4 in long). I pictued a normal size book, but I am very happy with the look, size (even though I just complained), and quality. Its a hard back type of book, very nice and worth the extra price!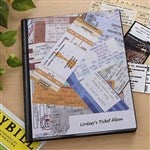 Ticket Album
By
Shopper

(Roslyn, PA) - December 14, 2011
Absolutely wonderful. Nice gifts for anyone.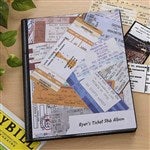 Great gift!
By
Monique M.

(Buffalo, NY) - December 11, 2011 (
See all reviews by this customer
)
Purchased this gift for my sister for Christmas. Received in the mail pretty quickly after ordering. I am excited to see what she thinks.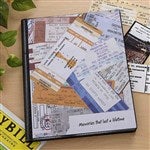 Sharon S.
By
Sharon S.

(Burlington, ND) - December 7, 2011 (
See all reviews by this customer
)
Very cute. Got as Christmas gifts. Bought for family members that go to alot of concerts, ball games and other events. Fun to keep.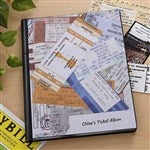 very small
By
Kerri H.

(Brimley, MI) - December 6, 2011 (
See all reviews by this customer
)
I ordered two of these and they are much smaller than I imagined. I thought they would be the size of a three ring binder, I need to look more closely at measurements I guess.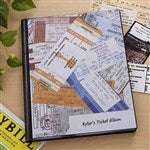 Ticket holder
By
Karla T.

(Lafayette, LA) - September 17, 2011 (
See all reviews by this customer
)
I have been looking everywhere for something that could hold all my ticket stubs. I bought this for myself and love it. Now I have all my memories in one place and can look at all the fun things my husband and I have done together.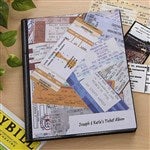 5 Stars!
By
Shopper

(Alexandria, VA) - July 12, 2011
I was able to store a mass of tickets within this ticket album. There's plenty of room even for awkwardly sized tickets. The binding and plastic sheets are super sturdy. My only recommendation would be to make the front and rear pockets larger to accomodate Concert & Play programs. 5 Stars!!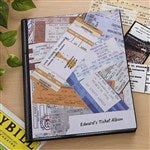 Great idea!
By
Shopper

(Euless, TX) - June 26, 2011
Glad this was listed as a father's day gift. Dad loves it! What a great idea to keep tickets in a cute little album.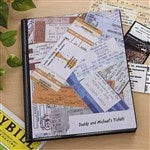 Cute!
By
Shopper

(Ann Arbor, MI) - March 16, 2011
I like to save all the ticket stubs from events that my husband and I go to. This album is perfect! It's cute, great quality and keeps the stubs organized! Definitely recommend!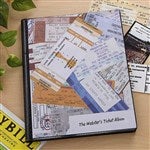 Unique product
By
Shopper

(upper falls , MD) - March 14, 2011
This is a cool product. I wondered what to do with ticket stubs from our family outings and this was perfect. The sheets that hold the stubs are a little delicate. You can slide your tickets in but if you need to remove them, I hope you have flat fingers because the plastic will tear when you try to remove them. I was just little disappointed but because it was the only product of its kind that I had seen...it serves its purpose. It was a little pricey and a little flimsy.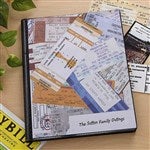 Personalized Ticket Album
By
Rosemary Z.

(Falls Church, VA) - March 10, 2014 (
See all reviews by this customer
)
I received my personalized ticket album really fast! It looks great! I will finally have all my tickets in the right place now, instead of in an envelope!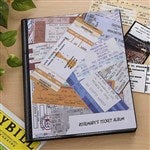 TEENAGE HIT!
By
Karen B.

(Edinburg, TX) - February 28, 2014 (
See all reviews by this customer
)
My 13 year old will be able to save her concert ticket stubs! She loves this and will treasure her memories!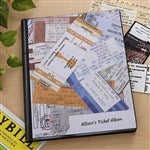 Not what I expected/
By
Shopper

(Kingwood, TX) - December 28, 2013
I ordered this item expecting a semi-hardcover album. What I received was a very cheap album, with a vinyl clear cover that was warped and wrinkly, with a paper printed cover slid underneath the vinyl/ The quality was about the same as the old $3 "brag books" photo holders you find at the dollar store. I can't speak for their other products, they may be very nice, but as for this product- don't get your hopes up.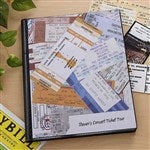 pretty cool gift
By
Shopper

(miami, FL) - June 18, 2013
I got it for my brother in low on fathers day and he really liked it
looks great and good quality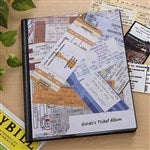 perfect anniversary gift
By
Shopper

(charlotte, NC) - March 31, 2013
Coolest little organizer for all your ticket stubs. Great way to document your journeys together. Super gift idea.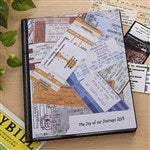 Cute but Way too expensive for what you get
By
Shopper

(Canton, OH) - March 9, 2013
The cover is great for a guy, but inside there is really only space for like concert tickets and that. We save things like the car tags from different trips and that but there is no way to put those in there. It is very simple and just not worth what you spend on it.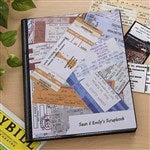 Great Product!
By
Shopper

(phoenix, AZ) - March 2, 2013
This is just what I was looking for!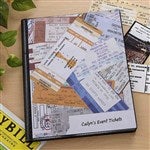 Great Storage
By
Shopper

(Medway, MA) - February 20, 2013
I purchased this for myself, as I have kept almost all of my concert tickets through the years. Now I can get rid of the bag they were in and not worry about them getting ruined.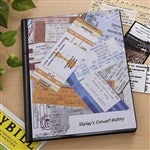 As described!
By
Amanda H.

(Owensboro, KY) - February 17, 2013 (
See all reviews by this customer
)
Great item. Great price! Item as described. He loved it!!!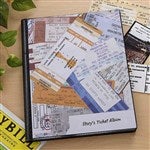 my sister loved it
By
Margaret S.

(Philadelphia, PA) - January 27, 2013 (
See all reviews by this customer
)
Very nice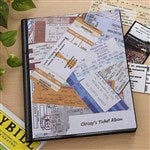 Very small cheaply made
By
Cari D.

(Pleasant Hill, MO) - December 19, 2012 (
See all reviews by this customer
)
Not worth the money very small. Cheaply made. It is not a standard book size. It is about 8 1/2 by 6 inches. No way to expand it. All plastic even the binder. Don't think it will last. Waste of money.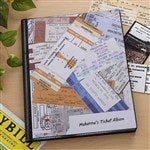 Size of album
By
Shopper

(garden city, NY) - December 17, 2012
Love the album although it is smaller than I had expected..purchased as gift for my son..he was very happy with it.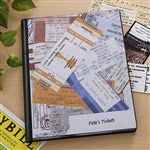 Perfect
By
Laura L.

(Guttenberg, NJ) - November 30, 2012 (
See all reviews by this customer
)
I absolutely love this album. It's perfect for organizing all your concert, sports, event, tix stubs. I've already bought 2 albums & am actually buying a 3rd so I can organize the rest of my tickets. Hint: if you've been to alot of shows like me, you'll need several of these albums to house all your memories.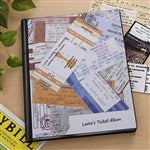 Pratical and good quality
By
Shopper

(Canada) - October 23, 2012
Good quality book - a bit smaller than imagined but looks great and the quality of the pages and the booklet are great.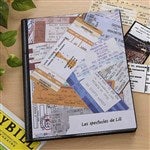 Excellent product - better than expected
By
Shopper

(Centereach, NY) - August 3, 2012
This product is better than expected - great way to keep memories at your fingertips.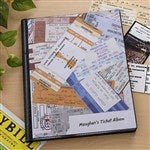 Ticket Album
By
Shopper

(Hawthorne, NJ) - June 12, 2012
I was expecting a bit more quality when purchasing this ticket album. It is cheaply made with the inner pages to hold the tickets being extremely flimsy. The material used for holding the tickets is like cellophane wrapping....very thin and if you are not careful, they can easily rip. Would recommend shopping around for something else to those looking.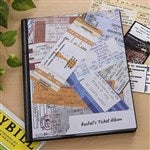 Great gift for sports fans, concert goers!
By
Shopper

(Louisville, KY) - May 25, 2012
My husband always had tickets from concerts and sporting events in drawers. He wouldn't throw them away, but they were scattered everywhere! This is a great way to keep those items safe, and he always knows where they are.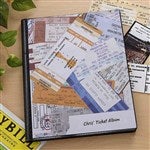 Really Cool
By
Lisa G.

(North Las Vegas, NV) - February 13, 2012 (
See all reviews by this customer
)
I bought this for my boyfriend for Valentine's Day. I already filled a few pages with tickets stubs and I think he is really going to like it. Hopefully he will want to fill up the book and take me with him!!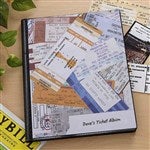 Great product at a Great price!!
By
Shopper

(South Ozone Park, NY) - February 5, 2012
I bought this as a Gift for my boyfriend, who is a die hard NY Sports fan! He always keeps his stubs in a dresser drawer, so i thought this would be a great way to organize and show off his stubs. I bought him tickets to a Knicks game which were already in the album when i gave it to him. He absolutely loved the gift!! And loved that it was personalized!! The design is nice on the front, however the back cover has an image of a VIP pass, that has "made exclusively for personalization mall.com" on it. I did not like that part much. However the cardstock can be removed, or you can fill that space with additional stubs to hide it. Also, the size of the book was a little on the small size, i was expecting something a bit bigger. Another thing is that my Knicks tickets would not fit in the slots, they were slightly bigger but i was able to put them in a pouch pocket on the first page. Other than that, great product at a great price!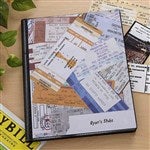 Great Product!
By
Shopper

(Belle Mead, NJ) - March 25, 2012
Great for cutting down on the visual clutter on bulletin boards -- great keepsake!

ticket stub album
By
Kathleen O.

(Chicago, IL) - October 2, 2012 (
See all reviews by this customer
)
Purchased 4 several years ago and my grand kids enjoy a place to
keep their event stubs. just purchased 4 more for the rest of the grand kids
now that they are old enough to attend concerts, etc. Personalization
makes it that more special.

eh.
By
lauren M.

(matawan, NJ) - December 24, 2009 (
See all reviews by this customer
)
It wasn't the best quality for the price i paid.

Worth it!
By
Shopper

(Miami Gardens, FL) - August 29, 2011
I was very happy with this ticket album. I bought it for my boyfriend as an anniversary gift and placed all our movie tickets, prom tickets, graduation tickets, etc. in it. He LOVED it! The only thing i didn't like is that the album is a lot smaller than the picture makes it look. But it was definitely a great gift!

gift for 5 yr old
By
Shopper

(SHAWNEE, KS) - February 16, 2012
cute! wish there were more spaces for bigger tickets, but a cute idea!

Quality not typical
By
Teresa W.

(Seaford, VA) - October 8, 2009 (
See all reviews by this customer
)
For the price, the quality of this item is not at the high standard of what I have bought from Personalization before.

Rock On
By
Shopper

(Keams Canyon, AZ) - February 25, 2013
Cute ticket album. My boyfriend and I enjoy concerts and have a lot of our ticket stubs laying around. What a great way to remember and display our memories.

Great Item!!!
By
Lacey A.

(Grove City, OH) - December 12, 2009 (
See all reviews by this customer
)
Great item and fast shipping. Very pleased!

Husband really liked this
By
Gail M.

(Saint Louis, MO) - February 14, 2013 (
See all reviews by this customer
)
I bought this for my husband for Valentine's Day so he would have a nice place to keep ticket stubs to our past events, as well as our future events. (I put some stubs in it before I gave it to him) The only reason I don't give it 5 starts is that, he noticed as I did, that all the ticket slots are for standard size ticket stubs. But we have stubs that are bigger,passes really, and other than the two jacket pockets on the front and back cover,their are no places to put them. I hope that a future ticket stub book will have more variable size slots. But this is a really neat gift and a great keepsake!