Birthday Present
By
Shopper

(Salida, CO) - November 14, 2011
The album was not what I had pictured in my mind at all. It was more like a photo album feel than a book feel. Not sure if that is good or bad. I was impressed with the fact there are several sheets to insert tickets into. Would have liked to know how many sheets/pockets were available. I may have ordered another album to accommodate all the tickets we have just from this fall football season! I have seen other items similar to this product, glad I made my purchase with this company.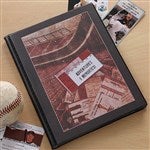 Good gift for dads
By
Shopper

(San Carlos, CA) - March 8, 2011
Bought this for my husband who saves ticket stubs of events he and our son go to. Very fun gift. Sturdy. Won't last forever probably, but its great for what you need....someplace to hold all those tickets in your home!

Ticket Album
By
Shopper

(Canada) - February 15, 2011
Received product in a timely manner; accurate personalization.

Not Entirely Sports Themed
By
Colleen N.

(Bennington, VT) - December 30, 2010 (
See all reviews by this customer
)
Very happy with the quality of the album and with the personalization. My one complaint is that the tickets that decorate the bottom cover of the album are not sport tickets... they are tickets for the ballet and orchestra. Not completely a sports events ticket album. Would not have minded... however, this was a gift to my sports fanatic brother-in-law.

Great Book
By
Stacie E.

(Summerville, SC) - December 29, 2010 (
See all reviews by this customer
)
I ordered this book to have a single place to hold all of my football tickets from events attended over the years. It really turned out more perfect than I could have imagined. It doesn't fit "large" tickets but has a place in front or in back where you can store those, but overall a great product. Personalization was great.

Very Pleased :)
By
Sara A.

(San Diego, CA) - December 24, 2010 (
See all reviews by this customer
)
I got this for my boyfriend. I think its a very unique gift and was very pleased when I saw the quality. The only thing that I didnt like was on the back cover of teh book it has a large Personalization.com logo. besides that I think its great and would def recommend

Personalized Sport Ticket Album
By
Rachel G.

(Jersey City, NJ) - December 20, 2010 (
See all reviews by this customer
)
There aren't a lot of choices on the market for a gift like this, and though it seemed small when it arrived, I think it is going to work out great. Compact and good quality - though I do have one issue. I ordered the sports album, and in the picture it looks like it's in a sport arena. The ticket stubs show in the picture, however, are for concerts. Sort of defeats the purpose.

Ticket Album
By
Karen K.

(Parker, CO) - November 29, 2010 (
See all reviews by this customer
)
Great item, I think he will like it alot, it will keep him from losing those important tickets he has in a box!

Great Gift Idea
By
Lauren B.

(Chappaqua, NY) - March 23, 2010 (
See all reviews by this customer
)
This is a great, well priced gift idea for the boy who has it all- very well received and I plan to give out a lot more of these!

exactly as expected
By
Korinna F.

(Grand Terrace, CA) - February 17, 2010 (
See all reviews by this customer
)
the album came with no suprises. i like that it's a hard cover. i bought it for my boyfriend for valentines day and he loved it but there is a variety of tickets on the cover like a ballet ticket and some computer science ticket but we go to a variety of different events so he didn't mind but it might be a deal breaker for others.

Good product - plastic
By
Shopper

(Arlington, VA) - February 5, 2012
Good but plastic. Bought as a keepsake gift for a Penguins fan. Would like to see future product of better material.

CHECK SIZE
By
Shopper

(Philadelphia, PA) - November 25, 2011
BOOK IS CUTE AND DOES HOLD TICKETS NICELY. THOUGHT IT WOULD BE A BIT BIGGER SO READ THE SIZE CAREFULLY. GIVEN AS A GIFT AND THEY LOVED IT.I WOULD PURCHASE IT AGAIN AND I AM GOING TO PURCHASE A FEW MORE FOR CHRISTMAS PRESENTS.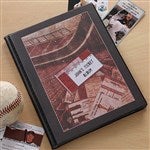 Fits the bill
By
Shopper

(Plainfield, IL) - October 8, 2011
Cute, simple and inexpensive personalized album to keep our events organized.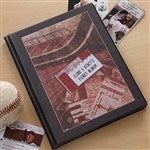 Nice but smaller then i thought
By
Sheena L.

(Riverside, CA) - February 17, 2010 (
See all reviews by this customer
)
My Husband loved it but it was a bit smaller then we thought it was going to be.

False ad
By
Kathy E.

(Rochester, MN) - December 5, 2009 (
See all reviews by this customer
)
I bought for sporting events stubs for a Macho guy...and then on the front is Ballet and orchestra tickets ...no sporting events.

Not what I expected
By
Julie F.

(Woodstock, GA) - October 1, 2009 (
See all reviews by this customer
)
I thought this was more like a book to keep in a bookshelf, but it is made of plastic. A little cheap looking, but for a 11 year olds birthday gift, I am sure it will be fine. I actually purchased 4 of them.

Not what I expected
By
Shopper

(Huntington, WV) - February 25, 2013
From the pictures, this album looks a lot bigger. The album will only fit concert ticket size stubs. I was hoping for an album that would fit Nascar size tickets. I will not be able to use the book at all. It was a complete waste of money for me.
I thought the pages were very flimsy and one was already torn when I opened the package. When you buy this product you're basically only paying for the hard cover and personalization. I could easliy have bought a 3 ring binder and some ticket sleeves at a local craft store for 1/4 of the cost.

Too small
By
Shopper

(Arlington Heights, IL) - December 28, 2011
Maybe it was my fault for not reading the dimensions on the order but, I was a little disappointed when I got it in the mail and saw how small it was. I was really excited to give it to my little brother and thought it was the size of a standard binder. When I saw how small it was, I wasn't exactly thrilled but still thought it was a decent gift. The price I thought was kind of overpriced too considering the size and the simplicity of the gift. Overall, it was alright.

Not what I expected
By
Shopper

(Chardon, OH) - December 27, 2011
I was very disappointed. I thought the book would have been larger. I did not see any dimentions in the description. As we were putting all our tickets in the book most of them did not fit. They were too long. Since you slide the tickets in from the middle we couldn't even put them in the book and let the ticket hang out. We are going to have to slice all the pages so the tickets can hang out of the book. Wish the book was larger to fit all the NFL tickets from 2006-present.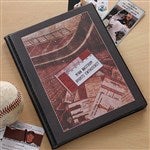 cheaply made
By
Joy C.

(Fort Worth, TX) - October 18, 2010 (
See all reviews by this customer
)
I use this site all the time and have never really had an issue, but this time I paid more than the item was worth. It is a small, cheaply put together book. The books binding is plastic and looks like it would last a year or so, but don't expect it to be a keepsake. To add to my feelings Personalization Mall advertized themselves on the back cover in fairly large detail. This is meant to be a personal item from me to my loved one and it looks like it was to my husband from personalization mall.

Very Tiny
By
Lindsey S.

(Williamsport, MD) - December 7, 2009 (
See all reviews by this customer
)
Picture makes it look bigger than what it is...actually it is very tiny.

Book is too small and does not fit some tickets!!
By
Glinis B.

(Canada) - December 9, 2009 (
See all reviews by this customer
)
Customers please take note of the size of the plastic book, its about the size of a journal. Not all tickets fit because its for the standard ticketmaster print out. I bought it for my boyfriend and none of his season tickets for Oilers hockey game fit.