Colorful coffee mug
By
Shopper

(Altamonte Springs, FL) - December 26, 2011
I ordered this item in bright pink for a friend who is vision impaired and needs bright colors. The colors were similar to the item photo, which is exactly what I wanted. This is a well made, very nice mug. It would definitely earn a five star review, except it was a bit pricey for a mug. I received fast and accurate shipping, and have no complaints. Would definitely buy from this company again.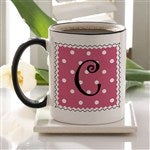 Great Gift Ideas
By
Charlene D.

(Glendora, CA) - December 9, 2011 (
See all reviews by this customer
)
i ordered 8 personalized mugs for Xmas gifts....they are so cute! The service was extremely fast, and the quality is great. I will definitely come back to this site to shop again. Thanks.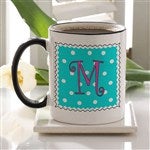 pleased purchaser
By
Jessica K.

(Jonestown, PA) - December 5, 2011 (
See all reviews by this customer
)
Exactly what i was hoping for! Going to make a great stocking stuffer!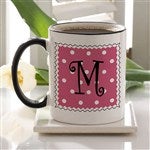 The mugs were even better looking than in the photos
By
Shopper

(Tell City, IN) - November 30, 2011
These mugs are the perfect gift for my co-workers. I wanted something with a personal touch, such as their own initial, and the colors are great!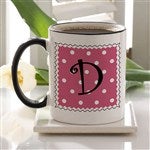 Love the Dot to Dot Mugs
By
Corrine H.

(Birmingham, MI) - November 18, 2011 (
See all reviews by this customer
)
We ordered 16 of these for party favors for my daughters 16th birthday party. We filled each one
with Hershey kisses for each guest! They loved them. Very inexpensive and very cute!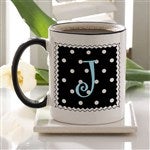 Love them
By
Shopper

(Long Beach, CA) - February 7, 2014
I ordered 6 of these mugs as part of my bridesmaids gifts. They're adorable and you can't beat the price for a personalized mug!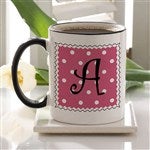 Nice teacher'a gift
By
Shopper

(Meridian, MS) - December 26, 2013
Ordered these for the kids teachers.. Cute mug and very reasonable!!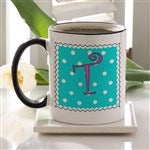 Loved them
By
Shopper

(Oxford, MI) - December 11, 2013
I bought these as Christmas Gifts for the girls in the office. We just got a new coffee brewer and thought this would be the perfect gift !!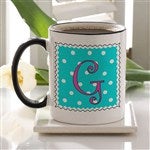 Standard mug with an initial on
By
Shopper

(Nokomis, FL) - November 13, 2013
Standard mug with a personalized initial on which looks good.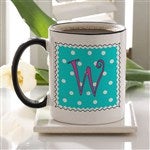 Prompt delivery
By
Shopper

(Marietta, GA) - June 17, 2012
I ordered this item and 3 others as thank you gifts for business associates in another city. The items were delivered to the recipients so I did not see them personally. Delivery was prompt, and my colleagues seemed happy with the mugs. Well done.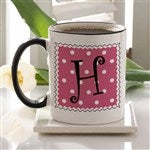 stylish
By
Jesenia R.

(Chicago, IL) - February 21, 2012 (
See all reviews by this customer
)
i bought these as a little gift for my bridesmaids, i think the mugs are cute and stylish! definetly would recommend this product!

Very Cute
By
Shopper

(Ofallon, MO) - May 8, 2012
Cute mugs. I got them for graduation gifts for girls to take to college.

quality mug, coloring not real bright
By
Shopper

(South Lebanon, OH) - January 16, 2013
Coloring was a little dull, but the mug itself was quality

Disappointed
By
Shannon W.

(Luverne, AL) - December 29, 2010 (
See all reviews by this customer
)
This item was presented to be part of the "Dot to Dot" collection. Purchased several items in the collection, including the mouse pad, desk calendar, and this coffee cup. The blue shade on the coffee cup did not at all match the blue shade on the other products.

average mug
By
Amy S.

(Cold Spring, KY) - January 16, 2011 (
See all reviews by this customer
)
While this mug was nice it there was nothing that really made it stand out. Compared to the other items we recieved at the same time I was most let down by this one. But in all fairness the mug was sturdy and printed nicely.

Cute idea
By
Amanda C.

(Rocklin, CA) - April 6, 2010 (
See all reviews by this customer
)
mother-in-law likes these type of designs so we got her one... picked out the brown and pink... it isn't quite as bold of coloring as we were hoping... a lil dull but she'll still like it

Good mugs
By
Shopper

(Columbus, OH) - December 2, 2011
I was pleased with quality of the mugs and the timeliness of delivery. I ordered these as gifts for teachers and staff to hold some other items and gift cards. My only negative comment is that I forgot a few that I needed. When I went back to the site to order more just a few days later, the price had gone up $3.00 more per mug (even though it was still "on sale"). I have been watching the price fluctuate over the past 2 weeks going as high as $5.00 more per mug than what I paid and then lower, but not back down to the original price. So if there is something you like but don't need right away, you may want to watch it for a while to see if the price will go lower, as the prices seem to fluctuate daily.

cute but small
By
Kristen H.

(Lynchburg, VA) - December 12, 2010 (
See all reviews by this customer
)
I bought 2 of these for 2 teachers gifts I will probably give something else as well. There smaller than I expected but I still like the personalization,but with that said after getting it, it should be cheaper.

Excellent!
By
Megan S.

(Farmington, MN) - December 16, 2010 (
See all reviews by this customer
)
This mug is a great price and it looks great! I love it and it makes for a great gift!!

Office gifts
By
Susan L.

(Sacramento, CA) - December 13, 2010 (
See all reviews by this customer
)
Exactly what I was looking for - good quality, good price and very stylish.

Teacher appreciation mugs
By
Shopper

(Brookline, MA) - May 12, 2013
We had these made for all of our daughter's teachers - a different color for each of them. The mugs were really cute and looked like they were high quality. They aren't huge but a very decent size. The decorations are very pretty and printed perfectly. I definitely recommend this item. A very cute gift! The teachers were very happy.

Dot to Dot Mug Review
By
Shopper

(The Woodlands, TX) - January 20, 2012
I did not see the mugs in person because I had them shipped directly to the 2 people I gave them to as gifts. But their responses were wonderful. They said they were cute, pretty and loved the personalization with the initial.

Having the initial on it keeps it as "their" mug.

One of them mentioned that it was packed really well and I was happy about that so it would not be broken upon arrival.

I think they are just adorable and will order one for myself at some point and then I will see it firsthand. If I need a gift for someone in the future I will order again.





perfect present for my prayer partner
By
Barbara S.

(Eutawville, SC) - December 1, 2010 (
See all reviews by this customer
)
Attractive coffee mug with bright colors with initial.
Shipped fast. Very pleased with product, and will order more items from this site.

Dot cup....
By
Marla T.

(Lawenceville, IL) - December 7, 2009 (
See all reviews by this customer
)
I love the Dot to Dot cup... I got if for my sister for her birthday... I know she will love it also.. I love everything I have gotten from your site.. I will buy here when ever I need something nice...

Thanks for offering such a great site to shop from..

Marla Taylor

Love it!
By
Karen S.

(Shreveport, LA) - November 20, 2009 (
See all reviews by this customer
)
I ordered this for a co-worker for Christmas. It is SO cute! I was very pleased.

Very nice
By
Cheryl H.

(Canada) - September 18, 2010 (
See all reviews by this customer
)
Excellent purchase. The cups a bit smaller than I thought it would be, but that could be just because I'm used to drinking out of bigger mugs. But still very nice. Also, if you're buying the blue, please note that is a bit more turquoise.

Poka Dot Cup
By
Janet H.

(Richmond, VA) - March 15, 2010 (
See all reviews by this customer
)
very pleased; daughter loved it!