Create your own title!
By
Jami H.

(SEARCY, AR) - March 12, 2010 (
See all reviews by this customer
)
I LOVE this bowl! I may order one for myself too! I got this as a housewarming gift and it came in FAST and LOOKS GREAT! BIG bowl and put their names on it! I LOVE IT! I will buy again for a wedding gift for any occasion! LOVE the selections of what you can put on it!

Beautiful
By
Kimberly L.

(Maplewood, NJ) - January 7, 2010 (
See all reviews by this customer
)
It came in a timely manner. Personalization was exactly as pictured and bowl was a beautiful quality piece.

Personalized Serving bowl
By
Sandy C.

(Key Largo, FL) - December 25, 2009 (
See all reviews by this customer
)
This was a hit at my house, everyone loved it. I highly recommend it to everyone

Great gift!
By
Shopper

(Cohutta, GA) - May 9, 2014
The bowl is large and much better quality than I expected. The dish is very sturdy and has a good weight to it. I expect this to last a long time.

The only reason I took 1 star off is the bowl is so large, the print kind of gets lost. The quality (as always) is very nice, I just wish it could have been printed on the other side as well.

I also wish they offered a lid for it, but I knew it didn't come with one so that didn't affect the score at all.

I know the review is quality only, but (not affecting my score) it's worth noting the bowl was shipped VERY fast. Very happy with the speed and packaging. Plenty of time to get the gift ready.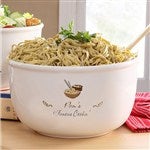 ok
By
Dina B.

(Rome, NY) - March 1, 2014 (
See all reviews by this customer
)
This product it great size however I did think the picture/ wording was to small for the bowl. Overall I like the product.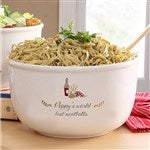 PERSONALIZED BOWL REVIEW
By
Crystal J.

(Va Beach, VA) - August 23, 2013 (
See all reviews by this customer
)
I was very pleased with the personalized bowl when I received it. It was a gift for a co-worker and she is delighted to have it. This will not be the last bowl I probably order because I love the creation part.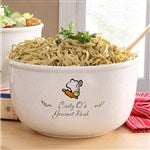 GREAT!!
By
DAYSI R.

(MIAMI, FL) - August 5, 2013 (
See all reviews by this customer
)
SINCE THE BOWL IS BIG IT SHOULD HAVE THE PERSONALIZATION PRINT OF BOTH SIDES.
THE PRINT GETS LOST. BESIDES THAT IS GREAT!!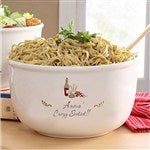 Great product, small type face
By
Shopper

(Lancaster, PA) - January 6, 2013
This is a great product, but the name and picture need to be a little bigger given the size of the bowl. The quality of the bowl is great and it's nice and big.

Great piece!
By
Shopper

(Doylestown, PA) - December 30, 2012
I would order this again. I love how I was able to customize it. I think personalized gifts make those everyday pieces that much more special.

logo as advertised - heavy bowl
By
Michael L.

(Maryland Heights, MO) - July 2, 2012 (
See all reviews by this customer
)
The bowl arrived quickly. The logo looks basically identical to the preview. The bowl seems wider/bigger than the picture. If you see a picture with this review, that's the website preview not our actual bowl. As some others may have noted, the bowl is quite heavy. My wife has issues with her wrists and I was a little afraid that it would be too heavy, but she liked it anyway.

Great gift!
By
Shopper

(San Antonio, TX) - May 17, 2012
This bowl was a wonderful gift to give! It was very large and will hold plenty of pasta! Gave it 4 stars because I wish the personalization was a bit larger but overall was a wonderful purchase!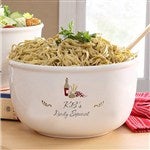 Very Nice
By
Shopper

(Fond du Lac, WI) - March 16, 2012
I bought this as a wedding gift for my nephew. The bowl is wider than the picture looks. Regardless, it is a very nice, sturdy bowl.

BRIDAL SHOWER GIFT
By
Christine M.

(West Milford, NJ) - January 30, 2012 (
See all reviews by this customer
)
Wanted to give something different and a personalized serving bowl was an excellent idea! Went with the saying "Brock's Daily Special" and I think it will be a big hit. The bottom of the bowl seems a little rough but think it will be okay after wear. The bowl is a really nice size.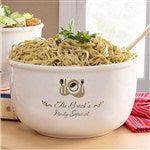 Nice Bowl, good gift
By
Shopper

(Los Angeles, CA) - December 31, 2011
Was happy with my bowl purchase overall. It's large, and heavy-duty. Great for a gift for someone who loves to cook. My only complaint was that I ordered the design with the 3 utensils, and there was slight discoloration on one of them (looked greenish instead of gray) so it wasn't entirely uniform. Wish they had caught that before sending. But overall, it was a good price and a nice gift.

pretty bowl
By
Shopper

(Port Crane, NY) - December 27, 2011
I liked how this bowl came out. The first one arrived broken in many pieces, when I contacted customer service they had me send them a photo of the broken merchandise. Once they received the photo, the bowl was replaced in time to give it as a Christmas gift. If using parcel post, the packing material should be thicker. The second one came Fed-Ex with no problem. Good looking bowl and VERY large.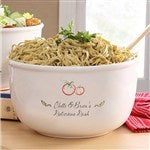 Wow
By
Kerri H.

(Brimley, MI) - December 6, 2011 (
See all reviews by this customer
)
Wow!!! This bowl is huge!! I read the reviews that the bowl was bigger than expected but I was still suprised. Will have to wait and see if the paint holds up to wear and tear. The size of the personalization seems fine to me.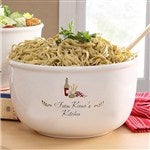 Popcorn bowl
By
Shopper

(Henderson, CO) - November 19, 2011
These are nice heavy bowls. I'm giving 2 as gifts for teachers this Christmas. The one I'm filling with popcorn items to go along with the popcorn picture. I did think the picture and writing would have been a little bigger but still a nice present.

Great Quality
By
Shopper

(Patterson, CA) - September 30, 2011
The bowl it's self was very good quality, but the personalization was much smaller than what they show in ther picture!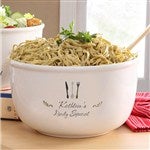 Looks great
By
Shopper

(Bronx, NY) - April 9, 2011
We are very happy with the bowl. We are giving it as a gift and hope they like it too. The only problem we felt about it was the size of the words and the fact that that it was only on 1 side of the bowl and not 2.

Pleased (as usual!) with my purchase
By
Shopper

(Edmond, OK) - April 3, 2011
First one was broken upon delivery. I called and PM had another one shipped the same day. Very pleased with my order and the quick response I received!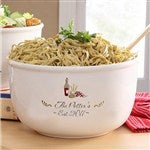 Well made
By
Shopper

(Sparks, NV) - February 16, 2011
This bowl is large and very well made. The only thing I wasn't thrilled with was the personalization. The writing and graphic were pretty small and the writing wasn't very clear, more choppy looking. Otherwise it is very nice and sturdy.

Baby shower Hostess gifts
By
Shopper

(Bloomingdale, IL) - February 12, 2011
I ordered these for the family members hosting my baby shower. I was surprised at how thick and heavyweight they actually were. One of the four ordered arrived broken, but it was quickly replaced without issue. Overall, I was quite happy with the product.

Great gift idea but......
By
Shopper

(island park, NY) - February 5, 2011
I certainly expected the graphic and text to be much larger, as the sample photos give that impression. All in all it was a good purchase, delivered quickly!

Pleased
By
Kathleen C.

(Methuen, MA) - August 19, 2010 (
See all reviews by this customer
)
I was pleased with my pasta bowl. I especially liked the feature that showed what it would look like before I ordered it. The only thing was that I wished there were more colors offered than just the white.

Job well done
By
Allison F.

(Easton, PA) - December 26, 2009 (
See all reviews by this customer
)
I ordered this right before Christmas. It came on time as well as packaged beautifully. I would definetly order again.

Salad Bowl
By
Marlene S.

(El Monte, CA) - December 16, 2009 (
See all reviews by this customer
)
Very nice product.

Product features I do not like
By
Shopper

(Canada) - January 22, 2014
The stencil is really small.....and the bowl is heavy.

Nice Bowl, Personalization Was Too Small
By
Brittany H.

(Elizabeth, IN) - January 20, 2012 (
See all reviews by this customer
)
This is a nice heavy bowl and the personalization was correct, but the size of the name and the artwork was not near as big as it was shown in the sample photograph. The picture makes it look like it takes up one whole side of the bowl, when in actuality it is about half that size, or smaller.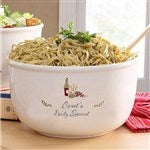 Serving Bowl
By
Bronte B.

(Canada) - November 15, 2011 (
See all reviews by this customer
)
The serving bowl is much bigger than I had thought!!! (This is a good thing), the only problem is that the height of the actual bowl is disproportionate with the picture shown, and the personalization is much too small for the size of the bowl.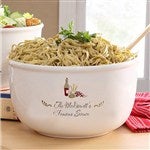 Personalized Serving Bowl
By
Tory & Mandee G.

(Ellensburg, WA) - September 12, 2011 (
See all reviews by this customer
)
The bowl was a nice size, however, the writing & the design that was on it was very fussy, not clear. Usually I dont have this problem with anything I order from this company, I was very surprised & disappointed. :(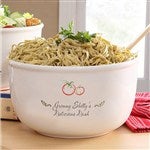 Opie's Mom
By
Kris Lyn B.

(Brillion, WI) - January 28, 2011 (
See all reviews by this customer
)
A bit disappointed in this one! I expected the colored design to stand out more...be larger...something?? Nice and heavy, but not exactly what I had imagined. Great delivery time!

Great Bowl
By
Glenda J.

(Ottawa, KS) - December 21, 2010 (
See all reviews by this customer
)
Purchased this bowl two years ago (christmas) for my boss. She uses it to take salads to potlucks. I noticed yesterday there was nothing on the bowl. She told me the picture and wording had washed off. She now has a nice plain bowl.

Popcorn Bowl
By
Shopper

(boca raton, FL) - December 17, 2011
Disappointed- Imprint is very faint with the yellow color of the popcorn. Ordered as a gift and will not give it. Bowl itself is very nice.

not quite what I thought I was getting
By
Lacey L.

(Pioneer, CA) - June 22, 2011 (
See all reviews by this customer
)
Although the quality of the actual bowl was very nice, it just wasnt what I had expected. The description said it was 4 cups. ITs probably closer to 10 cups. My husband likes to eat Ramen out of my mixing bowls so I got this one for him to use instead. It it WAY to big to be used for that purpose, and the design on it is much much smaller than that shown in the picture. Of course its personalized, so there is no returning it, so I was disapointed. If I had had a better idea of what it would look like, I would not have bought this item.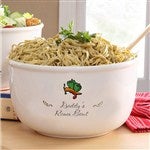 too heavy
By
Shopper

(Marietta, GA) - December 29, 2013
bowl is good quality but too heavy for popcorn and design too small to make the bowl special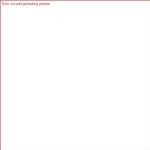 Personalization came off
sent as a gift.......after a couple of uses - all of the writing came off the serving bowl!