Baby Plate
By
Shopper

(Fort Recovery, OH) - September 17, 2014
very unique gift, a really nice keepsake

Wonderful
By
Joan C.

(Honeynrook, PA) - April 11, 2014 (
See all reviews by this customer
)
The plate is exctaly as I ordered cant wait to give this gift to My Grandaughter for her SON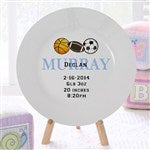 EXCELLENT SERVICE
By
Debra V.

(Wake Forest, NC) - July 29, 2013 (
See all reviews by this customer
)
I looked everywhere for a personalized plate for my new granddaughter as I had them made many years ago for both of my daughters. I went on this site, it was very easy to order, it came in BEAUTIFUL & extremely FAST .. I would recommend this website to all!!! Very satisfied!!

Great gift at a very reasonable price
By
Shopper

(Lewisburg, PA) - May 8, 2012
This makes for a very nice gift, and shipping was unbelievably fast. I highly recommend this to anyone looking for a special and unique baby gift that can be enjoyed forever!

Baby Birth Plate
By
Shopper

(Bellerose, NY) - April 28, 2012
Loved the personalized Plate. We were invited to a Baby Naming, and were not sure what to give. We felt this would be something thoughtful. When we received it in the mail, we were extremely happy. I'm sure it will make a big hit at the party. It looks exactly like the picture that is shown on the site. Can't wait to give it next month.

A Must Purchase
By
Rebecca J.

(Raleigh, NC) - April 24, 2012 (
See all reviews by this customer
)
I have been using Personalizationed or a couple of years or more now. My expectation have exceeded and the recipient has highly raved over their gift.
If you haven't tried this site, you will not be disappointed. I will contine to use Persoanlization for my future personalized gifts.

choices
By
Danelle T.

(Buffalo, NY) - April 23, 2012 (
See all reviews by this customer
)
I ordered the "All About Me Personalized Baby Birth Plate", one for a boy and one for a girl. I am very pleased with how they turned out. My only comment would be that you don't have a choice of fonts or colors to be used on the plates you order. The boys' plate is block lettering with bold colors, while the girls' plate is in softer colors with dainty cursive writing. If they were to be put in two different rooms, they would be fine, but in my opinion, if they are displayed side by side, they just dont look right together being done so differently. Also, the last name on the girls' plate was done in such a light, pastel color, you barely see it. In my opinion, we should be able to choose not only the font to be used but the colors as well. Otherwise, they are a great gift and I would definitely order from this site again.

Really nice for display
By
Deborah L.

(Cortlandt Manor, NY) - April 14, 2012 (
See all reviews by this customer
)
Love it.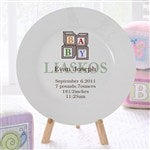 Baby plate
By
Donna M.

(Temple Terrace, FL) - April 14, 2012 (
See all reviews by this customer
)
I ordered 2 and both mothers LOVE them!
The plates were beautiful and if good quality!
I will buy more and I recommend them highly!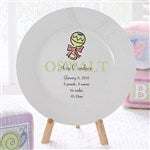 SIMPLY GORGEOUS PLATE!!!
By
Francine G.

(Folkston, GA) - March 14, 2012 (
See all reviews by this customer
)
I have ordered this plate about 5 times for my friends and family, and each one of them simply loved it and could not believe how beautiful it was. I highly recommend this for anyone who wants to have the birth of a baby remembered in an elegant way! Thank you Personalization Mall for this beautiful plate! I will definitely order this plate again and again!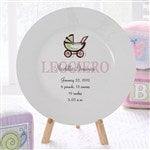 Beautiful Keepsake
By
Shopper

(Fort Wayne, IN) - February 17, 2012
This is absolutely beautiful,brought tears to my eyes!!!I would definitely order it again. Just would have liked it to be a little larger!

The perfect baby gift!
By
Shopper

(Knoxville, TN) - December 21, 2011
I have sent this to many new babies and the response has always been wonderful! And, will send to all the future babies as well! What a priceless keepsake for many years to come!

Baby gift
By
Shopper

(Missoula, MT) - November 19, 2011
It's perfect. And beautiful. And perfect. Thank you!

Addition of Boarder Edge (Pink or Blue)
By
Shopper

(Eastlake, OH) - November 7, 2011
We loved the plate but wondered if a thin (blue or pink)boarder would set the plate off.

Grandson Arrival
By
Shopper

(Wheaton, IL) - September 9, 2011
I ordered this personalized plate for my grandson's 1st birthday since I forgot to do it for his birth arrival. I was extremely pleased with this plate. It is a much nicer and better quality plate than I've seen with others. Very Very pleased!

the cutest idea ever!
By
Shopper

(LIVERMORE, CA) - September 6, 2011
When I was born my Aunt gave me a cross stiched picture that had all this info on it. I treasure that picture... but I do not know how to cross stich. This is a BEAUTIFUL way to continue that tradition! I will buy it for my upcoming neices/nephews too!

Perfect!!!
By
barbara L.

(wildwood, MO) - August 12, 2011 (
See all reviews by this customer
)
I searched the internet for hours before finding this perfect gift for our new great-granddaughter. It contains all the important birth data and makes the perfect newborn gift. Also, I was very pleased with the speedy delivery of the merchandise. I would definitely order this plate again when I need another new baby gift.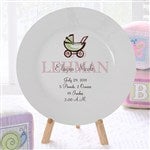 Plate is great!
By
Shopper

(Crest Hill, IL) - July 11, 2011
Everything came exactly the way it showed... And the product came in 2 days!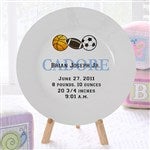 Great Gift!
By
Shopper

(Canton, NC) - June 14, 2011
I work as a dental hygienist, doing fill in work for those on maternity leave. I have searched for yrs, trying to find something out of the ordinary -unlike pampers and sleepers- a keepsake product- This plate worked great! Loved the quality and design, just the right size> I would consider it more of a medium size plate. The perfect fit for any new mom-

very happy
By
Shopper

(Grand Haven, MI) - June 12, 2011
I was very pleased with the timely shipping. The person and I were very pleased with the plate

"Baby" plates
By
Patricia F.

(Bronx, NY) - May 9, 2011 (
See all reviews by this customer
)
I ordered and received two of these plates and they are beautiful. The parents receiving them were very impressed. They shipped very quickly and I have no complaints. Excellent service. I look forward to purchasing from this company again.

A great permanent affordable keepsake
By
S Philip F.

(Baton Rouge, LA) - May 9, 2011 (
See all reviews by this customer
)
Over the past few years I have sent this item as a gift to family, friends and acquaintances. It is always well received and much appreciated. As the child ages they come to cherish the reminder. The finished product looks as though it was hand crafted according to reports I have received. This is definitely an item you cannot go wrong with by giving. I do wish they had more choices for the picture on top, though that is a minor drawback, for an overall excellent, affordable product.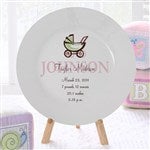 Personalized Baby Plates
By
Lucy G.

(Cleveland, OH) - April 29, 2011 (
See all reviews by this customer
)
I've ordered approx. 1 doz of these plates over the past year or so. Seven of these R/N my collection (kids & grands). The remainder were given as gifts. I love the plates & have had only positive feedback from the recipients. Love 'em & will probably order more as gifts!

will order again
By
Jessica V.

(Marathon, NY) - April 15, 2011 (
See all reviews by this customer
)
I order five of these, one for each of my kids and I couldnt be happier. Very nice quality.

Great gift
By
Shopper

(Lexington Park, MD) - April 15, 2011
We are really pleased about this keepsake gift for our niece. I hope she treasures it for years to come.

friends loved it
By
Shopper

(Royal Oak, MI) - April 4, 2011
I sent this to a friend and she loved it. It was shipped quickly and arrived fast. I had received a similar item when my daughter was born 20 yrs. ago and I still love mine as well. It's a great keepsake! I didn't buy the stand I prefer to hang on wall,safer from breakage, I think.

Just Beautiful
By
Janie M R.

(Imperial, CA) - March 11, 2011 (
See all reviews by this customer
)
I got this for a co-worker, it's her first baby. The plate is of high quality, and just plain beautiful. I selected the Buggy in pink. Forty years ago I found a plate almost like this plate, but of a lower grade of quality, and gifted to my mother for each of ther grandchildren. As the years passed the writing seem to fall off, with this one I have no worries of that happening.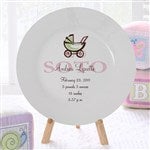 Perfect for new baby
By
Moira O.

(Clifton Park, NY) - February 26, 2011 (
See all reviews by this customer
)
Beautiful! The new parents received this gift very quickly. They think it is very cute and thoughtful. It was hung in the baby's room immediately. Was delivered quickly, in perfect condition.

treasured keepsake
By
Kathleen C.

(Saint Joseph, IL) - February 6, 2011 (
See all reviews by this customer
)
This is my second keepsake plate I have ordered. What greater gift than a personalized plate for baby. I love the quality of the plate.So adorable!!!! I am sure it won't be my last plate purchase. Like I have written before,you are my most favorite website.

the plates are awesome !
By
S Philip F.

(Baton Rouge, LA) - January 24, 2011 (
See all reviews by this customer
)
I was unsure what type of new baby gift to give and came to personalization.mall. for ideas. i came across these plates. I ordered two and the recipients were absolutely ecstatic when they were received. they were received 4 days after placing order and were outstanding. I could not have hoped for better service or a better product. highly reccommend as a gift.

Baby cute with grown up style!
By
Jennifer W.

(Binghamton, NY) - December 27, 2010 (
See all reviews by this customer
)
I love that these plates are done with a classic-type font to add a sense of adult style to something that could be too cutesy. I know that they will be able to be on display long after the children have grown. They won't have to be packed away for being too babyish. I think they're great!

Great Gift for New Baby
By
Margaret G.

(Ballston Spa, NY) - December 21, 2010 (
See all reviews by this customer
)
Love the baby birth plate! The order process was excellent. I was able to see what the personalization would look like on the finished product before I ordered it!
Product arrived promptly and just as ordered. Happy to present this gift to the new parents!

Teaghan's birth info
By
Larry G.

(Prineville, OR) - December 3, 2010 (
See all reviews by this customer
)
I love the plate, very nice. I wish it were just a little bigger but everything else was perfect.

Heavenly Gift
By
Loretta S.

(Beaver, OH) - November 17, 2010 (
See all reviews by this customer
)
I love this name plate. It will hold memories for years to come and it was perfect. I ordered this in Memory of My niece Bailey, she was taken from us all to soon and I think of her everyday and when I saw this plate I just had to order it and if you are looking for something so special than this is for you! The writing on the plate is beautiful.

All about me plate
By
Judith S.

(Leawood, KS) - November 13, 2010 (
See all reviews by this customer
)
I purchased this item for my new grandson. The plate is perfect for what I wanted, couldn't be happier with the quality of the plate.

Just adorable plate
By
Barbara H.

(New Castle, PA) - November 13, 2010 (
See all reviews by this customer
)
I have just received this plate for a gift for a friend for the birth of her new baby. I am giving it to her in a day or two, but I showed all my friends and everyone just loved it.I love buying personalize gifts. The colors are perfect for this plate. I am going to purchase another plate for my other friend who just had a baby also. ( I work with both of these women too..Busy few months). I would reccommend this plate to anyone. The price I dont feel is bad either. I am even considering ordering christmas ornaments also for their first christmas. I have ordered these before and they also are just beautiful!!!!

Thank you personalzation mall.................

All About Me Plate
By
Shirley D. C.

(Baltimore, MD) - November 4, 2010 (
See all reviews by this customer
)
I sent this to my great nephew and his wife on the birth of their first child, Madalyn Rose. They both loved it as much as I do. They have received many compliments on the beauty and uniqueness of this keepsake.


LOVE IT!!
By
Melissa P.

(Rancho Cordova, CA) - October 27, 2010 (
See all reviews by this customer
)
I ordered this as a keepsake for our little girl. I didn't have anything that had her birth information captured, other than her birth certificate and announcement of course. I saw this online and assumed the best. What I got was beyond my assumption. I LOVE the plate. It's displayed on a shelf in her room and I smile every time I see it. I'm overwhelmed with how wonderful it turned out.
Another huge plus, the quick turnaround. I ordered it on Monday and it was delivered on Friday. That's awesome! I'm already shopping for my next item/gift.

Purchased as a gift for a casual friend....
By
Pam W.

(Rancho Cucamonga, CA) - October 26, 2010 (
See all reviews by this customer
)
It was so simple to customize for this casual friend who lives on the east coast and ship to her with no effort. I didn't want to spend a lot, but wanted to send a small gift to congratulate her on the birth of her first child - she really loved this plate! She commented it was so unique (I was afraid she would have several items like it) and was a thoughtful gift...something she and her daughter will cherish for years! What a home ru!

All about me plate
By
Michelle B.

(Bentonville, AR) - October 18, 2010 (
See all reviews by this customer
)
Great! Loved it! Gave it as a gift and they loved it!