Great Teacher Gift!
By
Shopper

(Egg Harbor Township, NJ) - June 22, 2014
I bought this candy jar for two different teachers and they both loved it! They both said they were excited to have something to put on their desks. The jar is a a great size and I love the apple personalized with the teachers name. It was filled all the way to the top with lifesavers, perfect! I was worried about not having it before the end of the school year, but we had it within 2 days. I have ordered several items from this company and everything I have received so far has been top notch. I would definitely recommend purchasing this candy jar!

Awesome
By
Sherri P.

(Fruit Heights, UT) - May 20, 2014 (
See all reviews by this customer
)
These jars were amazing! They turned out darling and the teachers loved them!

GREAT GIFT!
By
Idania S.

(Edinburg, TX) - May 18, 2014 (
See all reviews by this customer
)
I bought this for my son's teacher. It was a HIT! Its a different gift then what a teacher might normally get. So unique. I would definitely recommend anyone buying this as a gift. Great quality and it came well package.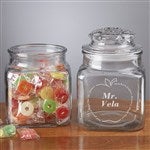 Beautiful Jar
By
Shopper

(Fayetteville, NC) - April 20, 2014
I ordered this jar for one of my daughters favorite teachers. The jar arrived within 3 days! The etching looked amazing. I didn't realize that it came already stuffed with life savers like the image shows. We decided to keep the lifesavers and fill it with her teachers favorite candy, starburst jelly beans. We have planned to give it to her as one of her teachers appreciation gifts. I am sure she'll love it!

Perfect
By
Jehan H.

(Dearborn, MI) - February 2, 2014 (
See all reviews by this customer
)
What a perfect gift for a teacher! I loved the surprise of her face when she opened it! By the way..I did not know it came with the candy! So that's a plus!!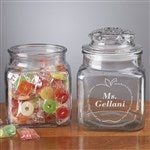 Very nice!
By
Shopper

(Merritt Island, FL) - January 10, 2014
I bought this as a gift for my niece. (teacher) She was very happy! Loved that it had her name on it.Great service, and shipped quickly.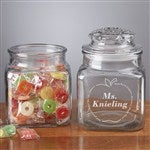 Wonderful Keepsake
By
Melissa Y.

(Tampa, FL) - November 11, 2013 (
See all reviews by this customer
)
This was a gift for a dear friend who just got her first teaching position. She loved it. A simple gift that can last a long time, and a memory of when she got started.

Best for Teachers
By
Sonja M.

(Mobile, AL) - February 2, 2010 (
See all reviews by this customer
)
Purchase for my son's teacher. Great gift!
Personalization turned out great!

Great except print
By
Kristen F.

(Nashville, IL) - December 21, 2013 (
See all reviews by this customer
)
I agree with the other reviews that said the print needs to be a different color. It does not show up well with the life savers inside. Other than that it is a great quality product just like all of my other purchases from personalizationmall.com

nice gift
By
Carrie H.

(Mogadore, OH) - January 12, 2012 (
See all reviews by this customer
)
this was a nice gift for my son's teacher. the only problem is that the writing is not very dark. you can barely see the writing on the jar.

Candy Jar
By
Shopper

(Miami, FL) - June 12, 2011
Very nice item, only wish the personalization was darker.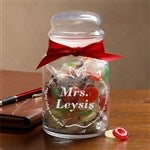 great teacher gift
By
shannon P.

(valencia, CA) - November 24, 2009 (
See all reviews by this customer
)
I really liked this it was bigger then expected. The only down side is that it needed more color in the jar to really be able to see the name and writting on the jar. The candy a few were broken I will replace the candy with something more colorful like M&M's. I would buy this again it is great

review of Inspiring Teacher Candy Jar
By
Shopper

(Alburtis, PA) - January 10, 2012
I like the size of the jar; however, the writing should've been in a different color than white. It is very hard to read. Text color should've been black or red. The white text on clear jar was very hard to read.

Nice
By
Shopper

(Bronx, NY) - December 28, 2011
I bought this jar for my son's teacher for Christmas. It's nice and something simple. For the money I think it's worth it. They should work on making the personalization a lot darker. It's very light. Unless you know it's personalized you really wouldn't notice. But overall we are happy with the jar and his teacher loved it!!! I gave it 3 stars because of the light personalization.

It's OK as long as you're careful
By
Stacy S.

(Goffstown, NH) - February 20, 2010 (
See all reviews by this customer
)
I found this jar to be just ok. I wasn't overly excited by it, but I wasn't disappointed either. It is a nice jar. You can fill it with anything. There are some things I didn't care for though. The etching is hard to read unless you have something dark in the jar. It isn't as easy to see as it is in the picture. Also, the glass is thin. I feel like if you aren't super careful with it it could break very easily. Just holding it to take the lid off, I felt like I needed to be careful not to hold the jar to tightly. It certainly is not a jar I would let the kids go in and out of. Otherwise it is a nice sentimental piece just be really careful.

Teacher Jar too small and etching too light to read
By
Tara B.

(Greenville, KY) - August 1, 2011 (
See all reviews by this customer
)
I bought this jar thinking that it would be a great gift for my son's Kindergarten teacher, but you can't read the writing on it unless you already know it's there. The stock photo shows it in great detail and darker etching than it truly is. The jar was quite a bit smaller than I expected it to be which is unusual for this website. First item that I have not been happy with from this company.

Can't see the print
By
Shopper

(Lake Worth, FL) - June 1, 2013
I was very disappointed when I received the jar, on the website we can see a bright white print and when I received mine you had to look at the jar very close to see it. The print isn't white but clear. I let them know the problem and I was told it was fine and even if they do another it will look the same. It is not even close to what it shows on the picture. Bad advertising.