If you like Santa hats...
By
Shopper

(Indianapolis, IN) - December 27, 2013
...you'll like this one and will last for many, many Christmas Days. It will fit any size head and it is plush. It looks just like the picture.

Very pleased
By
Shopper

(Baldwinsville, NY) - December 15, 2013
My two boys have wanted these hats for a few years. Was able to order them on black friday. They have been wearing the heck out of them. We receive compliments everywhere we go on how cute they look. They are a little large for their heads but they leave nice room for them to grow. Will enjoy for years to come!

Adorable Santa Hat!!
By
April S.

(Rehoboth, MA) - November 18, 2013 (
See all reviews by this customer
)
These personalized hats are adorable. I purchased them for my 2 daughters, ages 5 & 7. They did a wonderful job on their names. I ordered the cursive design.

Perfect
By
Shopper

(Prairieville, LA) - December 20, 2012
Bought these for my nieces and nephews. It will make a really cute picture. Good quality and value for the price.

Pleasantly Surprised
By
Guy D.

(Waxhaw, NC) - December 14, 2012 (
See all reviews by this customer
)
Ordered 6 .for the house. They were plush and well done. Maybe a little higher priced than I would have liked, but after seeing the product I have to admit that they are worth it. To top it all off, the arrived within a few days - even with free shipping.

Santa Hat
By
Linda H.

(Pembroke Pines, FL) - December 6, 2012 (
See all reviews by this customer
)
I had ordered hats for my daughter and granddaughters. Though a bit large for the children (8 and 10 years), they won't have long till they fit perfectly. Very nice quality and will be a great addition to holiday photos.

Superb quality!!!!
By
Shopper

(Virginia Beach, VA) - December 5, 2012
You can't buy a better quality Santa hat!!! The price is unbeatable! My nine year daughter loves her hat! The service and delivery was so fast! I have recommended this company to everyone!

Cute
By
Karine A.

(NORTH HOLLYWOOD, CA) - October 2, 2009 (
See all reviews by this customer
)
I got this for my little sister. It is really fun. I ordered the junior size and it fits an adult as well.

Personalized Santa Christmas Hat
By
Robert K.

(Virginia Beach, VA) - December 31, 2013 (
See all reviews by this customer
)
I was very pleased with the quality and the personalization on the Santa hat. It is hung on the mantle with our Christmas stockings.

cute santa hat
By
Shopper

(Garnet Valley, PA) - December 25, 2013
Cute Santa Hat For The Kids. Seems Better Quality Than The Average Drugstore Buy. Embroidered Personalization Is very nice. White Cuff Keeps unfoldIng. A Couple Stitches To Hold It In Place Is RecommEnded.

Santa Hat
By
Shopper

(Fort Pierce, FL) - December 20, 2013
Nice quality but hat is large. It is really too large for most of my family, but we will wear them (our old ones are too small, bought when they were young children)!

8 & older should order the adult hat
By
Shopper

(Parlin, NJ) - December 22, 2012
No issues with the hat- I ordered three youth- ages 2, 8 & 10- one is tight on his head, the other two are fine but may not fit one next year. At their age-the older two, I should have purchased the adult version

Good Quality
By
Barbara W.

(Chicago, IL) - December 13, 2012 (
See all reviews by this customer
)
The Santa Hat is very plush and of high quality. The only concern I have is that the adult size was too big for me. A size smaller and it would have been perfect.

Newlywed gift
By
Shopper

(Phoenix, AZ) - November 28, 2012
I purchased 2 of these hats for my newlywed cousin and her husband. They look to be good quality, and will make an adorable Mr. & Mrs. gift... however, the 2 hats do not look the same. One of them has a thicker white trim than the other. I thought this was strange, since I ordered the exact same thing, together, for both of them. Otherwise, I am pleased with the product.

too small
By
Shopper

(Elmhurst, IL) - January 3, 2014
This was great for my 1 and 2 year olds…too small for my 5 year old:(

cute hat
By
Camella A.

(Mohegan lake, NY) - December 17, 2013 (
See all reviews by this customer
)
I would never get a youth hat even for kids under 5 because my daughter is 6 and the youth hat was too tight, it's worth getting the adult even if a little big. I bought 2 hats and one came in adult by mistake and that fit a little loose on my son that is under 2 and my daughter perfectly so make sure you get the adult size hat.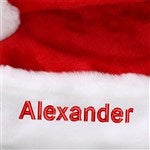 Terrible fit
By
Shopper

(Staten Island, NY) - December 9, 2013
I ordered 4 of these personalized hats for my grandchildren, ages 20 mos, 4 yr, 7 yr, 8 yr --none of them fit! I ordered the youth size since the child on the picture seemed to be around 8 yrs , I even called directly to discuss the size and was told the youth size would be fine, I'm very disappointed with these hats, they are all way too small,they will not fit on my Grandkids heads, way too tight, only the 20 month old will grow into it. They are too expensive to reorder in the adult sizes.
'