nice personalized wedding gift that will last
By
Shopper

(Greencastle, PA) - August 30, 2011
the personalization was done very well and pillow cases are well made

Cute but not comfortable
By
Samantha M.

(Plano, TX) - July 9, 2011 (
See all reviews by this customer
)
These pillowcases are very cute, but the design has a tough feel to it. It makes it not so comfortable if you're a stomach sleeper and your face is scratching up against it. I was kinda disappointed.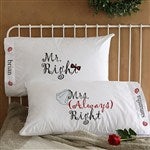 Cute but...
By
Shopper

(Jacksonville, FL) - June 22, 2011
...the thing I did not like about the product is the size of the names placed on the pillow cases are quite small. I thought the names would've been placed on the pillow cases much bigger than they were. Also, the print on the front and the names give that ironed on look. I pray the bride and groom likes them.

Mr. and Mrs. Pillowcases Not Quite Right
By
Mary Ann M.

(Evanston, IL) - April 1, 2011 (
See all reviews by this customer
)
I had envisioned the names on these pillowcases as embroidered, but they were stamped. They were a cute wedding shower gift to be opened in front of a crowd, but I would have liked to have had them of better quality and with embroidered letters. Yes, I understand they are a gag gift, but once they are personalized the couple will keep them, at least for a while.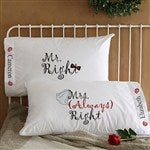 Mr. & Mrs. Pillow cases
By
Kathleen C.

(Marlton, NJ) - June 30, 2010 (
See all reviews by this customer
)
The pillow cases are a great gift along with the pillows listed on her registry. However, I thought the wording was embroidered and stitched but it is only stenciled on. So, I am disappointed with that. Cute wording though but it probably will not last through many washings.

Not that excited!
By
Cheryl B.

(Chester, VA) - March 16, 2010 (
See all reviews by this customer
)
I WAS A LITTLE DISAPPOINTED...THOUGHT WORDS WERE GOING TO BE EMBROIDERED FOR THE MONEY.

WARNING!
By
Susan M.

(Jacksonville, FL) - March 8, 2010 (
See all reviews by this customer
)
Although these are a very cute gift and unique please be aware that the red bleeds into the white when washed on cold water and were only hung to dry. They now have a pink hue to them and no longer are white. It's really too bad because these are a unique gift to give anyone......as long as you don't have to wash and use them.

Not yet given as shower gift
By
Patrician O.

(Indianapolis, IN) - February 22, 2010 (
See all reviews by this customer
)
The fabric appears to be substantial altho' there is quite a lot of sizing to the feel. Everything was just as it was pictured and I'm sure they will be a hit at the shower. I DO wish they came in queen and king sizes as I know the bride and groom have queen pillows but am hoping the will still fit.

pillowcases review
By
Tam N.

(houston, TX) - January 28, 2010 (
See all reviews by this customer
)
It is pretty..and original..however, i dont like much the material..it is not soft enough..

Not so hot
By
Mary M.

(Sanderson, FL) - October 19, 2009 (
See all reviews by this customer
)
I received my pillowcases today and it did not look the same as it did on the website, I was not pleased with my order, the ink was very light. I also ordered some mugs and they was really cute.

Mr n Mrs Right Pillow case
By
Shopper

(Torrance, CA) - August 28, 2011
Fast delivery service! The fabric is cheap cotton but the embroidery work is beautiful.

Mr/Mrs Right Personalized Pillow Cases
By
Virgil B.

(Mesa, AZ) - April 15, 2010 (
See all reviews by this customer
)
I really was disappointed in these pillowcases when I received them. I thought the names and the other writings would be stitched or embroidered and they were just printed. Truthfully, I wouldn't have paid the price for these pillowcases.

Disappointing
By
Lana C.

(Hackensack, NJ) - April 3, 2013 (
See all reviews by this customer
)
So disappointed in this item which I purchased as a shower gift for my niece.
"Cheesy" would be the word to describe it. The photo on the website makes it appear that the "Mr. & Mrs. Right" are smaller and centered showing a lot of the white pillowcase on either side of the writing when in reality it is misproportioned with the words "Mr Right" and "Mrs. Always Right" taking up almost the entire pillowcase. The word "Always" looks to be the color RED when it is actually an ugly muddy orange-brown color. Very cheap looking & extremely tasteless. Ashamed to give as a gift.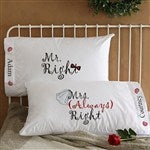 Disappointed
By
Shopper

(Port Saint Lucie, FL) - September 8, 2012
Thought it would have been embroidered. Looked like it was done with a Magic marker. For $45.00 I feel disappointed in the product. The colors used was dull, not Bright at all. I apologized to the Bride and Groom for the Quality of this Product.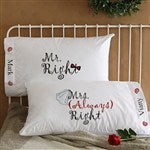 too long
By
Shopper

(Canada) - July 5, 2012
if i would have known that it would take this long to recieve my package i never would have ordered it!!! I ordered it on June 21 and am still waiting to recieve it!!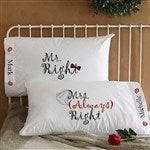 Quality is poor
By
Shopper

(Boston, MA) - November 20, 2011
I thought the material would be way softer. but it is stiff and hard.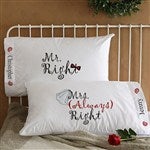 Terrible
By
Asma G.

(skokie, IL) - November 1, 2010 (
See all reviews by this customer
)
Shipping was fast which was nice. But the pillow cases were huge! Way bigger than i expected. And then when i ordered mugs instead. One of them was broken which messed up my entire gift! I also think the prices are way too high for the quality, the mugs were not as cute as I thought they would be for the price I paid.