no size selection
By
Shopper

(Fort Myers, FL) - April 25, 2011
this is a very nice product and gift but wish it came in queen or king sizes

Mr. and Mrs. Right pillowcases
By
Shopper

(San Jose, CA) - March 14, 2011
I looked online for awhile and then I came across this website and saw those pillow cases and I just knew they were just what I wanted for my bridal shower gift, so perfect for this couple. They arrived quickly in good conditon and everything is perfect. I am really happy with my purchase and can't wait to give this gift. I will order again from this company and recommend this website to my friends.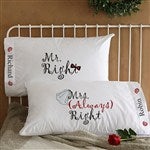 Cute
By
Kathryn G.

(Kernersville, NC) - January 4, 2011 (
See all reviews by this customer
)
The pillow cases are very cute. They got a good laugh from everyone. THey're a little bit rough, so I'm hoping that they will soften up when I wash them for the first time. They're very cute though. Glad I bought them.

Congratualtions on Your Engagement
By
Candace D.

(Landover, MD) - December 8, 2010 (
See all reviews by this customer
)
I purchased these pillow cases for a couple that will hopefully get engaged next week. They are going on a cruise, and he has plans to propose. Hopefully she says yes, and while they are still away, I can get them into their place along with candle and wedding planning magazines. I think they are of great quality. They shipped fast and everyone that sees them thinks they are adorable. Hopefully the future Mr. and Mrs. will feel the same way. Thanks for a creative way to say congratualtions!!!

Always a "hit" at showers
By
Tammy P.

(Laurel, MS) - July 24, 2010 (
See all reviews by this customer
)
This is a gift that is always cute at bridal showers. The only thing I would like to recommend is to make them softer.

Funny Pillowcases
By
Patrizia M.

(Charlotte, NC) - June 30, 2010 (
See all reviews by this customer
)
I gave this set of personalized pillow cases along with a gift card to college friends at their wedding. It fit their relationship to a tee. The names turned out great and the pillows look identical to the picture. The only complaint I had was that the fabric was stiff and hard. I'm hoping that it becomes softer after being washed.

Fun Gift
By
Tina R.

(Palmer, TX) - May 26, 2010 (
See all reviews by this customer
)
These are really fun, everyone will get a laugh from them. Seem to be good quality and personalization looks professional and well done. Great price, fun and I received them incredibly quick!

Gave as a Bridal Shower gift
By
Christina G.

(Edgewater, MD) - April 9, 2010 (
See all reviews by this customer
)
The pillow cases came very quickly! they were just as pictures however for some reason I got the impression the words were stiched into the pillow case this is not the case it is a decal on the fabric not tacky though very cute!
I was satasfied and so was the bride.

Fun gifts
By
Jennifer K.

(Clarksburg, MD) - March 4, 2010 (
See all reviews by this customer
)
Purchased the pillowcase set for a special friend. Thought it was a fun and very practical gift. Loved how I was able to personalize the pillowcases with the couple's names. Would have liked the pillowcases to be softer to the touch, though.

Fun product
By
Tammy K.

(New York, NY) - February 20, 2010 (
See all reviews by this customer
)
These pillowcases were a fun buy. The writings are printed on, not sewn on, so I'm concerned they might wash out or fade after some number of washes. Other than that, I really like them.

Awsome
By
Joselyn P.

(brooklyn, NY) - January 26, 2010 (
See all reviews by this customer
)
These were awesome pillow cases,i received them very quickly! I would have expected them to be smaller but guess not, over all i really liked them. I will definitely buy from personalization mall again.

Bride very pleased
By
Harris J.

(Carmel, IN) - October 27, 2009 (
See all reviews by this customer
)
I ordered the pillowcases on a Sunday and they arrived on the following Thur. I was so pleased that they arrived a day before the wedding not thinking that would be possible.The bride text me "I absolutely love it!Thank you."

Cute, but a little cheap.
By
Shopper

(Ottsville, PA) - June 19, 2013
I read a lot of the reviews before purchasing and was hoping they would be better than I thought. They are cute, and also fit my girlfriend's and her fiance's personalities perfectly, but they do look a little cheap in person. They are also pretty large pillow cases! I wish the swirls weren't around the names.. I think that's what really makes them look cheap. It would be nice to be able to put whichever symbol we want there. I know that they'll love the idea of them, and the personalized names make it even better! Definitely recommend using these as a "filler" gift item, not as a "main" gift.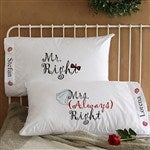 disappointed
By
Shopper

(Bolingbrook, IL) - June 3, 2013
I ordered these for a bridal shower. The printing looks so much better in the picture. It is broken up and choppy looking. The description stated they were standard pillow cases. They aren't they are king size pillow length. I was not happy.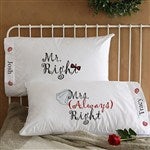 So so
By
Shopper

(selden, NY) - February 22, 2013
The material is not soft Nd I thought this was embroidered, just like iron on

Very cute and fast delivery.
By
Shopper

(corona, CA) - April 10, 2012
I was very pleased with the fast delivery of the pillowcase set. I loved the fact that that I was able to view my personalized item before I ordered it. The item looks just like it does in the picture. The reason I only gave it 3 stars is because the painted writing on the pillow case is stiff and very rough to the touch. Other than that it is very cute, and I can't wait to see my niece and soon to be nephew's reaction when they open the gag gift. I just know they are going to love it.

iron on
By
Shopper

(Lancaster, CA) - December 21, 2011
brought this as a wedding gifts. recipient didn't so impress with them.
these pillow cases are pretty but i can see the iron on edge on them.
shipping was on time.

Mrs.
By
Shopper

(South San Francisco, CA) - September 13, 2011
The design is so cute and I love it so much. However, I am quite disappointed about the printing quality, the veil (Mrs' pillow) is smeared by the ink.

nice personalized wedding gift that will last
By
Shopper

(Greencastle, PA) - August 30, 2011
the personalization was done very well and pillow cases are well made

Cute but not comfortable
By
Samantha M.

(Plano, TX) - July 9, 2011 (
See all reviews by this customer
)
These pillowcases are very cute, but the design has a tough feel to it. It makes it not so comfortable if you're a stomach sleeper and your face is scratching up against it. I was kinda disappointed.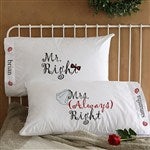 Cute but...
By
Shopper

(Jacksonville, FL) - June 22, 2011
...the thing I did not like about the product is the size of the names placed on the pillow cases are quite small. I thought the names would've been placed on the pillow cases much bigger than they were. Also, the print on the front and the names give that ironed on look. I pray the bride and groom likes them.

Mr. and Mrs. Pillowcases Not Quite Right
By
Mary Ann M.

(Evanston, IL) - April 1, 2011 (
See all reviews by this customer
)
I had envisioned the names on these pillowcases as embroidered, but they were stamped. They were a cute wedding shower gift to be opened in front of a crowd, but I would have liked to have had them of better quality and with embroidered letters. Yes, I understand they are a gag gift, but once they are personalized the couple will keep them, at least for a while.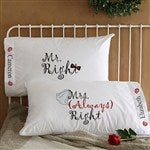 Mr. & Mrs. Pillow cases
By
Kathleen C.

(Marlton, NJ) - June 30, 2010 (
See all reviews by this customer
)
The pillow cases are a great gift along with the pillows listed on her registry. However, I thought the wording was embroidered and stitched but it is only stenciled on. So, I am disappointed with that. Cute wording though but it probably will not last through many washings.

Not that excited!
By
Cheryl B.

(Chester, VA) - March 16, 2010 (
See all reviews by this customer
)
I WAS A LITTLE DISAPPOINTED...THOUGHT WORDS WERE GOING TO BE EMBROIDERED FOR THE MONEY.

WARNING!
By
Susan M.

(Jacksonville, FL) - March 8, 2010 (
See all reviews by this customer
)
Although these are a very cute gift and unique please be aware that the red bleeds into the white when washed on cold water and were only hung to dry. They now have a pink hue to them and no longer are white. It's really too bad because these are a unique gift to give anyone......as long as you don't have to wash and use them.

Not yet given as shower gift
By
Patrician O.

(Indianapolis, IN) - February 22, 2010 (
See all reviews by this customer
)
The fabric appears to be substantial altho' there is quite a lot of sizing to the feel. Everything was just as it was pictured and I'm sure they will be a hit at the shower. I DO wish they came in queen and king sizes as I know the bride and groom have queen pillows but am hoping the will still fit.

pillowcases review
By
Tam N.

(houston, TX) - January 28, 2010 (
See all reviews by this customer
)
It is pretty..and original..however, i dont like much the material..it is not soft enough..

Not so hot
By
Mary M.

(Sanderson, FL) - October 19, 2009 (
See all reviews by this customer
)
I received my pillowcases today and it did not look the same as it did on the website, I was not pleased with my order, the ink was very light. I also ordered some mugs and they was really cute.

Mr n Mrs Right Pillow case
By
Shopper

(Torrance, CA) - August 28, 2011
Fast delivery service! The fabric is cheap cotton but the embroidery work is beautiful.

Mr/Mrs Right Personalized Pillow Cases
By
Virgil B.

(Mesa, AZ) - April 15, 2010 (
See all reviews by this customer
)
I really was disappointed in these pillowcases when I received them. I thought the names and the other writings would be stitched or embroidered and they were just printed. Truthfully, I wouldn't have paid the price for these pillowcases.

Disappointing
By
Lana C.

(Hackensack, NJ) - April 3, 2013 (
See all reviews by this customer
)
So disappointed in this item which I purchased as a shower gift for my niece.
"Cheesy" would be the word to describe it. The photo on the website makes it appear that the "Mr. & Mrs. Right" are smaller and centered showing a lot of the white pillowcase on either side of the writing when in reality it is misproportioned with the words "Mr Right" and "Mrs. Always Right" taking up almost the entire pillowcase. The word "Always" looks to be the color RED when it is actually an ugly muddy orange-brown color. Very cheap looking & extremely tasteless. Ashamed to give as a gift.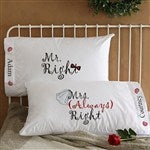 Disappointed
By
Shopper

(Port Saint Lucie, FL) - September 8, 2012
Thought it would have been embroidered. Looked like it was done with a Magic marker. For $45.00 I feel disappointed in the product. The colors used was dull, not Bright at all. I apologized to the Bride and Groom for the Quality of this Product.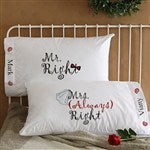 too long
By
Shopper

(Canada) - July 5, 2012
if i would have known that it would take this long to recieve my package i never would have ordered it!!! I ordered it on June 21 and am still waiting to recieve it!!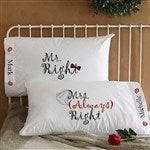 Quality is poor
By
Shopper

(Boston, MA) - November 20, 2011
I thought the material would be way softer. but it is stiff and hard.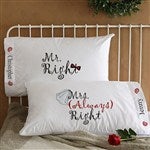 Terrible
By
Asma G.

(skokie, IL) - November 1, 2010 (
See all reviews by this customer
)
Shipping was fast which was nice. But the pillow cases were huge! Way bigger than i expected. And then when i ordered mugs instead. One of them was broken which messed up my entire gift! I also think the prices are way too high for the quality, the mugs were not as cute as I thought they would be for the price I paid.