Lovely gift
By
Shopper

(Carmel, IN) - December 22, 2011
i bought these for my sons teachers, they loved them!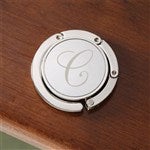 Excellent
By
Destinie D.

(Moscow, ID) - December 22, 2011 (
See all reviews by this customer
)
Just what I wanted. I think everyone that carries a purse needs one of these:)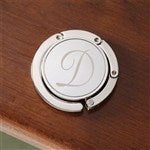 Unusual gift
By
Joan F.

(Egg Harbor Twp, NJ) - November 26, 2011 (
See all reviews by this customer
)
This is great! The perfect gift for someone who has everything. This will keep their designer handbags off the floor!! Engraving makes it elegant and classy. Bought for my daughter who has everything and then some. I am sure her friends will want one too.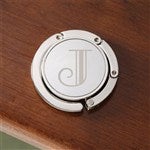 Wedding party gift
By
Sarah R.

(Lacey, WA) - August 2, 2011 (
See all reviews by this customer
)
These turned out to be a really neat gift. While a bit smaller than I expected, they are really pretty. Overall a great thank you gift for being a part of our big day.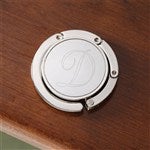 Bridesmaids gifts
By
Shopper

(Canada) - May 25, 2011
I was very satisfied with my order, it came to Canada in less than a week, and they are beautiful! I think the girls will love them. This is also my first time shopping with this website but am very pleased and am now placing another order soon. I was surprised as these gagets actually do work, even with a heavy purse!!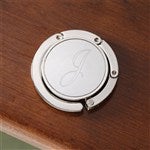 Needs a little something extra
By
Cara F.

(Independence, MO) - May 9, 2011 (
See all reviews by this customer
)
What would give this product 5 stars is if it had a small magnet in the edge of the center piece so that when it is folded closed it stays folded closed. Its a little challenging otherwise. also the center piece could be a little bit bigger in diameter so that the wrap around is longer. I found that it doesn't work on a lot of tables.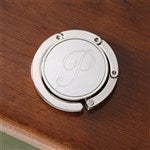 Great gift!
By
Shopper

(Garfield, NJ) - March 18, 2014
Great gift!!!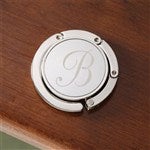 Purse Hanger
By
Shopper

(Hope Mills, NC) - January 16, 2014
A great buy for the price and quality!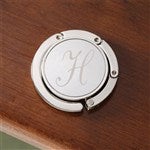 Perfect gift
By
Taya W.

(New Albany , OH) - January 11, 2014 (
See all reviews by this customer
)
I got this for my grandmother bc she really wanted a purse hook for when she's out & about. The size is perfect and she loves how you can just roll it up. She got multiple compliments on it the first time she used it!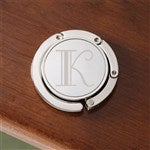 Very happy
By
Michelle H.

(Sparta, KY) - December 28, 2013 (
See all reviews by this customer
)
I am really happy with how these turned out. I am excited to use it. Feels very strong.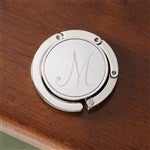 She Loved It!
By
Shopper

(Richmond, TX) - December 22, 2013
My friend & coworker loved this gift. It is as lovely as shown.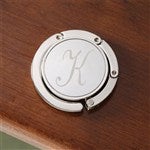 Awesome staff gifts!
By
Jessica P.

(Buffalo, NY) - December 21, 2013 (
See all reviews by this customer
)
I manage a great team of 10 women and thought this would be an awesome holiday gift. They all loved it!! They said "I always wanted to get one of these" and "now I won't ruin my purse by putting it on the floor". The personalized initial made it extra special. They are of high quality and the little black bag it comes in is great to store in your purse.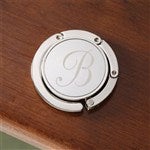 Just So So
By
Gary M.

(Minneapolis, MN) - December 18, 2013 (
See all reviews by this customer
)
I expected it to somehow retain it's flat shape (magnetic) when not in use but it always wants to open up so you have to keep it in the little pouch that is provided which makes it a product that is not thought out and cheapens it.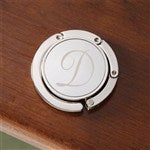 Great quality gift!!
By
Shopper

(chardon, OH) - December 1, 2013
The recipient loved this gift!!! The personalization added that special touch too!!!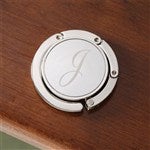 Cute!
By
Shopper

(Aliso Viejo, CA) - September 30, 2013
These are adorable. Would buy more in the future as favors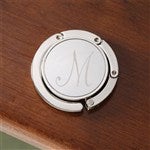 Useful, pretty, practical
By
Shopper

(Carmichael, CA) - August 26, 2013
I ordered this to send to a cousin. I had it mailed directly to her, so I didn't see the product directly. However, I asked her specific questions because if it wasn't suitable I would want to return it. She said it was very pretty and she loved the monogram. She also said it looked very well made and strong - which is a good point. She is very happy with it, so I assume the product is grand! I have a different model purse holder which is "ok", but I may just have to get one of these since my cousin said it is so nice.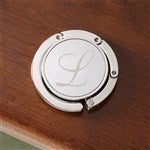 daughter loved purse hanger
By
Carole G.

(Canada) - August 2, 2013 (
See all reviews by this customer
)
My daughter really likes her purse hanger. She has just purchased a new purse and said that she is already using it to keep her new purse happy and clean.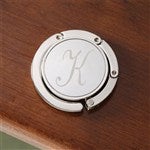 Engraved Purse Hanger
By
Shopper

(Wildomar, CA) - June 3, 2013
Excellent product assisting to keep ones purse off the floor or a far point. Sturdy, very well made and the engraving is clear and elegent. I've bought a total of four. One for each of my daughters, my mom-in-law and myself.

I shall most likely reorder this product in the future for other family or friends.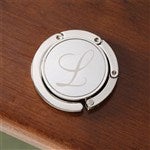 Want one for myself!!
By
Shopper

(Tinley Park, IL) - May 11, 2013
Good quality - looks great!!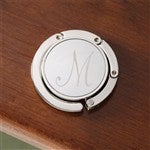 Exacly what I wanted
By
Shopper

(Sandy Springs, GA) - April 6, 2013
I purchased 2 of them, one for my sister in law and 1 for my self. Good quality I am using it in my office while I am typing this review. My sister in law also loved hers she used it that same night at the restaurant.

Thank you personalization mall!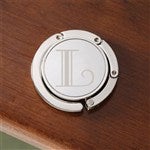 Hanger
By
Rosalba P.

(Maspeth , NY) - March 15, 2013 (
See all reviews by this customer
)
This item was such a good gift that I had to purchase one for myself. When ever I'm having dinner & pull out my purse hanger I receive tons of compliments. It's such an unquie item & makes dinner more enjoyable not having to place your purse on your lap or the floor.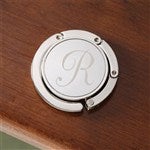 Excellent Ladies Accessory
By
Shopper

(Accokeek, MD) - December 27, 2012
The purse hanger is appropriate for the fashion conscious lady. It is a high quality well crafted accessory. It is easy to carry in all size purses, especially small handbags. I am ordering one for myself.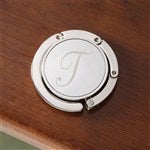 Very nice but....
By
Shopper

(Richland, WA) - December 17, 2012
Everything is great about this product, but the arm is to floppy. It does not stay in a nice coiled circle until you wan to use it. The fold out arm part needs to have a magnet to hold it in place when not in use or stiffer joints or something. It will never stay in that nice little circle when trying to place it in your purse. I was dissappointed in this. Thought I had finally found the perfect purse hanger only to continue my search.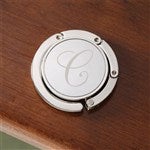 Even better than I expected
By
Shopper

(Alexandria, VA) - May 17, 2012
I bought this because I just hate trying to find a safe place to put my expensive purses when I'm in a crowded restaurant. I looked around on etsy and saw some cheap plastic hangers for around $18, but decided to pay a little more and get the personalized silver one here. Since it was only a few bucks more than a plastic one, I didn't have very high expectations. I was very pleasantly surprised to find how lovely this purse hanger is! It looks classy and very expensive. In fact, the beautiful, highly polished silver with my initial engraved on it draws even more attention to whichever purse I'm carrying. This makes an excellent gift - whether to yourself or to a loved one.
I was also very pleased with the functionality of the hanger. My purses accumulate junk and before I know it, I'm carting around a 15-lb purse. But the hanger grips to the table and holds snugly, even with a heavy purse on it. I'm a very happy customer.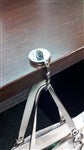 Great product!
By
Shopper

(Denver, CO) - March 27, 2012
Great, cute purse hanger! I use it every day at work and LOVE IT!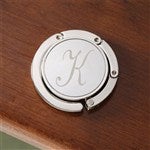 Pretty & Useful!
By
Deborah W.

(New York, NY) - March 9, 2012 (
See all reviews by this customer
)
What an attractive & useful item. I purchased two - one for myself & one for my daughter-in-law. We both love them! They are beautiful, well made, strong enough to hold my heaviest handbag & they look very expensive & elegant. The little drawstring pouch that comes with it is perfect to keep it in without getting scratched & is easy to find in my purse. I plan to purchase several more as gifts for friends. Great item!!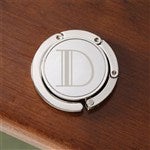 Bridesmaids Gift
By
Shopper

(Rancho Cordova, CA) - March 3, 2012
I purchased these for my Bridesmaids and my Maid of Honor, I was pleased when I received them in the mail. The quality of the product is okay. I wish there was something to hold the hook together, because it just comes apart. Overall I would recommend.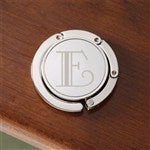 Perfect
By
Keryn J.

(Australia) - February 3, 2012 (
See all reviews by this customer
)
Everyone loves and is so impressed with my purse hanger. I feel so much better knowing my bag doesn't need to be on the floor in restaurants or hairdressers again, YAY!!! :)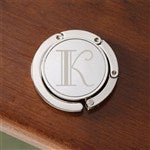 Great Gift Idea for Wife or Girlfriend
By
Matthew M.

(Wortham, TX) - January 7, 2012 (
See all reviews by this customer
)
I purchased this as a stocking stuffer for my wife. Product arrived in a timely manner and the quality is excellent. It is monogrammed with my wife's first initial and has a nice, solid appearance and feel. The hook wraps nicely around the hanger base to make it compact for storage in her purse. She loves it.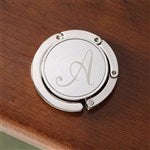 very nice
By
Ahmad A.

(Jacksonville, FL) - August 29, 2011 (
See all reviews by this customer
)
Very nice purse hanger, better than expected.Easy to use, very useful and very personal (or so my wife says). Would definitely recommend this product.

Great gift idea
By
Shopper

(Lake Havasu City, AZ) - April 28, 2012
This is a great gift idea - I have purchased 11 over the past 2 years. Small, compact, personalized.

Best used for lighter weight purses. Wish it were designed to handle a larger, heavier purse.

Classy elegance!
By
Cathy E.

(Durham, NC) - December 11, 2009 (
See all reviews by this customer
)
Purchased this for my Mom as a Christmas gift. We were at a local drug store and she picked up a hook looking item that essentially does the same thing. What a difference! This is small, elegant looking and so much sturdier than the "hook". Convenient size and will not be so overt when used. I was pleased that she read the package as it means she will use it!

Good
By
carter D.

(longville, LA) - December 22, 2010 (
See all reviews by this customer
)
She likes it! That is after she figtured out what it was.

Purse Hanger
By
Beata K.

(Canada) - October 6, 2010 (
See all reviews by this customer
)
Nice piece for the girls. Wish they had more fonts available.
Seems like it can hold some weight, but not sure if it can hold a very heavy purse. Find out soon! Arrived very quickly!

Pretty, personal, and useful!
By
Susan J.

(Louisville, KY) - December 12, 2009 (
See all reviews by this customer
)
I just received my hangers in the mail and, of course, had to try mine out right away. It works like a charm and I love the velvet bag it came in! I have purchased several of these for Christmas gifts (great for someone who is hard to buy for!) and cannot wait to give them to my friends. All-in-all, I think this is a wonderful product and a great gift idea!

good gift
By
Shopper

(Seffner, FL) - February 17, 2011
this is a good hanger. I would give it 5 stars if only it had a lock closed on it, so it would not come open on it's own. It is a good item though.

Engraved purse hanger
By
Shopper

(Port Charlotte, FL) - October 19, 2012
These devices must be perfectly balanced to function correctly and not slip or fail to hold the purse. This one is well constructed to perform its function. It is weighty, too, which helps. It is a very handy device to keep a lady's purse off the floor and near her when dining or sitting at any table. It folds up neatly for storage in the purse when not in use. Be sure to carefully try out any such purse hanger as some are simply non-functional or at least poorly so. This one measures up nicely, is very attractive, personalized and very useful.

Great Gift
By
Jaime B.

(Charlotte, NC) - October 8, 2009 (
See all reviews by this customer
)
I ordered these as gifts for my bridesmaids and they loved them! The are beautiful, sturdy and make for a very unique gift. Thanks!

A very pretty and practical gift for my girls!
By
Kelly M.

(Ridgefield, NJ) - October 14, 2009 (
See all reviews by this customer
)
I was looking for gifts that were nice but would come in handy for my girls. I thought this purse hanger was the best of both worlds. The engraving came out nice, a little fair but pretty nonetheless. My one sister-in-law wasn't sure what it was at first but when I showed her she was like "Wow, that's so cool!" The girls loved them, in fact my MOH took her big behometh of a purse and "tested" it. She was impressed by it's strength because it looked so dainty. Now I wish I had gotten one for my self, I may be placing an order in the near future!

Great idea!
By
Jerri S.

(Victoria, VA) - November 14, 2009 (
See all reviews by this customer
)
I just bought four. One for myself and the other three as christmas gifts. I can't wait to give these to the girls. I have a very heavy purse and it has no problem holding it. This is a great product and I would recommend it to anyone.