Great, but only one drawback...
By
Jennifer B.

(Hamilton, NJ) - November 17, 2009 (
See all reviews by this customer
)
Used this for the first time last night. Worked great and I had been looking at purse hangers for a while, and I bought a few, so I can't wait to gift them. The only problem is that I wish the chain around the emblem stayed shut. There are others where that chain stays closed and you can loop around your purse strap to carry it with you and for easy access. I don't know why I assumed all were like that. This one DOES NOT and I wish it did. It kind of flops around when not in use. Fishing around for it in the bottom of the black hole that is my bag to use is kind of a pain.

Functional Purse Hanger
By
iris F.

(lawrenceville, NJ) - March 24, 2014 (
See all reviews by this customer
)
Hello:

Engraved letter added a nice gift item, together with the Portfolio. Nice pocket pouch which permits you to carry it everywhere you go and not have to pace your purse on the floor and/or chair.

Logical to have for purses
By
Shopper

(Orlando, FL) - August 17, 2013
I love the initials on the top of it but I wish the hook was a little bit longer. Overall, a good gift to give a woman.

Very nice but....
By
Shopper

(Richland, WA) - December 17, 2012
Everything is great about this product, but the arm is to floppy. It does not stay in a nice coiled circle until you wan to use it. The fold out arm part needs to have a magnet to hold it in place when not in use or stiffer joints or something. It will never stay in that nice little circle when trying to place it in your purse. I was dissappointed in this. Thought I had finally found the perfect purse hanger only to continue my search.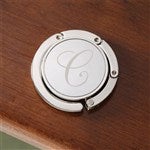 cute, handy item
By
Jennifer G.

(Forest Hills, NY) - November 2, 2012 (
See all reviews by this customer
)
I mainly purchased this to use at bars or restaurants because it can get annoying having to carry your purse all night at a bar with no seats or anywhere to put it down. You can't dance with your purse! It works, it's cute. If your purse is big it could get knocked off the table along with the hook, however, if the place isn't crowded and there's space to let it hang then it works great!

Almost perfect
By
Shopper

(Lafayette, LA) - December 30, 2011
I really like this item, my only wish is that it had a magnet when not in use. The end of the arm piece that extends should have a magnet where it meets the circle when not in use so that is stays closed. Other than that, it helps to keep my handbag off the floor.

Needs a little something extra
By
Cara F.

(Independence, MO) - May 9, 2011 (
See all reviews by this customer
)
What would give this product 5 stars is if it had a small magnet in the edge of the center piece so that when it is folded closed it stays folded closed. Its a little challenging otherwise. also the center piece could be a little bit bigger in diameter so that the wrap around is longer. I found that it doesn't work on a lot of tables.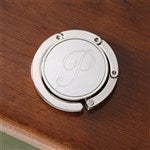 Engraved purse hanger
By
Juanita D.

(Columbia, IL) - October 26, 2010 (
See all reviews by this customer
)
I love the quality, but it seems to not want to hang unless the table is totally square. If it has a rounded edge, it doesn't want to stay on.

Difficult to manipulate
By
Barbara B.

(Lenoir, NC) - May 6, 2010 (
See all reviews by this customer
)
This purse hanger is very attractive, but a bit flimsy to use...has a mind of it's own! One trick though...put your handles on the hook before you place the disc on a table. This was purchased for my mother and she may have difficulty in handling it.

Not what I expected
By
Ashley B.

(New London, NC) - December 10, 2009 (
See all reviews by this customer
)
I love the engraving but it seems flimsier than I expected it to be. We'll see how well it holds up in the weeks and months to come.

Just So So
By
Gary M.

(Minneapolis, MN) - December 18, 2013 (
See all reviews by this customer
)
I expected it to somehow retain it's flat shape (magnetic) when not in use but it always wants to open up so you have to keep it in the little pouch that is provided which makes it a product that is not thought out and cheapens it.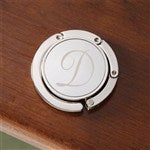 Good Quality, but boring
By
Megan S.

(Yakima, WA) - December 22, 2012 (
See all reviews by this customer
)
Seems very durable so that's good. However there's just not much to it, needs something more. Maybe colored lettering or something? Mostly what I'm unhappy with is that you can't really tell what the letter is because of the type of font used, and the letter was NOT centered. Looks like there just wasn't much care in putting it on so it ended up toward the bottom. All in all, not so impressed and was embarrassed to give it as a gift.

Disappointment
By
Margaret D.

(Manchester, NJ) - December 9, 2009 (
See all reviews by this customer
)
I thought this would be a much nicer item than it turned out to be. I now have to buy something else for the individuals that I intended to give these to. The inital on the top is very hard to read as the engraving is shallow. Very disappointed in this item and am not sure I will ever return to your site.

Very flimsy.
By
Tracey J.

(Pasadena, MD) - December 9, 2009 (
See all reviews by this customer
)
This item is very flimsy. In addition, it is only going to work on a thin table. Opening is not very big.

The product has changed
By
Shopper

(Baltimore, MD) - January 8, 2013
I do not recommend this product at all. I have previously purchased purse hangers from here. This last order they totally downgraded the quality of the product. It has half of the size of my other purse hangers purchased from here; it doesn't have the magnetic close as the other ones did; it doesn't have the non-slip back as the other ones did. I complained that they changed the quality of the product and requested the same quality as my other purse hangers. They mailed me a new product. However, it was the same poor quality purse hanger that I complained about. This will be my last purse hanger purchase from here and I will no longer recommend this company to friends as my go-to place for purse hangers.

phony, item does not work
By
claire A.

(chicago, IL) - December 18, 2010 (
See all reviews by this customer
)
this item is suppose to adhere/hook onto a table for a woman's purse to hang securely. The item cannot hold anything and besides it will not stay affixed to ANY table. DO NOT BUY THIS ITEM. I WISH I HAD MY MONEY BACK!!!!! The engraving was o.k.

Very disappointing
By
Linda R. N.

(Cranston, RI) - July 27, 2010 (
See all reviews by this customer
)
This bag hanger is not useable on many tables. The curve of the hanging portion hits against a wider table and it will not hold a bag. The stem on the initial area is too short so it hangs off the table. I would not recommend this to anyone.