Very Adorable Ornament
By
Shopper

(Staten Island, NY) - December 24, 2012
I originally wanted one of the round picture ornaments but I didn't like how the hole for the string always wound up in the middle of my sons head in the picture. I went with this one because the star shape eliminated that issue. I am pleased with my purchase. It's very cute and of great quality. Everyone I have given this ornament to compliments how nice it is and asks me where I bought it. The shipping was also faster than expected.

Great Ornament!
By
Shopper

(Ashdown, AR) - December 22, 2012
Love this! Have ordered several.

Tradition ornament
By
Shopper

(Mattapoisett, MA) - August 1, 2012
These are really cute ornaments. I have purchased 3 of them for each year my 3 year old daughter has been with us. I plan to order one for each Christmas so we can all see how she has grown and changed each year. They will be displayed on our tree each Xmas, something fun for all of us!

Nice ornaments
By
Shopper

(Sicklerville, NJ) - December 28, 2011
I wasn't sure what to expect as I ordered these last minute. They came in nice and it was a heavy porcelain star with the photo on it.
The price was OK, I got it on a special.

Nice ornament
By
Shopper

(Hackensack, NJ) - December 16, 2011
Good value and quality. Cute star shape. The only thing is you cant see it all that well on tree being that the ornament is mostly green and blends in. Other than that came out really nice.

Love it, great tradition
By
Angela K.

(Clinton, MA) - November 28, 2011 (
See all reviews by this customer
)
I love the ornament of my daughter! I hope to continue this tradition every christmas (for as long as she allows) :-)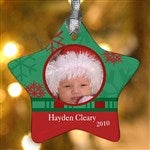 Picture ornaments
By
Cathy B.

(Burbank, CA) - September 20, 2011 (
See all reviews by this customer
)
For the price this is an EXCELLENT buy. Very cute. Very sturdy. the quality of the pictures isn't the best. One is great. One the picture was a little darker. thats the only reason I didnt give this 5 stars. But over all worth purchasing!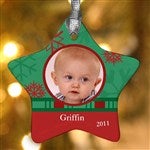 beautiful but the photo just a tad bit dark
By
Shopper

(Pennsauken, NJ) - July 29, 2011
I love this ornament! its the perfect size and is the perfect weight for a tree. its not overly heavy to where you have to find the thickest branch on the tree but its also not so light it could fall off if the wind blew the right way. My only complaint is that although my pictures were bright, they came out a little darkened on the actual ornament. so you may want to brighten the photos through their photo editor a bit more when you're doing the customizing. other than that, very cute!!

Picture ornament
By
Shopper

(Stuart, IA) - July 23, 2011
Nice ornament. Picture wasn't as clear as thought it would be and it is a little off center., but still really nice.

LOVE IT!!!!!!!!
By
Shopper

(Westminster , CO) - January 22, 2011
These we were perfect! I am very pleased with everything about this product. The colors look great and go great with a holiday themed picture!

Cute Christmas ornaments
By
Gary S.

(Niagara Falls, NY) - January 10, 2011 (
See all reviews by this customer
)
I ordered one of these for each of our four children and they turned out excellent. We used their baby pictures and birth years. Our children love them and they look forward to placing them on our Christmas tree each year. They are high quality and are afforrdable. I will order more items for our family in the future!!

Wonderful gift, super clear
By
Shopper

(Lindenhurst, NY) - January 8, 2011
I ordered one of these of each of my children. They were a big hit & the pictures were super clear & exactly as pictured in the preview. Would definitely recommend this...great gift & looks great on the tree.

Photo Ornament
By
Lauri G.

(Olathe, CO) - December 31, 2010 (
See all reviews by this customer
)
I ordered a total of 1o photo ornaments, all but one came out terrific. One of them looked faded, almost sun bleached. Over all I am happy with the purchase and enjoy seeing all the grand kids on the tree.

A good little ornament
By
bethany F.

(beavercreek, OH) - December 22, 2009 (
See all reviews by this customer
)
The only reason I give these 4 stars is because they were a little smaller then I expected but other then that, I am very pleased with them. You can't beat the price either. If I were to order them again I might zoom in on the picture more so it's a little bigger. I like the fact that they are ceramic too.

Better quality than I expected for the price
By
Susan B.

(Ashburn, VA) - December 21, 2009 (
See all reviews by this customer
)
We were very happy with these porcelin ornaments. The gold string is already tied on the ornament (unlike ornaments from other major picture sites)and it was very well packaged in bubble wrap and was in a NICE little black velvet sack. The wording was nicely done (not stickers like some other 'personalization'). I would recommend this to a friend. The only thing holding me back from giving 5 stars is that the picture could be crisper, but it's still good quality (same as you would get at the major photo sites). The picture was also accurately placed according to how I cropped/previewed it. (That is NOT true of some other ornaments I've had done by some of the major picture sites.) Again, I would recommend this product.

Very nice ornament!
By
Dorothy N.

(Hammond, IN) - December 1, 2009 (
See all reviews by this customer
)
I would have given it five stars if it were a little larger. But it's really cute, the picture is big enough to be seen. It's a great gift and will be treasured for years to come. Fast shipping!!

Star photo ornaments
By
Shopper

(Trussville, AL) - December 17, 2012
I ordered three photo ornaments and was ver disappointed when they arrived because two ornaments were not made right. I called immediately and they were corrected and two new ornaments were sent to me.

OK, but could be better
By
Sandra M.

(Bethesda, MD) - December 2, 2011 (
See all reviews by this customer
)
I cropped a picture to get a full face The rating was highlighted at "best," but it is just OK. Usually buy photo ornaments and then cut the picture to fit, etc. Thought this would be easier, but the first one was a scanned photo, and didn't look good, and I ended up paying for a second set of 3 for the same grand daughter. They look great on screen, but end up not looking not as "clear" as the picture on the screen. The one of our grandson was really good - the younger grand daughter, just OK. All big resolution photos, so that isn't the answer.

Disappointed
By
Angela D.

(Glenwood, NJ) - January 8, 2011 (
See all reviews by this customer
)
I have purchased and received a number of different items from pmall in the past and have been very happy with the quality. Sadly, this time I was let down. First I want to say that I got a good price, the shipment was quick and it was super simple to create the ornament. However, when I opened my package I was extremely disappointed. The picture on the ornaments was very blurry, there was black dot near the center and there was a white line across the top. I called customer service and they were very helpful by working with my photo and sending out replacements right away. Again, I opened the box and while the picture was a bit clearer and the black dot was gone the white line at the top of the photo was still there (I didn't crop it at all so I don't get it). I gave them out and everyone loved them, but I am really disappointed with the quality this time and likely won't order again for 2011. I bumped the item from 2 stars to 3 stars based on the excellent customer service.

Photo Ornament
By
Darlene A.

(Orlando, FL) - November 4, 2010 (
See all reviews by this customer
)
I purchased four ornaments, all with different pictures on them. The pics were cropped even further from what I submitted so I was a bit disappointed in the final outcome because some of the picture was cut off. One also appears lighter and faded compared to the original picture.

Average
By
Beth P.

(Hartford, WI) - December 21, 2009 (
See all reviews by this customer
)
I was disappointed when I received my ornaments (I ordered 2). Both pictures were slightly blurry and in one of them, my son's face was washed out and over-exposed. When I ordered the ornaments, I even edited the photo so it would be "sharper". The pictures themselves were taken with good resolution and were not blurry. Somehow when processed, they ended up blurry and the one was washed out. The print on them is pale as well. The ornament background is really cute and looks good on the tree, and I like that it has the year on it.

why isn't there a picture on the back?
By
Silvia S.

(Hickory, NC) - December 1, 2011 (
See all reviews by this customer
)
it would have been BETTER if the ornament was double-sided. VERY DISAPPOINTED

Warning to those who want to order more than one
By
Kristin S.

(Raleigh, NC) - November 30, 2009 (
See all reviews by this customer
)
I ordered four of these ornaments of my son for my parents, in-laws and grandparents. The ornament is very cute, but I noticed that only one had a very crisp photo. The photo in the others were less distinct and blurry. I don't know how they make the ornament, but it seems that by ordering multiples, they reused the template and the additional ornaments suffered in photo quality. If you are interested in getting more than one, I highly recommend ordering them separtely. Besides, there was no price benifit in ordering multiples (at least when I ordered). Hope my disappointment helps others.

Washed out, doesn't look like my niece
By
Deepa E.

(Austin, TX) - December 21, 2012 (
See all reviews by this customer
)
Quality of the printing was quite honestly terrible. I'll never order from here again.

Over-exposed Photos
By
Shopper

(Centerville, GA) - January 31, 2012
I ordered several of this ornament for Christmas 2010 and they all looked great. So I did it again for 2011 and was not happy with the quality of the photos. All the pictures were overexposed and unnatural looking. I don't know what happened since last year, but the quality has decreased considerably. Very disappointing!