Great gift for Valentine
By
Shopper

(Orange, CA) - February 17, 2012
We purchased it as a Valentine gift for Grandma! She loves it, said it was too pretty to drink out of it. Overall she was very happy with the gift. Love that I could personalize it with my own wordings up to 7-8 letters. Awesome mug!!!

Maria
By
Maria S.

(Astoria, NY) - February 10, 2012 (
See all reviews by this customer
)
Absolutely stunning and gentle. Personalization was the perfect touch!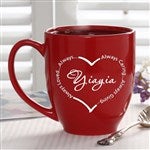 Pleased Again
By
Shopper

(Westminster, CO) - February 3, 2012
My mom got me a similar mug for Christmas with "MOMMY" on it and I love it so much, I got her a "GRANDMA" mug for my daughter to give to her for Valentine's Day. She loves her coffee, and this mug is sturdy and big. (I put mine in the dishwasher all the time with no problems)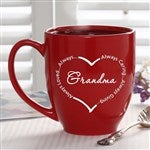 Very pretty
By
Kristina P.

(Florissant , MO) - December 10, 2011 (
See all reviews by this customer
)
I was pleasantly surprised when I received this mug. I guess I didn't realize it was going to be engraved. It's a very pretty piece.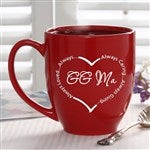 Coffee mug
By
Shopper

(Rayville, LA) - December 6, 2011
Love it. This turned out even better than I had expected it to! Names that I had put on the cups look great!

LOVE IT!
By
Shopper

(Bossier City, LA) - October 24, 2011
The quality of this cup is excellent. I love the size, shape, and the color is great. The personalization is wonderful .... it's engraved into the cup, not painted on that can be washed off. Having friends with non-traditional "grandma" names...this was a great way to honor them as new grandmothers this year.

Beautiful & Functional
By
Jessica E.

(Westfield, IN) - June 25, 2011 (
See all reviews by this customer
)
This is a beautiful mug. We ordered several of these and they all arrived in excellent condition and as beautiful as the picture on the site. Our moms absolutely loved them! It's also great because it's such a functional gift and we know these will be getting a lot of use! Definitely recommend.

Beautiful mug!
By
Shopper

(Clinton township, MI) - May 15, 2011
My mom loved this mug! It is the perfect size for a coffee mug. The writing was very clear and neat.

gift for step mom
By
Shopper

(Bogata, TX) - May 9, 2011
I got this mug for my step mom. She loves the color red so I thought she would like this. She loved it. All the things that i have ordered from here have been great and everyone likes them. As usual it arrived quickly after i placed my order.

I like it
By
Oksana M.

(warren, MI) - May 3, 2011 (
See all reviews by this customer
)
I really liked mug on the picture!! I looked as it was a sticker but in life the words are cut in to the cup, and I really liked that!! But i wish the cup came in more colors then just red... but over all really cute cup and is a good gift, because its not a thing that will just be there collecting dust!! IT CANT BE USED!!!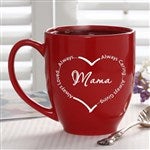 Love my Mug!
By
Diane L.

(Lake Elmo, MN) - April 29, 2011 (
See all reviews by this customer
)
I just received my Grandma mug and think it's beautiful. I love how the lettering is recessed and white, making a beautiful contrast! I also love the size, nice and big but not too big. Highly recommend.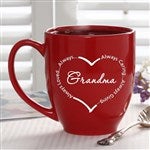 Exactly as expected
By
Shopper

(Coral Springs, FL) - April 17, 2011
Giving these as gifts to grandmothers for Mother's Day - they are super cute - item completely as described - highly recommend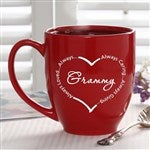 mug
By
Craig C.

(Marstons MIlls, MA) - December 30, 2010 (
See all reviews by this customer
)
NIce mug, a little expensive with shipping though.

good present
By
Sarah H.

(Hixson, TN) - December 8, 2010 (
See all reviews by this customer
)
I have a grandmother who loves coffee, so I got this personalized for her. It was just like the picture. Good quality. It arrived very quickly! I will use this company in the future.

Love this mug!
By
Jessica I.

(Paden City, WV) - August 4, 2010 (
See all reviews by this customer
)
I ordered this for my Mom as a gift for giving me my baby shower. She is going by Mimi and its hard to find anything with that on it. The saying and name are engraved into the mug which makes it even nicer... I LOVE this mug! Definitely a great gift idea!


great gift!
By
Keli-Jo R.

(Randolph, MA) - May 11, 2010 (
See all reviews by this customer
)
Loved it!

Perfect!!
By
Elyse W.

(Silver Spring, MD) - April 30, 2010 (
See all reviews by this customer
)
I absolutely love love love this mug! I got it for my mom for mother's day this year, she is a first time Grandma (Grammy as we call her!), my son is about to be one. I love that the wording is engraved and not painted, it makes it much more personal to me! I do wish it came in more colors though, red is not my mom's favorite color to say the least! I definitely recommend this to everyone!

Great gift
By
L. H.

(Clackamas, OR) - April 29, 2010 (
See all reviews by this customer
)
Great quality and will make a nice gift.

Good buy
By
Danielle H.

(Kansas City, KS) - April 13, 2010 (
See all reviews by this customer
)
My mom goes by "Bubbi", not grandma so it is very difficult to find something that either has that on it or able to put on it. So this was perfect. It turned out beautifully! Definitely recommend.

GREAT MUG!
By
Francine D.

(Brooklyn, NY) - January 29, 2010 (
See all reviews by this customer
)
This mug also has the message (including name) engraved into the ceramic. It instantly became my favorite mug, and I'm sure it will for you as well. I suggest you order two, because you'll want another after you see and feel the beauty, quality and comfort of this mug.

Nana mug
By
Sara P.

(Ithaca, NY) - December 20, 2009 (
See all reviews by this customer
)
i'm very pleased with the mug and the prompt service that i received regarding this mug.

a Comfy cup
By
Cindy C.

(Perris, CA) - October 2, 2009 (
See all reviews by this customer
)
Grandmother loved it. The shape is perfect. The wide opening allows the beverage to breathe and allows more of the aroma to be savored along with the taste. My grandmother lives half way accross the country and this is one item that allows her to be reminded of how much I love her and how much she is appreciated every morning as she drinks her coffee or tea.

Nice Quality Large Cup
By
Jay M.

(Fort Myers, FL) - September 8, 2012 (
See all reviews by this customer
)
Very nice quality - large and functional. The only suggestion I would have is to allow more letters e.g. Grandma Jean vs just Grandma on the personalization (think limted to only 9 letters)

So-o as nice as the cup is, it ends up being a de-facto non-personalized ... more generic Grandma cup. The other option is to leave off Grandma and just put grandma's first name. Having said that this is a nice cup that Grandma liked a lot.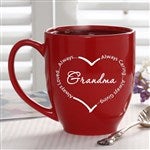 Great item
By
Shopper

(Thorndale, PA) - January 4, 2012
She loved it! My little boy selected it and was eager to give it to his grandmother. We didn't put her name on it because it begins with a "G". Unfortunately,the type set or font for the letter "G" was not as clearly identifiable as the other letters so we put her last name instead. The last name letters look very elegant.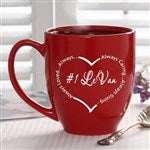 coffee cup review
By
Nancy N.

(valdosta, GA) - October 8, 2009 (
See all reviews by this customer
)
The cup was a great size. The color was a very pretty red. My only complaint was that the lettering size was to small for the size of the cup. It also should have been in a prettier font.
Nancy