My mom will love this!
By
Shopper

(Canada) - January 5, 2012
Very pleased w/ finished product!

Exceeded Expectations
By
Shopper

(fairview, TX) - December 28, 2011
I bought this item as a Christmas gift for my children to give to their grandmother. I put the children's names on the back and her name on the front. The quality of the engraving was perfect. The item appears to be a heavy glass in the picture but is actually a block of acrylic. It is extremely well done and my mom loved it. My mother uses "Mimi" for her grandmother name and there are not many items with Mimi on it. This was perfect because it could be personalized with her name. Definitely worth the price!

Elegant
By
Shelly R.

(Comstock Park, MI) - May 16, 2011 (
See all reviews by this customer
)
I was afraid that this item would be kind of cheap looking but it was not to my suprise. It turned out to be very elegant looking and the engraving was done beautifully. Grandma loved it.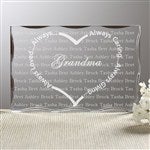 Great way to show someone how much they are loved
By
Margaret G.

(West Islip, NY) - May 8, 2011 (
See all reviews by this customer
)
Gave this gift for Mother's Day.. wow great gift my mother-in-law simply loved it.It was all I thought it was and more the etching was great and there was a good amount of weight to the glass and anyone would be thrilled to receive this gift..But you must have a stand for it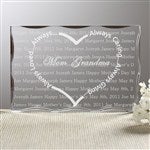 Love this
By
Shopper

(ISLAND PARK, NY) - May 5, 2011
I love this item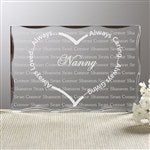 Better than expected.
By
Shopper

(Greer, SC) - January 31, 2011
My mom loved this gift! It was so pretty and original. I got one for my mother in law also.

TOTAL PACKAGE!!
By
Karen B.

(Overland, MO) - January 23, 2011 (
See all reviews by this customer
)
I was absolutely THRILLED, as was the recipient!! And, shocked at how quickly it was shipped! Only thing that disappointed me was this particular item wasn't available when I shopped for my Mom. However, I am a regular customer and will DEFINITELY continue to be...

AMAZING ,,
By
ELYAS A.

(SEATTLE, WA) - November 23, 2010 (
See all reviews by this customer
)
Thanks a lot for making it perfect. I thought its size is much bigger, but I actually did like it the way it is :) ..

Thanks again ..

Wonderful gift!
By
Theresa M.

(Houston, TX) - September 30, 2010 (
See all reviews by this customer
)
I was very impressed with this item. I ordered it for a friend with her grandchildren's names and it is absolutely beautiful! It shipped the day after I ordered it. Love it!

gorgeous
By
susan L.

(buffalo, NY) - June 24, 2010 (
See all reviews by this customer
)
I cannot express what a beautiful gift this was! Our friend was retiring and after many years of working together and becoming so close, we knew we needed a very special gift. This was the perfect, most special gift we could imagine. She was brought to tears when she saw it. Everyone was so excited to see their names engraved on it. The work was perfectly done, no flaws, just beautiful! Thank you for creating such a heartfelt memento that she will cherish for years to come.

loved it
By
Jennifer J.

(owosso, MI) - May 4, 2010 (
See all reviews by this customer
)
it came fast, and when i got it i thought the engraving was sooo cool and i gave it to my grandma she cried so she loved it as well it was very nice

Perfect Gift
By
Amanda K.

(Little Rock, AR) - April 26, 2010 (
See all reviews by this customer
)
I bought this for my mother, but I put Grandma as the name with the grandkids' names in the background. She loved it! She told me how I always manage to pick the perfect gift. Well my secret is Personalization Mall :-) I can always find the perfect gift for every occasion here, and this one item was certainly no exception. I would recommend it to anyone looking for a unique and personal gift for a special Mom or Grandma.

Absolutely Beautiful
By
Deanne S.

(Bethel, CT) - January 3, 2010 (
See all reviews by this customer
)
This keepsake is even more beautiful than I imagined. My mother was touched by this gift. In addition, it was a hit with our family. I wouldn't be surprised if my sisters order one for their mothers-in-law. It is a perfect gift for people who are hard to buy for. Mom says she will treasure it always. Thanks.

Great
By
RONALD G.

(South Richmond Hill, NY) - December 27, 2009 (
See all reviews by this customer
)
I got this for my Grandma. She loved it, and it arrived on time.

I am a loyal customer....
By
Buffy S.

(Bothell, WA) - October 1, 2009 (
See all reviews by this customer
)
This is the third gift, that I have purchased from Personalization Mall and it exceeded my expectations, as always. We got this gift for Grandparents Day, and they absolutely "LOVED IT!!" I will continue to buy from you, as I have always been impressed with the quality of the products and the customer service has been outstanding. Thank you again!!

Wonderful gift
By
Jennifer L.

(Fort Riley, KS) - May 3, 2012 (
See all reviews by this customer
)
I bought this gift for my son to give my mom for mother's day. I am very happy with how beautifully made it is. My mom loved it. Will buy more stuff from this site.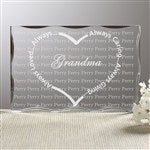 Very very nice~ Not only for Mothers
By
Jasmine M.

(Henderson, NV) - January 27, 2010 (
See all reviews by this customer
)
This gift looks very sweet and the quality met expectations (which were high). The engraving looks great and easy to read. One thing I wish about this item is that they didn't cut off the words as they reach the right side of the edge. (but I guess the positioning had to be consistent with the background effect they were trying to create.) And it doesn't "hurt" the overall design, to be honest I hardly notice it. It's a repeated pattern so you see all the words anyway.

I ordered this for my boyfriend for Valentine's Day ( I replaced the spots meant for children's names with nice qualities about my hun (i.e Handsome, smart, funny, etc.). So yes this isn't just for mothers, and I just know my sweetie will keep it for years to come. (especially since he loves seeing compliments about himself). =)


always loved keepsake
By
JUANITA M.

(NEWYORK, NY) - December 24, 2009 (
See all reviews by this customer
)
Really a beautiful piece-unique and truly one of a kind. It is an asset to my wall unit. Loved the fact that you can add the names of my children. Beautifully finished, reasonably priced and was shipped w/ care.

Disappointed
By
Shopper

(Grove City, OH) - December 8, 2011
This article looks great on the web but when it arrives it is disappointing. You can't read the inscription on it at all. You have to put a piece of colored paper or cloth behind it to read it. Not satisified at all.