Valentine Plaque
By
Shopper

(Warwick, RI) - February 13, 2013
I received my plaque within a few days (much sooner than I thought) and it was done perfectly as I had ordered. Great value for the price.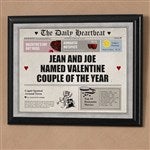 Product was a gift.
By
Shopper

(watervliet, NY) - May 11, 2012
When i order this. I knew it would be the right one.I sent it to friends of mine who are going to be married,with the date and city newpapers title ..plus what i wanted on it.when it arrived they luved it so much..So that made me happy to know how much they luved it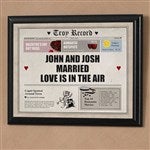 Great Quality!
By
Shopper

(San Antonio, TX) - February 20, 2012
I thought this was going to be in a frame, but it was an actual plaque. Very cool and great quality!

Great 5th Anniversary Gift
By
Shopper

(Detroit, MI) - February 15, 2012
Great gift for a 5th anniversary gift. Plate all wood, nice wall or desk plate. Delivery of item was quick. Wife really enjoyed it.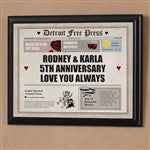 Adorable!
By
Carole W.

(Goldthwaite, TX) - February 21, 2011 (
See all reviews by this customer
)
This plaque is so cute. Personalization Mall is the bomb!

Features I liked
By
Joan Lee R.

(Jersey City, NJ) - February 14, 2011 (
See all reviews by this customer
)
I used this gift idea to incorporate my 3rd wedding anniversary which was February 1st with Valentine's Day. My husband absolutely loved the 3rd Anniversary Edition of this "newpaper" headline! He was so pleased and impressed with my creativeness and the ability Personalization Mall gives you to use your own words. I get at least one gift for my husband from the Personalization Mall for all our special ocassions. I am so glad that I found this site!

The Daily Heartbeat
By
Cindy M.

(Canada) - April 7, 2010 (
See all reviews by this customer
)
Loved the Plaque. Delivery and Service was quick and professional.

What a fun and Romantic gift!
By
Deborah E.

(Mount Morris, MI) - February 17, 2010 (
See all reviews by this customer
)
Every year, I have so much fun trying to make Valentine's Day "extra" special for my husband. He never knows what to expect, but knows it will show my devotion and love for him... He's an extraordinary guy & I adore him... This year, when he opened his gift, his eyes lit up with that pleasant twinkle of joy and satisfaction. He loved what I had put on it:) This is a "lovely", not too big, yet not to small plaque. The perfect size for us. Probably about 12x10 or so.... I had fun purchasing one of the "old" movies listed on it and added it with his gifts. What a fun gift this was to give! Thanks for this wonderful site, Personalization Mall.... I'm glad I stumbled across it!

The ultimate Valentine's Day gift.
By
Bruce S. L.

(Clayton, OH) - February 15, 2010 (
See all reviews by this customer
)
I sent pictures of this item to family and friends, just to let them know this was such a better option this year verses buying flowers. In ohter words flowere do not last but a short while, this item last a lifetime and can be treasured for years to come. It set a different tone and mood for the Valentine's spirit.

Lovely Gift
By
Colleen S.

(North Brunswick, NJ) - February 15, 2010 (
See all reviews by this customer
)
Very happy with purchase. Wonderful service..quick turnaround. Quality is excellent. Please note that it is small, but with that being said - still a very memorable gift.

Best Valentine's Day gift ever!
By
Gabriel A.

(Arleta, CA) - February 14, 2010 (
See all reviews by this customer
)
My wife was expecting the usual flowers, candy or too tight or too large blouse, slacks or whatever I get her that doesn't fit or is the wrong color or style. Anyway, she absolutely LOVED this Daily Heartbeat Plaque. She could hardly wait to hang it up & eagerly shows it to everyone who comes to visit! All who have seen it speak very highly of it. I'm glad I chose this gift and it was WAY more than I expected. Done very professionally & very quickly I might add. Thanks again PersonalizationMall! I can't wait for my next purchase.

great gift!
By
Stephanie B.

(Willowick, OH) - February 11, 2010 (
See all reviews by this customer
)
I purchased for my fiance for valentine's day and he absolutely loved it! His eyes lit up and he thought it was awesome. Thank you so much for such a great job.
I really like that it's a whole plaque too, I thought it was just going to be personalized in a picture frame- it was a nice surprise to see the finished product!

Great way to remember the things that made you two laugh...
By
Shopper

(Normal, IL) - February 16, 2013
One night, my boyfriend and I started saying how sweet each other was, back and forth "you're so sweet" "you're so sweet" then all of a sudden he says "you're so sweet that diabetes gets you!" We laughed so hard and so long it was ridiculous. Maybe someone else wouldn't have laughed so hard...but the point is, that was our thing and this product is a great way to memorialize the great memory we had together. My boyfriend absolutely loved it! The product was smaller than I expected, but the quality is great. This will be with us for a very long time!

Very Nice Gift
By
Shopper

(Banks, AL) - February 12, 2013
It was a smaller plaque that I expected but, very nice.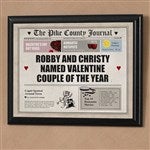 don't buy way tro small
By
larry D.

(Groveland, FL) - February 13, 2010 (
See all reviews by this customer
)
looks bigger in the picture. my wife said why so small.It looks like its about 24 by 24 not 10or12 x12 . Put actual size to it.