beautiful jewelry box
By
Shopper

(Steelton, PA) - November 8, 2013
I purchased two of these boxes as gifts. They arrived very quickly and are beautiful. The personalization was perfect and the recipients loved them as much as I did. The free personalization can't be beat. The boxes are also a nice size. I expected them to be much smaller.

5th Anniversary
By
Doc M.

(York, PA) - May 20, 2013 (
See all reviews by this customer
)
This jewelry box with a poem, our names and the date we were married, far exceeded my expectations. Solid work gang. Semper Fi!!
Doc Morales

GREAT BOX, GREAT PRICE
By
Greg O.

(Fair Oaks Ranch, TX) - April 1, 2013 (
See all reviews by this customer
)
I WAS VERY PLEASED WITH THIS ITEM. AT SUCH A GREAT PRICE I WAS SKEPTICAL OF THE QUALITY, BUT IT TURNED OUT BETTER THAN I'D HOPED!

Great Birthday Present!!
By
Joy C.

(Columbia, MO) - February 15, 2013 (
See all reviews by this customer
)
I got this for my sister and customized my saying on the top. It came and was awesome! Beautiful engraving and the box seems sturdy!

Beautiful gift and fast shipping!
By
Shopper

(brooklyn, NY) - February 1, 2013
This is the perfect gift. It is different, personal, and useful! What could be better!
A day after submitting what I wanted to be written on the heart box, I realized I made an error. I called customer service, and they were so nice as to make the change. I had caught them just in time, before the order was going to be made!
I was so fortunate!
Also, the shipping was so fast! I was nervous I wouldn't receive it in time, but I worried for nothing:)
Don't have any doubts, this is the best gift ever and the recipient will love and cherish it!

valuable item
By
Aymen Z.

(middletown , CT) - January 15, 2013 (
See all reviews by this customer
)
really a perfect and valuable item for a reasonable price

perfect gift
By
Shopper

(houston, TX) - October 26, 2012
This gift came out perfect and the quality is superior. Shipping was fast. I definitely recommend this product.

Amazing
By
Jaime C.

(JBER, AK) - September 24, 2012 (
See all reviews by this customer
)
I got this for my fiance as a random gift, wrote my own passage on it too. I ordered it on monday night, she got it thursday afternoon, i was amazed with how fast it was made and shipped out, i had 2nd day shipping on it though. When she showed it to me on skype(im active duty army), i was pleased to say the least. The quality of this product is amazing, It's well made, and looks like it cost way more than it actually did. She absolutely loves it and im very pleased with it as-well; It's a great buy. It where all of the jewelry i buy her is going to go; It's a great gift.

New nurse graduate / celebrating nurse appreciation week
By
Shopper

(Canton, MA) - April 20, 2012
I purchased two of these beautiful jewelry boxes and inscribed my own saying about Nurses being angels, etc. Have not given to the recipients yet but I know that they will love them as much as I do. Did get one for a friend last August, 2011 for her 50th Birthday with a beautiful and touching poem about Friendship inscribed. It brought her to tears!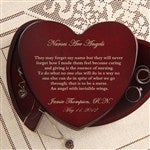 Great Personalized Item
By
Lindsay O.

(Plymouth, MN) - February 27, 2012 (
See all reviews by this customer
)
This box is absolutely beautiful. Viewing your personalized view doesn't do it justice until you see it in person. I bought it for a very special bracelet and put my own poem on it. I cried when I opened it up- absolutely gorgeous. Fabulous price and super speedy delivery- I ordered it on Wednesday and had it on Saturday. I love this website and will continue to use it. Thanks!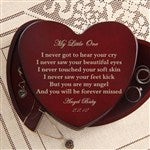 Beautiful gift
By
Shopper

(Morrisonville, IL) - February 7, 2012
I was thrilled with the quality of the gift. It arrived very quickly and was just perfect.

So beautiful!
By
TIFFANY S.

(EDWARDSVILLE, PA) - January 29, 2012 (
See all reviews by this customer
)
I ordered this for my girlfriend as part of my Valentines Day/Engagement surprise and it's beautiful! I can't wait to give it to her. Shipping was lightning fast too!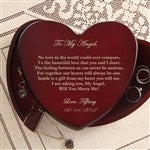 Christmas Gift for Mom
By
Victoria P.

(Irwin, PA) - January 9, 2012 (
See all reviews by this customer
)
This was my first purchase from this company so I did'nt know what to expect.I wrote my own poem on the jewelry box and when I recieved it was so happy to see just how wonderful it was.It was well worth the price they did a fantastic job.My mother cried for hours and it was her favorite gift.So I will be purchasing from here again.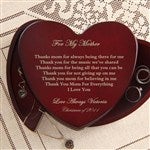 Amazing Purchase
By
Kevin M.

(Canada) - December 31, 2011 (
See all reviews by this customer
)
Amazing gift idea. Personalization was flawless. Strongly suggest this gift for a loved one.

It was perfect
By
Brenda S.

(Upper Marlboro, MD) - December 21, 2011 (
See all reviews by this customer
)
Loved it...and so did the person that received it.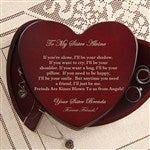 Exactly what i was looking for
By
Shopper

(Glendive, MT) - December 19, 2011
Pros:
I ordered this right before Christmas and had picked out a Poem to put on the front and had it it boxed up. I opened it to examine it and was very happy with what i saw. The Poem was engraved on it very nicely and the Wood and the Finish were definitely done with care. I know that my Wife will be very pleased with this and will find it very useful to put her jewelry in.
Cons: None this is the second thing I have ordered from PersonalizationMall and everything I have received so far as been very nice and so I keep ordering gifts for people because i know I will not be let down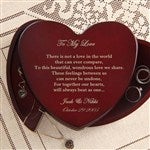 Beautiful, affordable, love it!
By
Shopper

(El Paso, TX) - April 29, 2011
I had been shopping online for a personalized jewelry box for a gift, and most of the places online and in the mall have outrageous fees to customize anything (especially if you want to put in your own verse and not just a name). One place even charged $45 extra for this! Personalization Mall sent me a perfect, unique jewelry box, engraved to my specifications for just $30 and I am floored with how beautiful it is!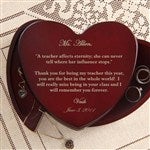 very cute and very appropriate
By
Shopper

(shawnee, KS) - March 28, 2011
The jewelry box came right on time. Was sent fast. And the quality was more than expected. Looks are very elegant with real wood and the script inscription printed on the product. Very Nice indeed!
Thank you...will always be back and definitely the discounts makes it all a whole lot better :)


A Perfect Keepsake
By
Shopper

(New Castle, DE) - February 9, 2011
I bought this as a gift for my aunt's birthday and personalized it with my own poem. She absolutely loved it!!! It is made of quality materials and the personalization was done meticulously. The shipping of this item was unbelievably fast - I would highly recommend this as a gift to any girl or woman.

nice
By
Shopper

(Oaklyn, NJ) - February 1, 2011
Quality made, quickly delivered, nice product.

Gift for my sister
By
Cathy V.

(Mililani, HI) - December 8, 2010 (
See all reviews by this customer
)
I selected this piece for my sister who was turning 50, so I could make-up my own special birthday poem for her. Since it was delivered straight to Calif. I never actually saw the product other than reviewing it after I created the poem, however from what I could tell it looked great! My sister called me crying, she was so happy - said the color of the product was beautiful, the words were all centered, and she liked the way the heart "opened" - had not seen anything like it before. She was very pleased, and I was pleased with how fast the product was made & shipped. Thank-you so much for making such a special product! I will definatly use this site again!

Wonderful gift
By
Tasia D.

(Port Charlotte, FL) - October 28, 2010 (
See all reviews by this customer
)
I bought this for a friend and opted to put my own poetry on it.It was a wonderful gift.very high quality and looks just as it does in the picture.

Lovely, Special Gift!
By
Krista W.

(Muncie, IN) - October 14, 2010 (
See all reviews by this customer
)
I wrote my own verse on this item to commemorate a very special friend's 50th birthday. I was completely thrilled with the quality of this item; the wood was beautiful and the personalization looked amazing. The space to keep jewelry was velvet lined. My friend was so touched by the sentiment I had written especially for her. She loved it. I would highly recommend this item as a gift for any special occasion.

Wedding gift to my Wife
By
Stephen P.

(Berlin, MD) - October 12, 2010 (
See all reviews by this customer
)
Great product, fast turn out and fast shipping

My wife loved this gift!
By
Jordan A.

(Fishers, IN) - August 12, 2010 (
See all reviews by this customer
)
I ordered and customized this jewelry box for my bride. She loved the touch of personalization and she loved my logic that she needed something on the nightstand to keep all of the rings I've gotten her! =) It is better quality than I expected - well worth the price.

Very Satisfied
By
Sandip S.

(Piscataway, NJ) - August 2, 2010 (
See all reviews by this customer
)
I bought it for my wife's birthday and she loved it. We both loved it. It is very beautiful and very professionally made. Shipping was very quick too.

Great Product
By
Leo G.

(Crystal Lake, IL) - January 28, 2010 (
See all reviews by this customer
)
This is a great prduct at real low price, I recomend this Item to anyone, this is a great gift. also I love the fast shipping

Great Heart jewerly box
By
Andrea C.

(Charlotte, NC) - October 12, 2009 (
See all reviews by this customer
)
I loved this product becuase I was looking for a jewerly box the put a necklace in and I wanted a heart one, I really liked this product becuase I was able to put words on the heart that meant something to me. I just lost my baby about 5 weeks ago and I want something special just for a extra reminder of him and it was perfect. I recommend this site the my mother also she bought one too. So thank you for allow us to personalization this jewerly box you will never know how much it meant.

Looked great, and shipped quickly!
By
Terry E.

(Alpharetta, GA) - October 7, 2009 (
See all reviews by this customer
)
My daughter ordered this for her best friend. It looked just like the picture and it shipped right away. She was very happy with it, and her friend loved it too!

perfect birthday gift
By
Michelle N.

(Clinton, MO) - October 5, 2009 (
See all reviews by this customer
)
This was the perfect gift for my mother-in-law's 60th birthday! She thought it was beautiful!!!

Beautiful
By
Tina L.

(BEDFORD, VA) - October 3, 2009 (
See all reviews by this customer
)
This box is gorgeous....I love it....exactly as described but the pic can't show how beautiful it actually is.

Beautiful
By
Audra S.

(Southaven, MS) - March 4, 2011 (
See all reviews by this customer
)
I purchased this item for my sister as a college graduation gift because I wanted something that I could personalize with a poem I had written that she could keep for years to come. The words are very clear and can be read easily. It cannot hold alot of jewelry but it is nice for her because all she has are a few pair of earrings and rings. I love it and I know anyone else who orders will as well.

Engraved Heart Box
By
Shopper

(Peoria, AZ) - February 12, 2011
This gift was very well received. The personalization was amazing and looked wonderful. Box opens on the sides very easily and lining is beautiful. Great find for the price!

Beautiful
By
Taryn T.

(Old Bridge, NJ) - October 7, 2009 (
See all reviews by this customer
)
Beautiful jewelry box! A little small but the engraving is perfect and its great quality! Would definitely purchase again