Wonderful !!
By
Annie R. W.

(Chicago, IL) - October 2, 2009 (
See all reviews by this customer
)
I think I told you before I just love anything with peoples' names on it...that lets them know that it's just for them...but in this case this was for me!, but I still love it!

Beautiful Doormat
By
Kimira J.

(Smyrna, GA) - June 27, 2014 (
See all reviews by this customer
)
The look of this doormat is classy and elegant. I bought it for my own new house, but it would make a perfect housewarming or wedding gift. The screenprint design is high quality,and I love that it already includes the scripture as opposed to me adding it as part of the personalization. The only reason I didn't give it five stars, is because of the rubber backing. It's not as thick or heavy as an outdoor mat usually is, and I'm kind of leary as to how long it will actually hold up, if used a lot. I think people would be willing to pay a little more for a more durable mat, but overall it's still very nice. I would definitely purchase this again for a gift.

Doormat
By
Shopper

(Jackson, TN) - November 22, 2013
Thinner than I expected, but lovely. It's for my In-laws and I think they'll love it! It's more for looks than function, Inthink. I really love it!

Personalized Doormat
By
Shopper

(Prattville, AL) - May 27, 2013
I love it. It looks exactly how it does online. If I could change 1 thing about it, I'd make it thicker. Its very flat. Other than that, its perfect.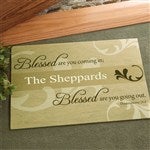 he loves it
By
Shopper

(jackson, NJ) - December 16, 2012
Purchased this rug for My brothers New home. He loves it so much that he wants to frame it instead of using it as a rug.

Larger Than I Thought
By
Shopper

(Perkasie, PA) - December 5, 2012
The rug is very nice. Thin with soft blended colors.The personalized name seems as though it was originally there.I'm not sure that you should leave this out in the weather.I definitely would order again.

Personalized Rugs
By
Shopper

(Walker, MI) - September 4, 2012
This rug is wonderful. I had originally bought it for our church secretary for Christmas, but when I found out she was retiring, it was her gift at that time. It is a perfect size. Better in person to see than online, but worth every penny.

Beautiful!
By
Jackie M.

(West Allis, WI) - December 17, 2011 (
See all reviews by this customer
)
I bought this for a Christmas gift...wonderful! Would love one myself!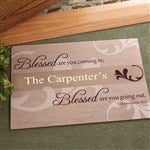 shipping took over 2 weeks!
By
Vanessa Z.

(Richmond Hill, NY) - November 22, 2011 (
See all reviews by this customer
)
Although I was satisfied with the product it took over 2 weeks to come not like 1 to 2 days they advertised. I ordered on the 4th of November at it shipped on the 11th. I was not happy since the event I needed it for passed

doormat
By
Shopper

(Plymouth, IN) - October 18, 2011
the doormat turned out great. It's so nice we don't want to really use it at a doormat, but force ourselves to. We look forward to having it in our home to greet everyone who enters.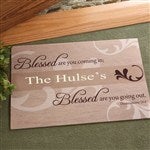 Beautiful Gifts
By
Karen L.

(Spartanburg, SC) - June 23, 2011 (
See all reviews by this customer
)
I gave three of these as gifts to family and close friends... and all of them loved the mat. It's a beautiful mat.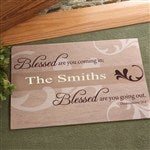 Wedding Gift
By
Michelle S.

(Upatoi, GA) - April 25, 2011 (
See all reviews by this customer
)
I sent this item as a wedding gift to someone out of town. Since I had it mailed directly to them, I didn't get to see it personally, but they said it was a very nice gift. I chose to have it personalized with both of their first names instead of last name and I think that was different but nice way to have it personalized too!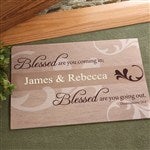 Nice Size Doormat
By
Shopper

(Fairburn, GA) - March 28, 2011
This doormate really looks great. I dont know if I will have it outside since it seems like the wind may blow it away. I may use inside the foyer entrance.

Nice item, but very thin.
By
Shopper

(prattville, AL) - February 14, 2011
Item is very nice. Got this as a wedding present for my boyfrien's brother. The doormat is extremely thin. So keep that in mind. Would be good to be used in front of a sink in the kitchen or something. Not really made be used in front of a door. But is no doubt worth the buy. :]

Very Nice for Indoor Mat
By
Shopper

(Red Bluff, CA) - January 23, 2011
I am very satisfied with the doormat,it's really nice. However, I would not use this as an outdoor doormat because I don't think it would hold up very long outside. It is perfect for just inside of the door,that is where I keep this doormat.

Not the color I expected but still beautiful
By
Holly S.

(Alexander, AR) - January 3, 2011 (
See all reviews by this customer
)
This was a gift for my mother and she loved it, however I ordered it in sage and it looked much more tan. Still, she was very pleased!

Very sturdy mat.
By
Jennifer V.

(Springdale, AR) - December 17, 2010 (
See all reviews by this customer
)
I was surprised at how sturdy this mat was, especially when I tried getting it out of the box. The only reason I gave only 4 stars is that the top material is really thin. But, it has a rubber-type bottom to it for no slip purposes. I'm well pleased with this! :)

Recommend
By
Mingjia D.

(Kansas City, MO) - December 17, 2010 (
See all reviews by this customer
)
very good products, but the color is easily to get dirty

Nice mat! Great turnaround time
By
Frederick B.

(Wetumpka, AL) - September 21, 2010 (
See all reviews by this customer
)
Just got our mat, looks great over all...just wish they'd shipped it flat without rolling it up. Maybe the little crease that caused will eventually go way by the time we have our housewarming.

Elegant
By
Kimberly S.

(Dumfries, VA) - July 5, 2010 (
See all reviews by this customer
)
We got our item in good time. It is a very elegant addition to our entry way.

Reassuring
By
Diane M.

(Rockville, MD) - May 24, 2010 (
See all reviews by this customer
)
It is a beautiful mat, I have placed this one insdie the door. It is reassuring to myself & loved ones to know we are Blessed in out coimings & goins. It is thinner then your typical doormat, but the color is pretty true ot the picture and it seems well made. It is just thinner than i would have liked.

warm greeting to our home
By
Tonya L.

(Arnaudville, LA) - February 11, 2010 (
See all reviews by this customer
)
This arrived quickly and personalized perfectly. The color is a little lighter than it appears in the picture, but it is still nice.

Good for the Money
By
Amanda P.

(Greenwood, IN) - December 20, 2009 (
See all reviews by this customer
)
This rug was what I expected for the money I spent. It looks nice and will make the thoughtful gift that I was going for!

Nice but Thin
By
TAMMY L.

(WAYNE, NJ) - April 20, 2014 (
See all reviews by this customer
)
The pattern and scripture is beautiful and makes a unique (bridal shower) gift, but the mat is too thin/flimsy. I hope it wears well.

It's cute but....
By
Shopper

(Akron, OH) - December 4, 2011
it's a cute doormat. Looks exactly like what the picture says, however, it feels kinda cheap.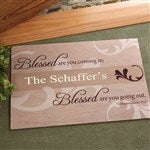 So-so
By
Shopper

(Wichita, KS) - February 13, 2013
I bought this for myself and was didn't like how lightweight it is. The reverse side doesn't grip to the ground well.

Wish it was thicker
By
Shopper

(BROKEN ARROW, OK) - January 9, 2012
The monogram was beautiful and the words looked great on the door mat however i wish it was a little heavier and thicker material.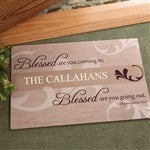 Disappointed
By
Shopper

(Dakota, IL) - July 14, 2013
I've bought 3 items from personalization, and this is the first thing that I've been disappointed with. I would rather have payed more and gotten a better quality mat. I bought it as a gift for friends. You don't have to show this as a review, just wanted you to know.

Usually a Happy customer
By
Angela J.

(Tewksbury, MA) - December 17, 2010 (
See all reviews by this customer
)
I am always happy with product I purchase. This mat I bought
I was not happy. It was very stiff and I can't give it as a gift.I had to discard it and am not very happy.