Love this product
By
Jackie B.

(Highland Springs, VA) - November 4, 2012 (
See all reviews by this customer
)
This product makes a really great gift.. it's something special and different. It really did exceed my expectations all the way around... and as always shipping was fast and product well packaged.

Another great canvas!
By
Darryl F.

(Riverside, RI) - October 4, 2012 (
See all reviews by this customer
)
This is the 2nd canvas print that I've ordered. Fantastic job! I am now planning on ordering more photo canvases as gifts for family and friends!!!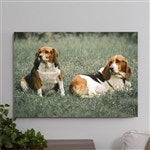 Absolutely Beautiful. Best Memorial.
By
Darryl F.

(Riverside, RI) - August 26, 2012 (
See all reviews by this customer
)
I ordered this Canvas Print for my 2 girls that have now passed on. I HIGHLY recommend it for the quality, the price and the superior service that Personalization Mall offers. Not only would I buy again, but I would recommend them to anyone who loved and misses their pet.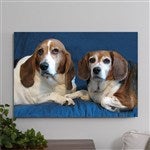 Love the canvas print!
By
Diane N.

(Sarasota, FL) - August 7, 2012 (
See all reviews by this customer
)
Have ordered several of these canvases, especially when they're on sale. Then, they are an even better deal! The canvases are wonderful, professionally rendered. I was originally concerned about the smallish wrap, but I love the look. Also, every one of the canvases has been a print given as a gift, and each and every recipient has been thrilled! Will continue to be one of my favorites. Keep up the great work!

Minouche, my pin-up kitty
By
Lorie W.

(Oberlin, OH) - June 15, 2012 (
See all reviews by this customer
)
I recently ordered the 24x36 print of my pin-up kitty, Minouche, who passed away in August 2011. As an amateur photographer, I took many photos of her and one in partaicular won me several awards and graced a billboard, a company van, several calendar covers and pages, and a race car driver's rolling tool box. She was the supreme princess. Seeing that photo "larger than life" just makes me feel like she's right here in our home. She was a black and white Tuxedo kitty so I went with the black and white canvas. I have a very special, visible corner where her photo will hang and also purchaed a collage frame that will hold other black and white photos of our other pets and my husband and me. I plan to purchase these for my animal rescue friends and will recommend them to all my friends!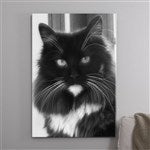 Quality Item
By
Rita H.

(Queensbury, NY) - December 30, 2011 (
See all reviews by this customer
)
I have not yet seen the end product however, the recipient was very happy with the gift. They loved it, saying it was really well done and their favorite item. Would definitely use again.

Couldn't be happier!
By
Karen F.

(Middleburgh, NY) - December 12, 2011 (
See all reviews by this customer
)
The canvas print is fantastic. So pleased with it. Would have rated it 10 stars!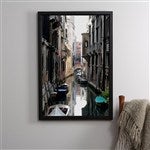 Great momento!
By
Julie Z.

(Akron, OH) - October 1, 2010 (
See all reviews by this customer
)
This product turned out great and was received in record time. The look on my inlaws' faces when they saw the picture of their recently deceased dog was priceless. I'm actually thinking of buying one with my pooches on it.

Great value for money
By
Arno T.

(Herndon, VA) - August 24, 2010 (
See all reviews by this customer
)
Before I came to personalizationmall.com I placed an order with another company that printed my picture on canvas. This other company took twice as much money and provided less quality (the sides of the picture were blurry).
I ordered some more canvas with personalizationmall.com, and the result is excellent. I can highly recommend it.

Very Impressed
By
Joseph T.

(Staten Island, NY) - May 28, 2010 (
See all reviews by this customer
)
I purchased this 16 X 20 canvas in loving memory of my best friend of the last 13 years, my dog Lucky. When I opened the box and removed the bubble wrap; my heart swelled and my eyes welled. It was a striking portrait; so vivid and breath-taking. It looked as though a professional artist spent hours, days, weeks painting Lucky's image on canvas. This is an absloute must have!

ABSOLUTELY BEAUTIFUL & BREATHTAKING!!!!
By
Denise F.

(Towson, MD) - January 28, 2010 (
See all reviews by this customer
)
I ORDERED A LARGE FRAMED CANVAS PRINT OF OUR RECENTLY DEPARTED FAMILY DOG, TO HANG OVER OUR FIREPLACE. IT ARRIVED A FEW DAYS AGO, AND IT IS JUST BEAUTIFUL....WE REALLY LOVE IT. AND MY ITEMS ARRIVED SO QUICKLY, I WAS JUST AMAZED!!! THANKS FOR MAKING THIS DIFFICULT TIME A LITTLE EASIER. I WILL BE ORDERING MORE FROM YOUR SITE -- IT WAS A GREAT TRANSACTION. THANKS MUCH.

turned my photo into a painting
By
Shopper

(Auburn, WA) - October 27, 2012
I played with a photograph I had of one of my foster kitties and decided to have it printed. It is unusual but I am pleased with the product and the process was very easy.

Pleased, yet not
By
Shopper

(Colorado Springs, CO) - March 13, 2011
I scanned a picture of my dog and it didn't come out real clear (marks on it, or lack of color in some spots). The company kindly called me to let me know that it wasn't real clear. I had asked them if they could touch up those spots and was told that they would send it to a specific deparment and see if they could touch it up. Well, when it came to me it wasn't touched up. I wish they would have called me again to say they couldn't fix it and I would have selected another picture. Not really their fault. I should have had a clearer picture. I still love this company and will purchase products from them.

Great!
By
Katy H.

(Clarks Summit, PA) - February 18, 2010 (
See all reviews by this customer
)
I ordered a canvas print of my boyfriends dog as a Valentine's Day present for him. He loved it! The picture turned out a little bit pixely and not as sharp and clear as I'd hoped but I think that was because of the original picture size. The original picture file was probably a little smaller than what would have been optimal so when it was blown up it was a tiny bit blurry when looking at the photo up close. It's ok though because this makes it look more like a painting. It turned out great and I will definitely be ordering from here again!