perfect gift
By
Shopper

(Memphis, TN) - August 21, 2013
Love the plaque. I gave it to my in laws for the loss of their pet. The whole family loved it. It is great quality and a perfect way to remember our furry loved ones.

Beautiful Plaque
By
Debbie A.

(Spotsylvania, VA) - August 18, 2013 (
See all reviews by this customer
)
I am very happy with the plaque I ordered. The picture is very clear and looks beautiful. I received it so quickly too. Thank you!

great purchase
By
Shopper

(Philadlephia, PA) - August 6, 2013
Beautiful Frame,very,very quick delivery and Customer Service is the best. Will purchase again. Thank you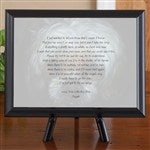 Memorial for Spike
By
John B.

(Garland, TX) - August 2, 2013 (
See all reviews by this customer
)
It brought tears to our eyes, but we are very pleased with the quality and the fast processing time. We will treasure it always!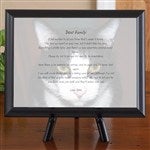 lasting memories
By
Shopper

(Culpeper, VA) - July 22, 2013
I ordered this for my mother after her cat passed , she was very touched with the plaque , and now she will always have a beautiful photo of her cat with a loving poem to put her heart at ease. The product quality was perfect and it arrived in just a few day the price was very reasonable I would recomend this product for anyone who has lost their beloved pet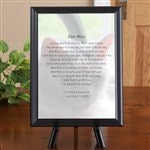 Pet Memorial Photo and Frame
By
Shopper

(Neenah, WI) - June 9, 2013
I got this for a friend who's dogs had passed away and she loved it!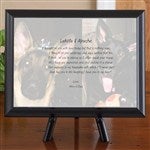 CharLee's goodbye and thanks to his vet.
By
Kelley M.

(Shepherdsville, KY) - May 28, 2013 (
See all reviews by this customer
)
I got this as a thank you and goodbye to CharLee's vet of 20 years. The entire staff loved and cried over it. They really appreciated it. Thanks for giving my beloved friend a voice in death.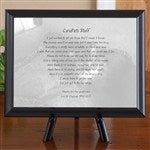 Great Memorium
By
Sherry H.

(Pewaukee, WI) - May 25, 2013 (
See all reviews by this customer
)
I ordered this for a friend whose dog passed away. It brought tears to both our eyes when I gave it to her. Great way to show your love for a past member of the family.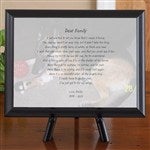 Alex's goodbye poem to vet
By
Shopper

(Sterling, VA) - April 5, 2013
It is another beautiful picture and note to my sweet Alexandria. She is surely missed.by us all.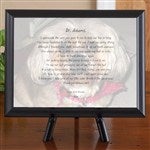 Papa Moses
By
Brenda W.

(North Charleston, SC) - March 27, 2013 (
See all reviews by this customer
)
I would have given this item 10 stars if available. It's really heart felt!!!
Love it!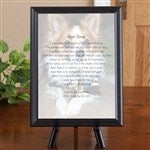 No better way to memorialize your pet
By
Don B.

(Virginia Beach, VA) - February 9, 2013 (
See all reviews by this customer
)
Nice quality picture memorial! Our beloved Rascal will never be forgotten with this picture frame and stand. Very decorative and fitting.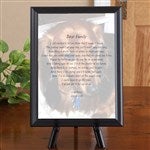 Loved this product
By
John and Erin P.

(Whitney, TX) - December 28, 2012 (
See all reviews by this customer
)
I was absolutely impressed with this item that I ordered. It provided me with a comfort for my grief in the loss of my beloved pet.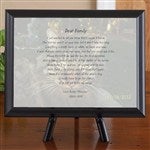 Very pleased!
By
Allison B.

(Fleetwood, PA) - December 16, 2012 (
See all reviews by this customer
)
I made this for my boyfriend's family, whose dog just passed. I was very pleased with how fast it was shipped and how it looked! It was better than I thought! I would recommend anyone who is thinking about buying this to purchase it! You'll be extremely happy as well. When I gave this to my boyfriend's family, it bought tears to their eyes, his mom couldn't even read it. But the poem that was provided was beautiful and I know their dog will always be with them and in their heart. It was perfect! :)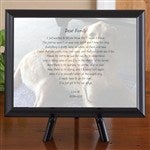 great as always
By
Shopper

(Toms River, NJ) - December 3, 2012
This item perfect as with all my orders from here and super fast shipping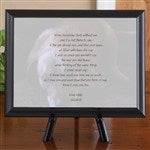 Very pleased
By
Christine L.

(Casselberry, FL) - December 2, 2012 (
See all reviews by this customer
)
It turned out even better than we had hoped. We ordered the easel as well and it makes for a lovely display on our end table. What a beautiful way to honor a beloved pet.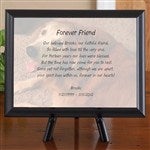 something beautiful at a difficult time.....
By
Susan D.

(Columbus, GA) - December 1, 2012 (
See all reviews by this customer
)
I found this site by accident while surfing the net and I am soooo thankful that I did!! Unfortunately, our family had to recently put our 17 year old cat to sleep and it was one of the hardest things we have ever had to do. When you have a cat for 17 years,he/she becomes like a child to you. I discovered this wonderful product and thought how truly special it was and very reasonably priced as well. All who have visited our home have commented on how beautiful our memorial to Sputnik is and always ask where I found such a perfect item. I intend to give these as gifts to those close to me who lose a dear pet because I know first hand how much peace and comfort it can bring at a difficult time. Thanks for offering such a thoughtful item to your customers! :)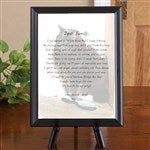 Made Me Cry
By
Shopper

(Destin, FL) - November 16, 2012
I was crying when I was creating this plaque online & I cried again when it came. It is BEAUTIFUL!!!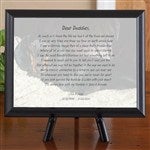 Amazing!
By
Shopper

(meriden, CT) - October 12, 2012
Got the product quickly and was perfect! Very excited. Helps us feel at more ease with her being gone. Brings up nothing but good memories!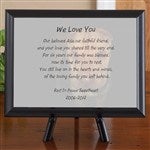 Absolutely love it!
By
Joan M.

(Bushkill, PA) - August 25, 2012 (
See all reviews by this customer
)
I highly recommend this plaque to anyone who has lost a pet,it is of great quality&value.
Sadly this is my 2nd one,i lost my 1st dog & ordered this plaque 3 yrs ago & it still looks as sharp & clear as the day i bought it,so i sadly bought another 1 when i lost my 2nd dog in July.
Its a great way to preserve that special memory forever of your lost pet.
Buy it ,buy it ,buy it! you won't regret it.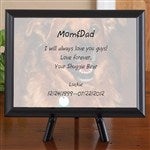 Beautiful keepsake
By
Shopper

(Iselin, NJ) - August 5, 2012
Nothing can bring back my baby Smiley or take away the heartache but having this plaque to look at warms my heart. The picture is clear and the poem is exactly as i wrote it. Love it!!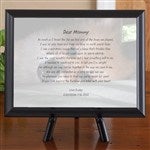 Amazing!
By
Michelle H.

(Santa Rosa, CA) - July 8, 2012 (
See all reviews by this customer
)
Really hit the right nail on the head with this piece. It came out perfectly and was very classy. I will honestly say the product looked better than the "proof" at the end during check out! Very happy with this

Gift for my Sister for the loss of her pet.
By
Shopper

(Asheville, NC) - April 30, 2012
My Sister's birthday is coming up and I did not have a clue what to give her. She recently had to have her precious Corgi put to sleep and when I saw this Memorial Photo and Poem, I thought "What a wonderful gift ideal"! I received it in the mail today and I am totally impressed with the craftmanship and quality. I know she will love it as much as I do. I would definitely recommend this to anyone that has lost a pet to keep their memory close to their heart at all times!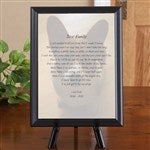 Awesome
By
Shopper

(BIGFORK, MT) - April 6, 2012
Never expect such a Great Pet Memorial Photo and Poem Plaque. Got it and it is totaly awesome. It brought tears to ours eyes when we read and seen how great a job you did. Totaly the best ever.

love it
By
Shopper

(Toms River, NJ) - February 23, 2012
I was so happy when this item arrived, it was perfect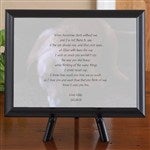 Very nice
By
Shopper

(Philipsburg, PA) - February 17, 2012
A very nice plaque.Very nicely done,when I gave it to my wife it made her cry.
It really ment alot to her.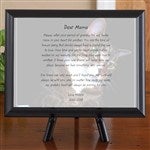 Rosey
Great rememberace of our dog

This is the best Gift to honor a pet that has passed
By
Shopper

(selden, NY) - November 28, 2011
I bought this for my boss who had just put his dog to sleep..The dog would
come to the office all the time and at the end it was sad to know he wouldn't be coming anymore. My boss and his family absolutely loved it..I know I will be ordering something again when it is time for my precious dog...It is a beautiful remembrance of a beloved pet.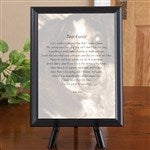 Another Masterpiece
By
Keith J.

(Phoenix, AZ) - November 8, 2011 (
See all reviews by this customer
)
This item went far beyond my expectations. Once again you have enabled me to give people close to me a gift that will stay close to their hearts. I am not looking forward to giving this one because I know the tears will flow, but the excellent quality and expertise that went in to making this will let them know how much I care and it will be a fitting tribute to such a sweet and adorable dog. Once again, thank you so much.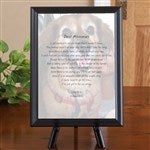 Do Not Limit yourself here
By
Shopper

(Kingston, NH) - November 5, 2011
This is not just a PET plaque. We used it to honor a PERSON at a Special Event. The process to upload a picture and create a short message was easy. the Placque looks great. . . but, be aware it is 5x7. Perhaps they should offer the same item in a 8x10 format. 5 Star for product quality and easy use of online ordering.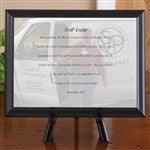 Great Plaque
By
Dave K.

(Centerville, TX) - October 17, 2011 (
See all reviews by this customer
)
The person I sent it to liked it Very Much. So it did its job. They did say the picture in the background was very light, but if it was any darker it may have made it hard to read the poem. Her parents also thought it was Very Nice. I'm sure it will have a place on the shelf with her pets Urn.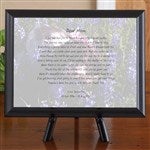 Touched her heart
By
Digna P.

(Yonkers, NY) - August 29, 2011 (
See all reviews by this customer
)
Thanks for having such touching items that could speak for themselves. Great gift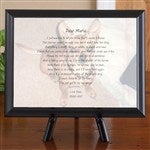 trixie memorial
By
susan B.

(pt st lucie, FL) - May 27, 2011 (
See all reviews by this customer
)
It came out beautiful and we actually cried again when we received it. We miss our dog so much and this is a beautiful way to remember her!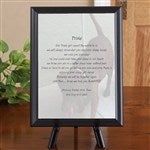 LOVE IT!!!
By
JANINE F.

(DUMONT, NJ) - April 18, 2011 (
See all reviews by this customer
)
I bought this for friend who lost her dog. It is a very nice rememberance.
Very easy to order, recived it very quickly.
Would recommend it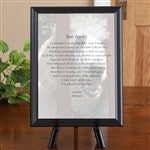 Very emotional tribute
By
Sandra H.

(Monroeville, PA) - April 8, 2011 (
See all reviews by this customer
)
When the memorial photo/poem plaque was opened, my heart was overwhelmed. The poem was sooooo appropriate and rang so true....and seeing my beloved dog's photo in the background just made it a perfect tribute to her. Thank you for offering such a wonderful item. I'll recommend your company to others.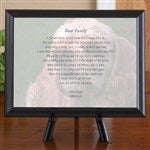 Emotional Gift
By
Shopper

(Sterling, IL) - March 30, 2011
We bought this for my boyfriend's mom after her cat of twelve years was put down due to cancer. We felt it would be nice to get her something personal to remember her by. I was very happy with the outcome. It was the perfect size, and very pretty. It made her cry, which in turn made us cry. It makes a great gift to those who have lost a beloved pet.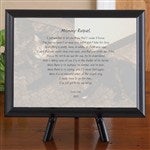 Nice
By
Shopper

(Houston, TX) - February 27, 2011
Very nice piece of art. I was happy with all the details and shipping.

Dog Memorial
By
JILL M.

(PRIOR LAKE, MN) - January 27, 2011 (
See all reviews by this customer
)
I sent this to my brother and sister in law after they lost a pet of 11 years and they LOVED it. It turned out great and I loved the feature that tells you if your picture is going to work or not.

Beautiful remembrace of my beloved pet!
By
Diana T.

(Wichita, KS) - December 26, 2010 (
See all reviews by this customer
)
I chose this plaque with the picture in sepia and it looks beautiful. The poem is so lovely that it brings tears to my eyes almost every time I read it and see my precious Hoody in the background. I recommend this product 100%.

AMAZING!!!!
By
Susan M.

(Wahiawa, HI) - September 16, 2010 (
See all reviews by this customer
)
My mom and sister lost their beloved golden retriever recently. I found this and thought it was really nice so I found a poem that I liked and the perfect picture. I only ordered one since I wasn't sure how it would turn out... Well my sister and mom both love it so much they take turns having it!!! They said it is absolutely gorgeous so we are ordering another!! Highly recommended.

Wonderful memorial
By
Saundra R.

(Apollo, PA) - September 14, 2010 (
See all reviews by this customer
)
My friend had to put her dog to rest due to cancer. This allowed me to write my own poem and the picture of Sammy came through beautifully. Ended up being more cherished than I expected. The overall quality was more than I could have asked for. VERY pleased with the final product.