Baptism gift
By
Shopper

(Holgate,, OH) - July 28, 2013
Bought for my Grandson for Baptism....was perfect! Would do again!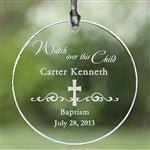 Christening gift
By
deAnn A.

(blue Springs, MO) - June 19, 2013 (
See all reviews by this customer
)
My second granddaughter had her baptism recently and I bought this to honor the event. I think my daughter will use it as an ornament along with the similar one I had ordered 2 years ago for my first granddaughter. This ornament/suncatcher came quickly, was great quality and is the perfect memory for forever of a beautiful event.

Protect This Child Personalized Suncatcher
By
Julia M.

(COLTON, CA) - May 13, 2013 (
See all reviews by this customer
)
FABULOUS !! These two suncatchers were so enjoyed and cherished by my granddaughters. The price for these two suncatchers was very reasonable and will be a lasting memento from their grandma on their special day.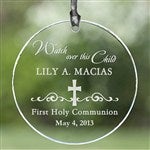 personalized "protect this child" suncatcher
By
Shopper

(TANEYTOWN, MD) - May 11, 2013
was totally happy w/ my personalized suncatcher for my grand-daughters first communion. the package arrived very quickly . this gift I could recommend and my gr-daughter was thrilled w/ it. many thanks
linda

Beautiful inexpensive baptism gift
By
Jennifer F.

(Bristol, CT) - May 9, 2013 (
See all reviews by this customer
)
This was perfect for a baptism gift and something different than the traditional cross. Personalization is always a nice touch and my niece will have it forever. As her godmother I'm proud to give it to her! Shipping was fast as well!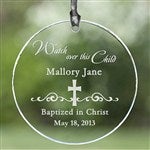 Super fast!
By
Ellen F.

(Jenkintown, PA) - May 4, 2013 (
See all reviews by this customer
)
Suncatcher looks great; shipped within 24 hours. Great purchase.

Unique gift for boy or girl
By
Jeanine D.

(Woodridge, IL) - April 15, 2013 (
See all reviews by this customer
)
This is such a unique gift for a boy or girl. I purchased it for my nephews First Communion and I am pleased that this is something that can be hung on the window or a stand and it will go with anything because it is glass. It is a great alternative to a cross that everyone will get for the first communion.

Great gift for First Holy Communion
By
Kristy V.

(Brooklet, GA) - March 23, 2013 (
See all reviews by this customer
)
I purchased this for my niece and nephew, who will be celebrating their First Holy Communion in April. I am really pleased with this gift as it will be something they can keep forever to remind them of their special day. It can be a suncatcher, or I think it would make a great Christmas ornament.

special suncatcher
By
Shopper

(Columbia, IL) - March 2, 2013
This is the third one of these suncatchers I've ordered for my grandchildren. They love them. The glass is high quality as is the personalization. Yes, I would buy it again.

Beautiful
By
Joyce I.

(Jackson Center, OH) - August 2, 2012 (
See all reviews by this customer
)
I bought this for my grandsons baptism and it is so beautiful.

Beautiful!
By
Shopper

(Marina Del Rey , CA) - August 1, 2012
This turned out absolutely beautiful! Quick turnaround and amazing value. I would highly recommend this product.

Suncatcher
By
Shopper

(Grantham, NH) - May 21, 2012
Beautiful gift, the perfect size, and not overdone, even came with the suction hook! She loved it!

Keepsake
By
Shopper

(west warwick, RI) - May 13, 2012
Great way to personalize their special day..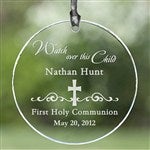 Very great gift!
By
Nichole C.

(New Port Richey, FL) - May 11, 2012 (
See all reviews by this customer
)
One of my best friends son was having a big part of is life his Fist Communion! I wanted to give him a special gift that be forever. He loves it! So thankful for this!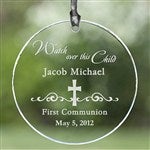 first communion suncatcher
By
Patty H.

(Bucyrus, OH) - May 10, 2012 (
See all reviews by this customer
)
a very lovely keepsake for first communion. very good quality and the engraving was beautiful.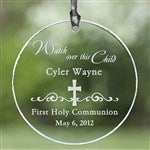 suncatcher
By
Shopper

(Long Beach, CA) - May 9, 2012
more than what i expected! will definitely order again ;)


The Suncatcher was a Gift for 2 First Communicants, my Grandson and Godson
By
Shopper

(Potomac, MD) - May 7, 2012
I was very pleased with the product, as were the 2 recipients of this gift. In fact, when the teacher asked the child to bring in some gift from their First Communion to be blessed, it was the Suncatcher they chose. They loved the 'message', and seeing their name pleased them very much. Personalization Mall came through once again, re delivery promises, etc. Thank You.

Beautiful remembrance!
By
Shopper

(Moyock, NC) - May 5, 2012
Overall a terrific gift! My twin nephews loved these & so did their mom (she's hard to please). Very reasonably priced, arrived quickly, and the silver ribbon & small suction cup were perfect. I'm glad they came in a velvet drawstring bag, but wish it hadn't had "Personalization Mall" in giant metallic letters on it. A plain velvet bag in a box w/Personalization Mall on it would have been a lot classier.

Great gift for my grand daughter's first communion.
By
Lowell F.

(Ozark, MO) - April 28, 2012 (
See all reviews by this customer
)
Prompt delivery, nice product!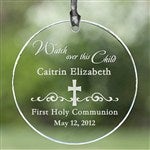 Personalized Suncatcher
By
Shopper

(Richmond, NH) - April 28, 2012
I am very happy with this item. It was wonderful to not only be able to personalize it, but to also see what it would look like before I ordered it. It is just what I was looking for and the quality, packaging were all excellent.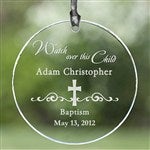 Very good quality
By
Shopper

(verndale, MN) - April 27, 2012
Wonderful keepsake for a child

very pleased
By
Shopper

(north ridgeville, OH) - April 21, 2012
This is a gift for my granddaughters First Communion. I was very
pleased with the way it turned out. It looks and feels very substantial.
It will be nice keepsake for her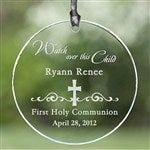 Great Option
By
Shopper

(Armstrong, IA) - April 16, 2012
I like that you can use this either as a Xmas ornament, or a suncatcher. Great option for both.

My third purchase of this item.
By
Shopper

(Fullerton, CA) - April 13, 2012
This is a lovely keepsake of a child's First Communion. This can be hung in a window or brought out every Christmas and put on the tree. It is a reminder of an important day in the life of a child. Something they can keep forever.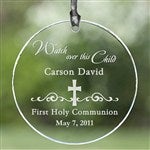 Beautiful Keepsake
By
Maria W.

(Scottsdale, AZ) - April 8, 2012 (
See all reviews by this customer
)
A First Comminin keepsake that will be kept forever.

very pleased
By
Carol G.

(Arlington Heights, IL) - March 31, 2012 (
See all reviews by this customer
)
This suncatcher is exactly what I hoped it would be. Very professionally done, looked just like it was shown and I know my grandson will treasure it for a long time to come.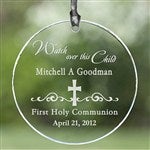 Great gift
By
Shopper

(Warren, MI) - March 3, 2012
This is the second suncather that I bought. The are for my grandchildren on their First Comminions. They hang them on their Christmas tree and love remembering "their special day".
P.S. I had a great experience on the phone when I needed help ordering it!

Natalie
By
Shopper

(Barto, PA) - February 11, 2012
The receiver of the gift was very pleased but I will not get to see it in person until sometime in April. Your promptness was very appreciated.

Suncatcher
By
Shopper

(Somerset, OH) - December 28, 2011
It arrived very timely. The engraving was very nice. Something beside a cross for a baptism was also very nice.

First Communion
By
Shopper

(Holdrege, NE) - June 29, 2011
This product speaks volumes for quality and the message it sends. I would definitely recommend this choice to friends and relatives.

Great Baptism Gift
By
Christopher B.

(Jacksonville, FL) - June 12, 2011 (
See all reviews by this customer
)
Bought this engraved with the Sacrament of Baptism for my Goddaughter to use as a suncatcher or ornament for the Christmas Tree. I have similar ornaments for my tree that are great for our treasured memories and moments. Great quality, price, and service.

Personalized Sun Catcher
By
Joanne B.

(Middle Village, NY) - June 5, 2011 (
See all reviews by this customer
)
I ordered this for my granddaughter's christening. It was everything I expected from Personalization Mall. I have been ordering gifts for a couple of years and have never been disappointed. Plus, it arrives only a few days after you order it and there is usually a coupon that you can use!!!!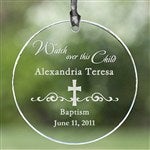 Communion Gift
By
Shopper

(Fullerton, CA) - May 21, 2011
I received such a favorable response when I gave this Suncatcher as a gift for a family member that I purchased another one for my Grandsons First Communion.
You will not be disappointed in this item. It is also a very novel gift, and so appropriate for a keepsake.
It is packaged in its on velvet bag. The turnaround from ordering on the web and delivery at home is
very fast. Less than a week.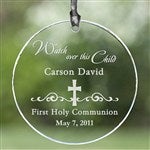 Glass ornament
By
Kathleen G.

(Springfield, MA) - May 13, 2011 (
See all reviews by this customer
)
Nice keep sake gift with date rememberance! Gift was accompanied with a window hanger which was nice that you did not have to purchase one separately.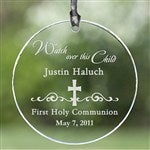 Suncatcher
By
Roberta B.

(New Castle , DE) - May 9, 2011 (
See all reviews by this customer
)
My grandaughter was so pleased with this gift for her first Holy Communion...nice package...quick delivery. I will definitely shop at this site again.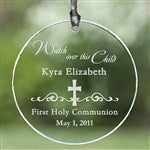 Unique idea
By
Bernadette H.

(Stockton, NJ) - May 9, 2011 (
See all reviews by this customer
)
This glass sunchatcher was admired by all. I was very happy that a rubber suction cup was included at no charge for hanging in a window. The children receiving it were so excited to see their own names and couldn't wait to hang it in their rooms. It was my intention that these First Holy Communion mementos would be brought out each year as Christmas Tree ornaments but now they will be admired every day.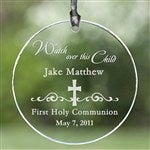 A communion gift
By
Shopper

(Fullerton, CA) - May 6, 2011
I was looking for a personal gift to give at First Communion. While surfing the net I came across Personalization Mall. I took a chance and ordered thru them. The gift was exactly as shown. It came
quickly, with its own little velvet bag enclosed. I was happily surprised and will order from them in the
future. I highly recommend.

Very nice quality
By
Shopper

(Hamilton, OH) - May 2, 2011
The item looks beautiful in person. Both the item and engraving are very good quality. It will make a beautiful gift.

Perfect
By
Ashlee S.

(Attica, OH) - May 2, 2011 (
See all reviews by this customer
)
This item was 1 of 3 in a shipment. All items were extremely well packages and arrived in perfect condition. This suncatcher was of higher quality than I expected. It is very heavy and comes in a black velvet like bag. The inscription was perfect. Very expensive looking gift for the price!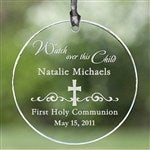 ELATED with result!
By
Kathleen F.

(Waxhaw, NC) - April 17, 2011 (
See all reviews by this customer
)
I am so excited about this product! We collect Christmas ornaments for our children (w/the intention of giving them a box of "memories" when they get married) and this was absolutely perfect to commemeorate both my childrens' First Communion dates (daughter's was 6 yrs ago, but I ordered one for her while ordering one for my son who is making his in May.) The quality is fantastic - glad I changed their names at the last minute to be first/middle rather than first/last - seems more appropriate. LOVE this! I keep looking at them!