Loved it!
By
Merita E.

(Cliffwood, NJ) - June 22, 2012 (
See all reviews by this customer
)
I ordered a garden stake for my father's garden. It came out beautifully and dad loved it! The best part is, you can personalize the message and it came quickly. Great quality too!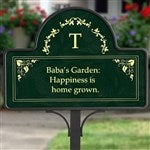 beautiful quality...
By
Shopper

(Orange Park, FL) - April 11, 2012
Always wanted a beautiful yard sign with our family name and address - the quality of this item is fantastic and every bit as beautiful as the ones I have seen that cost $$$$ more! Love everything I've ordered from this company and have always gotten my order in DAYS - not weeks!

Garden Sign Review
By
Shopper

(Cartersville, GA) - April 9, 2012
Product was shipped quickly and was exactly what I expected. Loved it.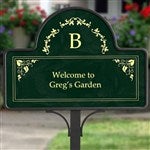 Stunning!
By
Shopper

(New Milford, CT) - January 14, 2012
What a beautiful garden stake this is. I had asked for a personalization with a portion of a quote and the results were stunning! The actual item was more impressive than I had expected and the picture on the website represented the item, however the piece itself far exceeded my expectations. This will make a wonderful gift for anyone or a striking piece for your own garden. My only recommendation is that more colors would be available. In a garden the green will get lost among the foliage. Just an idea. Thank you. I did purchase this for someone else and I am sure he will be pleased.

Amazing Product
By
Amanda S.

(BIDDEFORD, ME) - December 27, 2011 (
See all reviews by this customer
)
I am beyond pleased with this item. It came quickly, and was sturdier than I thought. Looked amazing, better than the picture and my boyfriend's mother was thrilled when she opened it up on christmas. I will def. be ordering from here again. So happy with my purchase.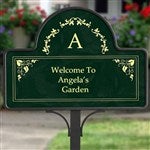 Incredible product.
By
Susan M O.

(SAINT LOUIS, MO) - December 27, 2011 (
See all reviews by this customer
)
I ordered this for my backyard as well as the front yard address sign. I am using it as a pet memorial for my dogs and cat. Great product and beautiful. Do not hesitate to order from this company.


Product quality
By
Susan T.

(Cookeville, TN) - December 24, 2011 (
See all reviews by this customer
)
This item was everything I hoped it would be..I am very pleased with the quality of this item.

GARDEN MARKER
By
Shopper

(Carthage, NY) - December 19, 2011
BOUGHT THIS FOR MY HUSBAND! HE LOVES TO PUTTER AROUND THE YARD AND IS VERY DIFFICULT TO BUY FOR. I SAW THIS AND THOUGHT IT MIGHT BE A FUN GIFT WITH THE DIFFERENT MAGNETS. WHEN IT CAME I LOVED IT! IT IS A CHRISTMAS GIFT SO I CAN NOT WAIT FOR MY HUSBAND TO OPEN IT. I THINK HE WILL LOVE IT TOO! GREAT QUALITY AND COLORS ON THE MAGNET. CAN'T WAIT TO ORDER OTHER MAGNETS! LOVED IT !!!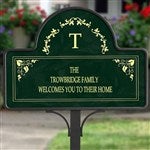 floral
By
Roseanne A.

(Spring City , PA) - December 12, 2011 (
See all reviews by this customer
)
This is beautiful and looks beautiful in our yard. I would recommend this product to everyone.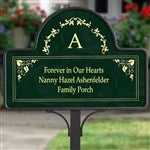 Very nice looking!
By
Melissa D.

(Pleasant Hill, CA) - December 11, 2011 (
See all reviews by this customer
)
We are very happy with the way this came out. It does not look or feel cheap or even inexpensive, so we will be very proud to give it as a Christmas gift. What's great is you can buy different magnets with other designs to go on the front when you're ready for a change.

Charm for your flowerbed
By
Shopper

(North Myrtle Beach, SC) - December 9, 2011
Shows a friendly greeting before friends or guests arrive at your front door. Easy to install. Like that you can change out the message with the seasons because you just peel it off and the magnetic sign is easy to change for each new holiday.

Good Quality
By
Kristianne T.

(Monroeville, NJ) - November 27, 2011 (
See all reviews by this customer
)
I ordered the stake for Christmas for relatives that just got married. I was very impressed with the quality of the stake itself as well as the monogrammed part. It looked even better in person and I am looking forward to giving it to them.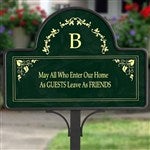 Solid product
By
Timothy B.

(Rosemount, MN) - October 17, 2011 (
See all reviews by this customer
)
I received this product quickly and it looked exactly like it was depicted online. The post is solid and the magnetic sign appears sturdy as well.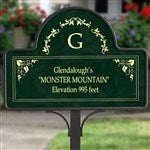 It looks great in our garden!
By
Beverly A.

(Crewe, VA) - September 23, 2011 (
See all reviews by this customer
)
Great service, great product! Have gotten many compliments. Would make special gift idea.

Beautiful!
By
Shopper

(Rockville, MD) - September 7, 2011
We were so impressed with the final product and so was our extended family. A great professional addition to our garden!

Mom just loved it.
By
Shopper

(Downers Grove, IL) - August 30, 2011
I purcheded this for a gift for my mother. I really liked the fact that I could create my own message for the magnet as I wanted her to be able to use this to notify guests to use the side door. She just loved it. Will be ordering her magnets for other seasons too. Unique product.

floral monogram
By
Johnny C.

(Monroe, NC) - August 29, 2011 (
See all reviews by this customer
)
this frame is excellent made frame and is very sturdy.

Exceptional
By
Germaine D.

(Laporte, PA) - June 28, 2011 (
See all reviews by this customer
)
Love it. Wondered if you could make the same sign in a larger version for our driveway!We are well pleased!Germaine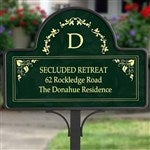 Perfect Gift
By
Shopper

(Cincinnati, OH) - June 23, 2011
I was amazed not only how quickly I received this item, but how nice it turned out. The price was great, product great, & service great! Will be ordering more gifts from here in the future!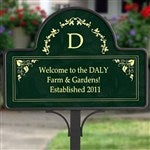 Love it!
By
Kathaleen S.

(Green Bay, WI) - June 12, 2011 (
See all reviews by this customer
)
We ordered this as a retirement gift on a Tuesday afternoon and received it by Friday afternoon! It looked absolutely beautiful...exactly as the preview indicated! The quality of the whole piece was wonderful. The magnet seemed strong enough to stay on the stake. All in all, I love the piece and would recommend it to everyone!

Garden stake
By
Shopper

(Austin, TX) - May 9, 2011
This was a beautiful garden stake and wonderful Mother's Day gift. My mom loved it.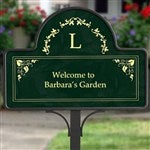 Great Gift for Clients
By
Shopper

(Portsmouth, VA) - May 6, 2011
I am a Realtor and purchased this for my clients. The sign is sturdy, very attractive and the personalized address will make this a "must have" for all of my future buyers.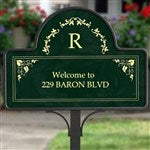 Very Impressed
By
Jill R.

(Howe, TX) - April 25, 2011 (
See all reviews by this customer
)
I bought two, one for each grandmother, for Mother's Day and they are wonderful. They are well made, easy to read and really add a great look to their flower gardens. Both grandmothers were very happy!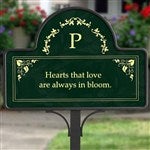 Outstanding way to honor someone
By
Shopper

(blue jay, CA) - April 23, 2011
I purchased this for my neighbor. Her husband passed away a couple of months ago before his spring garden started to bloom. I was looking for a way to honor his memory and this was perfect. He loved gardening and left us with the most beautiful images to look at every day. She was so pleased that she took pictures to send to her children and friends. Thank you for helping me give her something that will last for years.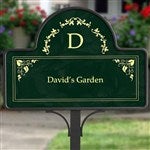 Nice product
By
Shopper

(Canton, GA) - April 12, 2011
The sign arrived quickly and was the size and colour I expected. All was correct and it stuck well to the metal I applied it to. I do not know about durability yet but would reccomend this product.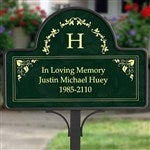 monogrammed Garden stake with a message.
By
Sandra H.

(Altoona, PA) - February 4, 2011 (
See all reviews by this customer
)
Everything about your website, product quality and delivery service was excellent! As Arnold would say,"I'll be back!". I'll be giving this as a wedding shower present and intend to share with all attendees where it came from. Thank you.

Floral Monogram
By
John E. G.

(Hockessin, DE) - January 22, 2011 (
See all reviews by this customer
)
The floral Monogram sign is quite elegant looking and is a very welcome addition to our yard. I am looking forward to choosing more seasonal magnetic signs to change things up for different holidays. These are very nice quality and arrive in a short amount of time.

Very Nice
By
Erin P.

(West Chester , OH) - December 20, 2010 (
See all reviews by this customer
)
I got this for my dad as a gift for recently purchasing new property. Based on the photo I thought it was going to be bigger but it is still a nice size. I really like the green color.

Very pleased
By
Karen K.

(Parma, OH) - November 16, 2010 (
See all reviews by this customer
)
I love the garden stake and believe the family I am giving it to for the holidays will be very pleased. It looks exactly like the picture on line.

Happy Grandparents
By
Jessica B.

(Virginia Beach, VA) - September 16, 2010 (
See all reviews by this customer
)
I ordered this as a Grandparent's Day gift for my parents from my daughter. It was unique and well-made. The personalization made it even more special and it seems sturdy. My parents were very pleased and are now becoming Personalization Mall customers! They hope to order some of these for friends as Christmas gifts.

A great award gift.
By
Elizabeth D.

(Cedarville, MI) - April 23, 2010 (
See all reviews by this customer
)
Our "beautification" group was looking for an award to present for the best gardens and I ordered this as a sample. They loved the idea and the product. We will be ordering more of these for awards this year. Well constructed and the idea that it is changeable is great.

Gift was a hit!
By
Cynthia R.

(Newark, DE) - April 21, 2010 (
See all reviews by this customer
)
I had it personalized with a quote from my dad and he loved it!!! I ordered it on Tuesday and it arrived on Friday!

Perfect!
By
Emily B.

(Montgomery, IL) - April 12, 2010 (
See all reviews by this customer
)
This personalized garden stake was exactly what I was looking for. It looks great! This is the second item that I have purchased from PersonalizationMall.com, and I am very impressed with their products and customer service. Also, I received both items in about two business days, so the speed of personalization and standard delivery is excellent.

Floral Monogram-Garden Stake with Magnet
By
Russel L.

(Coral Springs, FL) - February 26, 2010 (
See all reviews by this customer
)
Item came just as expected PERFECT. We know he is going to LOVE IT!! Your service was great, it came so fast.

Love your products!
By
Brenda C.

(Connellys Springs, NC) - October 29, 2009 (
See all reviews by this customer
)
I have always loved personalized products and yours is the best! To be able to view your personalization before you receive it is wonderful. The yard stake is such a great added touch in the flower garden. I have several and change them with the seasons.

Awesome!
By
Cyd R.

(Beaver Dam, WI) - October 8, 2009 (
See all reviews by this customer
)
We shopped several places for a garden stake - this was our first choice as it provided the best options for personalization and variety. The color is vibrant, quality is excellent. You would never know the sign is magnetic; it fits perfectly to the frame. Highly recommend.

Great for campsites too!
By
Heather H.

(Valrico, FL) - October 5, 2009 (
See all reviews by this customer
)
We bought this to use to personalize our campsites. We love bringing this with us & it helps our friends & family members find our campsite in the larger parks. We put it out at the front of the campsite in front of the travel trailer. We also just think it's adorable & brings a touch of home with us camping.

Well-Made Sign at Reasonable Price
By
Shopper

(Bristol , CT) - September 3, 2013
I am pleased that the Garden Stake is quite sturdy and has a nice design. Also, the magnet allows you to change the signage as desired. It really compliments our new garden walkway. Great value for the price!

Very nice
By
Evan W.

(Fairfield, CA) - October 20, 2012 (
See all reviews by this customer
)
Magnetized name/greeting is a great idea and it turned out very nicely. Stays on even in the high winds we have. Stake is short, so I'm looking for a taller mount. Will also be buying another magnetized name plate for the xmas season.

Amazing
By
Lorna S.

(Sheboygan, WI) - September 25, 2011 (
See all reviews by this customer
)
I always wanted the personalized message and finally found "Personalzation Mall" to give it to me........ I will always treasure it.