Bottle Bag
By
Ashley T.

(Monroe, MI) - March 12, 2012 (
See all reviews by this customer
)
This gift was very cute for a baby shower. The mother loved it. It came just as I ordered it and shipped quickly.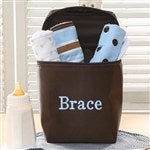 Excellent Product
By
Linda N.

(Fairview, TN) - March 12, 2012 (
See all reviews by this customer
)
Met all my expectations and more! Was the winning prize at the baby shower! Excellent made and burp cloths inside are just darling!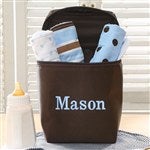 GREAT BOTTLE BAG
By
Shopper

(Bronx, NY) - January 3, 2012
Bought this & I truly loved it that it is personalized (too many babies in the family). Its very easy to clean & closes easily. Very useful for the quick run to the store instead of hauling a diaper bag, fits comfortable a 8 oz bottle, wipes & at least 2 diapers. I recommend this product to any mommy on the run.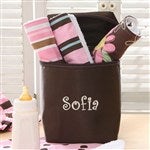 Very Nice
By
Tracy W.

(Converse, TX) - August 30, 2010 (
See all reviews by this customer
)
The bag is a little smaller than I expected. The personalization is beautiful and the burp cloths are of very good quality.

A Bit Small
By
Shopper

(Timonium, MD) - April 10, 2011
Great bag. Only issue is that it is too short to accommodate a standard size baby bottle. It would be nicer if the bag was a little taller.

Cute
By
Ashley H.

(Brooklyn, NY) - November 15, 2010 (
See all reviews by this customer
)
I bought this for my brother and his girlfriend and it was loved. the bag isnt as big as i expected

For A Baby Boy _Gift
By
Shopper

(Bradenton, FL) - February 5, 2011
Nice item, excellent quality, a bit small but okay; as it is meanly for baby bottle/burp cloth as wanted. The bag itself has a simmery (shinny texture look)and the only flaw was that since i was not sure which color thread for the personalization's name between "Sky Blue or Orange" I finally chose sky blue;as shown and found it looking more on a greyish blue tone. Therefore, i should of opted for the orange color instead and would look better with the brown bag.
Service and delivery was very quick and excellent.

Cute!
By
Shopper

(Torrance, CA) - June 27, 2011
This is a very cute set that I ordered for my sisters baby shower. Very cute and looks very expensive. Only complaint is that I wish it was shipped in a box instead of a plastic package because it got a little smashed during transit and the wrinkles won't really come out. Other than that, very nice product.

Broken zipper on first use
By
Amber D.

(Brownwood, TX) - October 7, 2009 (
See all reviews by this customer
)
Right out of the bag I unzipped the zipper and it broke. I was very disappointed because I had puchased 2 others for baby gifts for my friends. Cute idea and burp cloths, but very poor quality.

Helpful
By
Amber D.

(Ellenwood, GA) - April 12, 2011 (
See all reviews by this customer
)
The pacifier holders helped me to finish picking out a baby shower gift because it was the perfect color for boys.

Bottle Bag for Childcare
By
Bridgette L.

(Indianapolis, IN) - May 11, 2011 (
See all reviews by this customer
)
I am nursing so I needed a bottle bag to send to my childcare with my baby. The stiching is very well done and of high quality. The bag is great however, the width is smaller than I thought. Just be sure to review the measurements to make sure it is what you are looking for. The bag is still great. I can fit up to three bottles and a small ice pack. I also squeeze bibs and burb cloths in there as well. The burp cloths which come with it are so nice as well.

Satisfied Customer
By
Natalie F.

(Ramona, CA) - August 25, 2010 (
See all reviews by this customer
)
This is a very nice product, good quality, vivid colors. I look forward to seeing the recipient's reaction.

Much smaller than it looks!
By
Holly J.

(Grayson, GA) - July 14, 2010 (
See all reviews by this customer
)
While the personalization is nice, the bag is very small. It is definitely over priced for what you get. Should be priced around $19.95 instead of $39.95. I purchased it thinking it would be a really impressive, personal item to give. I ended up having to buy other gifts to go along with this one for the mother to be.

Very Very Small Bag
By
Rita R.

(American Canyon, CA) - August 27, 2010 (
See all reviews by this customer
)
This is a cute little bag if you're buying it for a Barbie Doll. It is so small I couldn't believe it could fit anything inside of it. The bag is smaller than a lunch bag for your kids. Needless to say, I am very disappointed. I can't send it back because it is a personalized gift. I am still going to give the gift to a friend but I will end up buying several other items to go with it so it doesn't look like I'm giving a cheap gift.

So Small
By
Sheryl .

(Laconia, NH) - May 24, 2011 (
See all reviews by this customer
)
Everyone was right...this is so small for the price you pay, however, it is adorable and Im sure with enough creativity you can find something useful. This is a gift and hoping that they baby can use it as a lunch box when he's older.

this gift seriously sucks
By
Kimberly G.

(San Francisco, CA) - August 2, 2011 (
See all reviews by this customer
)
i ordered this for my best friend who had just given birth - the photo is extremely misleading - this thing is TINY - cloths are super cheap material and the brown material is also super cheap and shiny - like satin but cheap.

i shop on here a LOT and have never been disapointed with anything i ordered - but this gift seriously SUCKS - the blankets are much much better gifts for newborns...



Good present for new parents - small though!
By
Jessica F.

(Los Angeles, CA) - March 17, 2010 (
See all reviews by this customer
)
I bought this as a gift. The parents LOVED it and LOVED that it was personalized for their son. I was a little disappointed about the size. It was a lot smaller than I had anticipated and feel that it was priced too high for what you get.

Too Small
By
Janet M.

(Saint Johns, MI) - April 20, 2010 (
See all reviews by this customer
)
I really was shocked to see how small in size this product was for the money. The materials used were nice and the personalization was pretty.Also the shippng price was for UPS but the postman delivered it. First time I wasn't completely happy with my purchase,have always been in the past.......................

small but cute
By
Johanna M.

(Concord, NC) - May 13, 2013 (
See all reviews by this customer
)
When the gift arrived it was much smaller than I had thought. The lettering was beautiful. It arrived very quickly and made a very impressive gift.

Great Babyshower Gift
By
Peggy C.

(Grandville, MI) - July 28, 2010 (
See all reviews by this customer
)
I have given this gift for a babyshower two times. I like that it is unique with the name embroidered as well as being functional. I also think it would be something that can be used as the child gets older as a lunch kit, too. Delivery was great for me, I recieved my order 4 days after placing my order.

personalized bottle bag
By
Kathleen F.

(Riverhead, NY) - August 20, 2010 (
See all reviews by this customer
)
I was dissapointed in the size, it appeared larger and therefore was a little expensive


bottle bag
By
Shopper

(harbor city, CA) - February 28, 2012
I loved the item, however I thought the bag would be much bigger.
Especially for the cost of it. Very pretty though

Too expensive
By
Tanya S.

(Erie, CO) - June 11, 2012 (
See all reviews by this customer
)
This item was too expensive for what it was. $31 for a bottle bag and some burp cloths seemed a bit high. This should be a $20 item. Other than that it appears to be good quality, but it hasn't been used yet.

Baby Shower Gift
By
Shopper

(Matteson, IL) - December 31, 2012
The bag was so small once received, picture image exagerrated looks much bigger.

Perfect Colors
By
Shopper

(Miami, FL) - November 8, 2011
I gave this as a baby shower gift to be a little different from the same old gift. I'm sure it was a hit because I chose the same colors as the theme of babies room and since it was personalized that was even more special. I didn't give a rating of 5 stars because I thought the item was a little bit bigger; otherwise it was a good buy.

The Best Gift
By
Renee B.

(Mattapan, MA) - January 21, 2011 (
See all reviews by this customer
)
Thank you to Personalization Mall for this gift. I bought this gift for a baby shower last weekend. The parents loved the gift. They had not received this gift from anyone especially with their son's name on it. They loved the quality and the colors. After the party, guest asked me where I purchased this gift from. I have been telling my friends for years (8 years to be exact)to shop here since this company has great ideas, great quality products, and gift selections. I ordered this item on a Sunday thinking it would not arrive on time for the party, but, as always I received it on time; 2 days before the party on a snow day. Love, love, love this company!

GREAT Burp Cloths
By
Shopper

(Raleigh, NC) - March 11, 2011
I have these as a gift and the new mom said these are her favorite burp cloths of all she received. They are terry cloth, so super absorbant.

great
By
Shopper

(Port Saint Lucie, FL) - May 4, 2011
this was sent as a baby gift, I have not seen the item. The mom who received it in such a timely manner, loved everything about it and started using it immediatley.

Perfect gift!!!
By
Barbara O.

(Miami, FL) - September 1, 2010 (
See all reviews by this customer
)
I found out that this was one of the best gifts a have given. Cute, elegant yet affordable and best of all personalized. You can throw inside what ever you want, from bottles to burp clothes, baby food, or just use it as a mini-diper bag when you aren't away for long. Just endless use. Love it!!!

Glad i bought this
By
Kim M.

(Sudan, TX) - October 21, 2010 (
See all reviews by this customer
)
I needed 2 baby gifts. So got this in blue print and one in pink print. They both turned out adorable. I gave one yesterday at a shower. The mother was very pleased. The other is going in the mail today. And i feel very proud to have my name attached to this gift. They look good. And the personalization always is a special touch. Personalization Mall was amazingly fast and the products are top notch. Thanks for the great service.

Loved the colors
By
Nancy D.

(Heber Springs, AR) - November 17, 2010 (
See all reviews by this customer
)
The colors made this different and unique. The fabric was
soft and well made.

Adorable Must-Haves!
By
Shopper

(Hinsdale, IL) - April 30, 2012
Too cute to resist and everyone loves how they coordinate with the burb clothes!
PMall always has the cutest gift ideas with attention to detail and quality!

very nice, just what I was expecting
By
Shopper

(Dundalk, MD) - January 25, 2013
arrived on time, good product

Great product at a great price!
By
Jennifer T.

(Belden, MS) - October 21, 2013 (
See all reviews by this customer
)
Great product at a great price. Also extremely fast shipping.

(New Mama's got a brand new bag!)
By
wendy C.

(Limon, CO) - June 22, 2011 (
See all reviews by this customer
)
For my youngest and last daughter's brand spankn new (her first) baby girl Kate! And let me tell you she sure is proud to tote along Kate and Kate's beautiful bag. It's not just the bag either........no it does not just stop there, there is the burping cloths and the changing pads - georgeous, comfortable, practical, and personalized. When she gets beyond the baby years Kate will still have "her" bag - at least through pre school and kindergarten...and who knows how long after that. It is priced well, shipped fast, packaged well, and definatly durable. Buy one for Your special Itty Bitty.

Sure wish these would have been around many years before......
By
wendy C.

(Limon, CO) - June 22, 2011 (
See all reviews by this customer
)
I purchased these for Kate (new Grandbaby) when I purchased her diaper bag. If it matters to you they were color coordinated. More importantly to "Gamma" is it is so safe for baby - no germs from whatever the pacifier fell on, you don't have to look for the lost pacifier....(where'd it go) you know it's safe and it will be there when you need it. PLUS other people notice and want one too. There is always the Ooooo what a cute baby girl, ( all new moms relate ) but you will here the question ... oh awesome, where'd you get that ? Envious? My daughter does'nt know the details, and believe me I WILL be back for more special stuff. Lastly let me part by saying this - we are all struggling to make that dollar stretch and get something super special, you do not always get what you pay for...quality. Please rest assured - not only will you be proud and happy long term, but others are going to want that toooo!

great gift for someone that is prego
By
Shopper

(Tell City, IN) - February 25, 2012
got this gift for my sister and she loved it

Excellent Quality
By
Gretchen T.

(Denver, CO) - February 11, 2010 (
See all reviews by this customer
)
I ordered this as a gift for a friend in another state, so never saw it. HOWEVER, the recipient reports that it is of excellent quality -- she loves it!

Adorable
By
Suzanne N.

(Blairsville , GA) - March 6, 2010 (
See all reviews by this customer
)
Perfect shower gift, the recipient loved it.

Baby Bottle Bag
By
HARRIET W.

(PILOT GROVE, MO) - April 23, 2010 (
See all reviews by this customer
)
These are great bags for use when you don't want to carry the whole diaper bag to a short event. And the burp cloths that come with are wonderful! The best part about this personalized gift is that it comes so fast after you order it. I have never had a problem with the personalized name or initials--it is always correct.