Exactly as shown
By
Shopper

(Pequannock, NJ) - August 28, 2012
Great product. It is exactly as shown. Only problem is that the pocket only holds about 3 cards. No more than that; which is hard if you carry a lot of credit cards (i.e. one for business, one personal, driver's license and then others). Would recommend this for wedding party gift. Very practical for someone who would use this for an occasion where you don't want to take a lot of money and want to keep everything all together.

Money Clip
By
Shopper

(Wheaton, IL) - May 18, 2012
Money clip is vey stylish. the clip was off center when recieved. called customer service and they sent out a new one. great customer service agent and received order in time for gift giving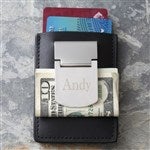 GROOMSMAN GIFT
By
Shopper

(Staten Island, NY) - May 14, 2012
It came out really great ! I think the guys are going to love it especially with all the gift cards we will be adding to it

WILL RECOMMEND IT !!!

engraved money clip
By
kelvin D.

(apo, AE) - May 14, 2012 (
See all reviews by this customer
)
This was a great gift for my father-in-law he really likes it and uses it suprisingly but this is a good gift.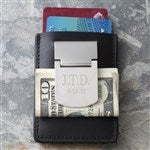 Simple, Elegant, and Convenient!
By
Ruriko S.

(San Diego, CA) - May 1, 2012 (
See all reviews by this customer
)
I gave this as a gift to my BF and he loves it! He likes how it is a much better option when going out since it is more compact: carries 2-3 cards and carries a ton of bills too:)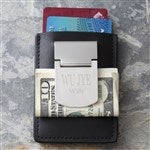 Zippo engraved money clip & credit card case
By
Shopper

(Santa Monica, CA) - April 9, 2012
I had this engraved for a new MBA graduate for his business cards and he thinks it's "cool and professional" which is exactly what I had hoped for. The job was done and mailed out within two days. The staff was terric and very helpful with their advice.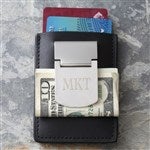 Nice gift
By
Shopper

(Bullard, TX) - March 23, 2012
Engraving was very nice and product was good quality. The money clip was a bit loose though, but overall nice gift.

Served the Purpose
By
Shopper

(North Aurora, IL) - March 13, 2012
The money clips were OK. We bought them for the groomsman gifts. Leather is kind of cheap, so is the clip. However, it's an affordable cost. I do not regret this purchase. It served the purpose, without spending a fortune.

just ok
By
Shopper

(Maspeth, NY) - March 12, 2012
the money clip&credit card case locks fine but I have to mention that I doubt it its leather .its a very ok present considering the price paid for. 3.1/2 stars

mice money clip
By
Shopper

(Fort Myers, FL) - March 9, 2012
The product came in the right time frame and was just as I expected. Good quality and engraving was correct.
Nice product.

You get what you pay for.
By
Shopper

(Alpharetta, GA) - December 27, 2011
Great customer service! Was delivered right on time. From the reviews, I was expecting better quality, but with the reasonable low price, I got exactly what I paid for. Great gift for young people.

Engraved money clip
By
Susan P.

(Canada) - December 11, 2011 (
See all reviews by this customer
)
Very pleased with my purchase. I just hope the spring for putting the money in is sturdy enough.

Money Clip and credit card holder is nice idea
By
Shopper

(Gilbert, AZ) - December 7, 2011
Everything was nice about this one......althought the leather is pretty stiff and more like plastic than leather.

well made product
By
Shopper

(Charlotte, MI) - June 24, 2011
The kids bought this for their dad on Fathers Day because he doesn't like carrying his wallet everywhere. This is just the right size to put a couple credit cards and some cash in, and put it in his front pocket.
Thanks for the quality!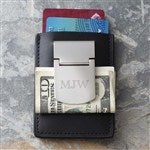 Zippo Engraved Money Clip & Credit Card Case Review
By
Shopper

(Walnut Creek, CA) - June 19, 2011
The product is great. My kids gave it to my husband for Father's Day. The only complaint is that there is not a separate spot on the outside with a plastic case for his Drivers License. But not a deal breaker, he still loves the wallet.

Great Father's Day gift
By
Mari-Anne K.

(Redondo Beach, CA) - June 12, 2011 (
See all reviews by this customer
)
Great item at a terrific price. My husband always wants a small wallet for his pocket - this is a wonderful solution. Engraving is well done.

Great Quality
By
Shopper

(Newington, CT) - May 30, 2011
The order shipped within 24 hours and arrived right when it was suppose to. Excellent quality and nice engraving. Perfect gift for graduation.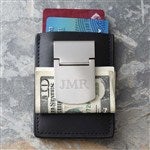 Money clip
By
Shopper

(Excelsior, MN) - April 26, 2011
I'm a little worried the clip may not be strong enough to hold much but it seems like a nice sized option for going out without him having to bring a huge wallet and still have him carry MY ID as well! Great addition to his wedding gift box!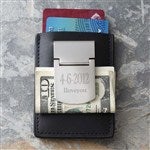 A gift well received.
By
Marlene S.

(Minot, ND) - April 2, 2011 (
See all reviews by this customer
)
I have purchased three of these personalized money clips. The men in my life, 2 sons and my boyfriend have been happy to receive them. They all use them and like the quality and practicality of a place for credit card and ID.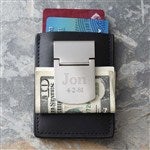 Nice money clip
By
Shopper

(hauppauge, NY) - March 20, 2011
We bought this for our brother in law Birthday. Accaully will be in the end of this month. After we got it we are pretty sure that he will love it.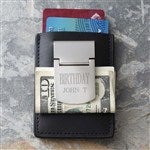 Beautiful Beginning
By
Shopper

(Mill Valley, CA) - January 11, 2011
My little brother just graduated from College and is starting a professional career. He mentioned he wanted a money clip but loved that this had his initials on it. It came out very well. I do wish that the leather pouch had some more sleeves with it but he liked it.

Amazing Credit Card Case, Bad Money Clip
By
Madeline L.

(Pittsburgh, PA) - January 5, 2011 (
See all reviews by this customer
)
The money clip itself if not very taut, however the engraving is lovely, and the leather is exquisite. Overall, a decent purchase.

Very nice Monogram/Clip
By
Roxanne H.

(Kaleva, MI) - December 27, 2010 (
See all reviews by this customer
)
My brother asked for a money clip for Christmas. This one is really nice because of the card case so it's not all being clipped and unclipped. Also he was switching from a wallet, so I feel this still gives him some of the conveniences.
The reason I gave 4 stars instead of 5 is that it came with confusing directions about the clip saying not to push back or push down so the spring would remain strong... not sure if it's supposed to lifted and pushed back down now. The only thing I can reason that the directions are meant to say is that it shouldn't be pulled back beyond the hinge? Not sure, but he thought it was really nice, so overall a great gift. Monogram came out really nicely and I did not include a date which centered the monogram a bit lower. I do recommend.

Very nice, seemingly sturdy, wished for at least one more pocket, though
By
Amber W.

(Herndon, VA) - December 22, 2010 (
See all reviews by this customer
)
This is a very sturdy money clip, with only one pocket. I would have liked to have at least one more pocket, however.

Zippo Money Clip
By
Stephanie G.

(Washington, IL) - December 21, 2010 (
See all reviews by this customer
)
This turned out to be a great gift for my boss - the man who has everything! It was very handsome, and the engraving looked elegeant. It was shipped to me within 3 days! Great products and service.

Stylish
By
Dawanna G.

(Harvey, IL) - December 21, 2010 (
See all reviews by this customer
)
Very well made, and a beautiful gift. Thank you for the quick delivery just in time for Christmas. Happy Holidays!

Nice men's gift
By
Cynthia K.

(Gatesville, TX) - December 16, 2010 (
See all reviews by this customer
)
Very nice item, but if the person you are purchasing this for carries a lot of paper money & more than about 3 credit cards or ID, this isn't for you. The man I purchased this for had way too many $1.00 bills on him and it wouldn't clip shut. He couldn't fit all his debit/credit cards inside. But he really liked it and it is very nice.

BIRTHDAY GIFT
By
EUGENIA S.

(PHILADELPHIA, PA) - December 3, 2010 (
See all reviews by this customer
)
MY FRIEND HAS SEVERAL MONEY CLIPS. HE'S A COLLECTOR. THIS ONE WAS VERY UNIQUE AND MULTI PURPOSE. HIS BIRTHDAY IS IN JANUARY, BUT I WAS SO EXCITED AFTER I OPENED MY PACKAGE THAT I SHOWED IT TO HIM IN ADVANCE. HE LIKED IT ALOT TOO.

Nice money clip
By
Iris C.

(San Antonio, TX) - November 21, 2010 (
See all reviews by this customer
)
I was very happy with the money clip I was worried how the leather would look but it was very nice, a great gift.

Satisfied Customer
By
Edward W.

(Springfield, VA) - October 27, 2010 (
See all reviews by this customer
)
Item seems to be of good quality and looks great. Leather card holder could be slightly larger to insert and remove card easier.
Maybe it will stretch with use.

Review of engraved money clip
By
Jan K.

(Georgetown, TX) - September 28, 2010 (
See all reviews by this customer
)
the money clip is very nice and the engraving looks great! the first clip was not very good as the engraved clip was off center but the replacement looks great.

Prompt Service
By
Alyssa A.

(Birmingham , AL) - July 4, 2010 (
See all reviews by this customer
)
Thank you so much. The item looks great and showed up soooo quick. I'm really happy I used your service for my personalization needs. Thanks again!!!!!

Ohio
By
Gail M.

(Hilliard, OH) - June 23, 2010 (
See all reviews by this customer
)
My husband loves this money clip!!! Would like to see a window on the back to show drivers license so he doesn't have to pull it out and two more compartments for credit cards. Still the best money clip I have found.

Slightly disappointed but overall a nice gift
By
Karen H.

(Starkville, MS) - June 21, 2010 (
See all reviews by this customer
)
I thought this item was a wallet with a money clip. It is actually a small leather-like pocket with a nice clip, holds 3 to 4 cards max. I was slightly disappointed but the item is still serviceable. The engraving looks very nice and the mechanics of the clip appear sturdy. Would be a nice graduation gift for a young man heading off to college that only needs to carry ID and a debit card but not much else.

Pleased
By
Rachel C.

(Granite Falls, NC) - June 15, 2010 (
See all reviews by this customer
)
I'm very pleased with the engraving and the arrival of the product. Returning customer and will be for future products.
Thanks!

Great for the price
By
Sarah W.

(Watertown, MA) - May 3, 2010 (
See all reviews by this customer
)
This was a great gift for the price we paid. Actually, I've had trouble finding something similar to this that was as nice...

The only thing is that it's heavier than it looks. Other than that, my husband loved it!

WITHIN MY EXPECTATION
By
BOWIE W.

(NEW YORK, NY) - March 16, 2010 (
See all reviews by this customer
)
So far so good, except they may improve the package to make it looks more elegant for gift.

Great Gift!
By
Kelly M.

(Batavia, IL) - January 4, 2010 (
See all reviews by this customer
)
I got this for my husband because he hates big bulky wallets. He loves it! The only issue we had is that the pocket for your cards is VERY tight and it's tough for him to pull out his bank card or license. He can only fit about 3 cards in the pocket otherwise they won't come out at all. Overall though it's great quality and is exactly what he was looking for.

Nice gift
By
Kimmie H.

(Hollywood, FL) - December 25, 2009 (
See all reviews by this customer
)
I gave this to my future son-in-law for Christmas.
I stuck a gift card in the credit card slot and paper money under the clip. He loved the clip/case, and was ecstatic with the engraved initials. Nice touch.

personalized money clip
By
Sheryl H.

(N. Riverside, IL) - December 23, 2009 (
See all reviews by this customer
)
The quality of the product was great..I loved the engraving as well, however, the silver clip was glued on a slight slant, so it was not centered properly. Also, I would have liked the box to be nicer for its presentation. (top and bottom, rather than slide in box).