Great Quality and Price
By
kimberlie T.

(CHICAGO, IL) - December 8, 2012 (
See all reviews by this customer
)
Bought this for my boyfriend who wanted an alternative to his wallet. I got his initials engraved and it looks clean and sleek. The metal clip doesn't feel cheap, quite the opposite actually. I'd recommend to any woman looking for a great gift for a man in her life or to any man looking for a money clip.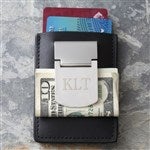 Great Product
By
Amie L.

(Las Vegas, NV) - December 6, 2012 (
See all reviews by this customer
)
This is the perfect gift for any guy. My boyfriend LOVES his. Ditched his wallet as soon as he unwrapped it. :)

very nice
By
Sandra T.

(Canada) - December 4, 2012 (
See all reviews by this customer
)
very nice, clip big but hold money perfectly, cute gift

Engraved money clip
By
SHANNON C.

(LATTA, SC) - November 30, 2012 (
See all reviews by this customer
)
I purchased 2of the wallets clips ..one for my dad and the other for my husband and they loved them...they both have had them for almost a year and never has had any trouble out of either of them...perfect gift!!!!!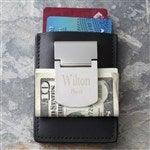 2nd Money Clip - Love Them
By
Nathaniel J.

(Cleveland, OH) - November 24, 2012 (
See all reviews by this customer
)
I bought my first one 2.5 yrs ago and loved it. It was my only wallet so it finally wore down and the screw that holds the clip on fell off (after daily use and abuse for 2.5yrs). I loved it so much I just bought my second one! If I can get another 2-3 years out of this I'll be impressed and happy.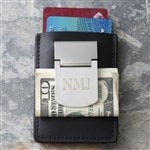 Great gifts!
By
Shopper

(vass, NC) - October 27, 2012
I purchased 4 of these as Christmas gifts for teenage boys. They are lovely and the engraving is done very well. I was pleasantly surprised.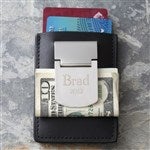 Great gift!!!!!
By
ngoc N.

(houston, TX) - October 14, 2012 (
See all reviews by this customer
)
My boyfriend absolutely love it !!!!! good quality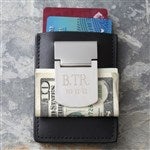 Perfect
By
Shopper

(Philadelphia, PA) - October 6, 2012
Just what my husband was looking for.

Great gift!
By
Tammy M.

(Clarkesville, GA) - October 3, 2012 (
See all reviews by this customer
)
Got this for my boyfriend for his birthday. He loved it! The personalization made it perfect! Good quality and it got here just in time!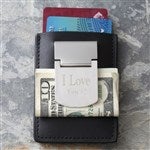 Zippo engraved money clip & credit card case
By
Shopper

(Elizabethtown, PA) - August 11, 2012
I ordered two of these and requested ingraving;they arrived quickly. I am very pleased with the quality and the workmanship. I highly recommend this product as they make great gifts.

PERFECT GIFT!
By
LisaRae R.

(Oakland Gardens, NY) - August 1, 2012 (
See all reviews by this customer
)
I BOUGHT THIS AS A GIFT FOR MY BOYFRIEND WHO LOST HIS OTHER CASE SIMILAR TO THIS ONE! HE LOVED IT! HE LOVED THE ENGRAVEMENT MAKING IT PERSONALIZED AND LOVED THE QUALITY SO MUCH HE WAS HAPPY HE LOST HIS OLD ONE! GREAT QUALITY FOR PRICE!

perfect
By
Shopper

(murfreesboro, TN) - June 26, 2012
The money clip came on time and in great shape. The engraving looks great and can't waite to see the reaction on my sons face when he gets it. High quality, box, and shipping terrific. Would buy again.

Awesome gift ever!
By
Shopper

(Torrance, CA) - June 25, 2012
My kids and I bought this for my hubby 4 fathers day & he absolutely adored it!! It's classy & awesome. He fit 2 credit cards & thought that was more than enough. He is very picky but absolutely loved this!! This is a must have gift 4 guys who don't like fat wallets-

outstanding
By
Shopper

(APO, AE) - June 20, 2012

Iam in the military so I am not currently home to spend fathers day with my dad. I ordered him this money clip hoping it would be a decent gift along with a personalized lighter. Needless to say he was extremely happy with the quality of the product and loved the gift I had gotten him

Fits the $bill
By
Ken M.

(Boynton Beach, FL) - June 15, 2012 (
See all reviews by this customer
)
Well made and classy look, impressed with the engraved end product.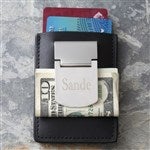 Great gift & quality
By
Shopper

(Shrub Oak, NY) - June 11, 2012
We bought these as gifts for our groomsmen. They are great quality. The engraving is a nice touch.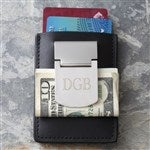 EXCELLENT
By
Shopper

(Surprise, AZ) - May 8, 2012
I bought it for a Friend, he loves it, says that it is VERY Classy and Dressy.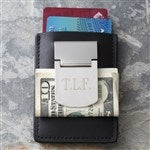 Gratuation gift
By
Shopper

(Alum Bank, PA) - May 8, 2012
So pleased with the quality..great price. when I need a gift,I'll be back !!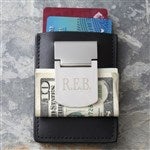 Stylish & Practical
By
Shopper

(Livermore, CA) - April 25, 2012
Fabulous gift for my brother, who wanted a money clip but also needed a secure place for his ID and credit cards, too. Very nice to be able to add a short message in addition to his initials. A very unique and functional design!

AWESOME
By
Shopper

(San Francisco, CA) - April 22, 2012
AH-MAZING! GREAT quality! I was truly impressed! Oh n the gift wrap is SO cute!

I guess the fact that whenever I want to buy a gift this website is the FIRST place I check says it all!

Thank you guys =))

great item
By
Shopper

(New York, NY) - April 21, 2012
its a great item. i wish it could hold more credit cards (holds 3) specially for the money, since it isn't cheap. thank you though. item as described.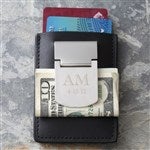 Great product!
By
Shopper

(Arlington, VA) - April 16, 2012
We bought 3 that are going to be groomsman gifts. They arrived and they look great. Hopefully the groomsmen will get lots of use out of them!

Wonderful!
By
Shopper

(Oceanside, CA) - April 9, 2012
This was a gift for my boyfriend, and he loves it.

where did you get that
By
jessica W.

(las vegas, NV) - March 16, 2012 (
See all reviews by this customer
)
I got this card/money holder for my husband for our 11th year aniversary put his initials and our anniversary date on it, he Absolutely loved it I kept hearing thank you 3 days after I got it for him, and the last thing he keeps asking is where did you get it all the guys at work want one lol, do I tell? Yahhhh! They are awesome! My husband puts his 2 cards he uses all the time with his drivers licence and only his big bills, so far it holds up to ten bills and the money stays tight you will rip the bill before it comes out! great gift I will be back for more ideas next anniversary and/or for birthdays for friends and family! Very classy! Love it!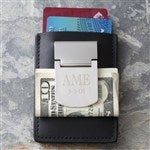 Great gift!
By
Rhonda G.

(Tompkinsville, KY) - March 16, 2012 (
See all reviews by this customer
)
Great quality, as usual. The monogramming is as professional as it gets. I bought this for my husband's Easter basket so he hasn't received it yet, but I know he will love it! I chose our last name instead of initials to kind of change things up a bit. :)

The Money Clip
By
Katrina C.

(Houston, TX) - March 13, 2012 (
See all reviews by this customer
)
I purchased this Engraved Money Clip and Credit Card Case for my boyfriend. He was in desprate need of a wallet and I new he didn't want anything too bulky. When I presented him with this, just because gift he was so excited and loved how it was personalized with his initials. I JUST LOVE PERSONALIZATION MALL.COM. They are truly the best!!!!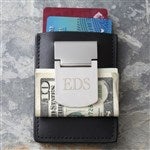 Great Product!
By
Sarah F.

(Greensboro, NC) - February 26, 2012 (
See all reviews by this customer
)
We ordered this as a wedding gift for my fiance's father. We only had his initials put on it, not a date. It looks wonderful! We are very pleased with this product and all that we have ordered from this site!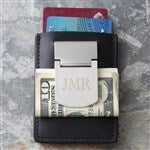 Pleased Valentine
By
Elizabeth T.

(Richmond, KY) - February 21, 2012 (
See all reviews by this customer
)
This was a perfect Valentine gift for my husband. He was very happy with it and I was extremely pleased with the quality. Will definetly be shopping with personalizationmall.com again!!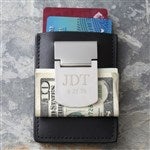 GREAT!
By
Shopper

(Milan, TN) - February 15, 2012
This product looks wonderful! The quality was outstanding! I also received the item very quickly. I will definitely be doing more shopping on this site!

Great!!!
By
Shopper

(Brooklyn, NY) - February 15, 2012
Brought this for a friend for his birthday and he loved it. the best part is that its a credit card holder as well as a money clip. He never leave home without it.

Money Clip Credit Card Holder
By
Wayne T.

(Asheboro, NC) - February 14, 2012 (
See all reviews by this customer
)
Great item. I have been looking for one for a while. A friend had one, but not engraved. When I saw this one, I knew I had to have it. I love it. Now he wants to know where I got it. He will probably get one like this now. Thank you Personalization Mall.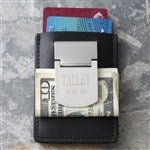 Quality Money Clip!
By
Brooke K.

(Woodbury, NY) - January 29, 2012 (
See all reviews by this customer
)
To say I am impressed would be an understatement. Not only am I impressed with the product, I am even more impressed with their customer service. After receiving this product with something a little off, I wrote them an email at midnight on a Sunday night to which I received an email Monday morning saying that they shipped me a new one with express shipping. If that isn't unbelievable customer service, I don't know what is! Anyway, I love the money clip, it came out great and the leather and metal clip are clearly high quality. I've been recommending Personalization Mall to all of my friends... you guys are great!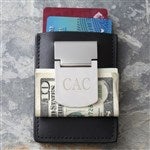 Quality Leather and Clip
By
Timothy D.

(Seattle, WA) - January 9, 2012 (
See all reviews by this customer
)
I expected quality and durability from a Zippo product and am not disappointed. THe leather is great and the clip is thick and sturdy. Personalization Mall did a great job with the initials and it looks sharp. Good shipping, too, got here a day earlier than promised. Great all around!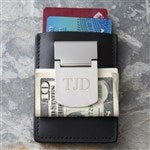 Perfect
By
Dixie M.

(Crown Point, IN) - January 1, 2012 (
See all reviews by this customer
)
Never have seen a money clip with card holder he loved it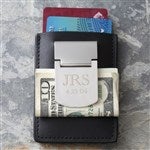 money clip
By
Shopper

(pharr, TX) - December 29, 2011
This is a good clip where u can have Ur money aswell as Ur credit cards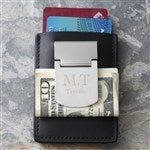 great gift
By
Lori D.

(Upper Sandusky, OH) - December 26, 2011 (
See all reviews by this customer
)
awesome gift, perfect for anyone. good quality and fast shipping.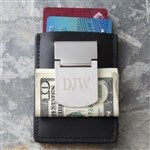 Purchased Products
By
Shirlene E.

(Schenectady, NY) - December 26, 2011 (
See all reviews by this customer
)
I am very pleased with this purchase and my previous purchases. The staff at customer service are the best. A pleasure to do business with.

Very Pleased with the Zippo Money clip
By
kris K.

(monroe, MI) - December 25, 2011 (
See all reviews by this customer
)
I had ordered one of these for my fiance because he didnt like carrying a bulky wallet. We were so happy with the engraving, and quality of the money clip. We ordered a second one for his brother. When the money clip came, the engraving wasn't quite right. It was almost not deep enough and didnt show up well. I called customer service, they had me take a picture of it with my phone, and 2 days later we received a new clip in the mail. I couldn't believe how fast it was. No hassle, I didnt have to pay to send the other one back. I was extremely happy!! I have ordered other items from this website for our wedding, and have been very happy with everything. The products from this company are excellent, and the customer service is even better!! You won't be disappointed!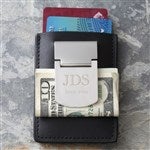 Great gift for young men
By
Shopper

(Bronxville, NY) - December 24, 2011
I gave this to my 5 nephews and god sons with $20 in the elegant clip - they loved it!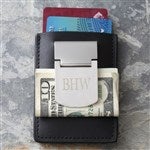 Awesome Gift
By
Shopper

(Raleigh, NC) - December 22, 2011
My boyfriend thought this gift was awesome. He loved his initials engraved and immediately put it in his pocket. Personalized.com makes me a "Hero" when it comes to its large variety of great gifts.