Nice money clip
By
Patricia T.

(Manchester, NH) - December 16, 2011 (
See all reviews by this customer
)
Lettering came out really nice!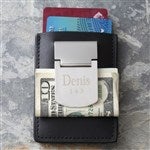 Shopper
By
Shopper

(Tifton, GA) - December 14, 2011
Very cheap! I was totally disappointed in the quality. Bought it as a gift and ended up purchasing something else because I was embarrassed to give it.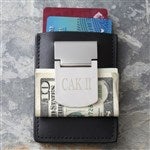 Excellent Customer Service
By
Shopper

(Inverness, FL) - December 11, 2011
This was a replacement for one that I had given my
husband for Father's Day. A small pin came out of
the clip and we tried several places to get it fixed
to no avail. I called Personalization Mall and
received a replacement for the cost of postage to
mail it. The Customer Service was excellent!!!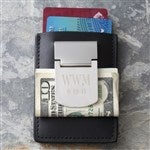 Very Nice
By
Wanda W.

(Charlotte, NC) - December 10, 2011 (
See all reviews by this customer
)
I ordered these for my 2 sons Christmas stocking. They need something small every now and then when a huge wallet is too much to carry. This is perfect, and the special touch of initials and the last name on it added a very nice touch. The quaility of the leather is nice and looks like it will hold up well. I wish I had orederd more, I got such a steal on Black Friday. I would recommend to anyone that wants something more than just a wallet.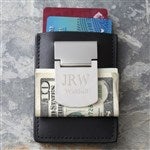 Please to Present Gift
By
Carol W.

(Elkhart, IN) - December 9, 2011 (
See all reviews by this customer
)
It always makes me nervous to order on-line, especially when I'm ordering for someone else. I ordered this clip because I liked the ability to hold cards and drivers license in addition to the money. The ingraved letters are very nicely done and good size. The completed item turned out great and I am excited to give it to my Dad for Christmas!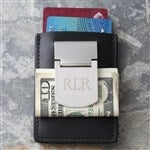 exellent choice
By
Shopper

(Gillsville, GA) - December 8, 2011
was just what I was expecting. thank you. It will work great. The engraving is perfect.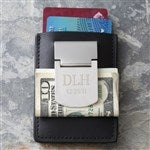 Great.
By
Heather O.

(Arcadia, WI) - November 30, 2011 (
See all reviews by this customer
)
Exactly as described, engraving looks nice and I hope my boyfriend likes it!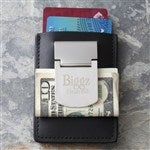 :/
By
Shopper

(Brooklyn Park, MN) - November 26, 2011
Not what I expected for $41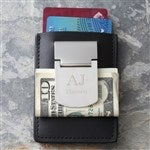 Money Clip
By
Linda F.

(New Rochelle, NY) - November 23, 2011 (
See all reviews by this customer
)
Nice for the money. I love it!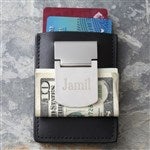 He Love's It!
By
Shopper

(St Petersburg, FL) - October 18, 2011
My husband hates carrying wallet he absolutely love's his new clip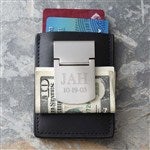 Excellent gift
By
Shopper

(Santo Domingo, Dom. Rep. , FL) - August 2, 2011
I bought this money clip and credit card case as a father's day gift for my father-in-law and he was so happy to receive such a unique present. Excellent quality and it makes a special detail for anyone.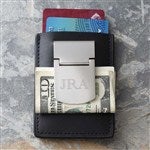 Great Gift for the perfect guy
By
Kathryn L.

(Park Hills, MO) - August 2, 2011 (
See all reviews by this customer
)
Excellent quality. Beautiful engraving. Ive purchased several things from this site and have never been disappointed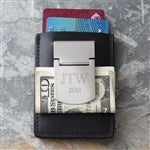 Zippo Engraved Money Clip & Credit Card Case
By
Shopper

(CHARLOTTE, NC) - August 1, 2011
Very nice item! I ordered as a father-of-the-bride gift and I am very pleased. Nice quality item.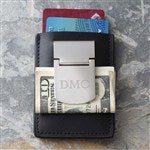 Great Stuff
By
Shopper

(Lake Orion, MI) - July 23, 2011
I am really happy with what I bought. My order was filled and less then a week we had everything. It all turned out great. Thanks!!!!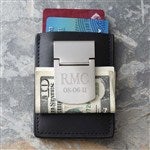 bestest!!!!!
By
Clare N.

(panorama city, CA) - July 5, 2011 (
See all reviews by this customer
)
this' the best gift one can ever get..my boyfriend uses it everytime he's going out and doesnt want to carry his wallet.. convinient and looks lovely

his boys all want a copy of it..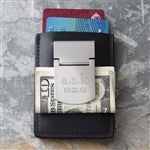 Perfect money & CC card clip
By
Shopper

(Peru, NY) - June 27, 2011
Great gift....This was perfect & has an elegant look. Just what the we were looking for.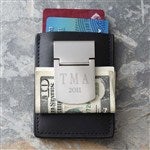 Nice Father's Day Gift
By
Shopper

(Bridgeport, CT) - June 25, 2011
Very nice money clip with card case for Father's Day. Engraving was perfect.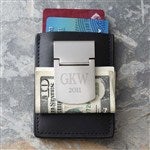 well made product
By
Shopper

(Charlotte, MI) - June 24, 2011
The kids bought this for their dad on Fathers Day because he doesn't like carrying his wallet everywhere. This is just the right size to put a couple credit cards and some cash in, and put it in his front pocket.
Thanks for the quality!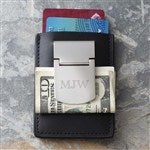 Very nice present!
By
Candace P.

(Marietta, GA) - June 20, 2011 (
See all reviews by this customer
)
This product is made well and looks really nice engraved. It's the perfect gift for a man that doesn't always like to carry his whole wallet around.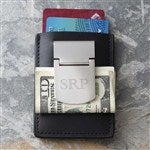 first time buyer
By
Deidra D.

(Warren, OH) - June 19, 2011 (
See all reviews by this customer
)
bought this for my husband for our 47th anniversary. He loved it and it saves him from carrying a wallet all the time. It came quickly and is just as the picture shows. I will be looking for other things in the future.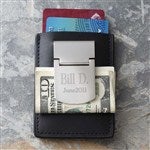 Best gift
By
Domenike O.

(China) - June 17, 2011 (
See all reviews by this customer
)
I sent it to my dad and he has very pleased with this gift.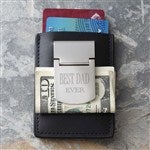 Wow!
By
Ann S.

(Jackson, MO) - June 15, 2011 (
See all reviews by this customer
)
I original gave it 4 stars because it came with some scratches, but was fine otherwise. PersonaliztionMall contacted me and asked to see a picture. They reviewed the product and decided to send me another one...FREE OF CHARGE. Totally unexpected! I just received it today, and it is perfect. My husband is going to love it! PersonalizationMall has awesome customer service and shipping is fast. I will definitely be ordering from the in the future! Thanks again!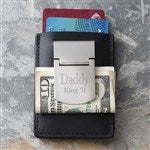 Great Quality
By
Shopper

(Newington, CT) - May 30, 2011
The order shipped within 24 hours and arrived right when it was suppose to. Excellent quality and nice engraving. Perfect gift for graduation.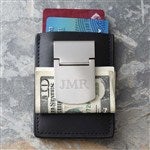 money clips
By
Shopper

(Stevens Point, WI) - May 9, 2011
i'm very pleased with the money clips, the leather is good quality along with the rest of the clip i like the engraving also. very good gift for the groomsmen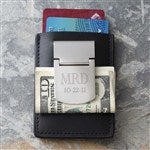 Money clip
By
Shopper

(Excelsior, MN) - April 26, 2011
I'm a little worried the clip may not be strong enough to hold much but it seems like a nice sized option for going out without him having to bring a huge wallet and still have him carry MY ID as well! Great addition to his wedding gift box!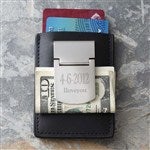 just for him
By
Sandy S.

(Brooklyn, NY) - April 17, 2011 (
See all reviews by this customer
)
I got this money clip as a just because gift for my boyfriend and he loved it. Great price, great workmanship, and great quality...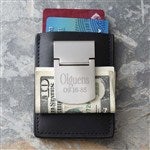 Birthday Gift
By
Elizabeth Y.

(Big Flats, NY) - April 10, 2011 (
See all reviews by this customer
)
Hi, I got the Birthday gift for my husband as his other clip just plain lost it grip. He loved it and is very pleased with it. We leave Wednesday for California and his birthday is today. Good timing because he has it for the trip. I couldn't have found a better gift for him. The engraving is exactly what I wanted, so manly. Again thank you for your help.

Betty Yost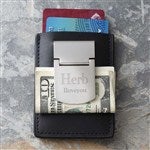 A gift well received.
By
Marlene S.

(Minot, ND) - April 2, 2011 (
See all reviews by this customer
)
I have purchased three of these personalized money clips. The men in my life, 2 sons and my boyfriend have been happy to receive them. They all use them and like the quality and practicality of a place for credit card and ID.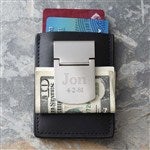 Money Clip and Credit Card Holder
By
Linda T.

(Yorkville, IL) - March 28, 2011 (
See all reviews by this customer
)
My husband liked the idea of leaving behind a bulky wallet for this clip. The clip is well made and works great. I'm now giving them away as gifts since everyone liked it so much.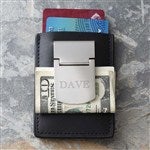 perfect gift
By
Emily B.

(East Bridgewater, MA) - March 21, 2011 (
See all reviews by this customer
)
quick delivery. very high quality money clip. nice engraving.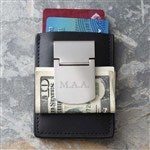 Nice money clip
By
Shopper

(hauppauge, NY) - March 20, 2011
We bought this for our brother in law Birthday. Accaully will be in the end of this month. After we got it we are pretty sure that he will love it.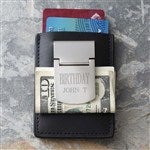 Great wallet
By
Valbona K.

(Philadelphia, PA) - February 19, 2014 (
See all reviews by this customer
)
I liked the wallet very much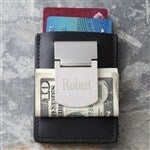 Oh Happy Days
By
Jan W.

(Bradenton, FL) - February 18, 2014 (
See all reviews by this customer
)
I purchased three engraved money clip & credit card cases for three different family individuals. Two were for birthday gifts and one was for Valentine's Day, all within a week, and each individual was p;eased beyond words when they opened thir gifts. Thank you so very much for enabling me to please my son-in-law, son and husband with one beautiful idea!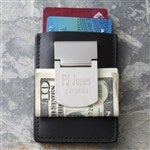 Very Pleased
By
Shopper

(Conway, SC) - February 1, 2014
I honestly didn't know what to expect when I bought this. I give it a 5 stars because it turned out to be everything I thought it would be! My boyfriend found it to be the perfect gift so far that I have bought him. I recommend for for the any man that loves the little things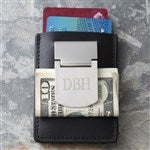 Great item
By
Shopper

(grand rapids, MI) - January 8, 2014
Met expectations. Great item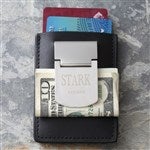 Do not buy does not work
By
Laura K.

(LAFAYETTE, IN) - January 2, 2014 (
See all reviews by this customer
)
I bought this money clip and it does not hold bills in place. Unable to use.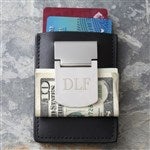 Husband loved it!
By
Alison F.

(San Diego, CA) - December 29, 2013 (
See all reviews by this customer
)
My husband loved it. If you husband uses a money clip, he will definitely appreciate this gift!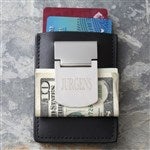 Good product
By
Shopper

(Refugio, TX) - December 26, 2013
My first time to order anything from this company and I ended up ordering 7 items in hopes that they would be as described. I was more than pleased with each! And would recommend personalization mail.com to everyone. And I got my complete order in just a few days!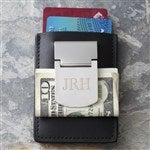 engraving is nice but.....
By
Teresa V.

(Palo Alto, CA) - December 22, 2013 (
See all reviews by this customer
)
I am not sure about the quality of the item, the money clip spring seems to be made very cheap, it is a gift for our son, I sure hope it doesn't break. However, the engraving is nice.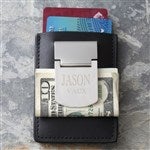 Awesome Christmas Gift for Husband
By
Shopper

(Glendora, CA) - December 20, 2013
My husband has wanted a money clip for awhile b/c his wallet is bulky when we go out and I always end up having to carry it in my purse. I was very happy with the quality of this money clip/CC holder. It's simple, yet sleek. I can't wait for him to open it on Christmas morning and to not have to carry his wallet in my purse when we go out anymore. He'll be very happy :)