Not worth it!
By
Ashley S.

(Euless, TX) - March 15, 2010 (
See all reviews by this customer
)
I bought this for my boyfriend for our one year anniversary. The engraving looks alright, but it is not worth $41! You pay like 31 for the clip itself and then like 9 for shipping! It would be okay if it was like 10, but not worth what they're charging for it.

Looks Cheap
By
Jenna W.

(Peoria Heights, IL) - March 10, 2010 (
See all reviews by this customer
)
I wasn't really impressed with this item once I received it. It looks cheap, and wish I wouldn't have bought it for what it cost. I haven't given it to the person yet (it's a gift), and I'm not sure if I am or not now.

Doesn't hold enough credit cards
By
Kris M.

(Alpharetta, GA) - December 27, 2009 (
See all reviews by this customer
)
While the engraving looks very nice, the leather pouch only fits 2 cards (tightly). I think this is something that you should put in the description. It wasn't until after I bought it that I read the reviews and found the one that stated it only held 2 cards. Most people who want a clip hold more than just 2 cards, especially since one will be their drivers license. Very disappointed since my husband won't be using it.


ZIPPO clip less than expected
By
Laura S.

(Evergreen, CO) - December 27, 2009 (
See all reviews by this customer
)
I gave the zippo clip to both my husband and 26-year old son. They were disappointed in the clip because it's not as firm as they would like. They loved the engraving on it, but may not use it due to the clips.

not satisfied
By
Shopper

(el paso, TX) - March 2, 2013
Not satisfied with my purchase and I cant return it.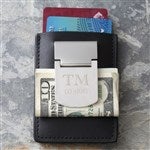 Not that great
By
Shopper

(NORRISTOWN, PA) - December 30, 2012
I purchased this item as a gift for a friend. Overall it looks nice but the money clip doesn't function properly to hold cash. My friend didn't like it because it doesn't work.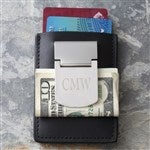 Engraving was off centered
By
Susan C.

(San Francisco, CA) - December 17, 2012 (
See all reviews by this customer
)
When the item arrived the engraving was off centered - not exactly what I hoped for. The product its self looks nice, not expensive looking though.

Poor quality
By
Shopper

(St Augustine, FL) - June 16, 2012
Looks nice initially, then falls apart. The top separates at the seam, it is glued together with cardboard inside. They replaced the first one for me, but a few months later the second one did the exact same thing. Very disappointed :(

Shopper
By
Shopper

(Tifton, GA) - December 14, 2011
Very cheap! I was totally disappointed in the quality. Bought it as a gift and ended up purchasing something else because I was embarrassed to give it.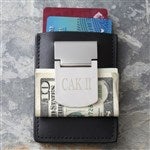 The money clip that doesn't hold money!
By
Shopper

(Portland, OR) - December 12, 2011
I bought this money clip for my adult son. The money clip doesn't close tight enough to hold the money. I am very disappointed. The engraving is nice and the product is just like the picture. Just wish the money clip worked!

:/
By
Shopper

(Brooklyn Park, MN) - November 26, 2011
Not what I expected for $41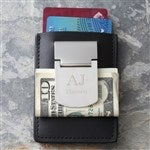 very impractical item
By
Caroline M.

(Kansas city, MO) - January 10, 2011 (
See all reviews by this customer
)
i bought this gift for my fiancée but its horrible. the clip does not work and the card holder is too small. its very pretty to look at but a horrible product. if your looking to buy a money clip this one does not work and its not worth it!!!!

An amazing quality
The product has got an amazing quality of engraving

Very poor quality. Clip doesn't hold money.
By
Marcy S.

(North Dartmouth, MA) - December 16, 2009 (
See all reviews by this customer
)
I ordered this as a Christmas gift for my husband and had it engraved with his initials. It cost of $30 dollars and when I received I was shocked at the quality. It looks as though I could have purchased it at the dollar store! The clip is not tight and the quality of the card holder is stiff. I would not recommend this to anyone.