Gorgeous Little Doll
By
Art B.

(Corpus Christi, TX) - June 2, 2013 (
See all reviews by this customer
)
I was anxious to open the box when it arrived & I was not disappointed! The doll is just beautiful! The long, shiny hair is soft. The graduation gown is sewn together very nicely; no thread strings hanging & no areas where the sewing machine missed sewing the sections together. I am very pleased with the quality of this doll. The face is very pretty to look at & I guess I'm partial to this Precious Moments doll is because she even resembles my granddaughter, for whom this was purchased.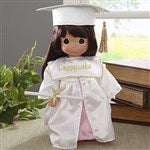 Grad doll Kari
By
Karina R.

(Pacoima, CA) - May 10, 2013 (
See all reviews by this customer
)
I am happy and very satisfied with the precious moment graduation doll I purchased. My sister will be very happy and in aww to see her that its a precious moment doll in a cap and gown but most of all to see her name on the gown! Thank you personalization mall I love it!!

The Perfect Gift
By
Shopper

(Clifton, NJ) - May 8, 2013
This is the cutest doll ever and I know my granddaughter will love it. It is the perfect gift for a 5-year-old graduating from kindergarten. It is something she can look back on in the years to come.

Excellent
By
Mary L.

(Sterling Heights, MI) - March 23, 2013 (
See all reviews by this customer
)
What a beautiful little doll!! Everything is perfection, including the shipping time. She is going to be a perfect centerpiece for our gift table.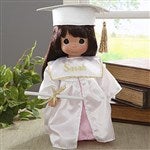 Aesthetician
By
Anna R.

(harker heights, TX) - August 6, 2012 (
See all reviews by this customer
)
Outstanding ! Excellent quality! Nothing but positive remarks from everyone whom sees it! I will be referring many people to your site. Anna D. Rinehart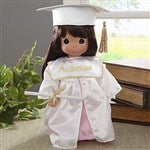 Just beautiful!
By
Sue I.

(Maple Heights, OH) - June 17, 2012 (
See all reviews by this customer
)
This doll was absolutely beautiful. It was everything I wanted and more. The delivery was so fast too..I am so pleased.....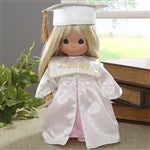 Perfect gift
By
Shopper

(TULSA, OK) - June 13, 2012
This was a great gift for my mother in law who is a die hard precious moments lover. It is 12 inches without the cap on and just adorable.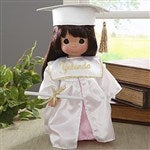 Beautiful Doll
By
Shopper

(Chesterfield, VA) - December 18, 2011
This doll was absolutely exquisite! This was a present for my little sister (she graduated from college!), and she and the rest of my family LOVED it! Thank you so much!

Wonderful present
By
Shopper

(Grove City, OH) - May 24, 2011
I purchased the blonde precious moments graduation doll for my son's girlfriend that is graduating this summer. It is beautiful, and I know that she will love it! I'm happy to give her something that she probably won't get from anyone else - truly a unique and wonderful present. Thank you~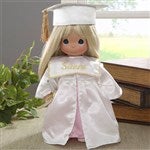 Precious Doll
By
glenda M.

(clarendon, AR) - May 22, 2011 (
See all reviews by this customer
)
This is a top quality product. Cutest thing and the personalization is really nice. Will order again.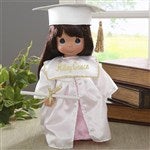 Adorable and Sturdy
By
Tami K.

(Lewisville, TX) - May 21, 2011 (
See all reviews by this customer
)
Great quality and so cute.

Great Product
By
Diana T.

(Durham, NC) - January 19, 2010 (
See all reviews by this customer
)
Great product, very cuteeeeee.

Pretty But Not Entirely As Pictured
By
Cora D.

(Norwalk, CT) - May 22, 2013 (
See all reviews by this customer
)
The doll arrived today! Hair was meticulous, grad outfit is very cute, and there were no bent ridges to the hat as someone else reported. However, the doll in the graphic depicted has brown eyes. The doll which I received has blue eyes! I'm not sure if I'm alone in receiving a doll with an eye color discrepancy or if other individuals didn't comment on it but I do think it's important to note on the off chance it have a baring on anyone's purchase. Despite this it is still a quality product and I would recommend it.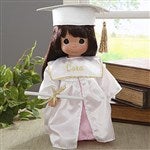 Beautiful gift
By
Kateryna R.

(Staten Island, NY) - June 10, 2010 (
See all reviews by this customer
)
My graduates loved the dolls! Personalization element makes them very special. Minor issue: hair of one of the dolls wasn't wrapped in a net and was a little frizzy, and caps were a little bent. Otherwise, they make a beautiful gift. Quite surprising that these dolls are not offered in different skin tones.

Precious Moments® Graduation Doll- Blonde
By
Eric M.

(Woodbridge, VA) - May 17, 2010 (
See all reviews by this customer
)
Beautiful! Wife loved it. Shipping was fast and item was as expected. Only minor issue was that the corners of the cap were bent, as it was all packed in a tight box. I'm sure we can bend them straight. Otherwise a beautiful, personal gift.

Good gift
By
Shopper

(Harrison, OH) - May 22, 2011
My niece, the college graduate, liked the gift. I wish I could have included the year as personalization below the name.