great buy
By
Gina Z.

(Chatham, NJ) - March 29, 2010 (
See all reviews by this customer
)
great quality, very soft. definitley better quality than i was expecting, very happy with purchase. not to mention i got it super quick!

My First Easter Bunny
By
Patricia H.

(Mountville, PA) - March 29, 2010 (
See all reviews by this customer
)
I bought this for my grandson's first Easter..the quality is excellent., The fact his name is not a popular one and I was able to add that made it even more special.I would definetly recommend this gift.

First Easter...Bunny
By
Kim D.

(Saint Louis, MO) - March 25, 2010 (
See all reviews by this customer
)
Wanting to find my new grandson a special bunny for his first Easter...I turned to the internet. I found Personalization Mall.com by accident. I found the bunny, placed the order and even had the bunny personalized with his name. I was very pleased with the bunny.....it meet and exceeded my expectations. I have added PersonalizationMall.com to my favorites and will be using this site again. This site and their products deserve a 10 star rating!!!! THANK YOU

personalized Easter bunny for 1st Easter
By
JoAnn C.

(Bowling Green, KY) - March 19, 2010 (
See all reviews by this customer
)
I was very pleased when I received the bunny. It is precious and will be a wonderful remembrance for my grandson when he is older. Thank You.

Gift for new grandson
By
Susan P.

(Fargo, ND) - March 15, 2010 (
See all reviews by this customer
)
I am very happy with this purchase. The bunny is so cute and looks very well made. The time of delivery was excellent!

Adorable
By
Joann R.

(Downingtown, PA) - March 12, 2010 (
See all reviews by this customer
)
A perfect gift for our first grand child. It is well made and is very cute! Our grand daughters name on the bunny was perfect.

First Easter Bunny
By
Reda B.

(Minden, NV) - March 5, 2010 (
See all reviews by this customer
)
I was impressed with the quality of the bunny and great job of personalization on the bunny shirt. Thanks!

Adorable Gift
By
Donna V.

(Brooklyn, NY) - March 3, 2010 (
See all reviews by this customer
)
I was more then pleased with my purchase.The bunny is very soft and of good quality. The personalzation is very well done. I couldn't be happier with this product which I bought for my grandson. I have purchased other products from you in the past and have never been disapointed. Thanks Again!

Love IT
By Shopper (FORT BRAGG, CA) - April 2, 2012
This bunny is so cute and the personalized shirt is going to be a big hit with his mom and dad.

Cute gift
By
Shopper

(Quincy, IL) - April 16, 2011
Good size stuffed animal, soft, very cute. Only negative is that I really had to work to get one of the ears to stand up completely, but eventually got it. I would purchase again.

Soft and cute
By
Shopper

(Sacramento, CA) - March 30, 2011
I had you mail it to my great grandaughter in Deleware,and as soon as they received it, I got an E-mail saying the two days they have had it, she won't let it go!!! Good enough for me......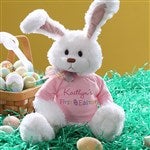 Frequent shopper
By
Shopper

(Swanton, MD) - March 25, 2013
Good quality....name stamped on shirt. Have ordered numerous items from website; however this item is not the quality I have come to expect from this company

Cute!
By
Shopper

(augusta, NJ) - April 8, 2012
This is such a cute idea and perfect for newborns! My only issue is that the bunny isn't very plush. The ears kind of flopped all over and I couldn't get them to stay up ( they are wired but just kind of cheap). The shirt on the bunny can be taken off, which I thought was a good idea as it could be saved as a rememberance of baby's first Easter. Wish the stuffed bunny was better quality.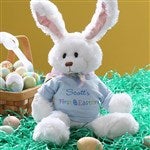 Very cute, vert soft, but...
By
Arlene R.

(Weymouth, MA) - April 30, 2011 (
See all reviews by this customer
)
Although this bunny is very cute and very soft I was disappointed that, for the price, the shirt was not embroiderd with the name and First Easter. I think the price is much too high... Embroider the shirt and it might be worth it. I could have bought a BIG bunny for $10 and written on it with marker...

Eh...not sure I'd order again
By
Shopper

(Belle Vernon, PA) - March 22, 2011
The bunny is cute but it's kind of cheap how they made the t-shirt. They (very obviously) ironed on a decal with the baby's name and first Easter. The ears do not stay up like pictured and the bunny hunches over like it has arthritis or something. This is all probably because they squished it into a 6" x 6" box with the bunny basket.