Fun Way to Share Personal Photos
By
Roberta S.

(Lake Forest, IL) - December 16, 2013 (
See all reviews by this customer
)
Was extremely pleased with the quality of the label. Nice coloration and crisp imagery. Highly recommend.

Great deal
By
Shopper

(Newhall, CA) - November 16, 2013
The labels came quickly and were just as I expected. I am very pleased and will order again.

Love it!
By
Alisha D.

(Fort Myer, VA) - August 23, 2013 (
See all reviews by this customer
)
I've ordered these over the last few years, and they never disappoint. I'm a customer for life! Thank you for quality products at reasonable prices.

Better than expected
By
Ellen R.

(Lithia, FL) - July 18, 2013 (
See all reviews by this customer
)
I just received my address labels and they are better than I expected. They are clear and the size is bigger than the picture shows on the website.

Just the right touch
By
Lesley B.

(Karnes City, Texas 78118, TX) - July 3, 2013 (
See all reviews by this customer
)
I bought the labels for our wedding invitations, they were perfect. I recommend them!!

Great Gift!
By
Mitzi B.

(Plymouth, MN) - June 9, 2013 (
See all reviews by this customer
)
I bought these as a gift for the Grad in my life to use on her Thank You's. She loved them and I got lots of compliments from the people that received them as well. Will order again for our next special occasion.

Perfect!
By
Chelsey C.

(Indianapolis, IN) - April 15, 2013 (
See all reviews by this customer
)
loved these very unique & original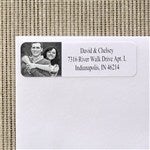 Different use!
By
Diane H.

(Brookfield, IL) - December 18, 2012 (
See all reviews by this customer
)
I purchased a Living Social.com deal to use with Personalization Mall.com so I had to use all my money. I have a severely disabled daughter in a wheelchair who is non-verbal. I put her picture on the return address stickers and when they arrived they were beautiful! I cut off the picture and sign all her greeting cards, etc with that small picture of her instead of a signature. I have used PersonalizationMall.com lots of time and have NEVER been disappointed!

absolutely love
By
Kristen K.

(Beachwood, NJ) - December 15, 2012 (
See all reviews by this customer
)
i abasolutely love this product.. i have ordered many times the same one.. it gives me the option to change it up....

excellent quality labels
By
Shopper

(Blacksburg, VA) - December 14, 2012
I ordered these address labels last year for my US address, and this time I ordered for my address abroad. The quality of the printed labels is great, true to the preview. My only comment would be maybe you could look into a possibility of creating more lines to input address, since fitting the whole address in 3 lines is not always possible. But overall I am satisfied, the labels shipped very quick, thank you!

Perfect!
By
Shopper

(HUNTINGTON, WV) - November 28, 2012
These address labels were perfect for our Save the Date invites! We created a Save the Date using a collage of our engagement pictures, and I had one extra photo that we didn't use on the collage, so I put it on the labels. The labels look so good on our envelopes, and they were very reasonably priced.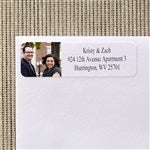 Just Us labels
By
Shopper

(Rock Island, IL) - November 13, 2012
the merchandise was beautiful. However, I think a little pricey and the shipping was pretty high.

fantastic value
By
Patti P.

(Aliquippa, PA) - November 9, 2012 (
See all reviews by this customer
)
These labels are simply perfect for any mail! I have purchased these multiple times and am very pleased every time! The photo always looks great! This year I got them with a photo of our little girl lab, Delaney, with snow all over her mouth for our Christmas cards! Personalization Mall has a wide selection of wonderful personal and gift items that my family keeps coming back for ! And their customer service exceeds excellence!!!

Personalized return address labels
By
Sandra H.

(York, PA) - September 11, 2012 (
See all reviews by this customer
)
The photo I uploaded came out perfect. No complaints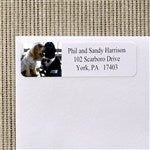 Exactly what I wanted
By
Shopper

(Leesburg, IN) - April 3, 2012
Fast shipping and item was exactly as I wanted.

Highly Recommend
By
Jodie W.

(Las Cruces , NM) - March 1, 2012 (
See all reviews by this customer
)
I really liked them. I used them to send out wedding invitations.

great price good value
By
Geraldine P.

(Spring, TX) - February 27, 2012 (
See all reviews by this customer
)
The labels came in and the picture was perfect , very nice recommend this for any occasion ,wedding , shower, daily use.

Love it!
By
Kimberly T.

(Albertson, NY) - February 23, 2012 (
See all reviews by this customer
)
I got these return address labels for save the dates for my wedding. I have gotten so many compliments on them! They are really great and an add an extra special touch. I over-ordered, but I think that I will definitely be able to use these on my thank you cards.

I originally looked into doing stamps with our picture on it, but they were much more expensive than this. I also like this idea because it is very unique. Order them!

service was excellent
By
Shopper

(JAMAICA, , NY) - February 16, 2012
I would surely order products again quality was good n service was excellent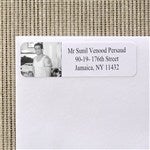 Recommended
By
Shopper

(Martins Creek, PA) - January 23, 2012
When I purchased these the picture that was sent to me was cut differently than what had showed online. I called up customer service and they were beyond helpful and sent me new labels right away. I've never worked with such great customer service before. Although the labels weren't exactly what I was hoping for the 1st time around, they quickly fixed it and send me new ones which were absolutely perfect. I recommend these labels!!

Good Product - GREAT cusomter service
By
Martha S.

(Appleton, WI) - January 4, 2012 (
See all reviews by this customer
)
I was extremely excited to find these custom labels and have them printed for our wedding invites. When we received them in the mail, the cropping was incorrect. I called customer service, talked to a person (not a machine) immediately, and they said they would talk to a designer and get back to me. Within twenty minutes, they had called back, and the designer re-cropped and re-printed the labels with no questions asked. I had the new and perfect labels the next week. Very happy with the labels and SUPER happy with the customer service.

Unbelievable!!
By
Libby L.

(Canada) - December 17, 2011 (
See all reviews by this customer
)
I bought these to go on my Christmas cards this year. My first son was married on Oct 1st. I also ordered my Christmas cards from you. They both were amazing.The address labels were very unique and I have recieved many compliments on them. The cards were very creative and I am still recieving emails and messages about them. We don't have anything llike these in Canada. Love them both! I love the products at Personalizationmall! I will be a customer for many years. I can hardly wait to become a Grandma so i can order your personalized baby blankets!!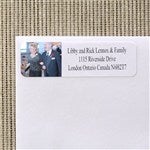 makes a great gift for a first time home owner!
By
Shopper

(Nevada, MO) - November 30, 2011
great idea for a housewarming gift! Picture came out great.

Personalization Mall Rocks
By
Shopper

(Fort Lauderdale, FL) - October 3, 2011
Always great, quick service. Love their creations.

Simply adorable!
By
Shopper

(Hill, NH) - August 16, 2011
Good, quality product, but what else could be expected from such a wonderful company. Arrived before estimated time period. Extremely happy with the end result! Would absolutely recommend this as a gift!

Everything I Thought It Would Be
By
Marisa S.

(Staten Island, NY) - July 31, 2011 (
See all reviews by this customer
)
The address labels met my expectations. The picture was clear and the quality was excellent. Well done!

Great Product
By
Shopper

(New Hyde Park, NY) - June 15, 2011
I am very happy with these and our guests loved them!!

Neat
By
Sara C.

(Lima, OH) - May 29, 2011 (
See all reviews by this customer
)
I didn't know you could put a pic of your family on your address labels. Love it!

head in the clouds!
By
Shopper

(New River, AZ) - May 27, 2011
Kooky,Krazy,great labels with my own personal photo of an amazing cloud formation while driving down the road! thx great job!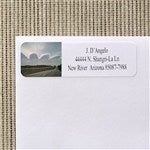 A little pricey
By
Amanda A.

(Kensington, MN) - May 9, 2011 (
See all reviews by this customer
)
I have found personalized photo return address labels of the same quality for less on other sites, but these are a good product and look nice.

Love the labels!
By
Shopper

(Houston, TX) - May 6, 2011
I ordered these labels for my wedding invitation and I loved them when i received them. The labels were not cheap looking they did a great job! Not to mention they were a great price and the process to upload your picture was so easy!

Fast!
By
Shopper

(Whiteland, IN) - March 14, 2011
My labels turned out perfect with super fast delivery - thanks!

GREAT!
By
Shopper

(West Jordan, UT) - February 19, 2011
This product was wonderful! I am getting married and sending out my invitations and everyone loved the address labels! Definitely will buy again.

Love these labels!
By
Megan R.

(Lawrenceville, NJ) - February 8, 2011 (
See all reviews by this customer
)
It's great to be able to add your own photo image to your address labels. No one else offers that. Love these labels!

Great bargain for very professional results
By
Shopper

(Nesconset, NY) - January 23, 2011
I have to say that I shopped around for weeks for save the date magnets and mailing labels that were beautiful for a reasonable price. This place has the best prices, so I was very concerned about the quality. Well, I must say that I was so happy when our save the dates and labels arrive and they were exactly what we wanted. We are ordering our Engagment Party Invites now from them!

happy shopper
By
Kim C.

(Waterloo, SC) - December 23, 2010 (
See all reviews by this customer
)
perfect!!!!

Crisp, clear picture, great quality photo labels!
By
Jessica C.

(Buffalo, NY) - December 10, 2010 (
See all reviews by this customer
)
At first I was weary and took a chance ordering this item, simply because I never uploaded a photo before to something as small as a mailing label. When I received it in the mail a short time after ordering it, I was greatly impressed, they turned out perfect!! And it was so easy to do. I will def. be ordering more in the future along with many other great gift ideas!

Great quality, great price
By
Aubrey L.

(Orlando, FL) - November 17, 2010 (
See all reviews by this customer
)
Excellent quality and the shipping was fast. Highly recommended.

personalized return address labels
By
Rochelle S.

(El Paso, TX) - April 5, 2010 (
See all reviews by this customer
)
The product came in very fast and exactly as it looked on line. Thank you.

Address Labels
By
Leighann J.

(Winfield, WV) - April 5, 2010 (
See all reviews by this customer
)
Loved it! :)