The Wife Loved It!!!!!!!!!!!!!!!!!!
By
Doug J.

(Arlington, TX) - May 8, 2010 (
See all reviews by this customer
)
My 4 yr. old and I picked the items on the shirt. The people look pretty close to what the kiddos look like. If they were a cartoons.

I just wish the shirt came it colors. White is not my favorite shirt color.

Thank You!

sizing
By
theresa R.

(royal oak, MI) - January 4, 2010 (
See all reviews by this customer
)
Sweatshirt is of nice quality, but after reading some reviews, I ordered what I thought would be an apporpriate size. It is way to big and long. hoping it will shrink a little when we wash it

Personalized T-Shirt review
By
John P.

(Huddleston, VA) - December 26, 2009 (
See all reviews by this customer
)
It was both fun and easy to create a one-of-a-kind gift for our daughter-in-law. I'm in my 60's and computers are not my friend; but designing this was very easy and fun. My kids had gotten us similar T-shirts from a local vendor and it took longer to produce, cost more than PM's shirt, and they had to go there to pick it up.

This is a great gift and she loved it.

P.S. It got here on the 24th of Dec. despite the deep snow.

Great Finished Product
By
Patricia I.

(Malden, MA) - November 13, 2009 (
See all reviews by this customer
)
Only reason I rated this a 4 and not a 5 is because it looks like it runs a little small even for a one size fits most item.

That being said, the personalization looks GREAT!! I think my mom will be very happy with this gift.

processing and shipping of the item was super fast as well.

Great gift for grandparents
By
Janey L.

(Decatur, TN) - October 22, 2009 (
See all reviews by this customer
)
Nice quality! The only compliant is wished they offered more cartoon pics to choose from, but overall, a really nice gift!

My mom seems to prefer custom stuff from the kids, this worked good...
By
Nicholas K.

(Fairfax, VA) - October 15, 2009 (
See all reviews by this customer
)
I like how many different characters there are to choose from in this but more colors of pets would be nice. Maybe another font or two also.
The pockets on the side of the night-shirt seemed to be a nice change from everything else my mom has

LOVE the tee shirt, but my daughter looks Asian,lol.
By
Shopper

(Canada) - November 26, 2012
The item was very nice, the quality is perfect. However, I should've had my "skin colour choice" as the most Caucasian. The way the teenage girl image is designed, her angle of her eyelashes makes her look very Asian, not Caucasian, which is fine if you are Asian, but we are not. So, my dark haired daughter looks Oriental, especially since we chose the medium coloured skin tone. It's not returnable, so I guess we'll just have to joke about our daughter's image on her Grandmother's tee shirt and know better for next time.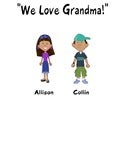 good quality!
By
Shopper

(Jamestown , NY) - July 29, 2011
I like this sweatshirt, but the sleeves are way too long! I am 5 feet 7 inches and they are several inches too long. If I went with a smaller size I am afraid the body would be too small. Good quality otherwise!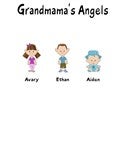 Size runs very large!
By
Julie R.

(Chesapeake, VA) - November 27, 2010 (
See all reviews by this customer
)
The sweatshirt is a nice quality and the graphics are very cute. Just beware, when it says "generously sized" they aren't kidding. My husband who is 6'2 and 220 lb. can fit in the adult medium!

Sweatshirt
By
Cynthia L.

(Bensenville, IL) - May 11, 2010 (
See all reviews by this customer
)
I didn't realize the shirt were oversized so I purchased a large which in ture was huge.

Very diappointed
By
Angie S.

(Abbeville, SC) - November 23, 2009 (
See all reviews by this customer
)
Even though I love what I put on the shirt they are grossly miss sized. I read a review that said they run a little small.I ordered a large and it is massive more like an xl or xxl. The arms are not even the appropriate length for the sweat shirtI could put both my arms in one sleeve. I am very diappointed and feel I wasted $32. Will not order from this site again.