Mother's Day Gift
By
Rebecca F.

(Bellerose Terrace, NY) - May 4, 2010 (
See all reviews by this customer
)
I purchased this beautiful keepsake for Mother's day and its so nice! The delivery was so quick and the quality is good.

Birthday Gift
By
Rose M.

(Lodge, SC) - February 3, 2010 (
See all reviews by this customer
)
Very unique heavy and the writing is lovely, the peice itself is larger than I thought for the price.

mom
love, mary anna

Loved it!
By
Tabitha M.

(Toledo, OH) - December 30, 2009 (
See all reviews by this customer
)
Purchased this item for my mother for Christmas, she loved it!

mother & daughter
we will always be mother and daughter, from the start. You have always been there for me. In the future hopfully, i will always be there for you. You have a a tough time in life. But..... that is life. inshallah life will get better. Even if it dosen't ..... for richer or poor.... you will always be my mother. I love you now and ever. Happy Birthday Yuma, and thank you for everything you have done in my life....






daughter's birthday gift
By
Linda G.

(Locust Grove, GA) - October 3, 2009 (
See all reviews by this customer
)
received in 4 days from the day ordered!!!!!

Happy customer
By
Antoinette S.

(Merced, CA) - May 19, 2014 (
See all reviews by this customer
)
I bought a personalized heart for my mom on Mother's Day. When she received it, she called to let me know it was beautiful and loved it! I'm happy and would consider using this website again when I want to personalize a special gift.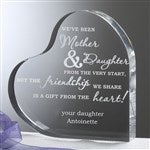 Nice keepsake
By
Shopper

(chesapeake, VA) - February 10, 2014
It was cute. Not as good as I had hoped. I just expected a more striking piece of glass. Plain & simple, but the message is what makes it special...

Very Cute Keepsake
By
Shopper

(Florissant, MO) - November 18, 2011
The mother daughter heart keepsake is very pretty. My mom loved,loved it. The only issue I had with it was that it was sooooo small.

Heart Keepsake
By
Shopper

(Fort Knox, KY) - October 30, 2011
My mom loved the gift I bought her. It is beautiful and really well made!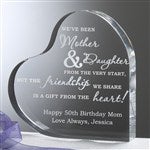 Mother/Daughter keepsake
By
Shopper

(Anderson, SC) - May 4, 2011
I was surprised when I received the keepsake, that it was a really unusual design that looked really nice. Got it for my mother who has everything!

mother daughter
By
bonnie S.

(Canada) - December 24, 2010 (
See all reviews by this customer
)
It is very pretty and very unique, my daughter loved it so much. The website offers so great gifts.

Loved it
By
Mary M.

(Decatur, AL) - February 15, 2010 (
See all reviews by this customer
)
I loved it and so did my mom. It was great

Nice... for the price
By
Shopper

(Denver, CO) - May 9, 2014
The product is nice; seems to be made from quality material. My only issue is that the etching is on both sides of the glass, making it fairly difficult to read at different angles. This was mentioned in another review, but I decided to chance it. For the price, I am pleased; I just wish it was easier to read from all angles

Hard to read
By
Becky P.

(Oklahoma City, OK) - August 30, 2010 (
See all reviews by this customer
)
I loved the concept, however with the engraving on both sides of the heart and the smaller text on the front, it's hard to read. The tendency is to look through it at the larger text and it's an effort to refocus on the smaller type on the front. I gave this to my Mother-In-Law and she actually didn't even notice the smaller type at first. I had to explain to her how it read. Once she realized it, she was able to make it out, but it would be better if the engraving was only on the back side to make this easier to read. Beautiful heart though.

Disappointed
By
Shopper

(Spring Valley, CA) - August 15, 2011
In order to read the inscriptions on the front - We've Been and from the very start and but the ad We Share and Is a Gift from the
with the Mother & Daughter Freindship and Heart on the back, you have to hold the heart at a specifici angle. If you just put it on a Desk or it is not in the right position, the words do not go together.