So happy with the purchase - great quality!
By
Kelly T.

(Andes, NY) - March 30, 2010 (
See all reviews by this customer
)
I got 2 flower girl and 2 ring bearer shirts - the sizes were accurate (sometimes they run small - but these seemed pretty true to size). The personalization was so cute - loved that I could change the hair color as I have one brown-haired boy and one blonde boy - just a perfect way to make each of them unique. The shirt was heavier - not the cheap, thin stuff you get at a lot of other places. Very impressed!

LOVED IT!
By
Brittney R.

(Normal, IL) - March 30, 2010 (
See all reviews by this customer
)
I bought this for my ring bearer and the other one for my flower girl and I LOVE IT! It turened out super cute and not 'cheesy' or 'cheap' looking at all! I would def recommend to ANY bride as a cute little gift for your ring bearer!

Perfect gift!
By
Amanda W.

(Watertown, MN) - March 24, 2010 (
See all reviews by this customer
)
I would recommend this to anyone! Very good quality and SO cute!

Great t-shirt for a ring bearer
By
Laura S.

(Houston, TX) - July 22, 2013 (
See all reviews by this customer
)
I bought this t-shirt for my ring bearer. It came out really cute, I just hope it fits him b/c the website isn't specific enough when it comes to the sizes. But I'm 98% sure I ordered him the correct size. The personalization came out perfect, the only thing is since the t-shirt has to get personalized, it makes the shirt smell like chemicals to the extreme! So, air out the shirt and spray it with fabric freshener before you give it to the gift recipient. That's what I'm going to do.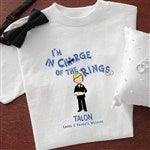 Ring bearer t shirt
By
sandra P.

(lafayette, LA) - June 4, 2013 (
See all reviews by this customer
)
love the shirt, wish it came with bowtie!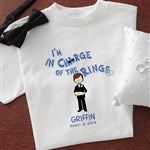 very nice product
By
Shopper

(sacramento, CA) - May 23, 2013
Nice material, for money a little bit expensive.

review
By
courtney B.

(odessa, FL) - March 9, 2013 (
See all reviews by this customer
)
shirt was very cute however the size runs VERY small. I ordered a size 10-12 for my step son who normally wears a size 7-8 thinking he might grow in the next 7 months and the 10-12 is just fitting him now so hopefully he doesnt grow any more!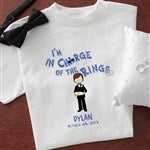 good product
By
Anna R.

(Stamford, CT) - July 10, 2012 (
See all reviews by this customer
)
T-shirt is made out of good quality cotton, size slightly larger than expected, overall satisfied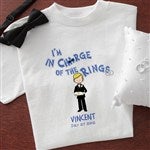 Cute Idea!
By
Rachel A.

(Blaine, WA) - August 10, 2011 (
See all reviews by this customer
)
Looks great in the package and am hoping I bought the right size to fit and that it will survive the normal wear & tear, etc. Thought it was a really cute idea for my little ring bearer.

Looks cute but not the greatest quality
By
Shopper

(Saint Louis, MO) - August 8, 2011
The tee itself is super darling, but it is fairly cheap looking. The screen print will not last after a few washes no matter how careful you are.

Makes a nice ringbearer gift
By
Yvonne T.

(Marion, IA) - August 7, 2011 (
See all reviews by this customer
)
Over all I think the shirt is great in quality and the transfer was clear, the only thing I was disappointed in was that it had me choose a color, and I picked bronze but when I got the shirt I didn't see anything that was bronze in color which I think would have added to the special touch of why I wanted it.

size and delivery
By
Shopper

(Westerville, OH) - July 30, 2011
The size 2-4 for a 2 yr old was fine. Have not washed yet to see if shrinks. The wrong shirt personalized info was on the shirt so I missed giving to the ring bearer on the wedding day or rehersal dinner; not time to get it here. The flower girl loved hers.

Very cute
By
Amanda K.

(Monaca, PA) - April 19, 2011 (
See all reviews by this customer
)
I purchased this item for my son, who is also the ring bearer in our wedding. I love personalizationmall.com simply because you can personalize it and make it your own! I was a little upset that you could see that it was an iron on personalization because you can actually see the square outline of it on the shirt. However, its perfect for my son to wear on the beach after our beach ceremony! It has his name and our name and makes it ever more special!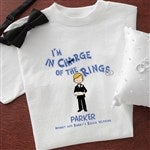 Cute!
By
Robert R.

(Lima, OH) - June 29, 2010 (
See all reviews by this customer
)
This is the PERFECT gift for a ring bearer! It has their name and the wedding date on it! It makes them feel important! And the fact that you can change the little boy's hair color, tie color, etc. that's on it! TOTALLY cute! The only thing I didn't like is I felt like the washing instructions seemed too intense. They're little kids and having to have special washing instructions that intense seem a bit much. I understand the shirt with last longer, but who has time for that?! Lol! Other than that though totally cute!

Way cute t-shirt
By
karen H.

(jonesboro, AR) - May 20, 2010 (
See all reviews by this customer
)
couldn't believe how fast my order arrived, loved the t-shirt I only gave it a 4 because the size ran smaller than I thought and I'm sure it's not going to fit. I will be ordering another one though.

Cute but too big:/
By
Shopper

(Chandler, AZ) - September 18, 2012
I love this product but there aren't enough choices on sizes. Our ring bearer would be swimming in the youth xsmall so we decided to put it on a teddy bear? Wish he could wear it though. They need toddler sizes at least.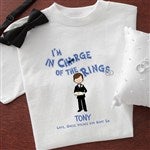 Quality wasn't what I expected.
By
Laura W.

(Marrero, LA) - November 15, 2011 (
See all reviews by this customer
)
This shirt is by far the cutest thing ever. The only thing, the picture is an iron on transfer. Not screen printed like I had hoped/assumed. The picture is very rough and starchy (hard to bend). I'm hoping with a light wash it'll soften up the image. Either way, still the cutest shirt I've seen yet. I purchased two and those boys will be very happy with them.

Fast shipping
By
Nicole M.

(Midland, TX) - August 25, 2011 (
See all reviews by this customer
)
I like how you can personalize the name and bow color on the shirt. I ordered an extra small for my 3 year old and the shirt was HUGE. I didn't like how you could see the square edges of the iron on they used to make the shirt. I did receive a lot of compliments on his shirt though and the shipping was super fast. I enjoyed the picture and personalization on the shirt but not that you could tell it was iron on, it made me feel like I could've made it at home.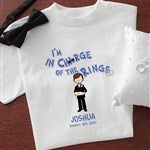 Could have made it myself
By
Megan M.

(Endicott, NY) - May 3, 2011 (
See all reviews by this customer
)
I ordered 2 ring bearer tshirts and 1 flower girl tshirt. The good: the shirts were shipped in a timely manner, everything was spelled correctly & they still look cute. The bad: I could have just made them myself. It is an iron-on design, where I thought they would be screen printed. The square area of the design is hard and doesn't fold well. I'm glad I had a discount code to use, but I'd say it still wasn't worth the money.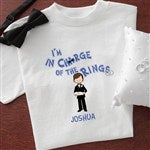 okay shirt
By
Jessica W.

(Sacramento, CA) - August 31, 2010 (
See all reviews by this customer
)
The sizes are smaller than a person would think. So, if you are ordering a shirt for a boy around the age 12 you would need to get one in an adult size because the youth large is tiny!