Perfect gift
By
Lisa Y.

(Fort Worth, TX) - September 21, 2014 (
See all reviews by this customer
)
We created this clock (5) as a recognition presentation to present to the men of the family at our annual family reunion. It was a big hit and very practical as a gift for a man. The customer service (Lisa P.) was great in assisting me to get my wording just right to fit on the clock without having to compromise our sentiment; even offering a coupon because I missed getting my order submitted during the promotion. So glad I stumbled up on these wonderful gifts & people. Shipping was perfect & on point as well. Thanks for a great experience!

able to change script, amazing etching, beautiful display
By
Patricia M.

(FAIRHAVEN, MA) - September 13, 2014 (
See all reviews by this customer
)
Personalized this for my aunt's birthday gift. Wrote my own personalization. Etching and display was gorgeous. Aunt cried upon receiving at her party. Clock easy to set....instructions included. Nice gift box with decorative silver elastic bow. Would highly recommend; and will purchase again.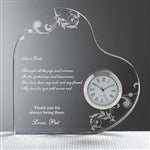 Heart Clock
By
Anita D.

(Severn, MD) - June 23, 2014 (
See all reviews by this customer
)
When I received it it was so touching, very heavy and great quality, loved the design of the little scowls to make it more eye catching. the personalization was so perfect and right on. A very cute gift for anyone and that special touch of your saying makes it even more personal.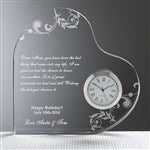 Great
By
Shannon K.

(Mesa , AZ) - May 23, 2014 (
See all reviews by this customer
)
My mom was very impressed

Unsure but proven
By
Joseph S.

(Holiday, FL) - May 21, 2014 (
See all reviews by this customer
)
Well, I'm a man who has not ventured out to buy anything but the norm for any woman in my life. I recently seen this clock and the thought to personalize it was interesting to me. So my mother received as she said,"a very thoughtful and heart felt present, that I will cherish." Thank you PersonalizationMall.com for this idea. May God bless you and those who use your products.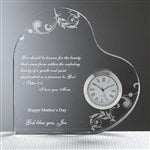 beautiful
By
tara J.

(canoga park, CA) - May 20, 2014 (
See all reviews by this customer
)
what a beautiful item it was given to a 101 year old lady friend of ours and she absolutely loves it! Thanks for making such a wonderful and unique gift!

Mother of the Year Award
By
Shopper

(Detroit, MI) - May 19, 2014
The Dear Mom Personalized Heart Clock was used as our Mother of the Year award from the church. It was well-received and loved by the recipient (she literally cried tears of joy). We are planning to use it again as our standard Mother of the Year Award in coming years.

The personalization, quality, compact size,and of course the affordability made it the perfect gift. Instead of being stored in the bottom of a drawer or chest somewhere, the recipient will proudly display this beautiful keepsake on her mantel or table for years to come.

However, I was a little disappointed with the presentation gift box. I thought it would have been a little nicer with a dark satin or velvet box-liner instead of white tissue paper. As I am sure you know, presentation is everything. Please fix that before our next order! LOL

Overall, it was a great selection and made for a great day! Vanessa B.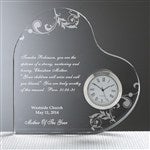 personalized heart clock for mother's day
By
Aquila H.

(Watertown, NY) - May 18, 2014 (
See all reviews by this customer
)
I wanted to get my mother something for mother's day that was personal not like perfume or a lotion gift bag...needless to say my mother loved it. THANK YOU...will be ordering again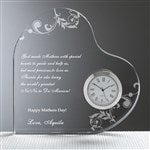 Mother's Day
By
Thomas C.

(Ashford, CT) - May 18, 2014 (
See all reviews by this customer
)
This was exactly as the described and was very nice. Mother loves it and the options for personalizing were perfect. Thank you.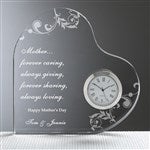 very pleased
By
Shopper

(Ripley , TN) - May 15, 2014
This was the best gift that money could by when my mother received it she started crying. They shipped it on time and everything and it was as big as it looked online I will be continuing my shop with you I am very please and thank you for your honest prices and shipping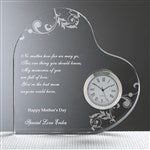 My grandma loved it!
By
Samantha A.

(Lake Worth, FL) - May 15, 2014 (
See all reviews by this customer
)
Great gift! Perfect size and great quality... exactly like the description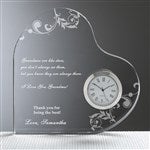 heart clock
By
sandi W.

(lexington, NC) - May 14, 2014 (
See all reviews by this customer
)
when I got the item and gave it to my mother for mother's day she loved it. she didn't know that I got her anything thing and was really surprised when she opened it .. I will buy future things from here...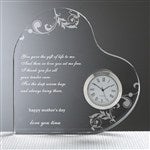 Beautiful!
By
Shopper

(Whitinsville, MA) - May 10, 2014
Purchased this for my mom - Would def buy this again!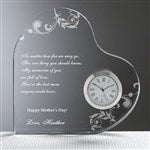 Mother's Day
By
James R. A.

(Venice, FL) - May 10, 2014 (
See all reviews by this customer
)
I ordered the Heart Clock for Mother's Day, it looked great,but when
I opened the box I saw the clock was cracked, I called Personalzation
and told them, they asked me to take a picture of it and send it to them
by email. They got back to me the next day and shipped me a new one by
air. I received it 2 days before Mother's and it looks great.
Thank You I could not of asked for more.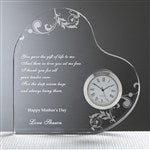 Perfect
By
Shopper

(New Brunswick , NJ) - May 1, 2014
I bought this for my mom, things have happened and we aren't close anymore, it's been like a year since we have sat down and talked and had a meal. This was the perfect gift, I found the perfect poem and I hope she likes it. It might be what we need to mend our relationship. Everything down to the clock was done perfectly. I loved how it felt and the weight, and how it turned out. Definitely something I might buy my mother in law in a year or two for mothers day. The site never disappoints me and I plan on buying many more gifts!!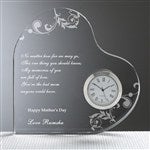 Excellent - Looked great!!!
By
Shopper

(Baltimore, MD) - April 1, 2014
We bought this for my mother in-law for her birthday and personalized a message on it for her. She absolutely loved it and it brought tears to her eyes!! Success!! :)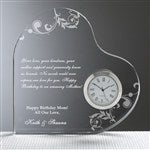 Wonderful Present for Mom
By
Shopper

(Roselle, IL) - December 26, 2013
My boyfriend and I had a difficult time picking out a gift for his mother, a woman who truly has everything. We stumbled across this and did not hesitate to purchase it. It is gorgeous in person, and we loved the fact that you could personalize it 100%. It looks EXACTLY as the preview picture shows it. It truly is a wonderful gift and perfect for any mom. It definitely got some tears on Xmas morning!

WOW NICE!
By
Jeremy O.

(HERRIMAN, UT) - December 16, 2013 (
See all reviews by this customer
)
The titel says it all for me. Good quality, nice product.

from the heart
By
Shopper

(BOISE, ID) - November 19, 2013
a 1 year old darling boy loves clocks and his mommie..............
this clock in a heart engraved to his mommie was the most awesome keepsake
gift to give. thank you once again for your wonderful items.

Shopper
By
Shopper

(Enterprise, AL) - July 9, 2013
The clock is beautiful. I looked at the reviews prior to ordering it and was a little concerned about the size of the clock and the writing. However I was very pleased when I got it. It is just the right size for my mother and she can read it without any problem.

Mothers Day Gift
By
April R.

(Stafford, VA) - May 20, 2013 (
See all reviews by this customer
)
Purchase a personalize heart clock for my Mother on mothers Day in which she really loved. I wish the clock was bigger and i could add more characters however I still give it 5 stars as it arrive in 2 days before Mother's Day!!!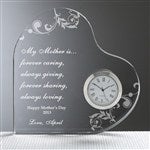 Mom loved it.
By
Ralph S.

(Middleburg, FL) - May 20, 2013 (
See all reviews by this customer
)
My mother really loved this gift.
She is very hard to buy for and it was something different and
personalized.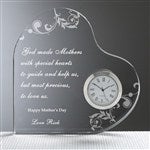 God-Mother's Gift
By
Shopper

(Miami, FL) - May 20, 2013
I bought this gift as a surprise to my God-Mother. She had absolutely love this gift!

beautiful
By
john H.

(jefferson, OH) - May 18, 2013 (
See all reviews by this customer
)
we are very pleased with the mom personalized heart clock from the time we ordered it as well as how quickly we received it. very happy with this purchase thank u so much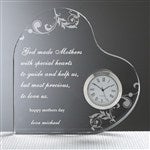 Mother's Day heart
By
Shopper

(San Mateo, CA) - May 17, 2013
Everything was perfectly inscribed, I wasn't expecting it to b so small, but it still was beautiful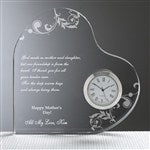 Mother's Day gift
By
Timothy O.

(Pottstown, PA) - May 14, 2013 (
See all reviews by this customer
)
Love the preview option. It was right on. Delivery was quick and the clock was beautiful. Being able to customize and change the verse allowed me to add "Happy Mother's Day" to the message and still fit our sons personal message. Excellent option clocks like this on other sites didn't allow. Hope to see an option to have the font of the personal message match the rest in the future. I'd definitely recommend and buy from here again.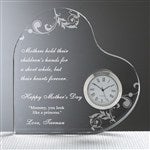 Beautiful
By
Jennifer S.

(Oneonta, NY) - May 14, 2013 (
See all reviews by this customer
)
My sister and I bought this for our Mother for Mother's Day. This is a gorgeous product. I would recommend this to all who are looking for a gift to their mother. It was nice that you are able to change the wording as well to suit your need. Absolutely love this product!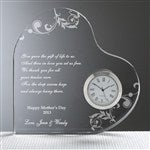 Excellent product
By
HRChaitanya P.

(Eagan, MN) - May 12, 2013 (
See all reviews by this customer
)
Got this using some coupon. Absolutely love it. Not too fancy. But, it is simple and elegant. Would definitely recommend this to anyone who is as confused as I am, when it comes to getting gifts to others (my mom in this case).

Excellent
By
Shopper

(mesa, AZ) - May 4, 2013
The items on this site are just what you would expect They do beautiful work and they are very efficent. I would definitely recommend this site.

i ordered this for my mom
By
Shopper

(yuba, CA) - March 12, 2013
everyone just loved it. This is unique idea to express your feelings to someone

She loved it!
By
Shopper

(Everett, WA) - February 12, 2013
Sent to my mother-in-law for no particular reason. I ordered this because I had ordered something similar for my lady. The quality was fantastic on mine and after she received it, I got to listen to how much she loved it for over 20 minutes. She was happy and that made me VERY happy! A great gift for a great lady. Recommend this for all.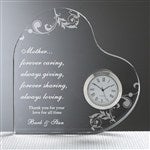 So Pretty
By
Shopper

(Manassas, VA) - December 9, 2012
I love that I can write what I want on it!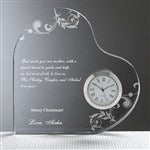 wonderful keepsake
By
Tiana G.

(Dracut, MA) - November 29, 2012 (
See all reviews by this customer
)
The preview picture was an exact replica of the heart clock I recieved. My recipient was thrill and touch by the beauty in this piece. Thank you personalization mall.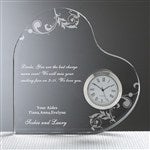 BEAUTIFUL GIFT
By
Lisa W.

(Placentia, CA) - November 2, 2012 (
See all reviews by this customer
)
THIS WAS A BIRTHDAY GIFT FOR MY MOTHER IN-LAW, SHE LOVED IT! IT ARRIVED WHE EXPECTED. WILL SHOP HERE FOR OTHER OCCASIONS.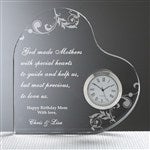 Amazing!!
By
Shopper

(Hollywood, FL) - August 27, 2012
I thought this item was a really great gift.. I created my own lines and used it as a holiday gift which worked out in a perfect manner. It's small yet elegant and my mother was very pleased. I would recommend this item to anyone that loves collecting glass items especially since its custom made.

Beautiful Gift!
By
Lisa P.

(Hammondsport, NY) - August 24, 2012 (
See all reviews by this customer
)
I absolutely love this clock, was a gift for my mother. The ability to write or modify the verses was fantastic, clock is good quality. Very happy with it. My Mom absolutely loves it (the happy tears told the whole story).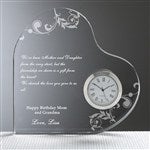 made na na cry
By
Shopper

(Albuquerque, NM) - August 18, 2012
WAS VERY HAPPY WITH EVERYTHING, ORDERING PRICING AND DELIVERY TIME.

More Than Expected
By
Shopper

(Washington, DC) - August 12, 2012
Talk about cute and special this is it; especially for a 50th Anniversary. After 50 years its hard to decide because most people have everything. People love to see their names in print by someone else.

Beautiful
By
Shopper

(Indianapolis, IN) - July 16, 2012
Got this for my mom birthday, she love it.

Madre Day - Success!
By
Dre P.

(Somersworth, NH) - June 12, 2012 (
See all reviews by this customer
)
Using a line from Kanye's "Hey Mama" mixed with a little love and creativity. Mother's Day 2012 was a successful and happy occasion! She absolutely loves the clock and it now sits on her desk at work! Great stuff!