Personalization mall did an outstanding job
By
Frank M.

(Lubbock, TX) - May 14, 2010 (
See all reviews by this customer
)
My Mother and myself were very impressed with the quality and the end result of this gift. From start to finish, the process was made easier by Personalization Mall. When I fist looked it the item, I started to order it and it was out of stock. A couple days later I got an e-mail saying the item was available. I ordered it. I found the process extremely user friendly, and I work on computes for a living. I also like the way the process checked your input and kept giving you the option to change it until the very end. Excellent job and my Mother was extreme impressed with the gift.
Frank Mack

outstanding!
By
vincent J.

(Portland, OR) - May 12, 2010 (
See all reviews by this customer
)
The product and service that I've received were outstanding. I'm impressed with the punctuality and professionalism they provided. Thank you!

Great Gift
By
Marisela Q.

(Houston, TX) - May 10, 2010 (
See all reviews by this customer
)
I added my own poem for Mother's Day. Price was great, for something that looked expensive. My mom loved this.

great choice for mom
By
shawn B.

(virginia beach, VA) - May 9, 2010 (
See all reviews by this customer
)
awesome choice for my mom, she loved it. Quick delivery and flawless product.

Beautiful!
By
Faythe P.

(France) - May 8, 2010 (
See all reviews by this customer
)
It was a gift for mother's day! It is beautiful and much appreciated. Nice product!

classy and amazing
By
Jennifer M.

(Watertown , NY) - May 7, 2010 (
See all reviews by this customer
)
I love this clock. I ordered it cuz my mom lit. has everything. I ordered it Friday shipped Sat was on my door step Monday.

Tears of joy
By
Robert B.

(Graham, TX) - May 7, 2010 (
See all reviews by this customer
)
Mom,got her clock in the mail today. She was touched by the clock and the personalized statement. Many friends and family members have called to tell me how moved she was and wanted to know where I found the gift. Thanks, for the service and the product.Product 1-10 10 service 1-10 10 My Thanks Robert (skip) Bryant

Very Cute!
By
Amanda W.

(Watertown, MN) - May 7, 2010 (
See all reviews by this customer
)
I got this for my Mom for our wedding day! It turned out very cute! I think my Mom will love it!!

Great Mother's Day Gift
By
Idelma U.

(Detroit, MI) - May 7, 2010 (
See all reviews by this customer
)
My mother loved it! Great quality and the engraving for Mother's Day was that special touch. The engraving and shipping time was esceptionally early and I appreciate having you send it directly to her. Thank you for making this mother's day gift easy.

AEWSOME
By
Julie O.

(Struthers, OH) - April 13, 2010 (
See all reviews by this customer
)
I purchase 3 of these for sorority senior gifts. I personalized them the way I wanted and they were great. They are smaller than you think. When I opend the box, I was like wow they arent that big, but, they are beautiful and I will shop on ths site again. I also ordered them on a Sunday night and recieved them on the following Tuesday. So it was fast shipping!

Flawless
By
Hieu L.

(Reading, PA) - April 5, 2010 (
See all reviews by this customer
)
I ordered this as a gift for my mother's birthday. The best thing about this gift was that I was able to have it engraved in another language (Vietnamese). Although, I could not get all the subtle accent marks to be engraved I was able to get them to do it in another language. The important thing was that it was legible enough that my mom could read it, every word was right. The gift itself is beautiful and of great quality. The price is not too bad either considering you could get in personally engraved. The delivery was fast and timely. I got it within 3-5 business days as promised. When it arrived it was in mint condition and the clock, design, and the overall item itself is really beautiful. I highly recommend this to anyone looking to get a loved one something special with a personal touch. I definitely will be making another purchase as my girlfriends birthday is approaching soon. I might just buy this same gift (of course with a different and appropriate personal message.)

Very accurate
By
Pamela W.

(Drakes Branch, VA) - March 22, 2010 (
See all reviews by this customer
)
When I wrote my own poem on this clock and it allowed me to preview it before I bought it, therefore it allowed me to change a few words to make the sentences allign.When I got the item it was dead accurate with what I had previewed.It looks beautiful.

Great for Mother's Birthday Gift
By
Kareena M.

(Maricopa, AZ) - February 18, 2010 (
See all reviews by this customer
)
I was a little concerned that the item would not have been delivered in a timely manner due to the horrific snow storms back east. I'm on the west coast. However the item was delivered a day before Mother's birthday with 26 feet of snow and all. It was sitting in snow for two days but wrapped so efficiently the gift was spotless. She completely loved it and was very pleased.

Wonderful quality!
By
nancy R.

(valley cottage, NY) - February 5, 2010 (
See all reviews by this customer
)
When I first received the clock I noticed a small scratch over the dial. I immediately e-mailed customer service and was pleasantly surprised. I was told that a replacement clock would soon be on its way.

The clock itself is quite beautiful and I was very pleased
with the customer service provided.

I am a returnig customer who was completely satisfied with my purchase and will definitely order again.

Very Nice!
By
Bettyann S.

(Houston, PA) - January 28, 2010 (
See all reviews by this customer
)
This is beautiful. Inscription very well done. I am very happy with this purchase.

Many thanks
By
Yewande O.

(Raleigh, NC) - January 21, 2010 (
See all reviews by this customer
)
Very happy with my purchase, customer service was excellent and it was shipped the very next day after it was ordered the previous day. Will be ordering from this wonderful company again....

Beautiful gift
By
Timothy J.

(Kannapolis, NC) - January 19, 2010 (
See all reviews by this customer
)
The personalized heart clock is for our mother's 80th birthday. We are all so pleased with the beauty, the craftsmanship, and the quality of the clock. I am sure that Mom is going to cherish her gift as a momento of her children's love for her. Thank you so much for providing such an excellent product. I recommend Personalization Mall highly!

Perfect
By
Lisa S.

(Knoxville, TN) - December 21, 2009 (
See all reviews by this customer
)
Beautifully done, very classy and the ability to write your own verse makes it so versatile for any occasion. This was called a Dear Mom clock but I was able to write a verse for a friend and it was absolutly perfect. It was shipped within a matter a days and arrived nicely packaged. I have used personalization mall before and will again and again I'm sure.

80TH Birthday Gift
By
FaNie R.

(East Chicago, IN) - November 3, 2009 (
See all reviews by this customer
)
I purchased this clock, for my grandmothers 80th birthday, I also purchased her guests one also...It was the talk of the party. I love this website, I also purchased items for my 1st wedding anniversary, I was just amazed...The people were also nice, when I made a mistake on the spelling..Thanks Again!

Stunning
By
Danny D.

(Glen Burnie, MD) - October 26, 2009 (
See all reviews by this customer
)
I ordered two of these, one for my mom and one for my soon to be mother in law. They are going to love them. I think they are the perfect gift. I think I'm going to order one for myself. Really fast shipping, I ordered on Friday and received my order today which is Monday. I will definitely purchase from again. Thanks

Perfect
By
Wilma B.

(Biloxi, MS) - October 12, 2009 (
See all reviews by this customer
)
I actually personalized this heart clock as our wedding favor. It gives a more personal way of saying thank you to our friends and family who will share that very special moment in our lives. It turned out PERFECT! I really like the engraving and the design that perfectly matched our motif. I'm sure our family and friends will love it.

Personalized Heart Clock
By
BJ R.

(Tacoma, WA) - October 10, 2009 (
See all reviews by this customer
)
Very good quality. As usual, the turn around time was exceptional and mom was thrilled with it! I would recommend this to anyone looking to give something really special to mom.

love clock
this one was the good items to buy for bday gifts.

Personalized Clock
By
Shopper

(Harrison,, ME) - November 10, 2013
I ordered this clock for my Granddaughter. It's really lovely and seems to be great quality. I would have liked the script to be a little more noticeable, as you need something dark behind it for it to really show, but it's still really nice. I think she is going to love it. So nice to be able to write a special note in such a special way.

My wife loved it
By
Shane F.

(Rio Rancho, NM) - May 17, 2013 (
See all reviews by this customer
)
Bought this for my daughters to give to their mom and she was absolutely ecstatic. The only little quirk would be that the clock face is a little small. Hard to read from more than 5' away. Other than that it's simply beautiful.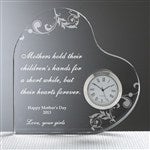 Very special gift! Excellent Customer Service Dept.
By
Shopper

(Alamo, CA) - May 16, 2013
I bought this for my 99 year old mother on Mother's Day. She loved it. Only problems were the difficulty reading the poem that I wrote and it is not stable sitting on it's side on her night stand. I'd recommend a clearer larger font and a sturdier base for the heart.
I needed to change a couple words in my message. The customer service dept. helped me do this and also sent the clock very quickly so it arrived before Mother's Day. I really appreciated that and will continue to buy from your store. Thank you!

Happy Customer
By
Shopper

(Boston , MA) - May 7, 2013
Terrific Quality, personalization was correct; size a little smaller than expected

Really Cute
By
Shopper

(Lubbock , TX) - July 7, 2012
I thought it'd be bigger :/ but it's cute overall.

Beautiful Birthday Gift!
By
Joyce K.

(Westminster, CO) - June 4, 2012 (
See all reviews by this customer
)
I ordered this personlized gift for our daughter-in-law's 50th birthday and she loved it. I chose a verse that described her perfectly to create the personalization. I was very pleased with the finished product -- delicately classy but still practical. And the shipping time was surprisingly fast.

Great Appreciation Gift
By
Shopper

(Henry, TN) - May 17, 2012
I used the Dear Mom clock for an Appreciation Gift for someone at church who had worked hard for us. I changed the wording and took out anything about Mom, so this is a versatile gift, not just for mom. My only disappointment was the size! I expected it to be quite a bit larger. The actual clock face is about 1.5 inches in diameter, which gives you an idea when looking at the picture how small the overall item is. Other than the size, it is great. I do wish the box that it came in was nicer. I ended up having to purchase a larger box to wrap it in, as I didn't want it to look so small. Again, it was a size issue. Beautiful though!

Dear mom
By
Brandi G.

(Wilkes barre, PA) - May 17, 2012 (
See all reviews by this customer
)
Really really pretty clock. My mother loved it. Great buy at a good price. Would have been nicer though if it was on glass. But I'm glad I bought it.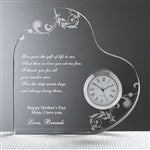 Personalized Mother's Day Heart Clock
By
Richard P.

(Belleville, IL) - May 7, 2012 (
See all reviews by this customer
)
The item came quickly and as described. Both daughter and Mother were pleased with giving and receiving the item. Only thing I would have perhaps changed was the actual size of the overall product, maybe a tad bigger, but overall everyone was happy with the Personalized Heart Clock.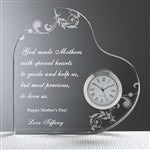 Perfect Mother's Day gift
By
Megan E.

(Akron, OH) - May 1, 2012 (
See all reviews by this customer
)
I got this heart clock for my mom for her 22nd mother's day..I have a feeling that she'll like this. I can't wait for mother's day for her to see this.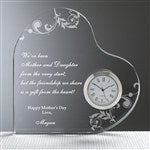 Very nice
By
Shopper

(Albany, NY) - April 9, 2012
I like this product a lot.

A+++++
By
cassandra G.

(orlando, FL) - March 24, 2012 (
See all reviews by this customer
)
Exactly what I wanted

Great parent gift!
By
Jessica F.

(Las Vegas, NV) - February 11, 2012 (
See all reviews by this customer
)
We love the heart clock - it's a little smaller than we thought it would be, but beautiful just the same.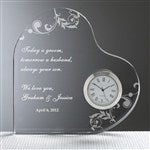 Adorable
By
Shopper

(Bloomfield, NJ) - January 20, 2012
I loved this beautiful clock. I ordered it for my Mom for her birthday. I love the fact that you get to choose which verse you would like. It turned out perfect. Great gift.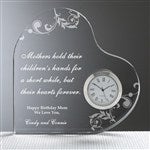 great product
By
natalie F.

(Canada) - November 30, 2011 (
See all reviews by this customer
)
it was really nice, and does look more expensive then it actually was, the only thing thou is that the clock is a little complicated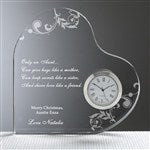 personal health clock
By
Shopper

(Seaside, CA) - August 2, 2011
I loved the concept of a personalized clock. I was impressed with the idea of being able to personalize it! I did not like the size of the clock. I had no way to actually know how small it was. The respondent said it was cute but "tiny". I thought it would be larger. Otherwise, I like the service and she got it in two days. Thanks for asking my opinion. CH

4 for the size of it.
By
Shopper

(Houston, TX) - July 25, 2011
On the picture it looks HUGE, but when you get it, you'll be surprised.