Best Gift Ever!!!!
By
Tara N.

(Ely, NV) - January 11, 2013 (
See all reviews by this customer
)
Personalization Mall did such a great job. I had this made for my mother with pictures of myself as a little girl at Disneyland and reenacted pictures of my trip to Disneyland as an adult. It was so beautiful and the quality was so perfect. My mother cried. I totally recommend this. Thanks Personalization mall you did the greatest job.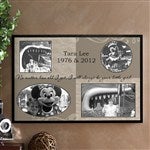 canvas gift
By
MARNIE C.

(WATER VALLEY, MS) - December 31, 2012 (
See all reviews by this customer
)
once i received the order I was very pleased with the purchased. My mother in law loved it. Im going to order another one as a gift for the doctor i work with as well.

thanks for a great product!!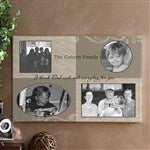 Beautiful gift
By
Shopper

(Jonestown, PA) - December 28, 2012
I purchased this as a gift for my in-laws. It turned out absolutely beautiful!! And it was shipped the very next day after I ordered it. I'm extremely satisfied and will be using this company in the future.

great gift
By
Shopper

(Watertown, NY) - December 28, 2012
This was an amazing Christmas present! The quality was great and fast shipping. I have ordered from Personalization Mall several times and would recommend to anyone.

Picture Perfect!
By
Shari H.

(Brownsburg, IN) - December 19, 2012 (
See all reviews by this customer
)
I took a chance, purchasing FOUR of these canvases as Christmas gifts for family members. They arrived, and I am thrilled to pieces. I'm sure the recipients, too, will be OVERJOYED to see such a unique display of their own photos. Thank you for such a beautiful end-product.

Beautiful quality and fast shipping
By
breanna W.

(grand forks, ND) - December 18, 2012 (
See all reviews by this customer
)
The title says it all! This is a gift for my Grandma and I know she will absolutely love this!

I am in love with this site!
By
SHEILA P.

(SUISUN CITY, CA) - December 15, 2012 (
See all reviews by this customer
)
I ordered this canvas for my daughter for Christmas with pictures of her sons and a quote from a bedtime story she read to them. I was amazed with the finished product! It arrived in about a week and the quality was beyond my expectations! This site makes it affordable to give personalized gifts to everyone for any occasion!

Great Gift!!
By
Shopper

(Kearny, NJ) - December 14, 2012
I am giving this as a gift to my parents and when I received it I was more than I had expected. Great quality and it arrived amazingly quick. Definitely recommend this item.

Love this
By
Shopper

(Thousand Oaks, CA) - December 12, 2012
I personalized one of these for our own home. Everyone loves it including us. Then, I just did one for my parents (the grandparents to our children) for Hanukkah. THEY LOVE IT!

So Happy with my purchase!
By
Tracy W.

(Villas, NJ) - December 11, 2012 (
See all reviews by this customer
)
I am absolutely thrilled with my purchase! It arrived very quickly and when I opened the package I was thrilled. My photo collage looked exactly as it did online and is beautiful!

Love it--but would love it more if they offered accents over letters!
By
Shopper

(Cheyenne, WY) - December 10, 2012
This is the 2nd canvas I have ordered. The turn around time is amazing and the quality is first rate. The only thing I have to say negative is that they don't offer accent over letters (so I was not able to use my family name as it does have an accent in it). I hope they offer accents soon!!!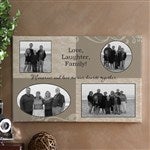 Perfect
By
Shopper

(Westfield, MA) - December 8, 2012
Came out just the way I expected it to. Perfect gift for those hard to shop for grandparents!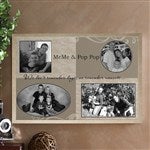 Wonderful Keepsake
By
Shopper

(Bristol, VT) - December 7, 2012
This product is fabulous. I ordered it for my sister-in-law and her new husband for their first Christmas. The quality of the pictures on canvas is great, and even color pictures that were converted to black and white look awesome! I loved that the website assisted me in finding photos that would look the best on the item, even going so far as to not letting me upload one that would not have looked good!

Wonderful Gift
By
Georgette M.

(Whitehouse Station, NJ) - November 24, 2012 (
See all reviews by this customer
)
I ordered this a couple days before my Mother's Birthday. Looking at the shipping, I knew it wouldn't be on time. I was wonderfully surprised at their efficiency, because they had it shipped out so soon that it arrived only 3 days later for her birthday. The product itself was wonderful, the pictures was beautiful and quality was nice. Mother loved the gift, definitely recommend!

Great product
By
Shopper

(Newport, PA) - November 24, 2012
I bought these for my parents, in-laws, brother & his wife and grandparents as Christmas gifts. I made them with ictures from my wedding in May. They look great & look like an expensive gift, when I only paid about $27 per picture. I highly recommended this!

Stunning!
By
Shopper

(Jamaica, IA) - October 24, 2012
My parents absolutely loved this!

The Best Gift Ever
By
Elena L.

(North Hollywood, CA) - October 22, 2012 (
See all reviews by this customer
)
I'm using this website for 6 years. Extraordinary gifts!!!! Thank you for your quality.

AWESOME!!
By
john Z.

(baltimore, MD) - October 10, 2012 (
See all reviews by this customer
)
I just received this today. I ordered it Sunday and it arrived today Wednesday, talk about fast. I love this site. I have been shopping from this site for 4 yrs now and I have bought a lot of diffrent products for many diffrent people. This is the first canvas photo I have ever purchased and its to say the least very amazing. It came out so good and looks very professional. I did pay the extra for a frame and it was worth it. The frame makes the canvas look bigger as I ordered the smallest one thinking I should have gone a size bigger thinking it would be too small, but its perfect. I cannot wait to give it to my mom for Christmas. She will be so excited. I put a photos of her grandchildren. She loves anything to do with her grand kids. Now I received this one , I need to order a couple more for Christmas while they are still on sale. I highly recommend this.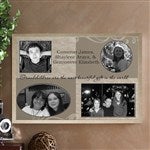 Beautiful
By
Shopper

(Saint Albans, VT) - October 7, 2012
It came out way better than what I thought it would honestly. It was beautiful and perfect. We ended up getting this for my husbands father. He ended up going into the hospital because of his diabetes for a whole week. This came in a couple days after he got home *very prompt delivery* and the saying "Our family is a circle of strength and love" was perfect. I would definitely purchase another one of these again and tell it to everyone to get!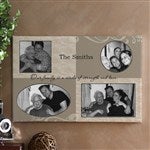 Love it
By
Nicole J M.

(Thousand Oaks, CA) - September 28, 2012 (
See all reviews by this customer
)
Absolutely love it. The key is to have great photos to choose from, not only in the moment you captured but in the quality of the picture. I've gotten a compliment from every one who has come over and seen it! My only regret is that I got the smallest size available and I wish I would have gone bigger!

Perfect Gift!
By
Julie M.

(Holbrook, MA) - September 11, 2012 (
See all reviews by this customer
)
I made two of these for Grandparent's Day. Both sets of grandparents absolutely loved them. The quality is excellent.

Had to purchase 2 I liked so much
By
Shopper

(Euclid, OH) - August 10, 2012
Bought one for my friends wedding gift and one for me

Excellent Product!!!
By
Christy T.

(Rocky Mount, NC) - July 22, 2012 (
See all reviews by this customer
)
I ordered these pictures for my Grandparents for their 60th wedding anniversary!! Everyone in my office loves them-- and I cannot wait for my Grandparents to see them. I have referred everyone to your website!!!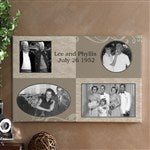 Loved it
By
Kim C.

(Gambrills, MD) - May 20, 2012 (
See all reviews by this customer
)
I was very pleased on how amazing it looked. I also was very surprised on how quickly it came.. It was way more then i expected it was so nice...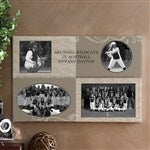 LOVED IT!!!
By
Annmarie N.

(Woodhaven, NY) - May 17, 2012 (
See all reviews by this customer
)
i must say this one came out better than i thought it would i was anxious to see how it would look cause it was the first time i would order something so big and i was amazed the day it came and couldn't wait to put it up on my wall to show off :)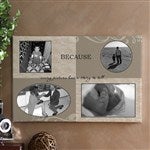 Beautiful, as always!!
By
Lisa F.

(Waldorf, MD) - May 4, 2012 (
See all reviews by this customer
)
Ordered this as a brthday present for my dad. Everyone raved about it. Regular shipping was still fast. I have never been disappointed with an order.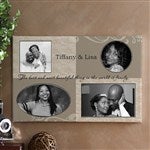 Looks Wonderful In My Home
By
April D.

(Manchester, NH) - February 15, 2012 (
See all reviews by this customer
)
The Representative called before shipping this out to make me aware that some photos may be a bit blurry, but when I got this, it was amazing. Simply perfect.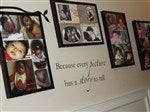 Beautiful!
By
Chelsea D.

(Wesley Chapel, FL) - February 2, 2012 (
See all reviews by this customer
)
I never leave a review on any purchase I make, but I was so impressed with the photo canvas I ordered that I just had to. It was just delivered a few minutes ago and I am ecstatic with the way it turned out. The quality is outstanding! I'm very impressed and very pleased. I will definitely be ordering from personalizationmall.com again. Thank you so much!

Love!
By
Patricia S.

(East Meadow, NY) - January 22, 2012 (
See all reviews by this customer
)
I was a little worried about ordering this because I had to re size mt pictures but it came out absolutely beautiful! I got it for my boyfriend for our first valentines day and I was so excited about how great it came out I couldnt wait to give it to him. He put it on his wall as soon as he opened it!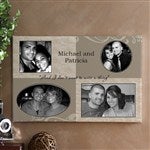 Beautiful
By
Shopper

(Billerica, MA) - December 28, 2011
This is a great product. You can manage how the pics fit in the windows and they are not altered at all from that...so you know exactly what your finished product looks like. I used professional pics from my wedding, and it is beautiful. My sister's loved them too as I made them a collage as well with their children

Fabulous
By
Jillian A.

(Graham, WA) - December 18, 2011 (
See all reviews by this customer
)
This product is absolutely amazing! I am very please with the way it turned out & can't wait to get it to the inlaws for Christmas.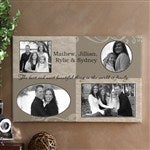 Christmas Surprise
By
Sheri C.

(Bridgeton, NJ) - December 16, 2011 (
See all reviews by this customer
)
I bought this for a friend for Christmas because she like mine so much! I love this picture and would recommend this to anyone! It is fun to create and a great gift!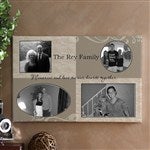 Great Product
By
Shopper

(Osage Beach, MO) - December 15, 2011
I ordered this canvas art as a Christmas present for my parents. I love it! It looks so good and the pictures came out great!

Perfect personal gift
By
chelsea B.

(New Orleans, LA) - December 14, 2011 (
See all reviews by this customer
)
I just recently broke my neck in a severe accident. My teacher at school has been amazing. Visiting me in the hospital and helping me catch up. So I personalized photos with the whole class including my amazing Paul Mitchell educator and sent it to him. It put him and my entire class in tears. He told me it was the most touching gift he ever recieved. The gift of personalizing is the best gift of all. It's thoughtful and more meaningful. And truthfully for such an amazing gift, the price is awesome!!Thank you. I use the personalization mall every year now. Last year I made one for my grandmother, but a different canvas. She too cried. It's amazing. (I'm in the longsleeve dress)
Love your life, learning and success. Be happy and enjoy this amazing gift. And personalize your memories!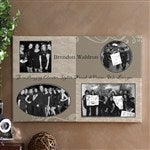 Beautiful!
By
Lisa E.

(Tucson, AZ) - December 14, 2011 (
See all reviews by this customer
)
Tooks some time to put together, but the finished product is amazing! Can't wait for my husband to open it on Christmas morning!

Great Gift
By
Ryan M.

(Munhall, PA) - December 10, 2011 (
See all reviews by this customer
)
Got two of these as Christmas gifts. One as a "Four Generations" photo gift for my mother in law featuring Great Grandma, Grandma, My Wife and our Daughter and the other as a Grandma, Grandpa, Granddaughter collage for my parents. They both turned out beautiful and I know everyone will love them.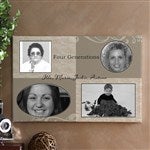 Great!
By
Shopper

(Oakdale, MN) - December 6, 2011
I purchased two of these in the past - both for weddings. The first one I purchased was unframed and the second one was framed. I loved both of them! They were a little hard to make because you needed the pictures to fit just right - but once it was created, it was definitly a gift that warmed the recipients' hearts! I will most likely purchase this item again for future weddings! It was perfect!

4 photo collage canvas 16x24
By
Shopper

(New Castle, DE) - December 5, 2011
A+ quality! I love black and white photos so when I came across this, I had to order one. Not only did I order one for myself, I got 3 more for brother, sister and mom for Christmas. Pmall has amazing products and excellent costumer service. Order one, you WILL love it!

picture perfect
By
Jennifer L.

(Westminster , CO) - November 28, 2011 (
See all reviews by this customer
)
I got this in a very quick and timely manner!!!! I love this product and very satisfied with the quality.

Love this product
By
Shopper

(Carteret, NJ) - November 28, 2011
I got this personalized for my bedroom. My dog passed away and this was a great way to memorialize her! It came out beautifully!!