The photo collage I received is awesome
By
Ken L.

(Norristown, PA) - August 25, 2011 (
See all reviews by this customer
)
Great job Personalization mall....the product that I designed and you produced, brought a tear in my wife's eye when I presented it to her on our 25th anniversary. The canvas picture collage is a wonderful keepsake to be treasured.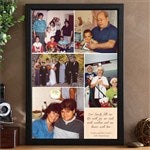 AMAZING Simple Gift
By
Erika A.

(Irving, TX) - May 12, 2013 (
See all reviews by this customer
)
When creating the collage I wasn't sure how my mom would like it. It seemed too simple, but thoughtful and time consuming! The collage took A LOT of work dealing with the pictures sizes,etc. I'm really glad I bought the collage. It literally brought tears to my mother's eyes! Great gift for anyone! I would definitely recommend it!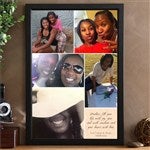 Fantastic-Couldnt have been better
By
Shopper

(new bedford, MA) - December 31, 2011
This personalized collage was AMAZING!!! I bought it and put pictures of all the kids and gave it to my mother for christmas. When I gave it to my mother she immediately started crying and she said it was the best gift ever! Beautiful craftmanship, quality, and excellent customer service. I am thankful I found this site. I have NOT one complaint. I will be back to shop many times and for many years to come!!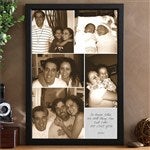 Best Gift
By
Maxine M.

(Brooklyn, NY) - January 18, 2010 (
See all reviews by this customer
)
I got this as a gift for my mom's 50th birthday, it was filled with beautiful photos of her. It was well done, and came in a lovely frame. My mom and I loved it!

WOW
By
Nakeshia H.

(Arlington, TX) - January 30, 2010 (
See all reviews by this customer
)
This was better than we expected...We ordered it for our MOM and her birthday is next week...We are so anxious to give her this gift..We know she will love it!!!! Thank you for being so prompt with your services...we will continue to use your services in the future.

Very Pleased!
By
Shopper

(Metamora, IL) - May 10, 2011
I was very happy with this product when I received it and my mom loved it which made it even better. The pictures turned out great! I was a little nervous because they were pictures from over 10 years ago, and I was unsure of how they would turn out on the canvas as far as quality. They looked amazing. My only complaint was the metal bendy things on the back of the frame that hold the canvas in. They are a little cheap and some of them were even falling out, but other than that I was very happy with the final result.

Absolutely awesome
By
Jane S.

(Cohocton, NY) - October 30, 2009 (
See all reviews by this customer
)
I made this for my son and daughter-in-law for Christmas with pictures of their two little girls and a message from them. It is gorgeous, worth every penny and I can't wait to give it to them. The colors are vivid and I have shown it to friends who are interested in doing one for their own families. Definitely worth the money.

Perfect Gift
By
Mary D T.

(Riverhead, NY) - December 29, 2010 (
See all reviews by this customer
)
This is the perfect gift. I gave this to my nephew and his wife with photos of their 3 children. When they opened it their comment was "you always know how to go that extra mile." They loved it! So I am extending the comment to Personalization Mall... "you always have products that help customers go that extra mile!"

Excellent
By
Destiny F.

(Detroit, MI) - February 11, 2011 (
See all reviews by this customer
)
I ordered this for my mother and mother-in-law with pictures from my wedding in August 2010 and everything turned out fantastic. The fact that you can personalize with a saying, short poem or name made it even better. I give this 2 thumbs way up!

Awesome product!
By
Denise Zemlak B.

(Reisterstown, MD) - November 23, 2010 (
See all reviews by this customer
)
I love this co and have ordered numerous items and have been HAPPY on everything!!

This item by far is one of my favorites!!