Good Bridesmaid Gift
By
Amit S.

(Orange, NJ) - November 18, 2009 (
See all reviews by this customer
)
I was looking for something personalized to give my bridesmaids and this was the perfect item for them. It was very affordable and when I received it, it looked even better in person. What I loved the most was that you could preview the personalization before they sent it to you. Overall it was a very good choice.

My Daughter gave this in a gift basket for here "little" sorority sister
By
Kathryn K.

(New Vernon, NJ) - October 13, 2009 (
See all reviews by this customer
)
Great quaility item that can be personalized with initials a name or a sorority

Great GIFT!!!
By
James W B.

(Dallas, TX) - October 9, 2009 (
See all reviews by this customer
)
I gave this as hostess gifts for my baby shower. My friends loved them! The ordering process was quick and easy. THANKS!

I LOVE MY MAKE-UP BAG
By
Marcela L.

(Framingham, MA) - October 8, 2009 (
See all reviews by this customer
)
All products of this site are of high qualidada, I was very impressed the first time I bought, and where I'm taking a look at the news.
About my make-up bag loved it.
Ate one asked for my mother after I arrived and saw how beautiful.
I recommend this not so make-up bag, like any other product of personalized mall.

Looks great
By
Beatriz B.

(San Marcos, TX) - August 2, 2014 (
See all reviews by this customer
)
I received my product in record time and excellent condition. I have not used it yet but the quality looks good. And color is true to picture. The name is perfect font size.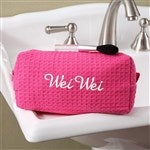 Pink Make Up Bag
By
Patricia T.

(Marietta, GA) - May 9, 2014 (
See all reviews by this customer
)
This is precious and the engraving is a nice touch. The only negative is the picture of the bag is not the same shape as what you receive.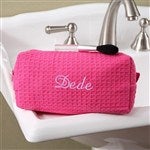 Great graduation gift
By
Shopper

(Canton , GA) - May 4, 2014
Purchased 3 sets of this item with the bath robes for graduation gifts .Bag is much smaller than I imagined. The robe was perfect and looks Just like the picture. I will definitely use this company again. Received items in 2 days.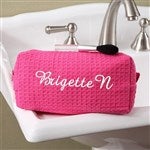 Cute small bag.
By
Shopper

(Bellingham, WA) - April 20, 2014
Cute little bag I bought for my grand-daughter with the bright green lettering, which shows up really well and was sewn exactly straight (unlike those in some reviews). Happy with it. Long enough to hold a toothbrush on the diagonal; can be used as travel bag for my grand-daughter, or would work as a makeup case for a teen or adult.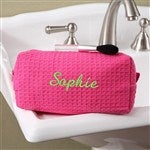 Very nice for the price
By
Shopper

(Dublin, OH) - April 19, 2014
Purchased this for a H.S. graduate placing her name and year on the bag. It looks great + it functions as a terrific makeup bag.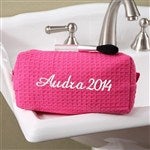 Nice product
By
Shopper

(Houston, TX) - March 30, 2014
Ordering processing was smooth, & order delivery was on time.
Would definitely recommend..
Quality was good & nicely crafted...

Cute Bag
By
Amanda S.

(Brentwood, TN) - January 24, 2014 (
See all reviews by this customer
)
I was very happy with the price point of this bag. The thread color options were a nice plus as well. I wish there were choices as to different bag colors though. The lining is easily cleaned, but I would like for it to have been of a thicker vinyl for better quality.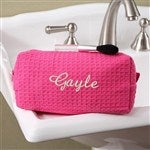 cute bag for gifts
By
Shopper

(Colorado Springs, CO) - January 19, 2014
The makeup bag is well made and protected with a water resistant liner inside. As with any personalization, mistakes can happen. This occurred with our order but I am sooo totally impressed with the expediency and ease of obtaining the correct replacement item. Well done!!

cute bag
By
Danielle C.

(Southington, CT) - December 19, 2013 (
See all reviews by this customer
)
wanted a little something extra for my daughter - found this - really cute in person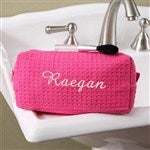 Cute!
By
Susan A H.

(New Philadelphia, OH) - December 10, 2013 (
See all reviews by this customer
)
Very nice, but could be a little larger. Embroidering looks great!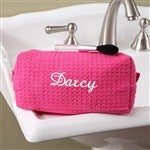 Small but cute
By
Shopper

(Fort Collins, CO) - November 21, 2013
This bag was smaller than I thought based on the picture, but it's really cute. It's a gift for my niece, and I think she'll love it. She's in late middle school, on her way to high school, so it will be great for her to store her makeup in. I would recommend this.

Embroidered Pink Make-up Bag
By
Shopper

(Golconda, IL) - November 8, 2013
I bought this for my Daughter-In-Law for her birthday. It's pretty and a special personal touch with having her name embroidered on it. She loved it!

Great gift
By
Rickey J.

(Little Rock, AR) - September 5, 2013 (
See all reviews by this customer
)
The gift was great although I thought it was gonna be a little bigger. She loved it and it is definitely recommended guys for your girl to show off to her friends when they ask to use her makeup.

Cute Make-Up bag
By
Shopper

(Ashburn, VA) - August 12, 2013
Purchased this as a gift and I love the way it looks, may get one for myself soon. Only issue was that I wanted to use the person's nickname and it didn't look right because of the font used here. I did not see an option to change the type of font, it is possible that I missed it since I did it in a rush.

Graduation present
By
Elsa G.

(Alpharetta, GA) - June 3, 2013 (
See all reviews by this customer
)
I gave this to my daughter and her 3 friends, they like it, and they were happy.

Great makeup bag
By
Brandi D.

(Waverly Hall, GA) - May 12, 2013 (
See all reviews by this customer
)
I purchased this makeup bag for my pre teen daughter for her birthday. I thought it would be a nice size to hold her makeup and I could personalize it with her name. The bag is made of a nice material and looks pretty sturdy. She loves her new bag!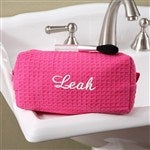 Cute little tote
By
Shopper

(Uncasville, CT) - May 5, 2013
I purchased this tote as a gift for a girly-girl who adores pink. The color is as shown and the embroidered name was easily visible and legible. The interior is roomy with a pocket. My concerns were the quality of the material and the zipper. The material appears in the photo as perhaps a quilted material - it is not and is quite thin, feeling almost like a paper-blend product that will not last very long. The zipper is metal and difficult to open and close. Hopefully, the personalization will initially be most important to the 7 yr old for whom this was a gift.

Super Cute!
By
Ashlee B.

(Lexington, KY) - March 3, 2013 (
See all reviews by this customer
)
I purchased this item for my sister who loves to take cruises and loves her MAC make up! I had her name and the word MAC embroidered on it and its absolutely adorable! It is more travel size but still cute! I will be giving it to her for her birthday filled with other goodies and items I ordered from here! The custom Iphone 4 cases are also adorable and I got her some of those for her phone! The whole order process is quick and the items come very quickly!! EnJoY!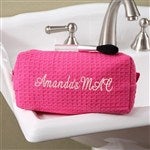 very nice
By
Laura L.

(Plant City, FL) - March 2, 2013 (
See all reviews by this customer
)
wished it came in purple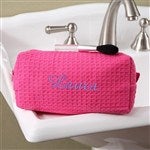 Very pleased
By
Kari B.

(RIVERVIEW, FL) - January 11, 2013 (
See all reviews by this customer
)
This was a gift for my 35 year old sister and one for my 15 year old daughter. I was very pleased with the product and they loved it as well.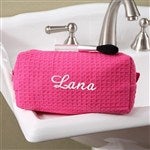 Make up bag
By
Penny B.

(High Point, NC) - January 1, 2013 (
See all reviews by this customer
)
nice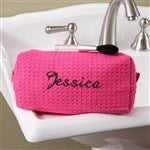 Really nice
By
Noemi B.

(sleepy hollow , NY) - December 31, 2012 (
See all reviews by this customer
)
I got for my friend and she love it ...it's really special because
Is individual ... Great gift for someone you love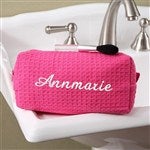 Embroidered Make-up Bag
By
Shopper

(Parker, CO) - December 30, 2012
Got this for my wife for Christmas. She loves it but wishes it was a bit bigger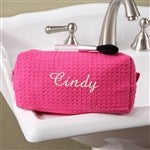 Pretty
By
Shopper

(Franklin, IN) - December 23, 2012
I thought the item pretty and useful though a little on the small side. Order was completed and delivered very quickly.

Nice gift
By
Shopper

(Cedar Hill, TX) - December 21, 2012
I bot this for my 15 year old daughter she loved it. It was not as big as I expected it to be but it was well worth the price I paid.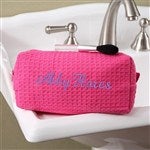 I like it being personal. It is good for travel.
By
Shopper

(Brady, TX) - December 14, 2012
It sure makes a nice gift!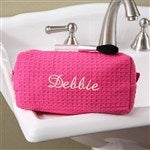 Product Features
By
Shopper

(Gonzales, LA) - December 11, 2012
This item seems to be well made, & the embroidery looks really good.

LOVED IT
By
Shopper

(Chandler, AZ) - December 5, 2012
I LOVED THIS ITEM, JUST NOW HAVE TO FILL IT WITH MAKEUP FOR MY SISTER. HOPE SHE LOVES IT LIKE I DO!

good
By
Shopper

(rockford, IL) - December 1, 2012
vary cute but smaller than i expected, it was well done

Size
By
Jocelyn R.

(Hauppauge , NY) - November 11, 2012 (
See all reviews by this customer
)
Smaller than I expected, but still a great gift.

Cute!
By
Shopper

(Boca Raton, FL) - November 10, 2012
It's pretty but I thought it was going to be bigger.

Very good quality
By
Jennifer F.

(Houston, TX) - October 30, 2012 (
See all reviews by this customer
)
A little smaller than I anticipated, but my 16 year old does not need to stuff it to the brim. Nice to have her unusual name printed on anything. Makes it very special.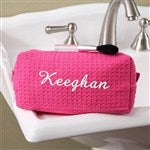 cute bag!
By
Sarah C.

(Lakewood, NJ) - August 19, 2012 (
See all reviews by this customer
)
a very nice gift! cute bag but a bit on the smaller side was not expecting it to be that small....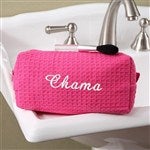 GREAT GRADUATION GIFTS
By
Shopper

(Sherman, TX) - June 9, 2012
THE BAGS WERE VERY CUTE. THE PERSONALIZATION WAS DONE WELL. THE ONLY NEGATIVE IS THAT
THEY LOOKED BIGGER IN THE PICTURE THAN WHAT THEY ACTUALLY TURNED OUT TO BE.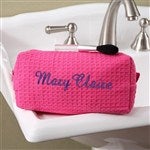 Makeup Bag
By
Shopper

(La Mesa , CA) - April 29, 2012
Very cute and nice but came out smaller then what the picture leads on to be.

Good
By
Shopper

(Honaker, VA) - December 21, 2011
It is good, pretty, but smaller then it looks online but over all i loved it!! <3